Outsourcing benefits with ArenaCX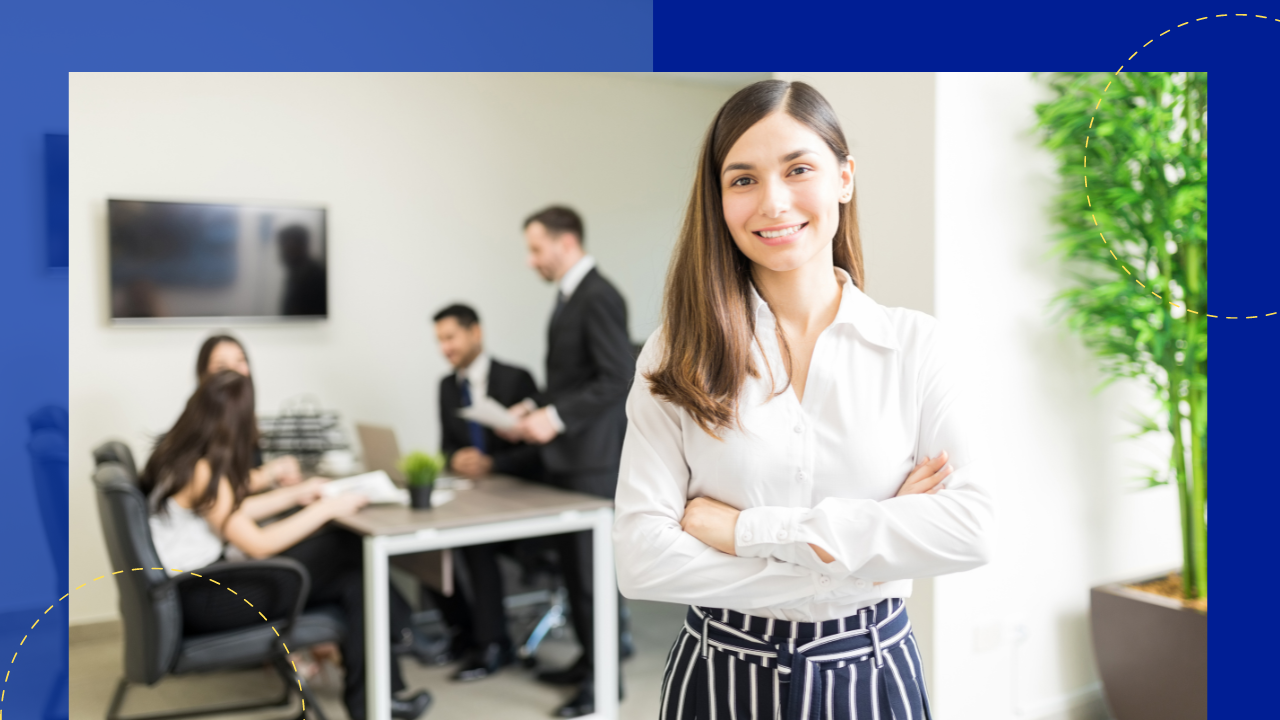 Outsourcing benefits with ArenaCX
Industry aggregators, such as ArenaCX and Outsource Accelerator ("OA"), are big parts of the Business Process Outsourcing (BPO) sector. Without them, clients would have a hard time finding the perfect service provider for their needs. 
Months of research and time spent on finding the right partner would be wasted—especially if the service provider didn't get to deliver the outcome the client was looking for.
Companies such as ArenaCX and OA are marketplace aggregators that aim to help multinational organizations become more competitive and prolific in their respective fields.
Partnering with independent BPO marketplaces will ensure a smooth transition into the world of outsourcing.
What is ArenaCX?
ArenaCX is an independent global outsourcing marketplace that connects businesses with the right outsourcing providers across the globe. ArenaCX partners with world-class BPO firms that "share their passion for serving brands and customers," then they'll pair their clients with the suitable BPO services provider.
ArenaCX's BPO partners can help clients in the following sectors:
Sales and marketing solutions

Back office and admin functions

Finance and accounting

Customer experience

HR and recruitment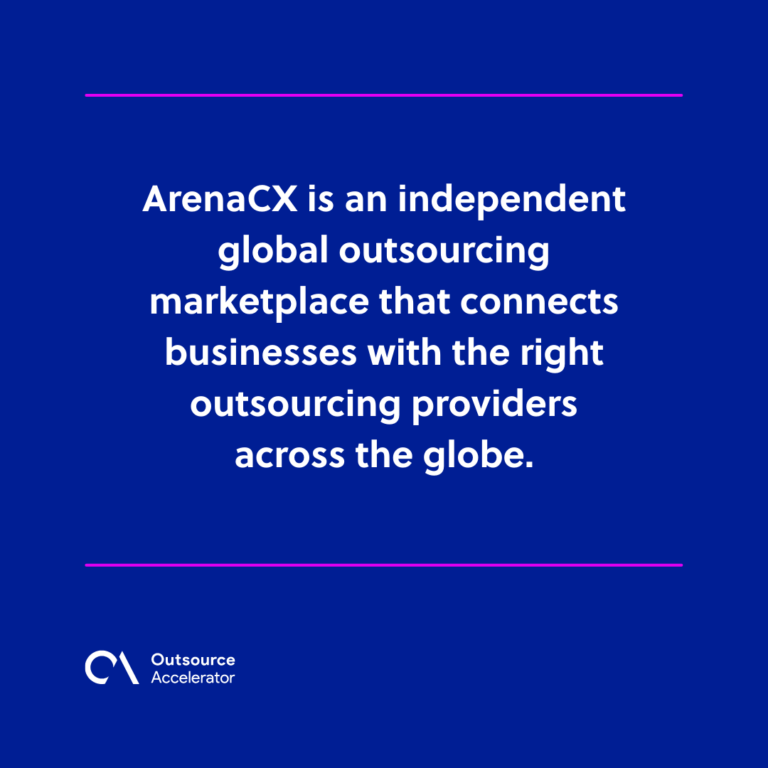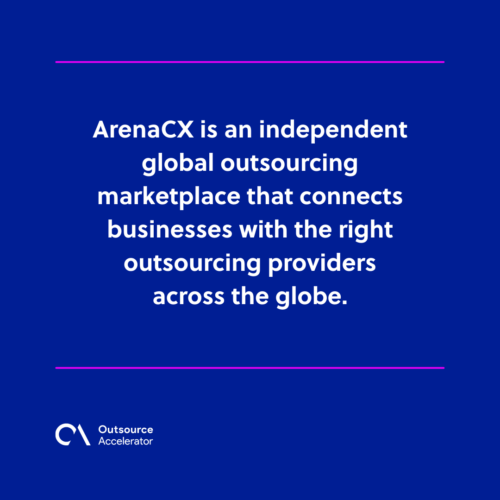 Modern outsourcing with ArenaCX
BPO is the practice of offloading tasks, responsibilities, and active procedures onto a third-party partner. Most organizations can find partners through the likes of ArenaCX.
Activities such as customer service, digital marketing, sales, assistant positions are outsourced to firms, agencies, and even contractors and freelancers.
Companies often outsource their processes to save resources and to make their work even more efficient.
BPO companies have a rigid protocol that ensures each and every client they have is satisfied with their output and overall productivity and performance.
ArenaCX outsourcing benefits
Increases revenue
There's no doubt that delegating services to BPO agencies increases revenue for the parent company. 
This practice allows the in-house and onsite staff of the company to focus on tasks that directly affect sales and revenue.
For example, if a business delegates bookkeeping services through ArenaCX's assistance, the department handling bookkeeping can now focus on coming up with and executing ideas on how to save up costs in the long run.
There are cases in which profits of a company went up significantly ever since working with an outsourcing agency.
Reduces overhead costs
Overhead costs may be one of the major culprits on why businesses are having a hard time controlling expenses. Also known as operational costs, these bills can't be avoided—rent, utilities, and insurances. 
This is also one of the reasons why some companies choose to work remotely. Working remotely allows employees, even the founders and senior executives, to work anywhere they want. Thus, eliminating the need for office space and workstations.
For some companies, going remote may be a leap they're not willing to take yet so they turn to outsourcing. 
Delegating work to external partners through independent offshore staffing marketplaces means more work gets done but with no additional overhead expenses. Much less in disguise of adding workstations and renting a bigger space.
Working with world-class talents
Delegating business processes means that a business has the ability and the privilege to tap into the international talent pool. The same goes for working with freelancers and independent contractors.
There's no doubt that working with professionals from all over the world will make the business even more enticing to its audiences and partners.
Not to mention that this will most likely strengthen the company from the inside out, thus making it stronger than its competitors. This gives the company the advantage to stand out from its competition.
Guarantee a smooth onboarding process with ArenaCX
ArenaCX outsourcing ensures that its partners have no qualms when it comes to onboarding clients. Anything from seasonal hires to long-term partnerships, they can handle.
Hailing from Raleigh, North Carolina, they work with clients up and down the east coast to the rest of the world. ArenaCX is an independent marketplace that aims to help organizations find the perfect BPO partner.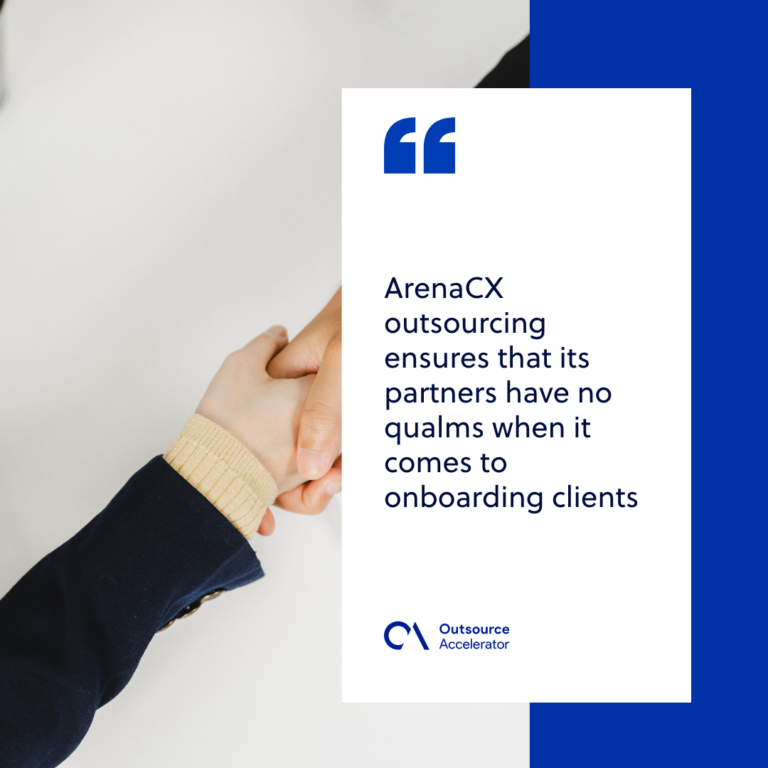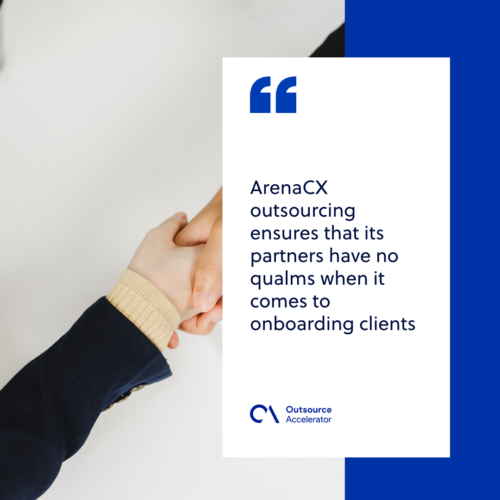 ArenaCX alternatives: Learn more about outsourcing consultants
Outsource consultants (also referred to as "outsourcing consultants') are companies or industry leaders that provide relevant outsourcing advisory services to global companies. Usually, they partner up with trusted BPO providers and connect them with global clients who are looking to outsource.
ArenaCX falls under this category, together with OA, Kelly Services, and ABC Consultants. Check out the top 10 leading outsource consultants of 2021 here.
ArenaCX's solutions to businesses of all sizes
ArenaCX is one of the leading outsourcing marketplaces today. They provide pathways to companies who are looking to partner with compatible business process outsourcing agencies.
They act as the middleman between their clients and their partners.
What is ArenaCX?
They are a BPO marketplace aggregator that provides assistance to companies and organizations, partnering them up with agencies and firms from all over the world.
The independent marketplace has partners from various industries such as: ​​
Sales and marketing solutions

Back office and admin functions

Finance and accounting

Customer experience

HR and recruitment
Outsourcing through ArenaCX's BPO solutions
Offshore staffing through the firm is easy—solely based on the reasons why they're doing what they do.
They're passionate about their consumers. They've adopted the consumer-centric approach to their business, allowing them to grow beyond industry expectations. They want to improve the quality of service that companies deliver.
They think that the current outsourcing model is flawed. They don't bother with inflexible contracts. They strive to change the model into a more flexible medium for all companies.
They believe in healthy competition. What's running a business if you've got no competitors? ArenaCX believes in leveling the playing field by providing equal services to its clients.
They want to correct outsourcing's negative connotation. The company firmly believes in outsourcing's capacity to do good. With its countless benefits and advantages, the company won't be having a hard time working this one out.
Further, whether you're a solopreneur or a manager at a large corporation, they can help you with your outsourcing needs. 
ArenaCX's BPO solutions for startups
Startup businesses and companies are usually at risk of going bankrupt in their first five years. But with the help of outsourcing marketplace curators, they can surpass those crucial years without any hitch.
Business processes that startups can outsource:
Recruitment activities

Accounting and bookkeeping

Back office and administrative work and duties
Of course, their services aren't only limited to those. The company's solutions also cover numerous industries, so there's no need to worry about not fitting in.
ArenaCX's BPO offerings for SMBs
Small and medium-sized businesses (SMBs) are important in diversifying the sizes of organizations that provide services, products, and solutions to the masses.
The marketplace aggregator that growing businesses need solutions that encourage growth, development, and innovation within the institution. This is one of the main reasons why they work with SMBs too.
They want budding businesses to get more leads in order to increase their network and active clients list. The marketplace's sales and marketing solutions are tailored for small to medium-sized enterprises.
ArenaCX's BPO packages for enterprises
ArenaCX utilizes artificial intelligence and cutthroat technology to optimize an enterprise's support network. With this, higher-ups and managers can delegate responsibilities and set KPIs in accordance with their respective sector, location, language, and channel. 
They believe in transparency and that's what's important for ArenaCX.
How ArenaCX vet their BPO partners
BPO partners come in handfuls and dozens, but this doesn't mean that BPO marketplace aggregators can't come up with a process to carefully vet them.
The company made a transparent yet rigid vetting process to ensure that they're partnering with world-class and high-quality partners only.
The process has three main steps, listed below:
Profile creation

Reference validation and discovery sessions

Agreement to marketplace terms
Divided into three distinct steps, ArenaCX processes all soon-to-be partners through this wringer.
In profile creation, ArenaCX does its own research and in collaboration with the interested offshore staffing firm. In this step, they conduct an in-depth study of all the features and services that the company can offer.
Below is their published "checklist" for Interested partners:
Certifications

Systems used

Locations

Performance history

Industries served

Skills & provided services
If and when a partner passes this stage, they now go through the next steps.
In reference validation and discovery sessions, it's just a matter of conducting a round or two of contacting references that the interested party provided. 
Once they find the information and data to be truthful, they can now go through "discovery sessions" with the applicant to discuss further details.
In the last and final stage of the partner vetting process, agreement to marketplace terms, the company introduced a set of terms and conditions that all parties involved must agree to. 
Before officially joining the company's BPO marketplace, they conduct one last financial check for the partner.
When all is said and done, they then add the BPO partner to their list of contact centers.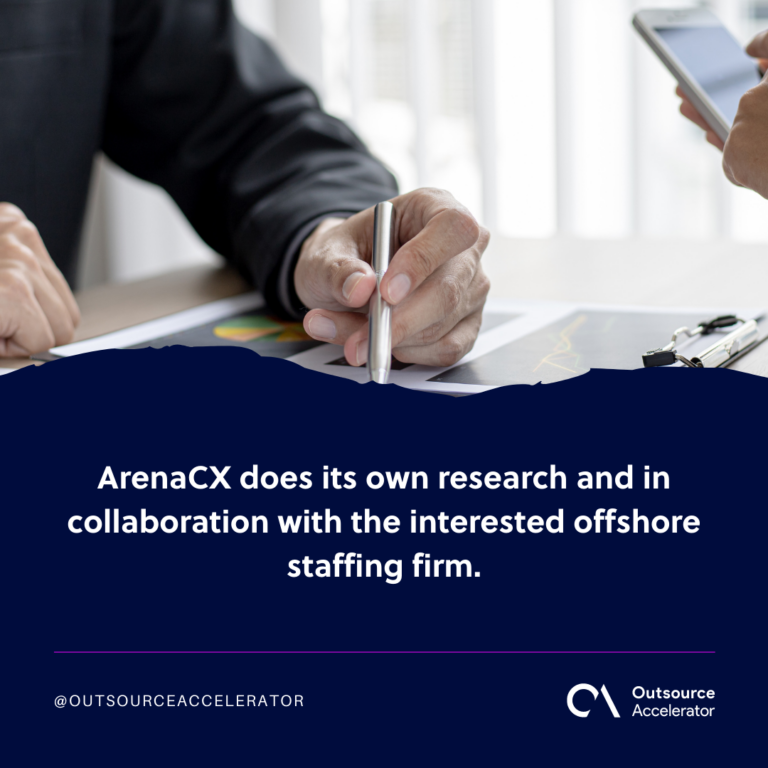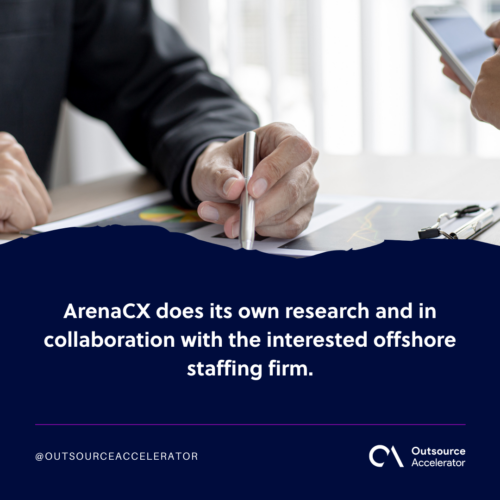 ArenaCX reviews and competitors
ArenaCX BPO is an innovative outsourcing consultancy firm and marketplace in North Carolina, United States. While we currently do not have any reviews for ArenaCX, we would suggest a comparison of the firm to other outsourcing consultants located across the world.
BPO companies aren't the only ones who are holding up the outsourcing industry. Outsourcing marketplaces and consultants are also on the list.
Outsourcing marketplaces and consultants are entities that provide guides and advisory services to companies all over the world. Like ArenaCX who falls under this category, they act as the bridge that closes the gap between companies and BPO partners.
Alongside ArenaCX, we have Outsource Accelerator, Kelly Services, and ABC consultants as well. To view a complete list of outsourcing consultants, see our complete guide here.