Top 10 outsourcing consultants in 2024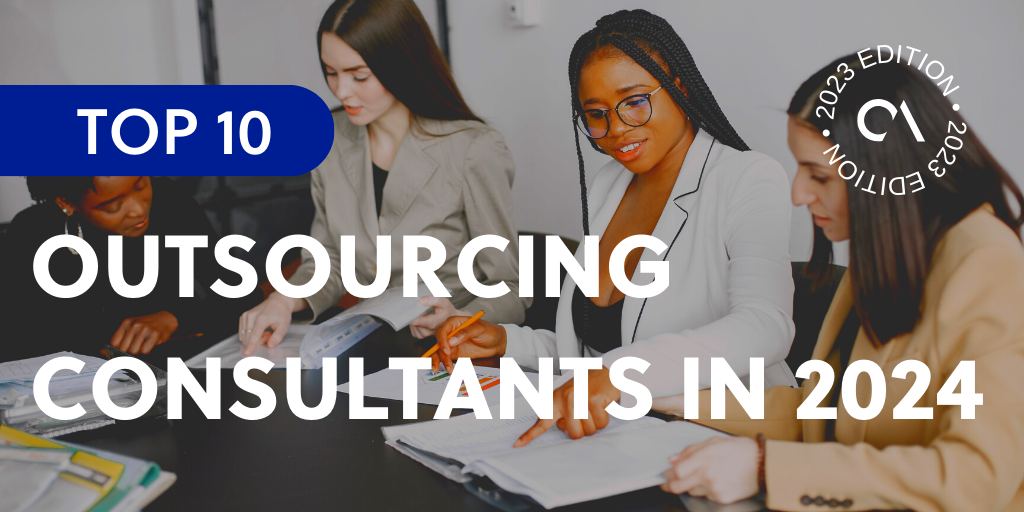 What are outsource consultants?
Outsource consultants (also referred to as "outsourcing consultants") are companies or industry leaders that provide relevant outsourcing advisory services to global firms looking to outsource their functions.
These outsourcing consultants and agencies assist businesses in locating the best BPO and call center providers that are suitable for their company's needs.
In various industries, outsourcing consulting firms may help find solutions for social media customer care, inbound and outbound support, live video chat, cloud-based call centers, and outsourced email support services.
They will save you a significant amount of time, cut down on your outsourcing expenses, and help you reduce the risks when transferring or choosing a new outsourcing partner.
Usually, outsourcing consulting firms serve as your guide and helping hand to help you fully leverage remote staffing. In addition, they help you take advantage of the following benefits of business process outsourcing (BPO) and offshore staffing:
Save up to 70% on employment costs;
Access a pool of talented and qualified remote workers;
Enjoy scalable and customized solutions from exceptional BPO providers, and more!
Top 10 Outsourcing consultants in 2024
Relevance of outsourcing consultants
Because of the recent increase in BPO's popularity, more companies now have access to world-class business resources, enabling them to maximize their potential.
Quality consulting advice requires specialized experience and skills. You can receive assistance and impartial professional advice when you externalize business consultancy with outsourced consultants.
Consuling firms that are operating remotely are much more cost-efficient than hiring a conventional consulting agency without compromising on efficiency.
Top 10 global outsourcing consultants
Here are the top 10 outsourcing consultants in the world:
Outsource Accelerator ("OA") is the Philippines' leading outsourcing advisor and a wide range of brokerage, implementation, and co-management services. The global outsourcing advisory firm assists companies in evaluating, forming, and managing overseas teams.
The OA platform provides different kinds of outsourcing articles, guides, podcasts, as well as white papers. The Philippines-based outsourcing advisory firm also offers three free quotes from over 700 listed BPO suppliers.
The Hackett Group is a global intellectual property-based strategic consultancy and business performance analysis company that provides digital transformation services to international businesses.
It includes leading enterprise cloud applications, process automation, and analytics to facilitate world-class digital results.
Kelly Services offers workforce solutions to customers in a range of industries throughout its existence. Over the past 70 years, the workforce solutions and regional reach have gradually expanded to meet the customers' needs. It started with staffing for office facilities, call centers, light industrial, and electronic assembly.
Kelly's experience also extends to a wide range of outsourcing and consultancy strategies for their clients, including global recruiting, human resource management, vendor management, and outplacement services.
ABC Consultants is a trusted talent management agent for multinational corporations and leading Indian corporations. Along with their position as reliable consultants for Indian professionals, it translates into its core competency.
Additionally, ABC Consultants provides a comprehensive range of tailored, high-quality, research-based talent consultancy services.
Consultport offers seasoned consultants and digital specialists to help every project moving forward. To ensure that the clients collaborate with the right consultant for their needs, their model blends the best functionality of a digital platform with the human interaction of personal account assistance.
Consultport provides a wide variety of skill sets and is more versatile, quicker, and cost-effective than conventional consulting models.
JRP's certified specialists assist in saving energy and resources, reducing waste and environmental effects, and improving sustainability results while minimizing the impact on the manufacturing process. JRP works flexibly and develops tailor-made solutions to meet the clients' needs, from the opportunity to an energy efficiency initiative to the full one-off energy management service.
Consultancy.org is a multinational services company and consulting online website. The website offers an analysis of career prospects for professionals willing to work in consultancy.
Consultancy.org collaborates with leading consultancy companies based in the United Kingdom, including England, Scotland, Wales, Northern Ireland, and Ireland.
Intelligent Sourcing has been the go-to resource for C-Level end-users in the sourcing sector for over a decade. Intelligent Sourcing is a digital network that connects sourcing providers with buy-side end users. It is often used as a vital component of a provider's marketing strategy.
Intelligent Sourcing includes a wide range of industries, including automation. They cover BPO, Customer Experience, ITO, Shared Services, Location Strategy, Impact Sourcing, and Business Services with daily independent content and analysis.
Nearshore Americas, founded in 2009, promotes collaboration among consumers, investors, service providers, regional and country-based investment agencies, and other investors in the technology-services sector.
Nearshore Americas has extensive expertise, perspectives, and relationships across the Americas, giving their team exclusive access to reliable data and top-level contacts across a wide variety of countries.
Outsource Consultants is a consulting call center company that makes the process of finding top-performing call centers more accessible.
The firm lays the groundwork and researches businesses to align them with the best outsource call center solutions that suit their specific needs. Companies benefit from this because it saves them time, lowers their prices, and ensures that they find a high-quality, high-performing outsourced call center that best suits their needs.