How outsourced staffing improves your business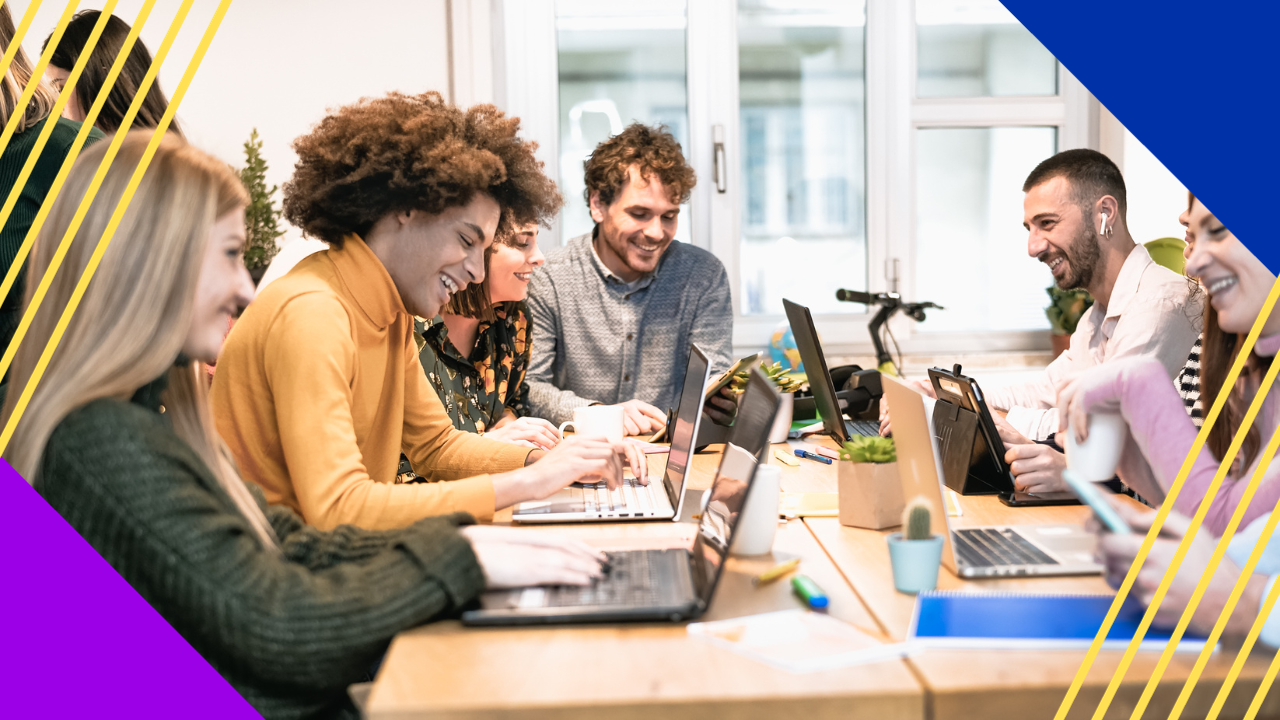 This article is a submission by 20four7VA. 20four7VA is a trusted remote hiring company specializing in cost-effective, end-to-end offshore contract staffing solutions to all businesses worldwide. 
By now, you're probably aware of the cost-effectiveness of outsourced staffing. And it's true; outsourcing helps businesses lower costs by working with talents from countries with lower labor costs.
It also helps reduce overhead costs by minimizing expenses like office supplies, transportation allowances, and other expenditures associated with hiring in-office staff.
But outsourcing your processes offers so much more than keeping costs down—although it is a welcome benefit. When done well, your business can reap many benefits beyond reduced expenses.
Outsourcing gives you access to a bigger talent pool that can boost productivity and inspire creativity.
3 ways outsourced staffing helps your business
Aside from the well-known cost-effective benefit of outsourcing, you'll find that working with global talent positively impacts your business.
Yes, outsourcing can help you save up to 80% on labor costs, but it can also be the next smart move that can bring your business to the next level.
1. You can hire based on expertise, not location
Hiring outsourced staff lets you prioritize expertise over a candidate's physical location. They'll be supporting you remotely, so you don't need them to work within the same city or even country.
You can outsource to someone who is an expert in their specific field. For example, you can outsource IT services or bookkeeping if your business lacks in-house staff to handle those tasks.
Adding talents that have the right skills and capabilities will not only help you do more. It also helps you perform better.
You'll also have access to their wealth of experience and various insights to improve processes and offer more value to your customers.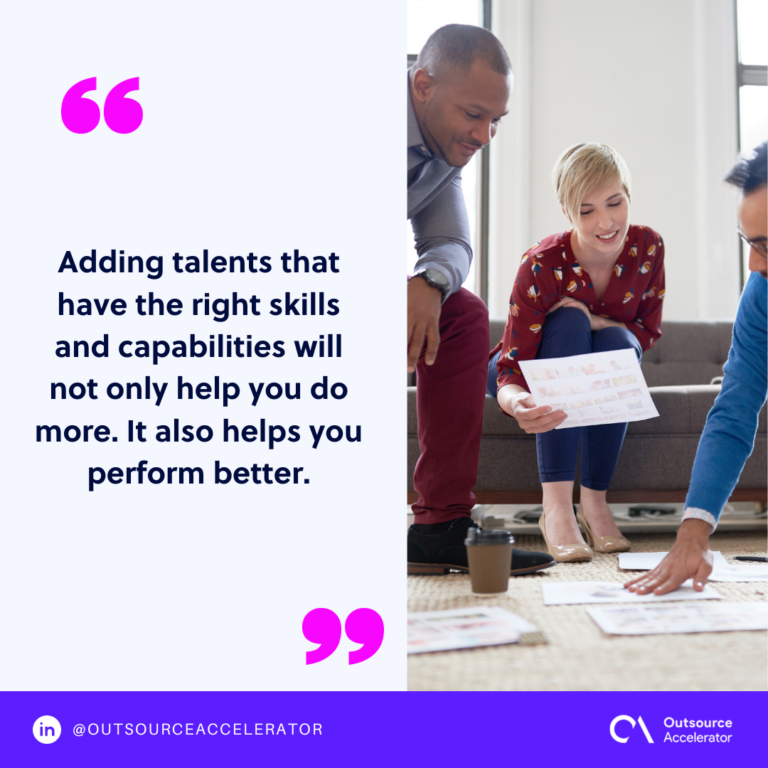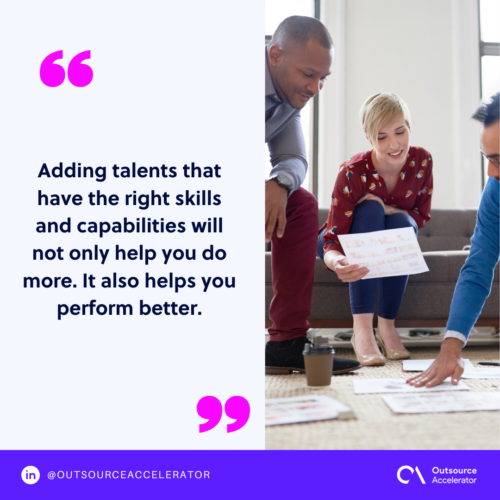 2. More help means clearing your checklist (and mind) so you can focus on core functions
When you're working with people with the right skills to accomplish their functions, you'll be more confident with delegating tasks.
You're better equipped to focus on your core functions and be present. You don't need to worry about the database you need to update or learn how to set up your website.
You have the support you need, so you can carry on doing more high-level tasks that can generate the most value for your business.
At the same time, you don't need to micro-manage since your outsourced staff are trained well and empowered to do what they're best at.
Aside from helping you worry less about low-level tasks, outsourcing helps you check more off your to-do list. Outsourcing helps you manage your workload. Plus, if you have an in-house team, they'll be more in control of their time.
You and your team can finally focus on core tasks instead of working extra hours to finish additional time-consuming functions that could be easily delegated.
3. Fresh and diverse perspectives can spark innovation
Outsourcing opens up your business to a broader talent pool of diverse professionals, all with fresh perspectives to share.
Adding diversity to your team allows your business to develop more creative solutions to problems. They can also help identify gaps or untapped market needs you can profit from.
Increasing the diversity of your workforce helps ensure that your business reflects the people you cater to. You're not just focused on one type of customer.
It helps to access different points of view from people with various backgrounds, genders, religions, socio-economic classes, and so on. Outsourcing can help you have just that.
Key considerations when acquiring outsourced staffing
It's clear that outsourced staffing offers plenty of benefits to businesses of any size. However, it's important to consider the following factors to help you maximize this alternative staffing solution:
Quality control
Some business leaders may be on the fence about outsourcing processes due to a perceived lack of control over the quality of work. But this concern can be addressed by:
Defining the scope of work of the outsourced staff

Setting clear goals and KPIs

Working with reputable outsourcing staffing companies
Being clear about why you need to outsource and what they'll be doing is the first step in ensuring you're making the most out of this staffing solution.
And just like how you would rate the performance of in-house teams, you need to establish clear goals and align with your outsourcing services provider, whether for offshoring or nearshoring.
This way, you have a clear understanding of expectations. They can also help you find the right talents to achieve your business goals.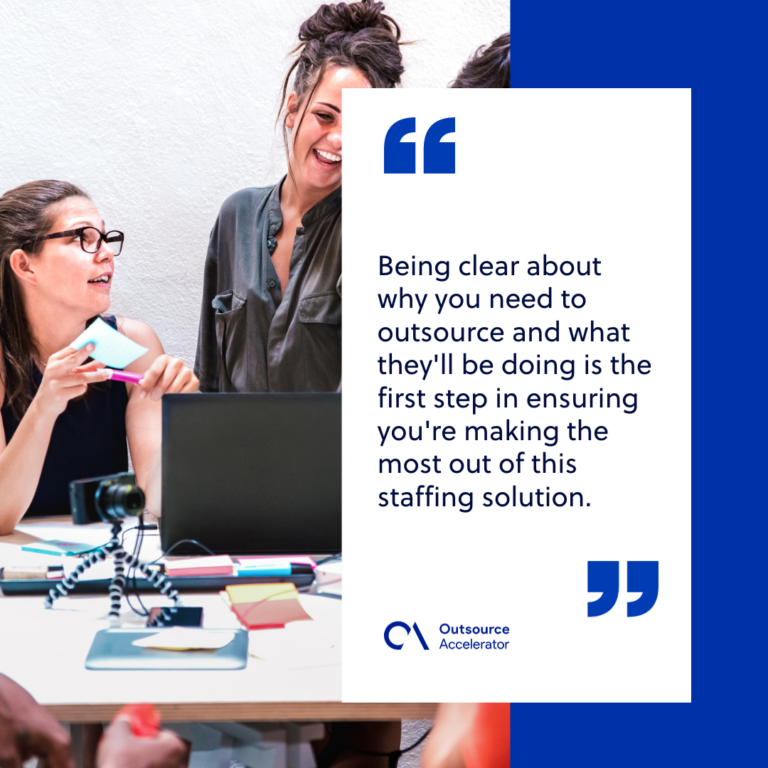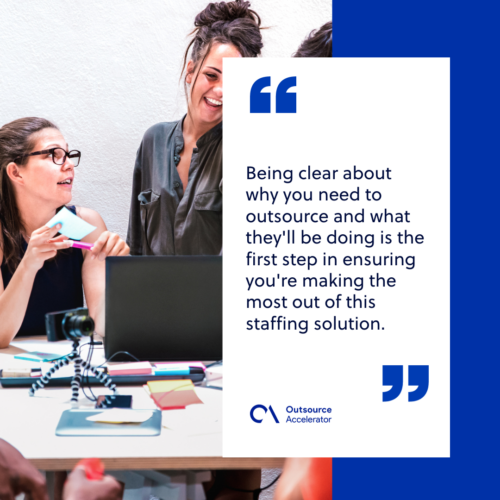 Communication
Before availing of outsourced services, you need to ensure that your business is equipped to work with outsourced talents. This includes having the right communication tools to ensure nothing gets lost in translation.
Equipping your business with suitable synchronous and asynchronous tools makes working with distributed teams more seamless.
Communication tools help keep that connection between both in-house and outsourced staff, allowing for better collaboration and engagement.
Data security
Cybersecurity should be a priority whether or not you're working with distributed teams.
Most modern businesses conduct part, if not all, of their operations online. This is why investing time and resources in data security measures is a must.
Any data breaches can lead to serious damage both to your finances and reputation.
If you're planning on working with an outsourcing services provider, make sure to include your data security requirements and practices. This will help ensure that the outsourced talents you'll be working with are aware of your requirements and will follow them.
Monitoring productivity
How you monitor your outsourced staff's productivity will highly depend on your company culture.
If you prefer a more hands-on approach or opt to be billed by the hour, you can work with outsourcing staffing companies that offer time-tracking capabilities.
Using project management tools also ensures all stakeholders have visibility on a project's progress.
This helps you monitor what your staff members are working on. At the same time, you can identify areas where you need to reassign tasks to avoid employee burnout or project delays.
Outsourced staffing is a smart business move
Outsourcing is more than just a cost-saving staffing solution; it's a smart business move that can enhance business capabilities, improve efficiency, and drive innovation.
By carefully choosing the right outsourcing services provider and using the right tools, you'll be able to reap the numerous benefits that outsourcing can offer.