Benefits of having an outsourced SEO team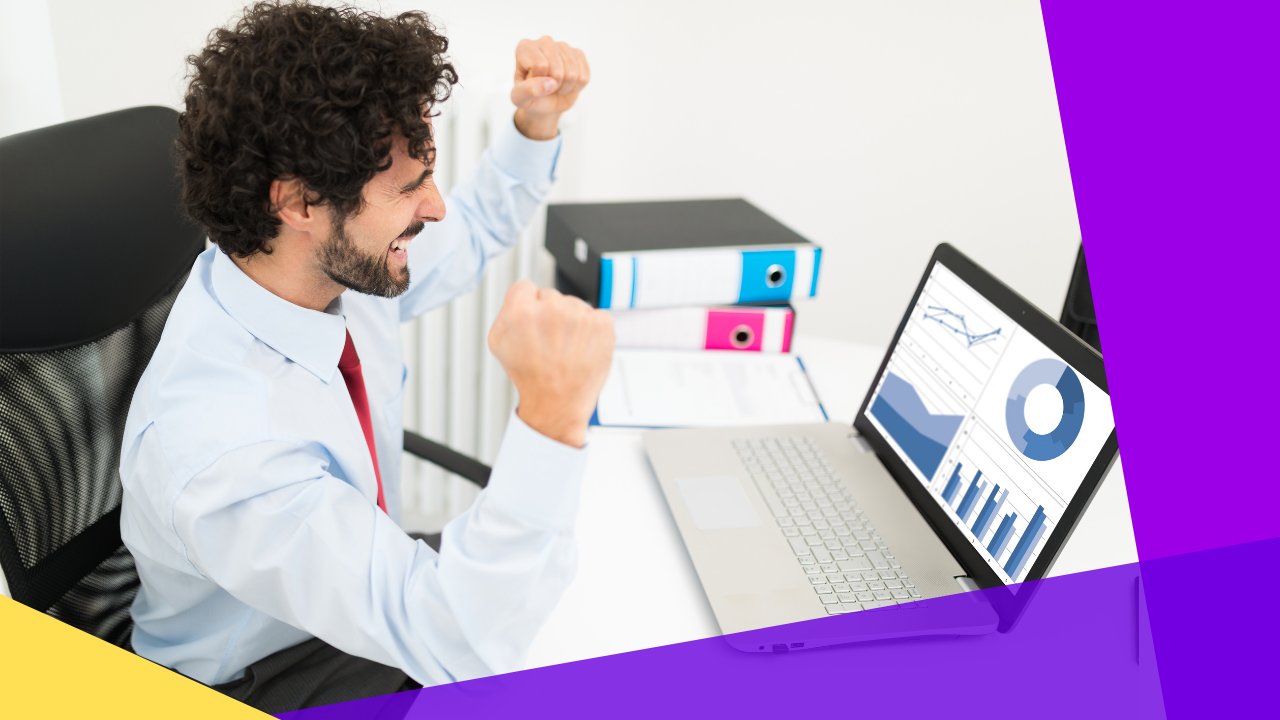 Recruiting a highly skilled SEO team is crucial for any business that wants to have an active presence online. The better visibility a company has in search results, the more likely there is to attract clients and gain their attention. 
Choosing between an in-house or outsourced SEO staff is a tough decision for a business owner. Both have advantages that could drive the performance of your web pages and your overall brand.
What is SEO?
Search Engine Optimization (SEO) refers to the method of enhancing your website and its content to extend its visibility in search engines such as Google, Yahoo, or Bing. It can be used as a factor to measure the online visibility and success of your brand. 
They help measure the user experience in your page as search bots direct the users to your site whenever they search for products or services related to your business.
Some companies choose to outsource their SEO process to get it done effectively. This can be helpful when local employees do not have enough time to manage SEO strategies or are not knowledgeable enough in this field.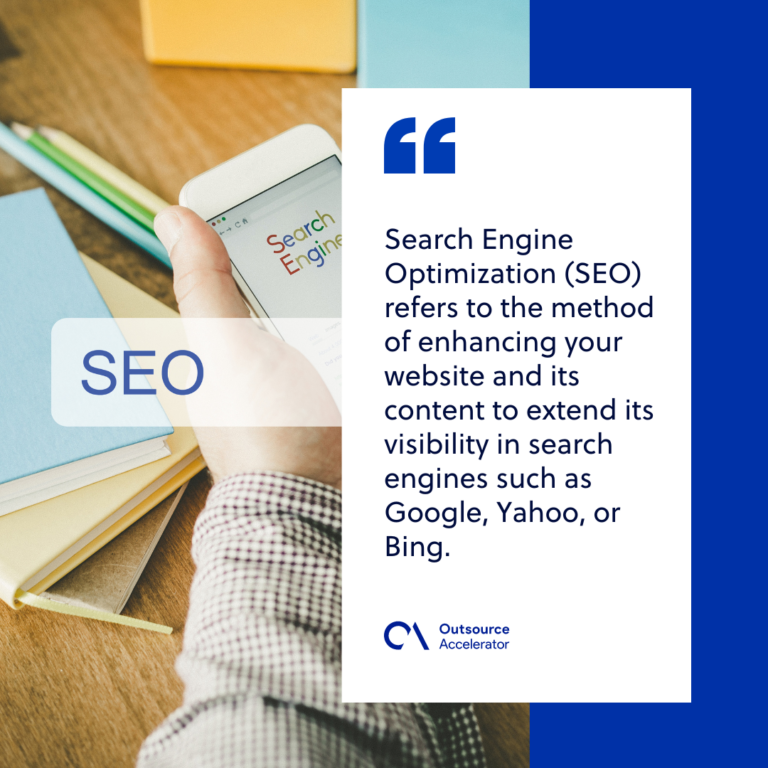 Who makes up an SEO team?
When building an SEO team for your company, it is best to keep it small. The fewer people there are in the department, the less trouble for your business.
However, you also have to be careful to hire enough employees to address each major component of your strategy.
Here are a few key positions to decide on to set up and an excellent SEO department.
Team lead.

They have the technical knowledge and management experience to guide, supervise, and finish the task to the highest possible success level.

Tech specialist.

They understand the technical side of the whole SEO process. They also stay updated on all changes to Google's search engine placement algorithm and how keywords, content, and metadata affect a company's search result placement.

Outreach specialist or link-building professional.

Their focus is on encouraging sites to post content that links back to your business.

Data analyst.

They look over the performance data to help create new SEO strategies and improve the ones currently running.

Copywriters.

They write articles, social media posts, and landing pages designed to improve the SEO of your site.

Language manager.

Ensure that your company's message is available in all languages relevant to the market.

Project managers.

They help ensure that each SEO project is on track and done right on schedule.
Now that you have an understanding of what an SEO team does and how these teams are organized, it is time to see how outsourcing could help your business.
Advantages of outsourcing your SEO staff
Recruiting an outsourced SEO team is a common practice in companies that do not have enough time to focus on building an effective strategy to help their business.
Here is a list of the most popular advantages of outsourcing your SEO staff.
Updated and diverse  
SEO outsourcing companies are experts at handling multiple clients at once. Because of this, they stay updated on the newest trends and technical developments when it comes to search engine optimization.
In addition, they offer a diverse knowledge set and extensive experience in creating an effective SEO strategy that easily trumps one single team member any day.
Flexible and scalable
The main goal of SEO is to make your company more visible online. Outsourcing helps your company stay flexible and scalable whenever. 
SEO agencies can provide your organization with more resources as they become necessary, scaling right along with you without any hassle. On the other hand, you can easily break off their services whenever you like or depending on the contract.Well-equipped
Outsourced SEO companies utilize different tools to help boost your company's growth. These tools and equipment can be costly if purchased alone.
When you delegate your SEO process to a service provider,  the price of the necessary tools is already incorporated into your contract, meaning you don't have to worry about footing the bill on your own.
Allows you to focus
Outsourced teams in any industry can help your focus on your main tasks — developing your business to its full potential. 
Partnering with an offshore SEO firm will help you gain someone who can handle all aspects of search engine optimization without you supervising everything all the time.
Moreover, because they focus exclusively on SEO, you can have confidence in their expertise and methods. You are also ensured that they can deliver excellent results that will put your webpage in an exceptional ranking within search engines.
Cost-efficient
An in-house SEO team can cost more than an outsourced staff as you have to provide their equipment, office space, and salaries plus their training before onboarding. 
Outsourcing gives you access to a diverse team of professional SEO strategists at the same cost as hiring one or two in-house team members. This allows you to gain expert employees in the field at a cost-efficient amount.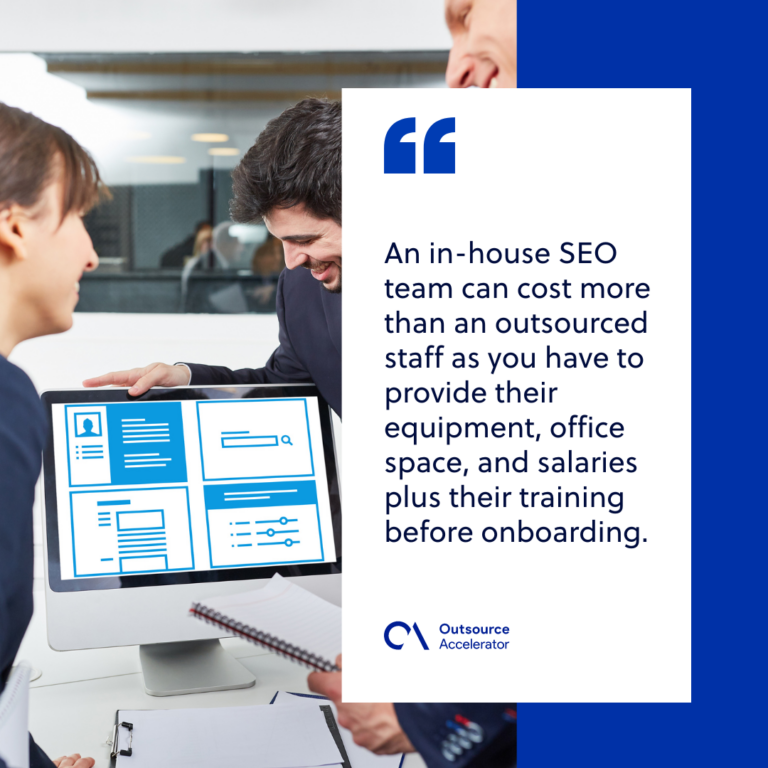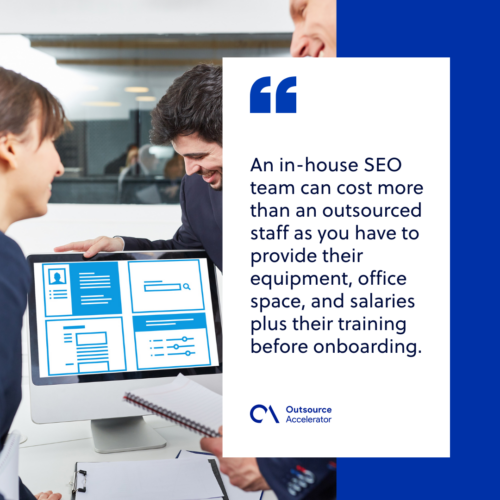 Strengthen your SEO with Helpware's team
Outsourcing helps you build or expand your SEO team without the added effort of hiring and training additional employees. With this, you are getting insights from specialists who have gained expertise in the industry.
That is why finding the perfect partner agency is important. Helpware can be an ideal associate of your company.
With their assistance, you can have a full-stack, dedicated team that provides data-driven solutions for all of your needs. They offer complex SEO audits, create semantic cores, and design topics for copywriting to ensure that your brand is visible in any search engines across the web.
Aside from this, they also assist in a range of different outsourcing services to organizations worldwide. 
Visit Helpware's website now to start building a virtual team for your business.