Definition
What is an SEO Outsourcing service?
SEO Outsourcing services is the concept of delegating responsibility for search engine optimization (SEO) activity to an outside supplier, which is performed in-house. It can be done with the help of SEO virtual assistants. 
Most companies that choose to outsource SEO because they are unable to:
Allot time to manage their SEO strategies.

Get the SEO results that their business needs.

Understand the many types of SEO, such as off-page, on-page, and technical SEO.

Make the essential modifications for SEO, such as updating the backend of your website.
SEO outsourcing services include on-page and off-page optimization to a third-party company, agency, or individual freelancer.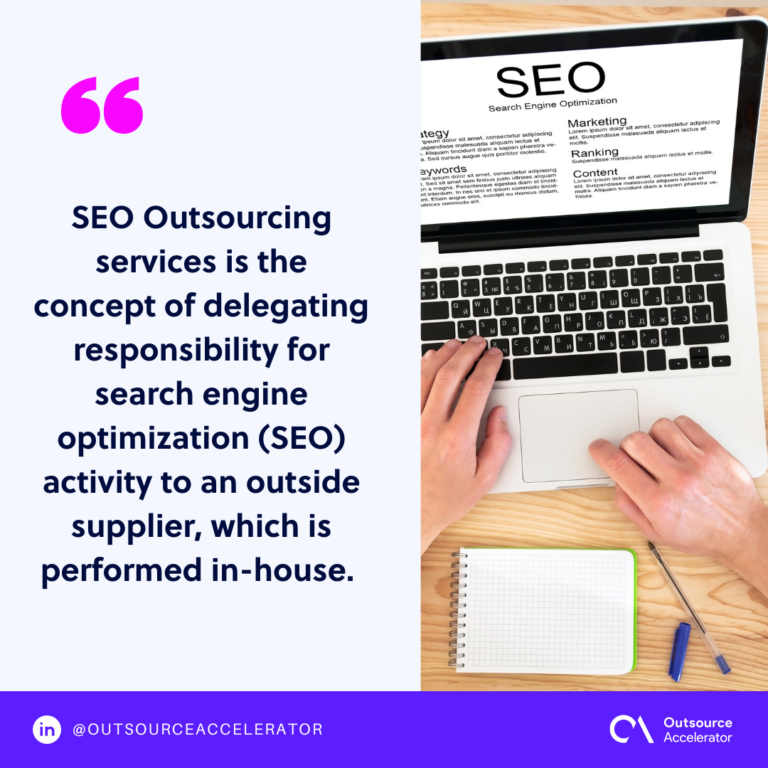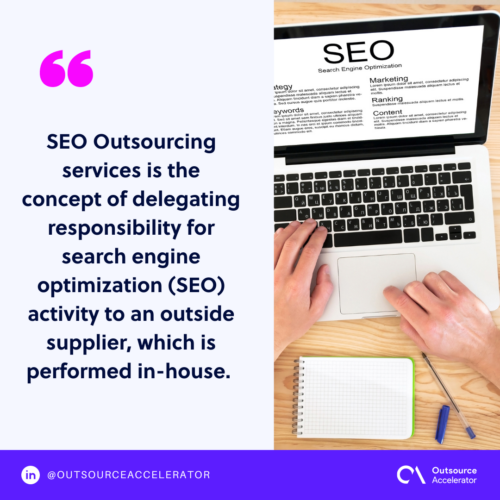 Common SEO outsourcing services available.
A company often delegates SEO services when it needs assistance growing its firm for growth and offering more comprehensive offerings to its customers. 
Here are the most popular services when you outsource your SEO:
Website audit
A website audit is a comprehensive assessment of all elements that influence a website's search engine exposure. This standard method provides a comprehensive view of any website, including general traffic and particular pages.
The sole objective of a website audit is for a company to achieve its marketing goals. It also helps in identifying campaign flaws that affect website performance.
SEO keywords research
Keyword research is the technique of finding and researching search words that consumers type into search engines when browsing for products, services, or general information. Keywords are associated with questions entered by users into search engines. 
The website's SEO keywords are the words or phrases that appear on the content that allows visitors to locate it through search engines.
Page Optimization
Page optimization is making changes and modifications to your pages' content and technological foundations so that search engines can recognize them as well as your visitors. 
Small businesses will benefit from this form of SEO service because it is less expensive than generating pages from scratch.
On-page optimization.

On-page SEO facilitates web pages' development to improve their search engine rankings and generate more organic traffic. Optimizing the content or improving the meta description and title tags are examples of this.

On-page SEO

takes time to show benefits, but it can boost your online ranks and sales once it does.

Off-page SEO.

All procedures conducted outside the original website to increase its rankings in the search rankings are referred to as off-page optimization. These are steps that assist in the creation of as many high-quality backlinks and incoming links as possible.
Link Building
In competitive sectors, SEO link building is critical for driving organic traffic through search engines. Link building may be highly efficient at driving more organic traffic when combined with technical solid SEO foundations, outstanding on-page SEO, great content, and an excellent user experience.
How to outsource SEO services
You can take your SEO strategy to the next level and help your company become more prominent on the internet by outsourcing your SEO.
Here are some tips to consider in outsourcing your SEO activities:
Choose a reputable organization with a solid client base.

Always keep your marketing and branding objectives in mind.

Set quantifiable goals and be clear about your expectations.

Agree on a plan of action and evaluate the number of tasks with your provider.

Project status monthly and request reports whenever possible.