Why companies should outsource in the Philippines now more than ever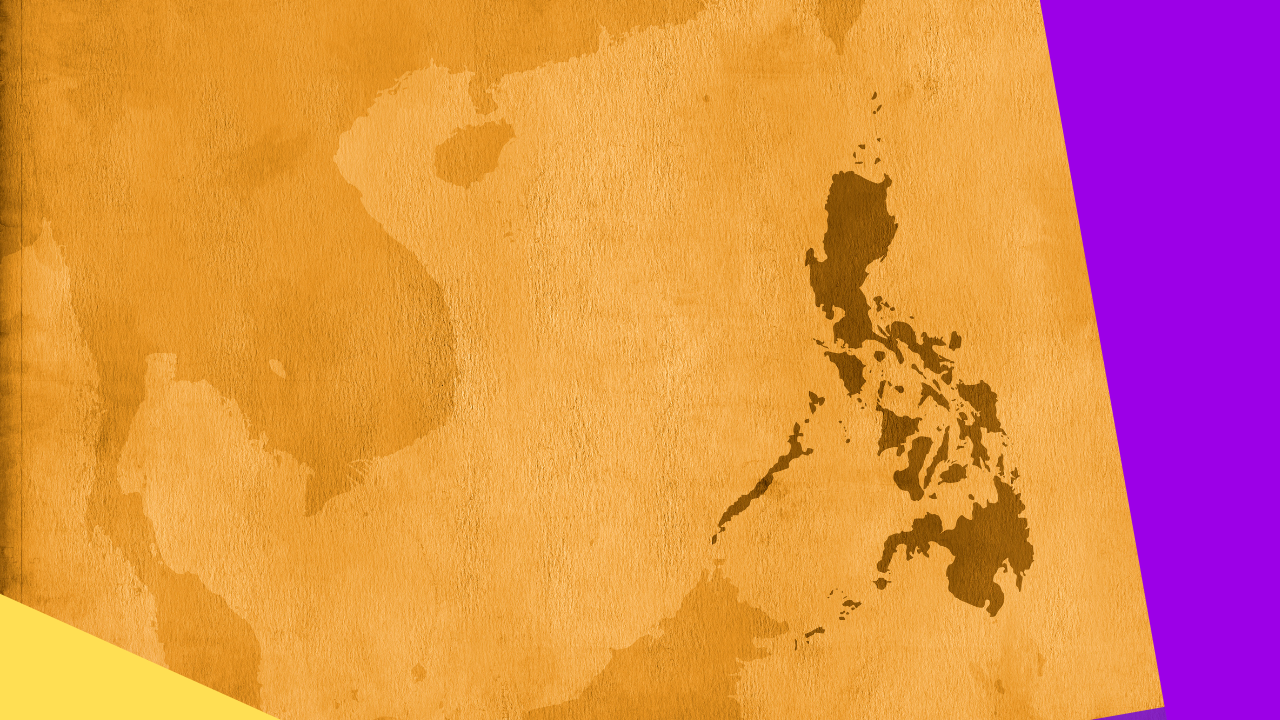 Outsourcing is a great way to help the quick progression of your business in its various growth stages. From various start-ups to large corporations, companies these days are choosing to outsource some of their workloads. 
Most businesses like to outsource to offshore locations to balance their operational costs without sacrificing their services. One of the major countries that thrive in offshore outsourcing is the Philippines. 
Outsourcing definition
Outsourcing is the strategy of hiring skilled professionals from a third-party service provider to offload some tasks or help manufacture a brand's products. 
This approach helps efficiently accelerate a company's processes. Some organizations outsource their activities to focus on their core services and competencies. 
With this shift in focus, businesses have the time to improve their current operations to provide better customer service to their clients.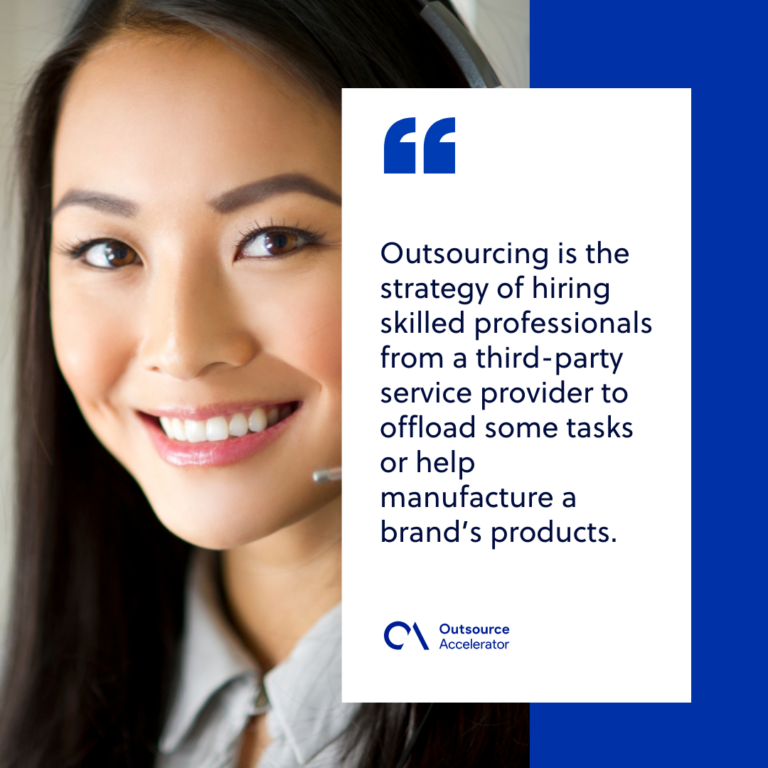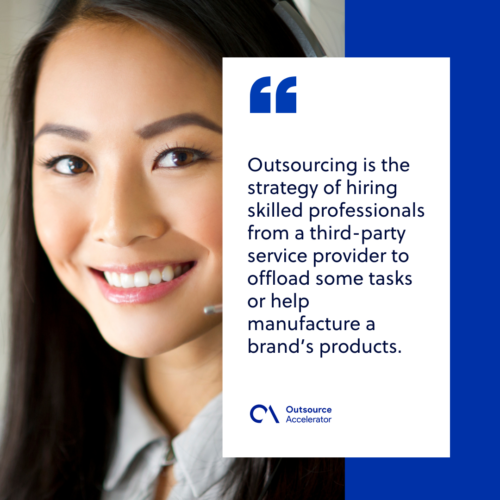 How could outsourcing help your business?
Outsourcing has been making its way in the business industry, changing how processes work. It offers plenty of benefits when it comes to competing with other businesses in the same industry.
We can also define job outsourcing as a modern business strategy that can cut operational and labor costs while simultaneously expanding the company and increasing its profits. 
An outsourcing partner allows businesses to perform their processes and satisfy both their customers and employees while keeping tight control of the overhead costs.
It also has a significant potential of freeing up employees' valuable time within the company from doing time-consuming everyday tasks, giving more of that time to creating better strategies for business growth.
The expert services of outsourced agents will ensure that your company can provide service to your clients that would make them feel cared for and appreciated. 
Why companies should outsource to the Philippines – now more than ever
The COVID-19 pandemic halted various business plans and strategies last year. Despite this, companies are gradually working their way up to recovery. Adjustments need to be made, as they need to be more careful in making business decisions during this difficult time.
Many companies decided to turn to offshore staffing to save on business costs. Fortunately, the outsourcing sector in the Philippines did not disappoint.
Amid the pandemic, here are five reasons why companies should outsource to the Philippines – now more than ever:
Impressive English proficiency
Along with Filipino, English is an official language in the Philippines. It is in both verbal and written instruction across the country's educational systems and institutions. 
That is why there is a big demand for Filipino staff from companies that outsource their services.
Additionally, around 70% of Filipinos are fluent in English, possess a neutral accent, and can adapt to a client's speaking style quickly. With a 91.6% literacy rate, the Philippines is filled with a wide talent pool of a highly-educated workforce.
Highly skilled talents
There is currently a large number of service providers in the Philippines that offer talents across a multitude of fields that ranges from customer service, financial services, IT, graphic design, content writing, and marketing, among others. 
Filipino employees are resourceful and can find the easiest ways to carry out tasks with minimal supervision. They are fast learners and can easily adapt to new systems, processes, technologies, and workplace situations.
Premium service at an affordable price
The Philippines is a more appealing location for outsourcing because it offers affordable operational costs and benefits. However, it doesn't mean that their quality of service is jeopardized.
The cost of living in the Philippines is significantly lower compared to first-world countries. This helps foreign investors expand their operations through outsourcing while saving money.
24/7 operations
The outsourcing industry is successful in the Philippines because its professionals are flexible on time. Filipino employees are willing to work any shifts to accommodate clients across the world. 
The local workforce is geared towards providing 24/7 support. So regardless of your company's timezone, the Philippines can cover your operations.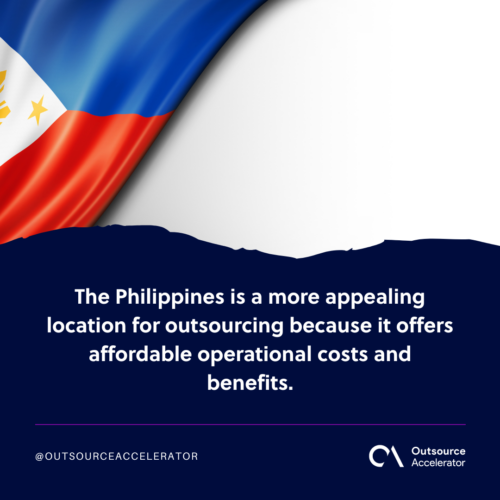 Strong government support
Since outsourcing is among the biggest economic contributors in the country, the national government strongly supports the industry through infrastructure and policy-making. 
Different agencies are also established to help train young professionals who want to enter the BPO sector. The national government also supports partnerships with universities in the Philippines to prepare the next generation of outsourced employees.
Additionally, the Philippine Economic Zone Authority (PEZA) was created to support foreign investors in the country and provide them with tax and non-tax incentives.
Find your outsourcing team with Booth and Partners
Finding your perfect outsourcing partner can be challenging, especially when you are presented with a lot of options. Booth & Partners can be the right fit for your organization.
This American-owned outsourcing company can provide your business an offshore team with the right skills and attitude that you are looking for.
Established in 2013, Booth & Partners offers services to organizations worldwide with their top-notch offshore team in the Philippines. Scale your business with the right people through their tailored recruitment, exceptional support, and flexible solutions.
They offer Staff Leasing and Managed Services for a vast array of roles and business functions and caters to businesses of all sizes and industries around the world. 
Visit Booth & Partners' website now to learn more about their offers.