Why outsource to Clark, Pampanga: The next outsourcing hotspot in Asia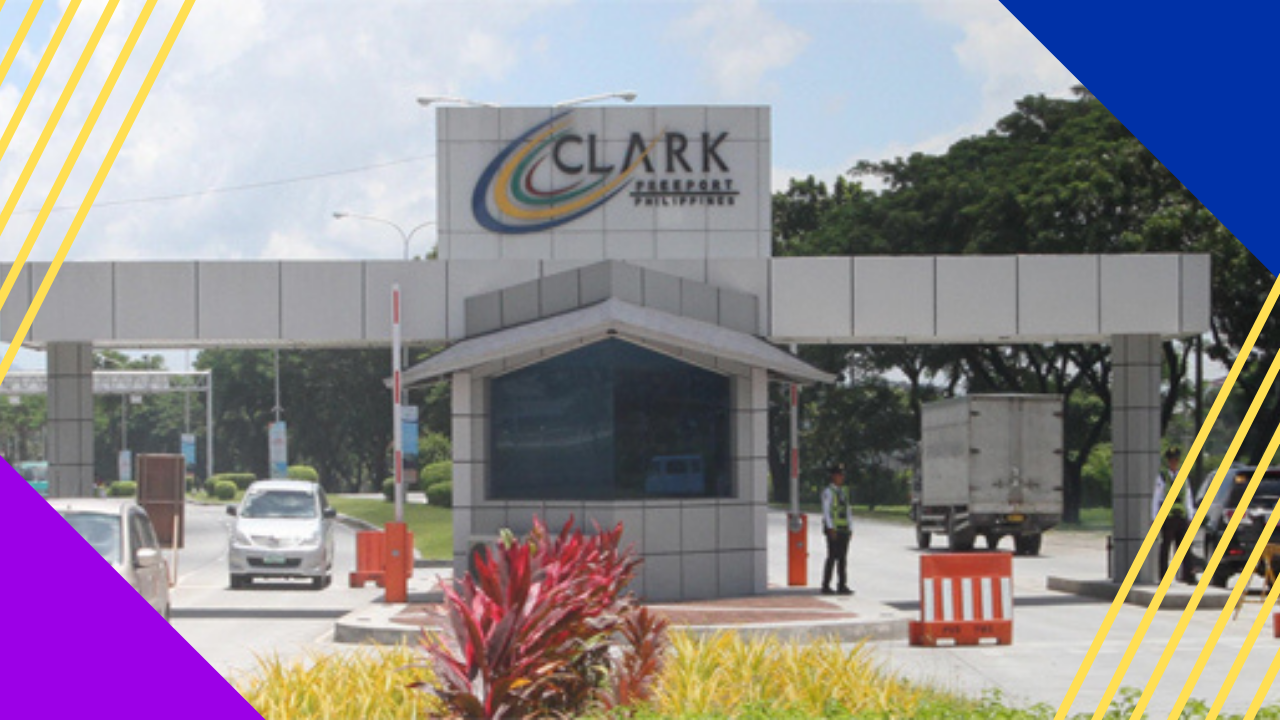 Pampanga is famously known for several things not just in Asia but also internationally. 
As the home of the renowned Mount Pinatubo, Pampanga has showcased its resilience to calamities. Now, the Philippine province is home to natural wonders, amazing culture, and unique cuisine that attract locals and tourists alike.
Aside from these tourist attractions, Pampanga has also been making a name in the outsourcing industry, with Clark at the forefront. Over the years, more and more BPO companies have invested in Clark as it shines as one of the best alternatives to Metro Manila.
Now, what makes this city in Central Luzon a very attractive outsourcing location? Why should global companies outsource to Clark? Let us find out! 
Outsource to Clark: The city as an emerging BPO destination
The Philippines has always been hailed as one of the leading outsourcing destinations around the globe. The country has been placed 5th in the Top 50 Digital Nations. Manila, on the other hand, was ranked 2nd in the Top 100 Super Cities. These rankings were published in the Tholons Services Globalization Index 2019. 
Apart from Manila, however, another city is gradually making headway in the outsourcing sector, and it's Clark, Pampanga.
Clark is considered a good alternative to Metro Manila in terms of wide business opportunities for both local and foreign investors. It also has a good mix of rising residential townships and commercial establishments. 
Further, part of its appeal is its proximity to the capital, just 80 kilometers north of Manila. It is accessible through Metro Manila Skyway Stage 3 or North Luzon Expressway. 
In all, Clark is an up-and-coming offshoring powerhouse in the Philippines because of these distinct characteristics:
rich pool of seasoned professionals

rising infrastructure

rapid developments
Clark as a freeport zone
Being a freeport zone is what makes Clark a highly attractive location for investment especially for foreign organizations. 
The primary goal of the Philippine government in designating the Clark Freeport and Special Economic Zone is to encourage foreign businesses to invest in the country. 
Compared to other parts of the Philippines, foreign companies that establish themselves in Clark are not required to have Filipino shareholders. Examples of multinational companies that have their operations in Clark are Samsung, Texas Instruments, and Yokohama Tyres. 
As global industries invest in Clark, it is also expected that more BPO and KPO companies will be established in the province in the coming years. 
Clark Freeport Zone is regulated by the Clark Development Corporation (CDC). The CDC is ruled directly by the Philippine government, and it strictly follows a no corruption policy.
Clark as a former military base
Clark also has a historical significance as it was formerly a US military base from 1903 to 1992. The city has benefited from the infrastructures built by the American militaries during this period.
Among these are stormwater drains, a steady electricity supply, and sealed roads, which paved the way for further world-class developments. Right after the military base was pulled out, the local government immediately built a fiber-optic network in the city.
These groundworks have extremely helped ensure foreign organizations have top-notch internet sources and utilities that are in line with global standards. Clark also has a tight security system as it is where the Philippine Air Force base is located.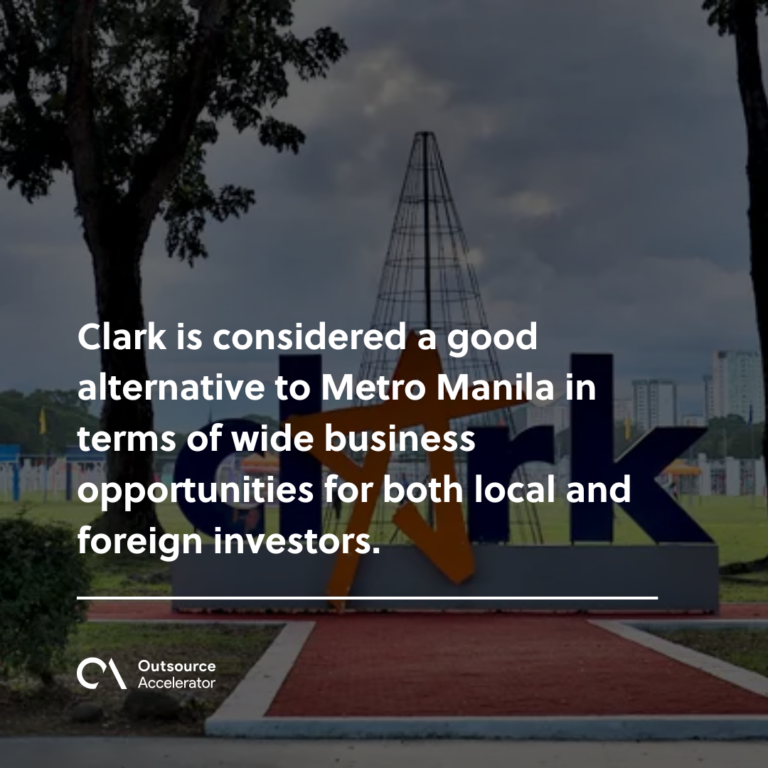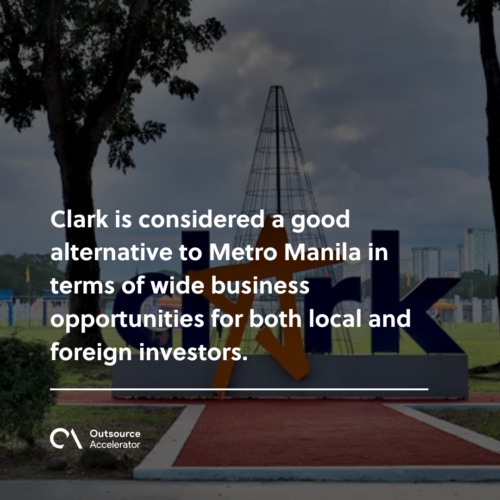 Outsource to Clark: What makes it an ideal outsourcing location? 
Below are the top ten reasons why many local and foreign companies of all sizes outsource to Clark:   
Access to fiber-optic connection
Faulty internet connection may cause disruption especially in virtual communications between remote teams and foreign clients. A strong internet connection lets BPO companies have smooth communication with their clients. 
However, not all parts of the Philippines have access to fiber optics offered by national and local ISPs. In Clark, internet-dependent organizations need not worry about connection hiccups. The city is one of the first provinces in the country to have access to fiber internet since 2015. 
Strategic location
In terms of accessibility, Clark is surrounded by various types of establishments, real estate, 5-star hotels, and high-tech facilities. 
Aside from its proximity to Metro Manila, it is also served by the Clark International Airport. This makes it easier for both local and international companies to visit their BPO partners located in the region.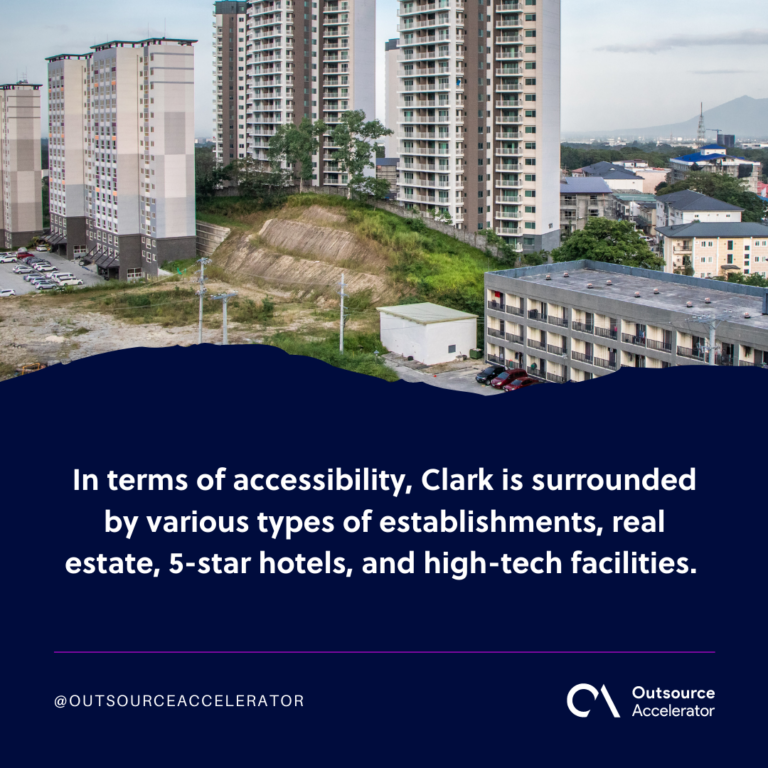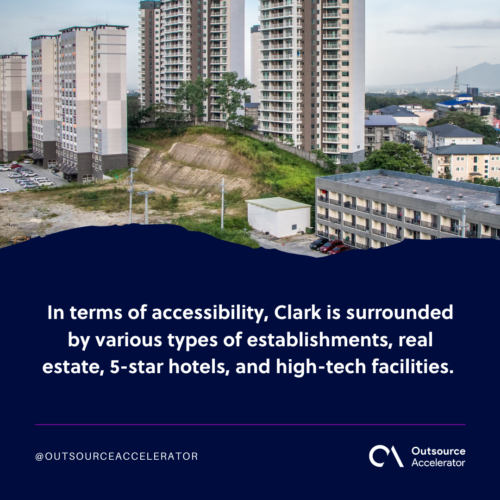 World-class infrastructure 
In 2018, the Clark Development Corporation allocated over 928 million PHP for different infrastructure projects as part of the country's Build Build Build program. The goal was to encourage more multinational companies to invest and outsource to Clark. 
The 2018 infrastructure projects include the development of power and transportation utilities, which include the expansion of Clark International Airport.
Overall, these projects are aimed to enhance the Clark Freeport Zone, Clark Special Economic Zone, and New Clark City. 
Industry growth 
Clark developments are handled by Bases Conversion and Development Authority (BCDA). This is also the same organization behind the outstanding development projects in the country like BGC and Mckinley Hill. 
As more and more facilities are developed in Clark, more business and job opportunities will also open. More so, since Clark is managed by the CDC, the local government does not have the right to interfere with businesses. 
Excellent talent pool
Not only is Clark appealing to businesses but also to a valuable workforce. 
Many of the working population in Regions I, II, and III gravitate toward the BPO sector in Clark. This is because they seek to escape the dreadful commute and traffic Manila is known for. 
Further, they are able to receive the same competitive salaries offered by the BPO companies in the Metro. 
Work-life balance
The ease of commute makes it easier for workers to have a work-life balance. This explains why a lot of skilled workers from different regions choose to transfer to Clark. 
Many of the local employees in Clark are from Angeles City. Although it is approximately a 45-minute drive to Clark, it has uncomplicated transportation compared to Manila. 
Extensive government support
Another main reason why a lot of companies outsource to Clark is because of the vast support of the Philippine government. The BPO sector in Clark has become one of the top contributors to the country's economic growth in recent years. 
This is also why the national government has placed Clark, Pampanga as a major part of the country's economic strategy. 
Cost-effectiveness
Although Pampanga is becoming highly industrialized, it is still considered a province. Compared to Metro Manila, utility bills and fuel costs are cheaper in the region. 
These, in turn, also help BPO companies in Clark offer competitive packages, promising cost-effectiveness as one of the benefits of outsourcing here. Companies that outsource to Clark may save more compared with contracting with vendors located in Metro Manila.  
Weather-proof
Nestled in the heart of Central Luzon, Clark is safeguarded from powerful typhoons that usually bring havoc to the Philippine eastern coast.
Moreover, the underground drainage systems built by the US army help prevent flooding. These are of big help especially in times of severe weather calamities affecting the province.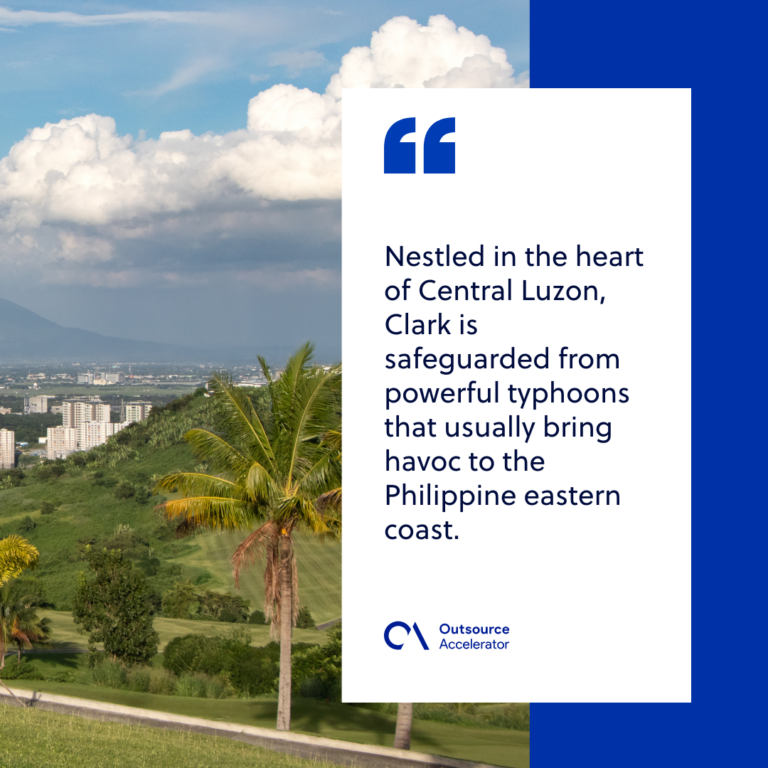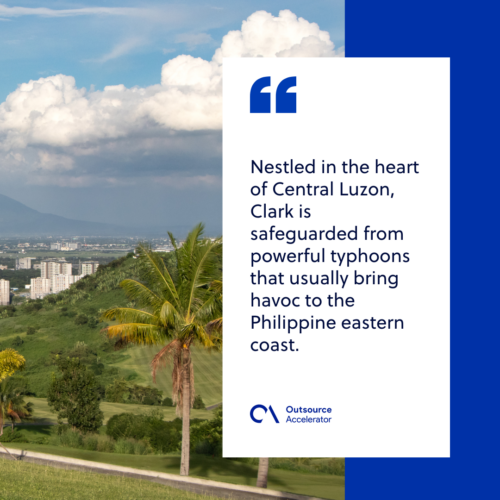 Safe and peaceful environment 
As we have mentioned, Clark houses both the Philippine and US military bases. There are CCTVs scattered across the Clark Freeport Zone, including checkpoints going in and out of the special zone. 
Outsource to Clark: The next big thing
The booming BPO sector in the province will continuously flourish as more companies are attracted to outsource to Clark. 
Apart from multinational organizations that outsource to Clark, it is also set to attract more tourists from around the country and the world. Large-scale infrastructure projects such as Filinvest Cyberzone, SM Clark Highline, and Megaworld are expected to rise in the coming years. 
Meanwhile, the Malolos-Clark railway project will soon cut the travel period to Clark International Airport from Metro Manila to less than an hour. This high-speed railway system is expected to be operational by 2022. 
Looking at these future developments alone, Clark promises to be the next big thing not just in the outsourcing industry but the entire business sector.