Why you should outsource telesales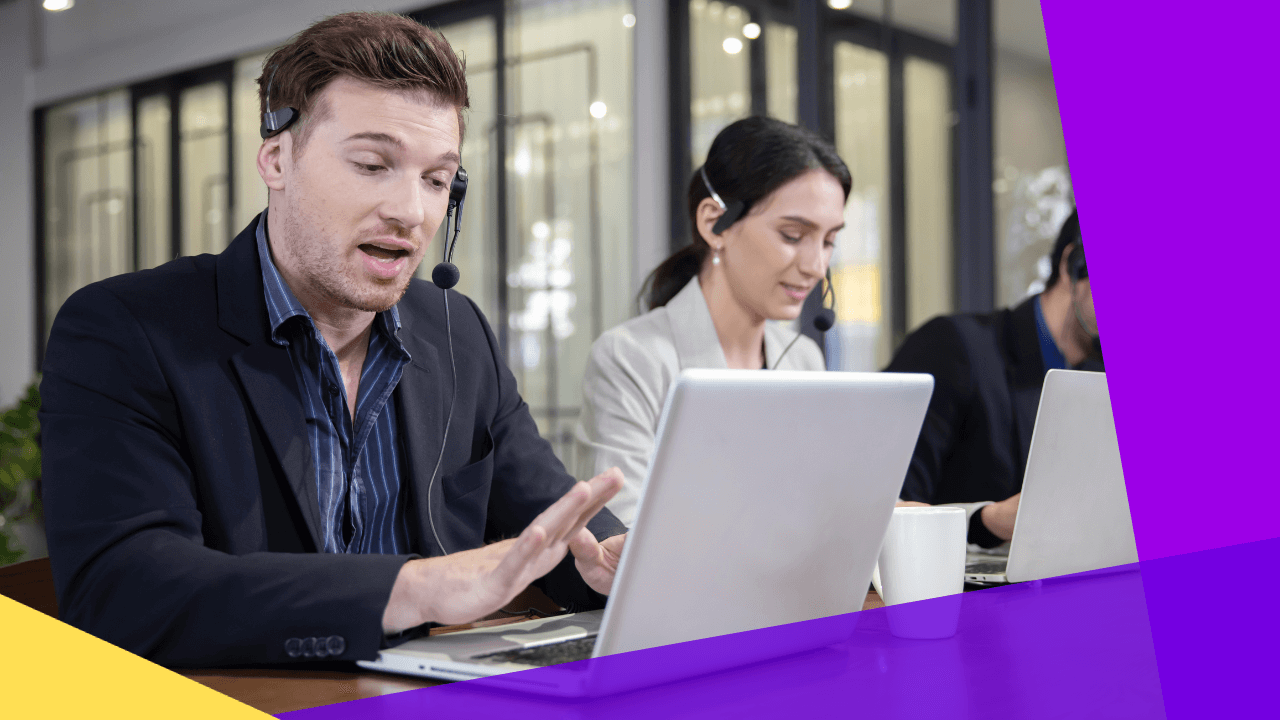 Outsourcing has become a common practice today as companies seek ways to improve performance while reducing costs.
One common area to outsource is sales, specifically telesales. In fact, Sourcefit found that virtual sales teams could help companies generate tens of millions of dollars in revenue.
This article explains why businesses should outsource telesales and how to find the right partner.
What is telesales?
Telesales is a technique where a salesperson calls potential customers to sell products or services. It's a cost-effective way to reach a large audience and has been a staple of sales strategies for many years.
However, telesales require a lot of resources, including staff, technology, and training. That's why many companies are opting to outsource this function.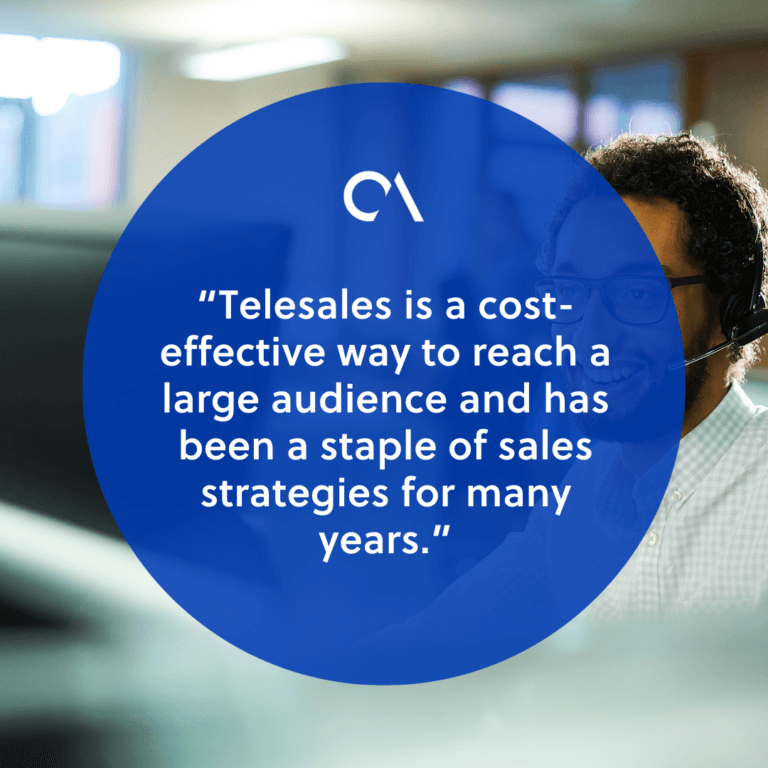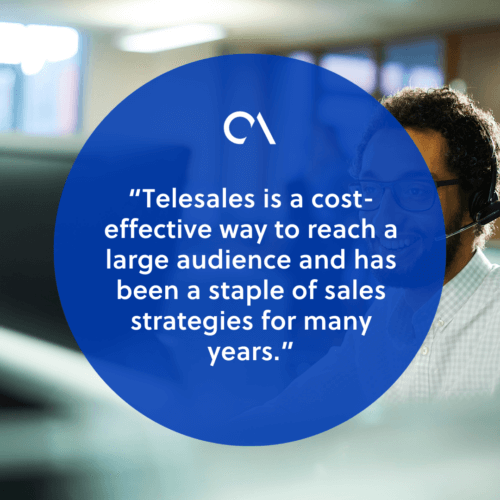 Benefits of outsourcing telesales
There are many advantages for businesses when they outsource telesales, such as:
Cost savings
It can be significantly cheaper to outsource telesales than hiring in-house staff.
You don't have to worry about training costs or equipment expenses when you delegate roles and tasks externally. Outsourcing could actually cut costs associated with labor by up to 70%.
Companies can also avoid the hassle of building an in-house telesales team, which can take months and even years to establish.
Improved focus
Outsourcing telesales allows you to focus on other core competencies instead of sales. You can delegate the selling to experts who will do it more efficiently and effectively.
This allows businesses to concentrate on other areas that require more attention.
Access to experts
When you outsource telesales, you gain access to a team of experts with experience in your industry and a proven track record of sales success.
This can be especially beneficial if your in-house team lacks the necessary experience or expertise.
Scalability
Outsourcing allows you to scale your telesales operation up or down quickly. You can easily hire additional salespeople if you need to expand your sales efforts.
Reduced risk
Partnering with a staffing provider eliminates the risk of making a bad hire. When you hire an inexperienced sales representative, you risk losing revenue, damaging your reputation, and wasting time and resources.
With offshoring, you have the flexibility to terminate your contract if the vendor doesn't perform.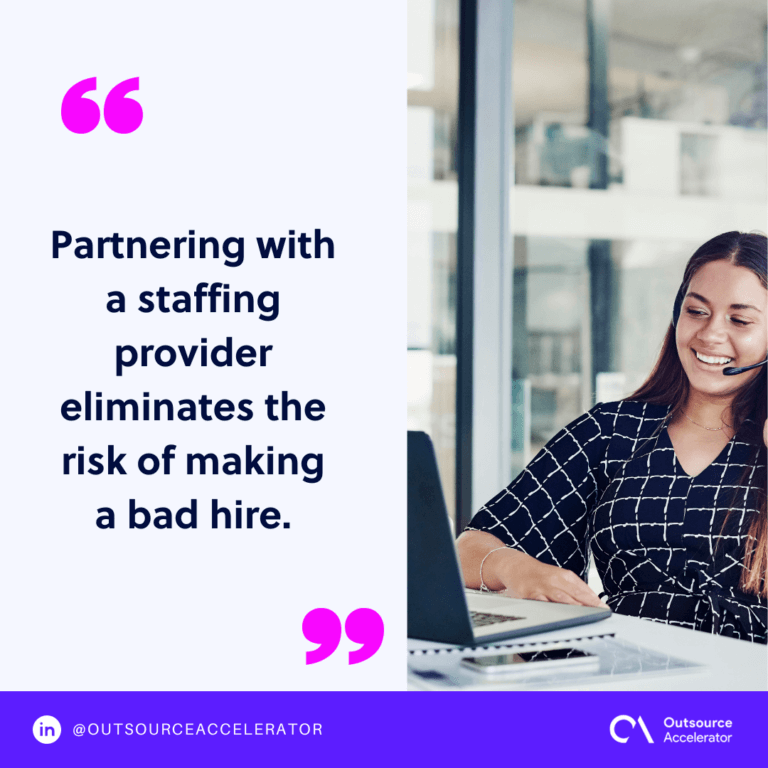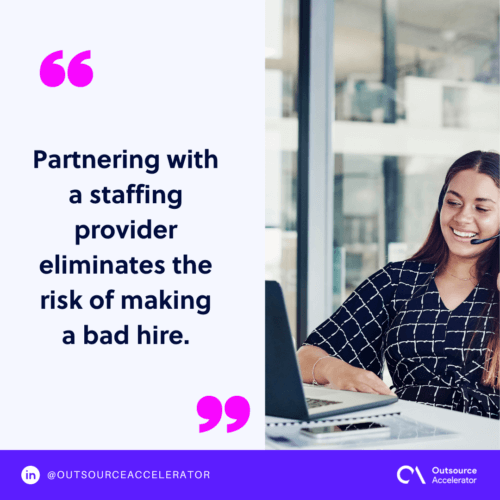 How to effectively outsource telesales
Before assigning telesales operations to outside providers, it's important to establish clear goals and expectations.
Here are a few tips on how to effectively outsource telesales:
1. Establish clear objectives
Define your telesales goals, the products or services you want to sell, and your target audience. 
These will help you identify the right outsourcing partner and create a telemarketing campaign tailored to your company's needs.

2. Choose the right partner
Before offshoring, carefully review potential vendors and select one with experience in your industry and a proven track record of success.
Ask for references and speak to other enterprises that have used their services. This ensures the vendor meets your expectations and is a good fit for your firm.
3. Communicate effectively
After selecting an outsourcing ally, set up transparent lines of communication. Arrange periodic meetings to review advancements and share input.
This will let you stay informed and ensure you are on track to reach your telesales goals.
4. Set expectations
Be clear about what you expect from your outsourcing provider. Establish timelines, quotas, and key performance indicators (KPIs) to measure progress.
This will help you track results and make necessary changes to improve performance.
Finding the right partner to outsource telesales
As mentioned, finding the right provider is important when you outsource telesales. Here are a few tips to help you find the most suitable partner:
Experience
Choose an outsourcing partner with experience in your company's specific industry. This will ensure your chosen third-party provider understands your business, target audience, and sales objectives.
Outsource Accelerator has a vast directory of BPO agencies, many of which specialize in lead generation and sales. You can get access to many firms and gauge their expertise. 
Proven track record
Find and go with an outsourcing company with a proven track record of success. Look for customer testimonials and industry awards to ensure that the vendor has a history of delivering results.
Cost
Select an outsourcing company with competitive pricing and is within your budget.
Don't be tempted to choose the cheapest vendor because it doesn't always guarantee value for money. At the same time, don't overspend on a sourcing company outside your budget.
Quality
Choose a BPO provider that values quality. Ensure that it has a quality assurance process in place, and it measures success based on KPIs. This will ensure that you receive high-quality results.
Outsource telesales to attain success
Businesses opting to outsource telesales do it as a strategic move to enhance their sales efforts, save costs, and access specialized expertise.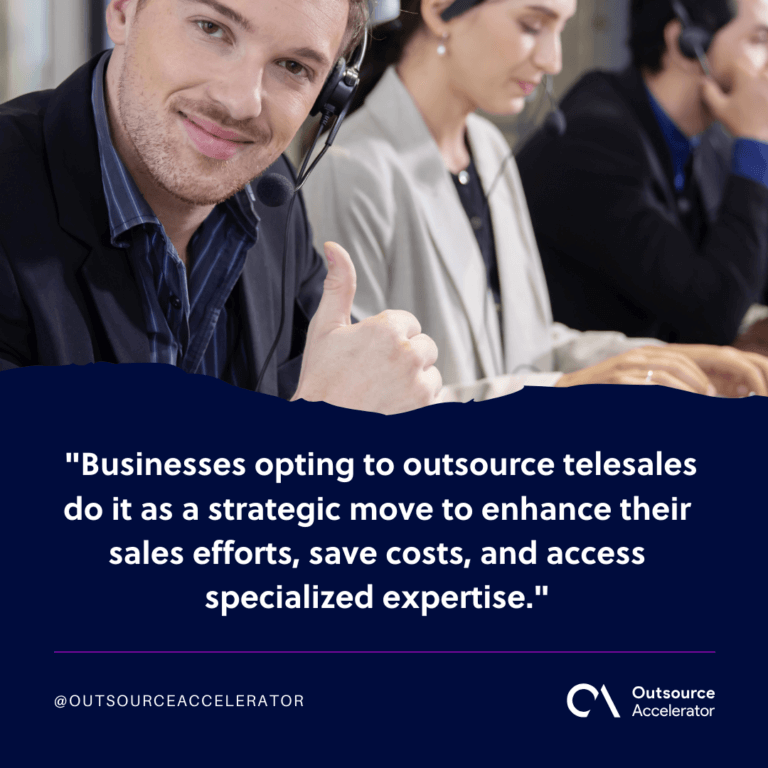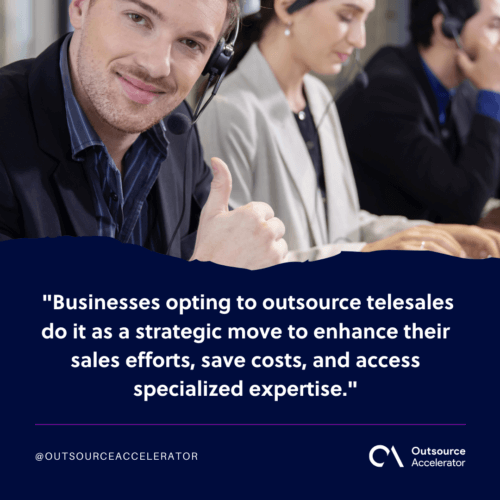 By finding a reputable and compatible outsourcing partner, you can also leverage telesales's benefits to succeed in a competitive market.
Whether you're a small business aiming to grow or a large enterprise wanting to boost efficiency, outsourcing telesales could open the door to new sales and growth.