Why should you outsource software development to Nepal?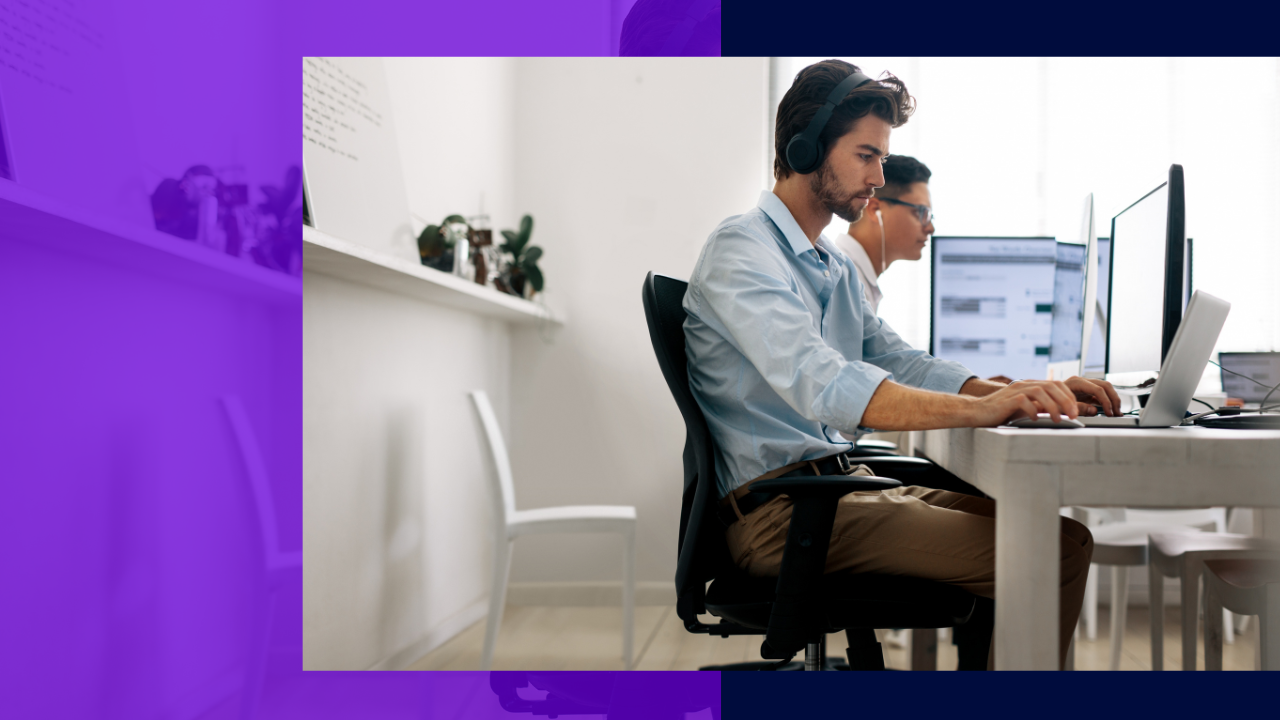 This article is a submission by AppSkill. AppSkill is a subsidiary of STUDY AND WORK – a highly reputable and successful recruitment company based in Australia.
To survive and thrive in the competitive business environment, outsourcing has become essential for most businesses. 
Nepal is an emerging software development outsourcing destination offering lower staffing and operational costs than traditional outsourcing hubs like India and the Philippines.
What's the software development skill base like in Nepal?
Nepal boasts a massive resource pool in terms of IT graduates, with approximately 6,000 graduates per year in Kathmandu alone. 
The Nepalese government actively encouraged international universities from countries such as the US, the UK, and Australia to establish technology campuses locally. As a result, these universities are now producing top-tier technology developers. 
Businesseses can select the best talent from this pool by offering above-market salaries. The available skills include JS, Java, Python, PHP, Node, Ruby, C/C++, Scala, .Net, UX/UI, DevOps, Testing, SAP, BI, and Mobile Applications.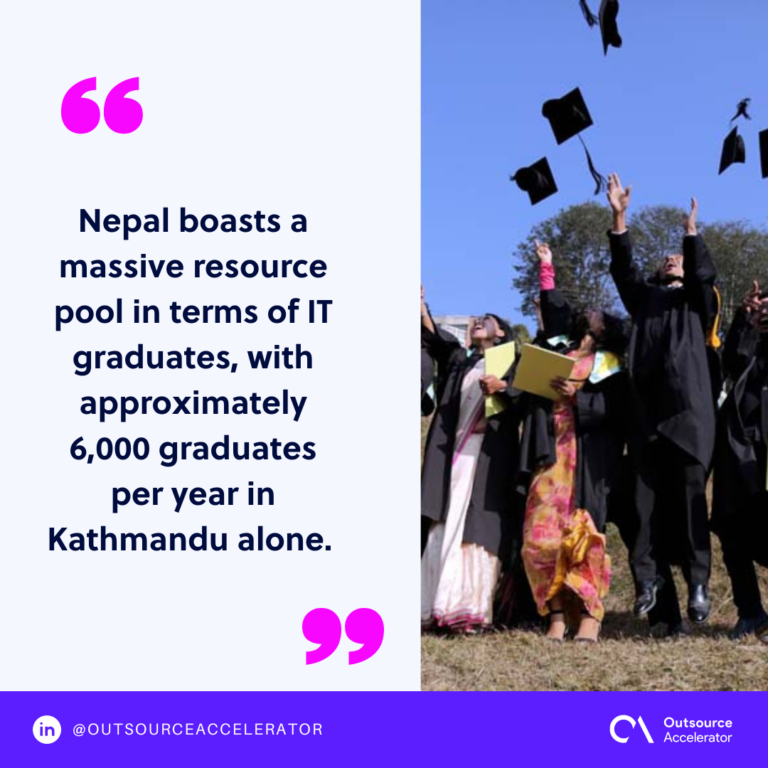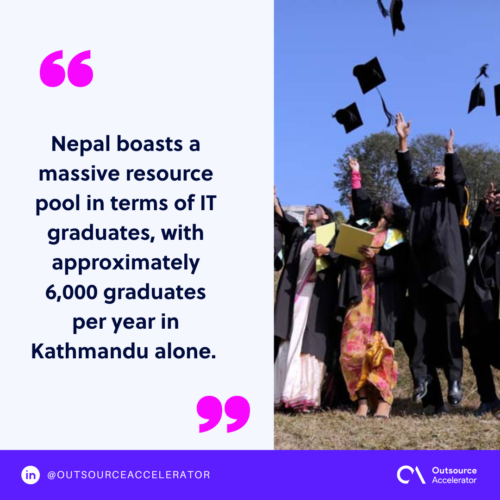 Ensuring software development specialists' skillfulness in Nepal
To assess the skill levels of individual team members upfront, it is imperative to implement standardized testing. 
Nepal offers a diverse pool of software developers with appropriate qualifications and solid work experience. However, it is advisable to assign a supervisor who can attend daily stand-ups and ensure that the team delivers as expected. 
Additionally, it is crucial to provide comprehensive support and ongoing training to the staff as part of their employment contracts.
How does Nepal compare price-wise?
Let's consider a scenario where you are running a regular business and have a team of four developers working on your software, including a:
Software architect

Lead developer

Non-lead developer

Test engineer
In such a case, your monthly build costs could amount to $40,000-$45,000 AUD.
However, if you opt for outsourcing to a partner in Nepal, the total spend would be around $10,000 AUD per month. This is approximately 25% of the cost of a traditional project. 
This represents a significant saving. In comparison, outsourcing to India or the Philippines could cost you at least $20,000 AUD per month.
Challenges in outsourcing software development to Nepal
Some of the drawbacks to outsourcing software development to the country include:
Software quality depends on specifications
The quality of the software delivered by the offshore team is only as good as the specifications provided in the project documentation. If the specifications are incomplete or unclear, it can lead to misunderstandings and subpar results.
Difficulty in knowing everything upfront
It is challenging to know and document every aspect of a project upfront. Requirements and priorities may evolve over time, and new insights may emerge during development.
Rigidly sticking to initial documentation can hinder flexibility and adaptation to changing needs.
Communication challenges
Traditional projects with offshore teams often face communication difficulties.
Time zone differences, language barriers, and limited collaboration tools can impede effective communication between the customer and the offshore company. 
This can result in misunderstandings, delays, and dissatisfaction with the final outcome.
Legal implications
In some cases, unmet expectations and dissatisfaction with the delivered software can lead to disputes between the customer and the offshore company. 
Lawyers may need to get involved to resolve issues related to "break fees" (fees associated with terminating the contract) and "penalty costs" due to unmet expectations, adding complexity and costs to the project.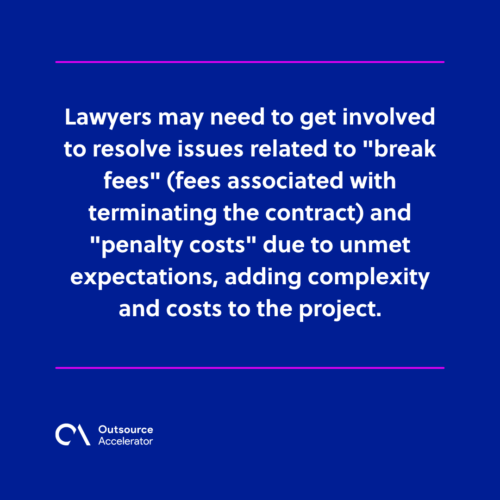 How can you make the project a success in Nepal?
In the past, outsourcing has often received negative reactions from Australian businesses due to the methodologies employed, which often resulted in project failures right from the start. 
Handing over detailed project documentation to an offshore development team and expecting the intellectual property (IP) to be delivered weeks or months later has inherent drawbacks.
These include the fact that the quality of the software delivered depends solely on the specifications provided. 
Additionally, knowing every detail about a project upfront and accurately documenting it is extremely challenging.
Communication between the customer and the offshore company during traditional projects is often difficult, with the final outcome only becoming known when the customer receives the IP. 
This situation frequently leads to the involvement of lawyers in resolving issues related to breach fees and penalty costs resulting from unmet expectations.
To avoid repeating these problematic processes, it is recommended not to simply evaluate the entire project at the end. 
Instead, it is advisable to embrace a completely interactive, highly communicative, and frictionless work methodology.
This approach allows for continuous assessment and decision-making throughout the project. It enables the customer to express their satisfaction or concerns regarding various aspects of the project continuously.
Ideal software development outsourcing business model in Nepal
To ensure high-quality work outcomes and achieve good profitability, it is advisable to avoid certain conventional outsourcing practices. 
Here are some recommendations:
Engage developers as part of your in-house team
Instead of outsourcing the entire project, involve developers as members of your own team. This allows for better collaboration, communication, and integration with existing workflows and processes.
Retain project management responsibilities
Take ownership of your software development project by retaining the project management responsibilities within your organization.
This ensures you have direct control and oversight of the project's progress and outcomes.
Maintain accountability for project deliverables
Appoint an in-house project lead who will oversee all project deliverables. While your outsourcing partner can provide specialized staff, they must be accountable to the project lead for meeting the project objectives they were hired for.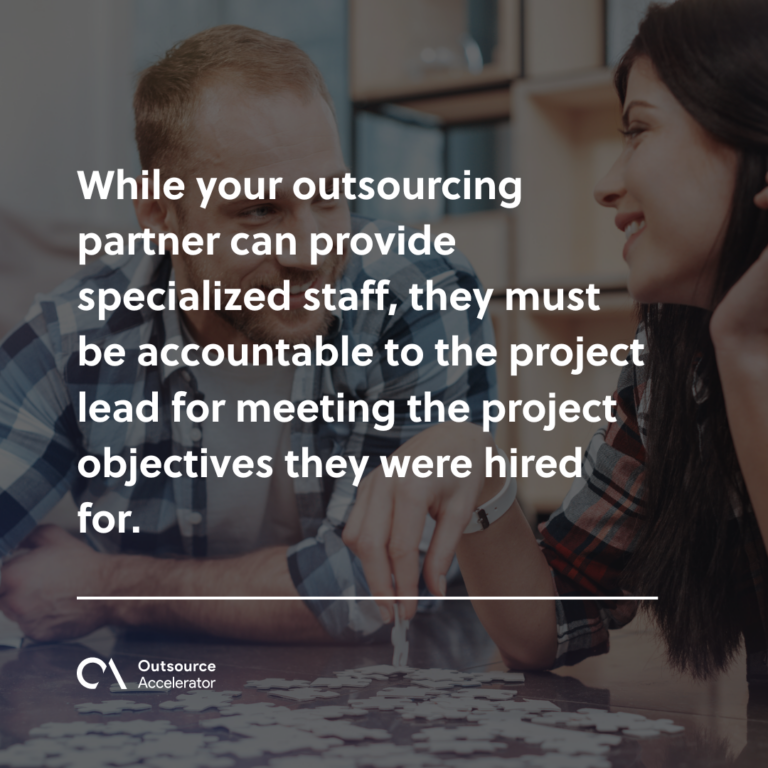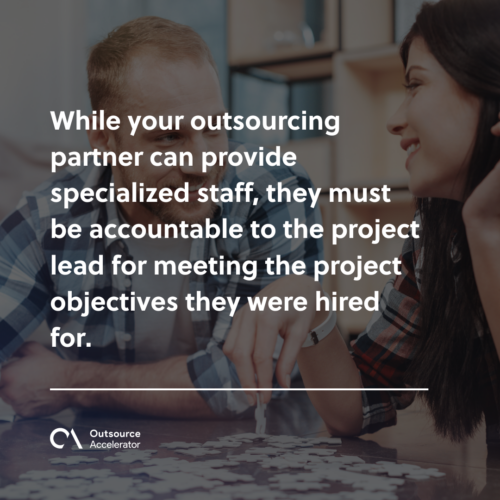 Utilize your own software management methodology
Use your established software management methodology, preferably based on agile development practices. Instruct your outsourcing partner to align with and follow your preferred process.
This helps maintain consistency and facilitates efficient collaboration between your team and the outsourced specialists.
By implementing these practices, you can ensure better integration, control, and collaboration between your in-house team and the outsourced specialists, improving work outcomes and profitability.
Software development outsourcing success stories in Nepal
Here are some of the biggest and most notable software development outsourcing companies in Nepal:
Deerwalk Inc.

: A US-based IT company specializing in MedTech and healthcare products. They offer machine learning, cloud computing, web, and mobile applications services.

Fusemachines

: A US-based company known for AI and automation-related software development services. They have a strong team of AI engineers and contribute to talent development through fellowship programs.

Leapfrog

: One of the leading companies in the Nepali software outsourcing industry. They provide services in digital transformation, AI, healthcare, EdTech, and design.

Cotiviti

: Formerly known as Verscend Technologies, Cotiviti is an established software development company in Nepal. They specialize in healthcare IT solutions and decision analytics services.

EB Pearls

: A full-service IT solution provider with offices in multiple countries. They specialize in large e-commerce, web, and mobile app projects.

Braindigit

: Known for its ventures and digitization services, Braindigit offers end-to-end services for startup enterprises and large organizations. They also have an academy called Brainnovation.

CloudFactory

: One of the largest IT companies in South Asia, CloudFactory specializes in providing cloud-based solutions for critical business processes. They have a large workforce and invest in training and development.

Javra

: A software development company based in the Netherlands, Javra provides offshore services from Nepal. They are known for their innovative R&D projects and partnerships with major corporations.

F1Soft International

: The leading fintech company in Nepal, serving financial institutions with custom solutions. They have a capable workforce and focus on digital financial services.

Logpoint

: Specializing in security information and event management (SIEM) and cybersecurity, Logpoint is a promising software company with offices in multiple countries.
These companies offer a range of expertise and have proven track records in delivering high-quality software development services.

Outsourcing software development
Appskill stands out from other outsourcing businesses by adopting a unique "staff expansion" approach to software development outsourcing. 
Its core focus is extending the expertise within a customer's IT team rather than taking over the entire project. This approach allows Appskill to seamlessly integrate with the customer's team, utilizing their tools and following their project methodology.
Appskill's differentiating factor lies in its commitment to flawlessly executing the "staff expansion" approach, working within the customer's team, using tools and methodology, and providing the necessary flexibility and control for efficient project management.