Outbound telemarketing: 10 surefire tips to win customers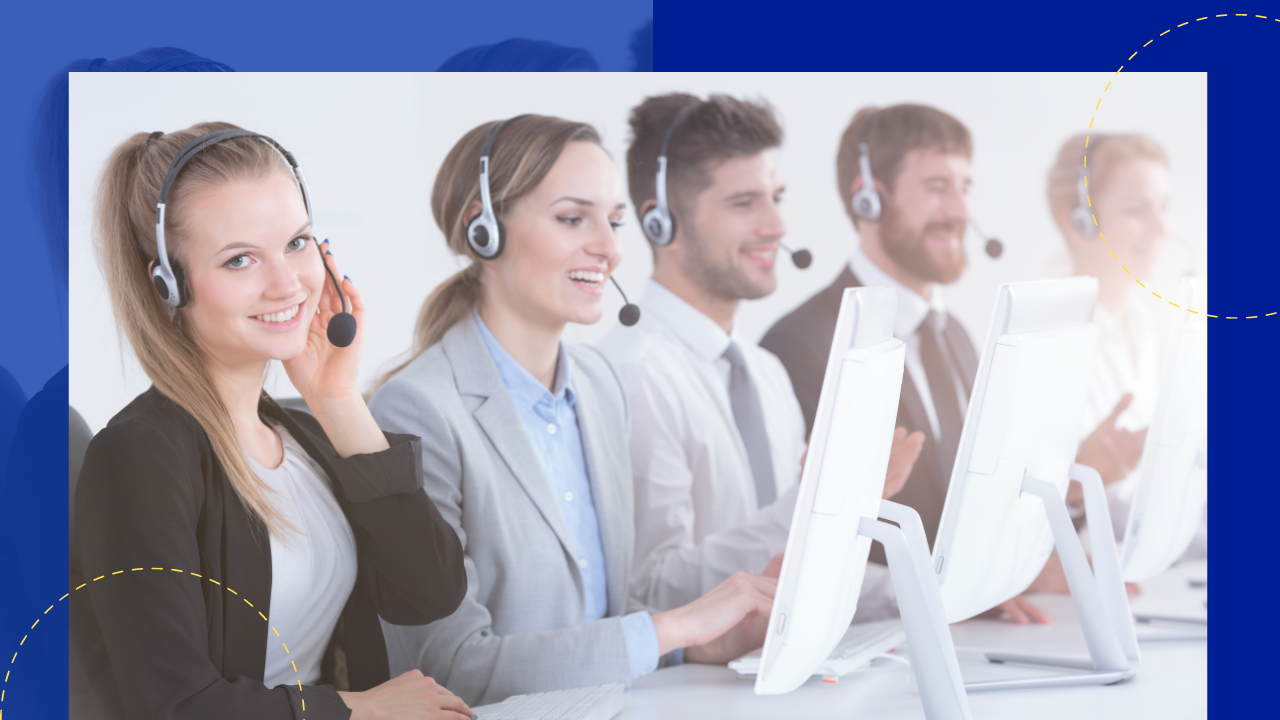 Outbound telemarketing 10 surefire tips to win customers
Telemarketing is utilized by businesses for various reasons. It is a cost-effective approach to reach out to potential clients while saving time and money.
With the right telemarketing approach, businesses may establish lasting relationships with prospective clients. Additionally, companies may increase their ROI and grow their consumer base.
Keeping up with the most recent methods is crucial for success, and modernizing your telemarketing technique can boost your reach and conversion rate.
There are several ways to refresh your outbound telemarketing strategy, from cutting-edge technology to a personalized approach.
What is outbound telemarketing?
Outbound telemarketing is a type of direct marketing in which a business reaches prospective clients to advertise its products and services.
Telemarketers utilize outbound telemarketing to increase sales, build customer relationships, generate leads, and allow them to target specific customer segments.
Outbound telemarketing helps businesses create brand recognition and provide customer support and assistance. Vice versa, it gives insightful client feedback that organizations can use to improve client experience.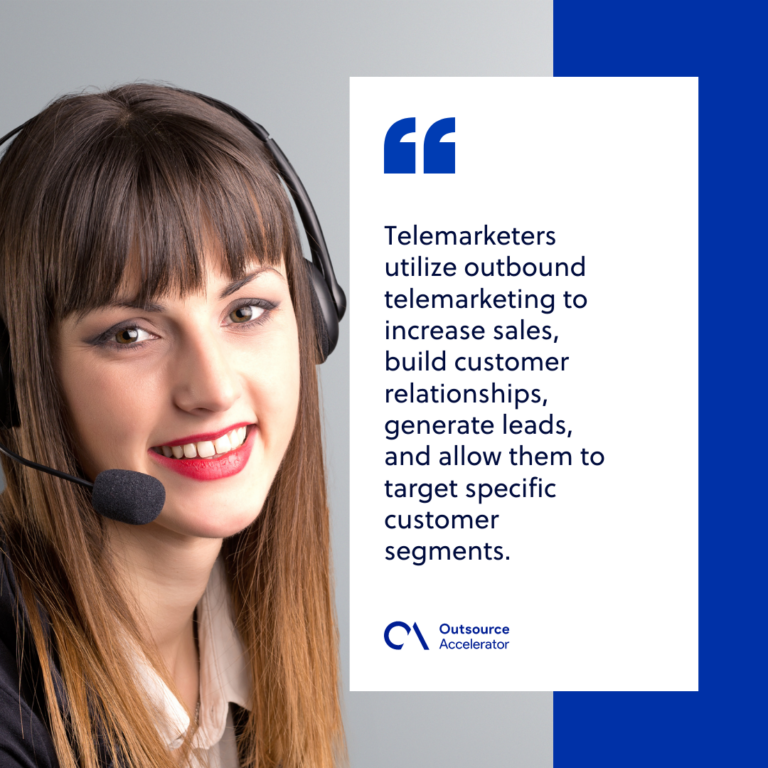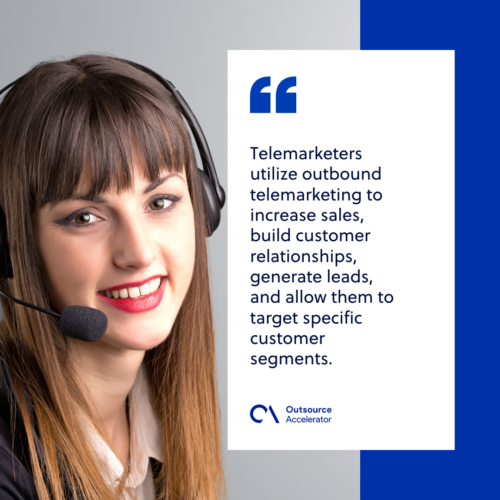 10 surefire tips to expand your customer base
Convincing prospective clients over the phone may be more challenging than you know. Several rivals are delivering the same products and services as you. And they may be good at convincing their prospects.
As the call center's rule of thumb, telemarketers or agents must communicate the value of their products and services to clients. 
However, the primary issue with most failed telemarketing operations is that some agents cannot effectively convey their message to the clients.
Here are the ten outbound telemarketing tips you can implement to win customers over the phone:
1. Set up an objective
Ensure that you have a clear picture of your end goal for the telemarketing campaign before you start with your outbound telemarketing calls.
Setting up a plan will help you to stay organized and focused on your goals. It also aids in making a strategy that can help you reach your target audience more effectively.
For instance, if you are tasked to collect email addresses, you should set a clear goal to get these at the initial point of contact.
Creating a checklist or a "to-do list" might also help you track your progress and make necessary adjustments to achieve desired results.
2. Have a script
A script is a document that guides interactions with customers. It is comprised of spiels and standard responses to frequent consumer inquiries, which can be used throughout the call.
This is useful for newbie talents handling outbound telemarketing conversations, and it can increase the efficiency of your customer service.
It is important to note that experienced buyers recognize that you are just reading straight from a script, which turns them off. Keep a human tone, and do not sound robotic.
The appropriate script may make a difference in giving your clients the care they deserve. A strong call center script has the following components:
Introduction for properly meeting customers 

Polite way of asking clients how they may be served

Spiels and methods for placing clients on hold

Methods for transferring an incoming call

Proper way to handle irate clients

Correct response for handling rejections

De-escalation techniques

Concluding remarks
3. Speak slowly and clearly
Being nervous during your first cold call is normal. Unfortunately, this may frequently drive you to speak fast — leading to miscommunication.
Speak slowly so your customers can catch the words, especially when discussing the product's features. You may know what your products look like and how they work, but your customers don't. 
Keep in mind that you don't have to hurry when taking a call. Compose yourself and speak your words slowly and clearly.
Sincerity is an asset in commercial transactions; speak at a more natural pace so you will sound sincere and professional.
Doing this will allow your prospects to trust your words as they understand your message clearly. This also allows them to make an informed decision about the product or service you offer through outbound telemarketing.
4. Be confident
Confidence is critical when it comes to outbound telemarketing. A confident agent can effectively communicate their message and persuade the customer to take action.
The agent's tone enables customers to recognize the brand's genuineness. Being sure about the goods and services you offer convinces the customer to trust your business's brand.
On the contrary, being reluctant generates a negative image of you and the brand you represent. Use a script if necessary, but avoid sounding unnatural, as stated earlier.
Keep in mind that confidence can create a positive impression of the company, leading to increased sales and customer loyalty.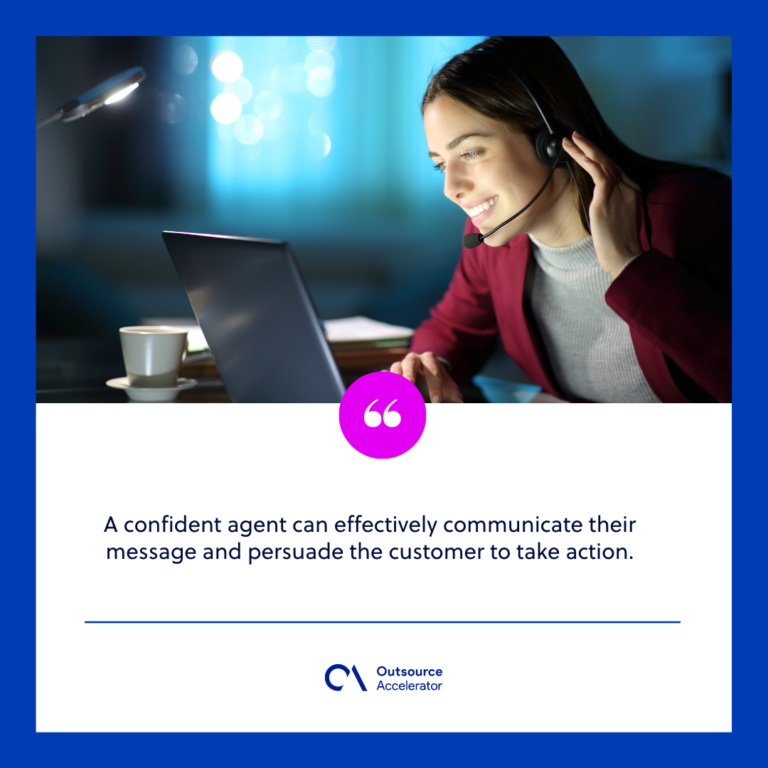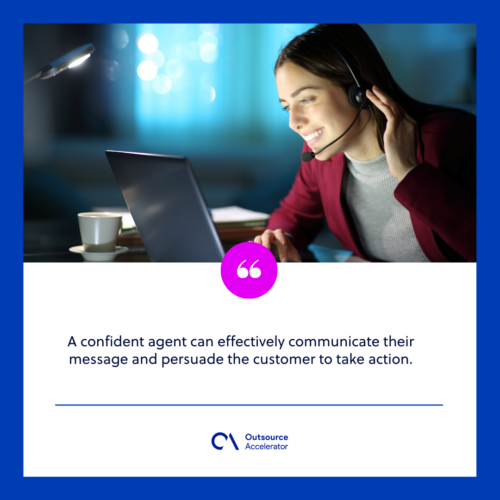 5. Avoid too much pitch
Too much pitch can be off-putting when doing an outbound telemarketing call. It can make the client feel like they are being sold to rather than having a conversation. 
Therefore, it is critical to focus on building a relationship with the client, providing them with valuable information, and listening to their needs. This helps create a positive customer experience and increases the chances of closing a deal.
6.
Do not assume
Some agents tend to finish consumers' statements in a manner that alters their meaning. This is detrimental to the client-agent relationship and disrespectful on the part of your clients.
Telemarketers must not cut their customers' sentences during the outbound telemarketing call. This is significant for two reasons: 
It demonstrates respect for the customer and their viewpoint. 

It ensures that the representative listens to the clients.
Remember that each consumer is unique, and their experience with a specific product may differ. 
Attend to what they are saying and avoid interrupting them. It damages your reputation as a corporate representative, and the consumer may hang up on you.
7.
Listen to your customers
When you focus more on selling the products than listening to your customers, this gives off a vibe of a hard-sell approach, which is unfavorable to your clients. 
Instead, listen to the customer's feedback and present the product's benefits. And then support your product presentation with its excellent qualities.
8.
Make your conversation interesting
Outbound telemarketing can be a great way to reach potential customers, but it can be challenging to keep the conversation interesting.
Here are some tips to help telemarketers make their conversations more engaging: 
Ask open-ended questions to get the customer talking

Use humor to lighten the mood

Offer helpful advice and solutions

Avoid serious tone; be friendly and personable

Keep the conversation focused on the customer's need
Additionally, verbal fillers such as "oh" and "uhm" lower the quality of phone calls. You should instead utilize significant terms that give substantial support for your argument.
After your consumer completes a statement, think about how you can generate a good image in their mind and formulate your opinion appropriately.
9.
Be prepared for objections
Complaints are inevitable when selling your items over the phone. Customers will disagree with you. Some may even hang up without you finishing your sentence. In this case, you must store a lot of patience.
Frequently, representatives hesitate to present their arguments for fear of provoking clients. That's why selling a product requires persuasive abilities and outbound calling strategies.
Take note of the following tactics to handle objections effectively:
Acknowledge the customer's objections.

Do not drop the phone just because you didn't win your client's approval. Acknowledge rejections, charge them to experience, and see them as a way to improve your convincing skills.

Ask questions about the disapproval.

To understand what went wrong with your conversation, ask the customers what led to their objections.

Be patient and polite, even if the customer is not.

Maintaining composure is hard, especially when the client starts to sound rude. Always go for the "professional" approach, be patient, and end the call well.

Remain upbeat throughout the conversation

. As mentioned above, avoid serious tones. As much as possible, keep a light mood so your customer may be comfortable throughout the conversation.

Don't take rejections personally

. There can be situations where you get arrogant replies. Don't let it get in your head because it might ruin your mood for the rest of your incoming calls.

Thank the customer for their time

. Always end the call with a pleasant end greeting. Because even if it was just a short conversation, the customer still gave you some time.
Remember that although this is not new in any BPO industry, it is essential to remain courteous, even when faced with difficult customers.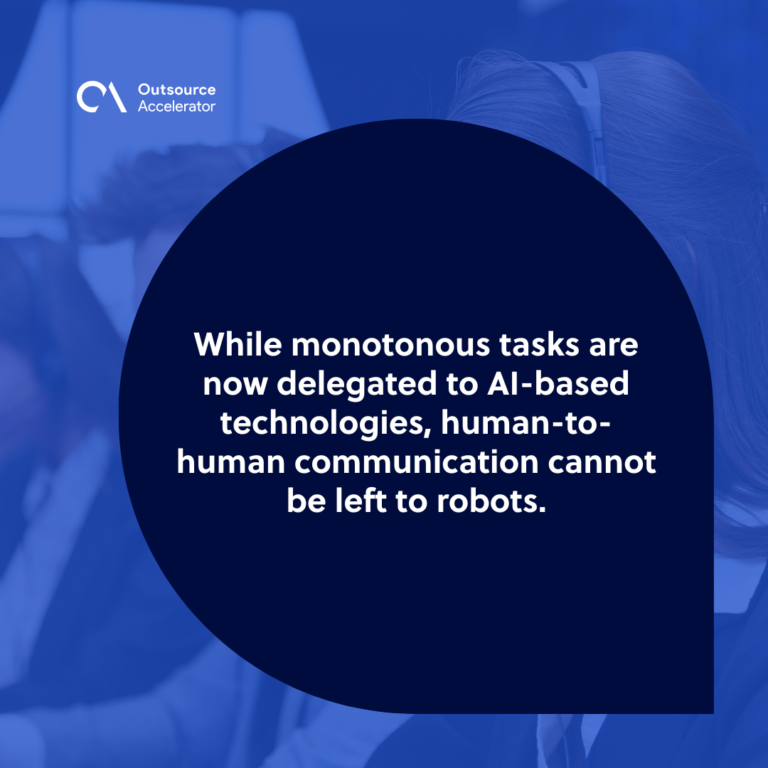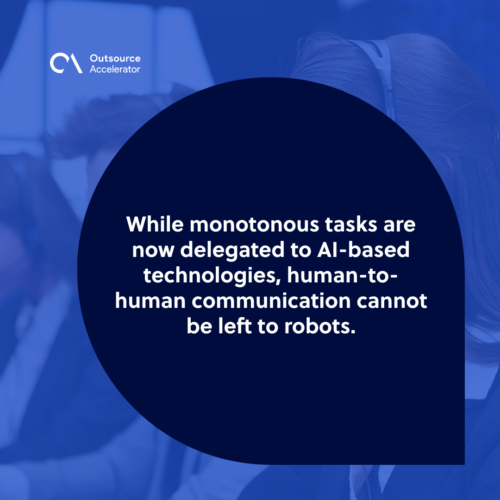 10.
Use trusted telemarketing software
Without the right software to carry out campaigns, neither inbound nor outbound telemarketing is complete. 
That's why investing in the best telemarketing software may help your company automate various tasks, such as: 
Dialing numbers

Tracking customer data

Scheduling follow-up calls
But before that, you should look for telemarketing software that includes customer relationship management (CRM), lead management, and marketing automation to optimize your telemarketing operations.
Win customers over through outbound telemarketing
One of the most crucial campaigns in the toolset of businesses and entrepreneurs today is outbound telemarketing. 
To ensure a successful telemarketing campaign, many businesses turn to BPO firms like SPLACE for their outsourced telemarketing services. BPO firms often use AI-powered solutions along with their skilled agents to assure their client's success.
While monotonous tasks are now delegated to AI-based technologies, human-to-human communication cannot be left to robots. In other words, the human agent is still in charge of the art of selling.
Further, personal connection with consumers, mixed with effective strategies, can win their trust and expand your customer base!