Top 25 outbound call center software of 2024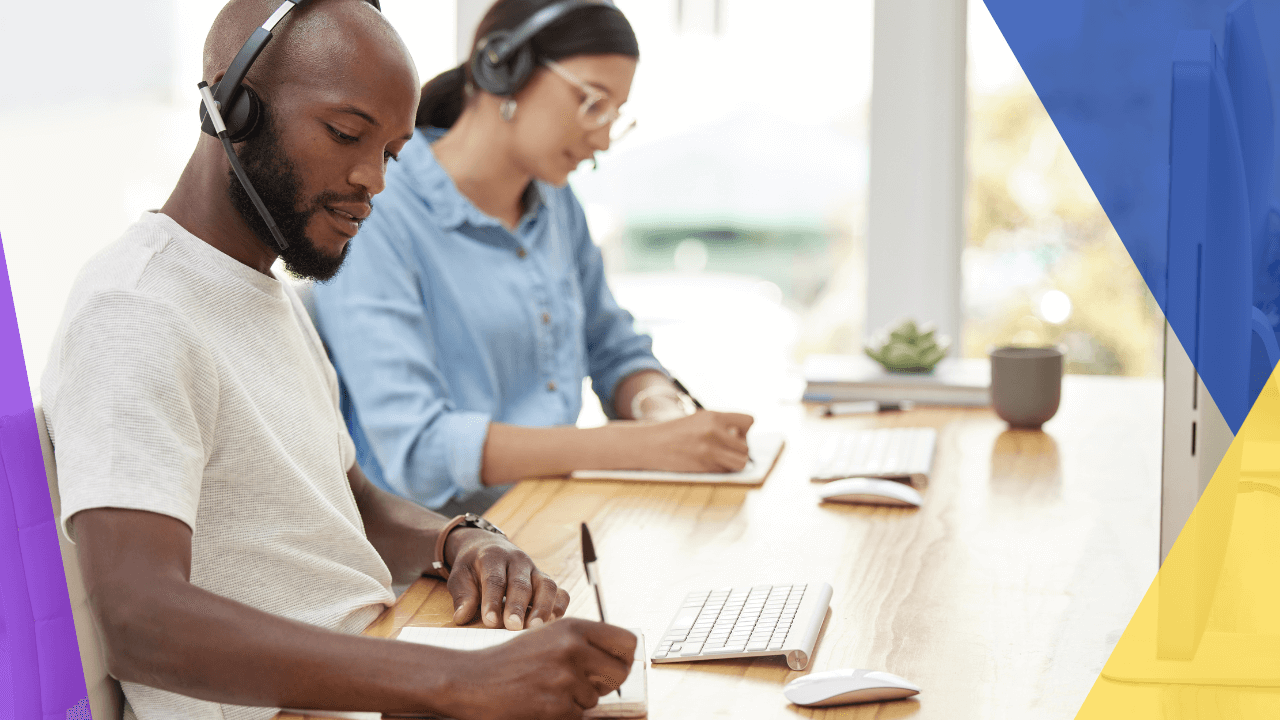 List of top outbound call center software
When running an efficient and effective outbound call center, having the right software can make all the difference. 
Outbound call center software streamlines and automates various aspects of the calling process. This enables agents to maximize their productivity and enhance customer interactions. 
However, with a plethora of options available in the market, choosing the right outbound call center software can be overwhelming. 
We've curated a comprehensive list of the top outbound call center solutions available today. Jump right in to discover the perfect fit for your business needs.
What is outbound call center software? 
Outbound call center software is any specialized technological solution designed to facilitate and optimize the outbound calling operations of call centers. They provide agents and managers with a range of tools and features to efficiently achieve business goals. 
Outbound call center software is primarily used in call centers that focus on making outgoing calls to customers, prospects, and leads. 
These calls are initiated for various purposes, such as: 
Sales prospecting

Lead generation

Market research

Appointment scheduling

Customer follow-ups

Customer service outreach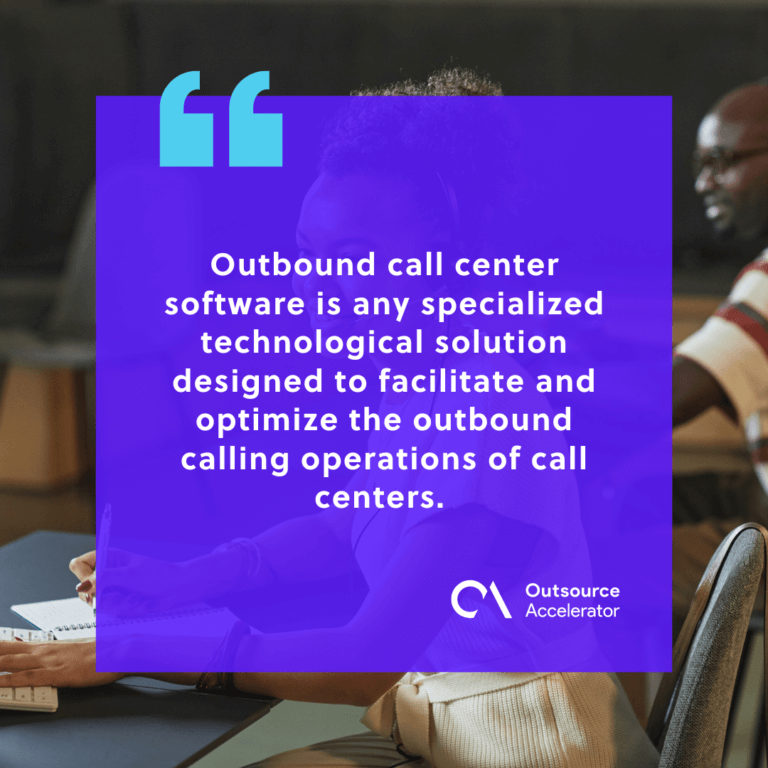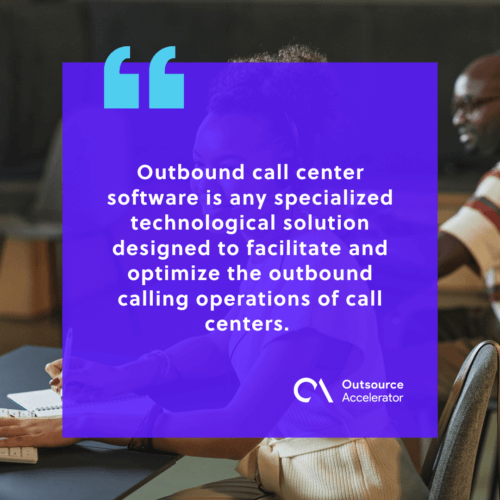 Core features of outbound call center software
Outbound call center software comes equipped with various core features designed to streamline and optimize outbound calling operations. 
The common core features of outbound call center software include:
Automated dialing
Automated dialing makes it possible for you to reach thousands of prospects within minutes. You won't have to spend hours on hold or waiting for someone else to answer the phone. 
Many outbound call center software options also let you create custom lists of phone numbers and schedule calls in advance. 
Call scripting and customization
Call scripting allows you to create a script that agents can follow when answering calls. You can customize this script and include information based on who is calling. 
This helps you achieve consistency across all agents and ensures callers get the best possible experience. 
CRM integration
Most outbound call center software allows you to connect it with your existing CRM system. This gives your agents real-time access to their customer records and other information. 
Agents will have an easier time providing personalized service with the customer data on hand. 
Call monitoring and recording 
Call monitoring lets users listen in on live calls as they're being made. This option is greatly helpful for managers in ensuring all agents follow the proper protocol for each situation. 
Call monitoring helps them identify any issues with agent performance during calls and address them right away. These calls are also recorded so they can be reviewed later. 
Call analytics and reporting
Outbound call center software should have a built-in call analytics and reporting tool. You'll be able to see statistics on how many calls your agents handle per hour or how much time is spent on the phone. 
A detailed reporting system means that you can analyze all your calls in a single dashboard.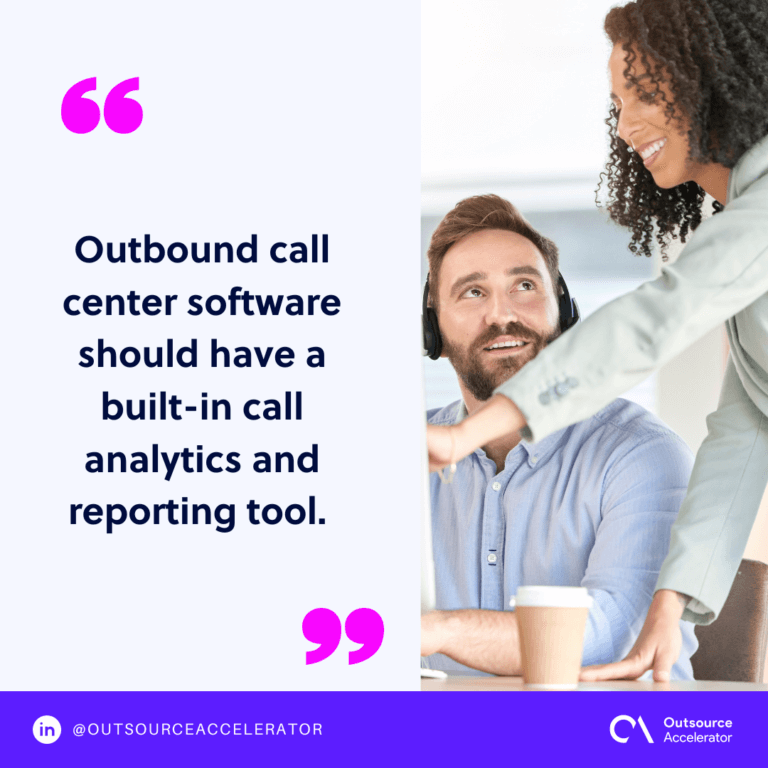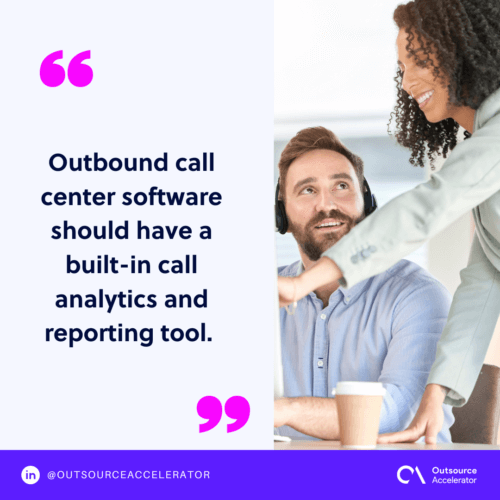 IVR (Integrated Voice Response) integration
IVR integration is a feature that allows automated pre-call messages, surveys, or customer information collection. This enables better call routing and reduces agent workload.  
Call transfer and conferencing 
Outbound call center software should be able to transfer calls to other agents, allowing them to take over the conversation. This feature is particularly useful for call centers with multiple departments. 
In addition to transferring calls, you can also set up conferencing calls. Multiple agents can be gathered around one phone line to collaborate. 
Top outbound call center software of 2024
Let's have a quick look at the top outbound call center software set to dominate 2024: 
CloudTalk is an outbound call center software built for businesses. It possesses over 70 features and comes with a wide range of integrations with CRMs and helpdesk tools to provide you with what you need to optimize performance. 
Build lasting relationships with Zendesk's complete outbound call center software. Zendesk offers you the technology to create meaningful connections and let people keep coming back.
RingCentral is a top outbound call center and a complete communications platform. Get a world-class cloud phone system within a single app to empower your business and deliver effortless customer service.
Aircall is a modern outbound call center software and the ultimate integrated business phone system. Connect to all your tools easily and trust Aircall to carry all your conversations.    
Five9 is a leading outbound call center software that:
Enables agents to engage with customers across multiple channels

Provides visibility to managers

Brings agility to the business. 
Businesses that utilize Five9 are able to elevate customer experiences and drive customer success. 
Talkdesk is an outbound call center software and cloud contact center for enterprises of all sizes. Modernize customer service the way you see fit by leveraging its AI and automation capabilities. 
CallHub provides an all-in-one platform that enables you to drive real change for your campaigns. Build relationships and have personalized conversations at scale with its reliable calling and texting tools.
Dixa presents customer service as it's meant to be. It's one platform for everything that you need. Reach out to your customers wherever they are and let your agents work from a truly omnichannel platform. 
Let AI work for you with Dialpad's AI-powered customer intelligence platform. Get the most out of your customer conversations with features like real-time transcription, sentiment analysis, live coaching, and more. 
Twilio Flex encourages investing in digital customer engagement to meet changing customer needs. With its CustomerAI, you can combine living customer profiles with artificial intelligence to better cater to your customers. 
Leverage Voicent's all-in-one communication platform and outbound call center software to engage intelligently with your customers. 
From auto dialers and IVR integrations, Voicent's extensive set of tools assists you in running your business. 
Bitrix24 is a comprehensive outbound call center software that will serve as your ultimate workspace. It can replace all your current SaaS solutions and integrate with all your usual apps. The best part is it comes free forever. 
Ameyo is another AI-powered customer engagement platform that aims to create the most memorable and happy CX memories at every touchpoint. It offers a rich CX solution that is scalable, easy to use, and agent-friendly.  
NICE CXOne is an outbound call center software solution that offers a complete cloud native platform for every customer experience journey. It delivers seamless AI-infused experiences to enable fast resolution for every interaction. 
LiveAgent has been named an industry leader, offering the fastest implementation software and the best live chat software. Its live chat is the right tool for any job, offering a personal approach and customized service.
Zoho Desk is a highly scalable outbound call center software that enables you to simplify customer service operations, improve agent productivity, and bring lasting relationships. 
Be more accessible to your customers and make business convenient. 
Use Ringover's simple and easy-to-use cloud-based phone system to engage your customers like never before. Take your business to new heights with an intuitive interface and unlimited international calls. 
VanillaSoft turns your business into a selling machine. It's a leading sales engagement platform for SMBs worldwide that lets you engage more, talk more, fund raise more, and sell more. 
For an outbound call center software solution that simplifies your business, turn to Nextiva. Use less apps but get more done through their customer experience and productivity tools. 
CallHippo is a powerful and leading virtual phone system that increases agent productivity, automates workflows, tracks team performance, and reduces communication costs. Exponentially increase your calls with CallHippo. 
Freshdesk is an outbound call center software solution that lets you scale support experiences without the accompanying costs. Empower your agents to deliver timely and consistent support and handle any customer issue.  
Novocall is a next-generation outbound call center software designed for businesses that want to manage multiple incoming and outgoing calls simultaneously. 
Call recording, unlimited agents and custom scripting are just a few of the solutions Novocall offers your business.
Convoso is a powerful call center and outbound marketing software that helps you attract the right customers, close more sales and reach your goals. It's packed with everything you need to create powerful, automated outbound campaigns for B2B and B2C.
Adversus is an all-in-one outbound call center software that streamlines your outreach. Its cloud-based nature allows you to practically put all outbound calls on autopilot, streamlining your outbound workflow and effortlessly managing leads. 
FiveCRM describes itself as the only CRM designed specifically for telemarketing. Build your telemarketing strategy with a customizable solution for your outbound and lead generation teams. 
Why is outbound call center software important?
Outbound call center software can play a crucial role in the performance and effectiveness of call centers. 
Here are a few benefits you'll receive: 
Efficiency and productivity
A good outbound call center software can help you track your team's activity, manage their workloads, and record calls for later analysis. 
This means agents can spend their time on more complicated tasks and focus on customers' needs and concerns. 
Enhanced customer interactions 
The best way for companies to increase sales is by keeping customers happy with excellent service. With outbound call center software, you can collect data that will help you better understand what your customers want. 
The more information you have about each customer, the better you can customize their experience.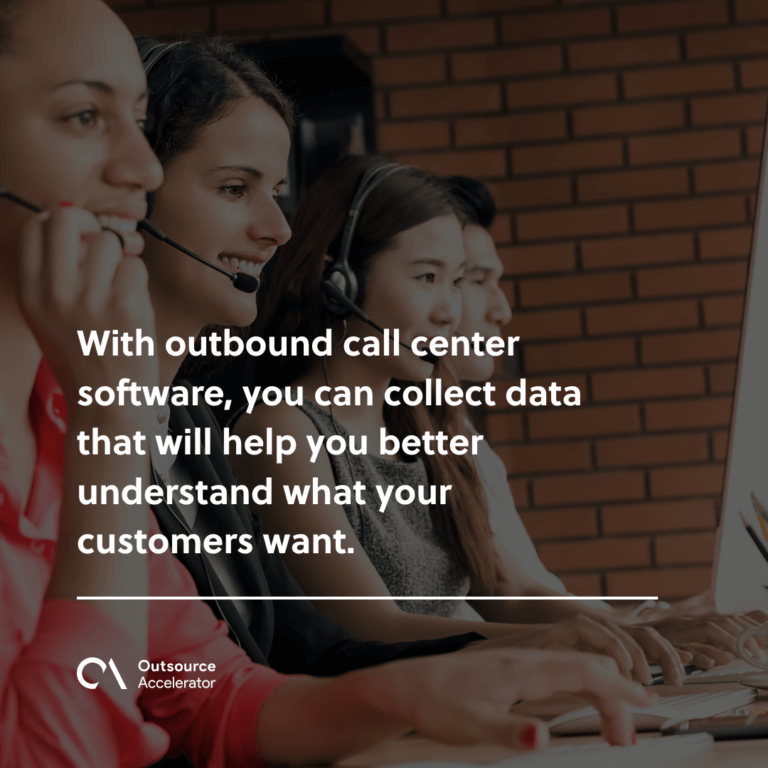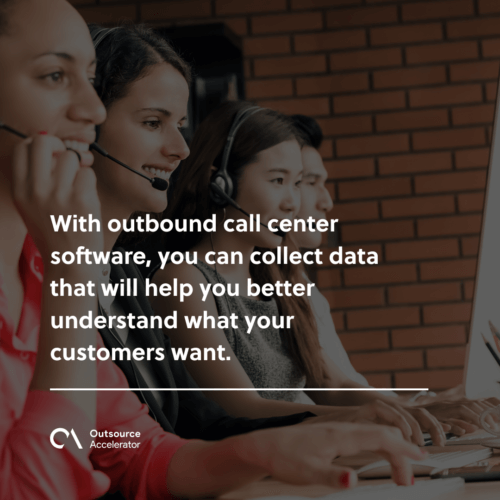 Streamlined call campaign management
Outbound call center software makes the entire process easier by automating all aspects of the campaign management process. You can manage multiple campaigns from one central location. 
This allows you to see exactly where each lead is in the sales funnel at any given time. You'll also be able to see which leads are responding best so you can optimize future campaigns accordingly. 
Scalability and flexibility
Scalability and flexibility of a software refers to the ability to grow as your company grows. The best outbound call center software enables you to scale up as needed without worrying about compatibility issues or other complications. 
The software should be usable by small companies with fewer agents as well as large ones with thousands of staff.  
Lead generation and sales conversion
Outbound call center software ultimately helps your bottom line. You can generate leads and reach more potential customers. 
Automating certain tasks and initiating personalized interaction can build trust and increase your sales conversion rates.