Organizational citizenship behavior: Definition, types, and best practices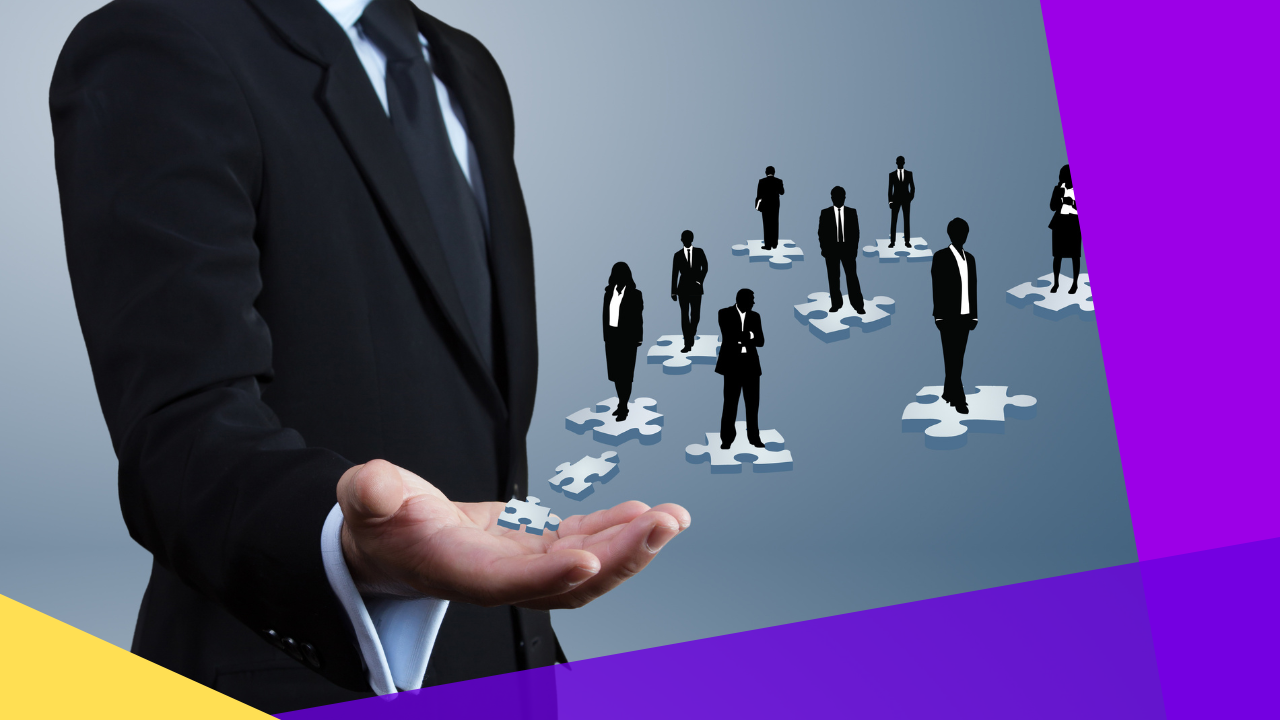 The traditional workplace hierarchy has long been a foundation of the business world. But in recent years, autonomous and team-based work has gained relevance in place of this structure. 
This evolution has influenced today's modern workplace. A more flexible, creative, collaborative, and communicative environment is made possible with autonomous and team-based work.
Employees that operate autonomously[1] can complete their tasks independently and make choices without consulting a manager or supervisor. Through organizational citizenship behavior (OCB), self-motivated employees showcase their abilities beyond their roles to help the organization grow. 
In this article, we'll dive into the definition of OCB, its different types, and best practices in the workplace.
What is organizational citizenship behavior (OCB)?
Most workers understand that their primary responsibilities are to do their given tasks, avoid potentially disruptive activities, and provide excellent and valuable work to the business. 
But through organizational citizenship behavior (OCB), employees go above and beyond their assigned obligations by doing extra work that is not really needed. 
Organizational citizenship behavior is also known as the good soldier syndrome. Managers and company leaders typically see these actions positively. This good quality of a team member aids the organization and promotes better corporate efficiency.
Here's how OCB can positively impact the social and psychological conditions at work:
Motivate co-workers to act the same and establish OCB as their work ethic

Enhance the job performance of the employees

Increase productivity and morale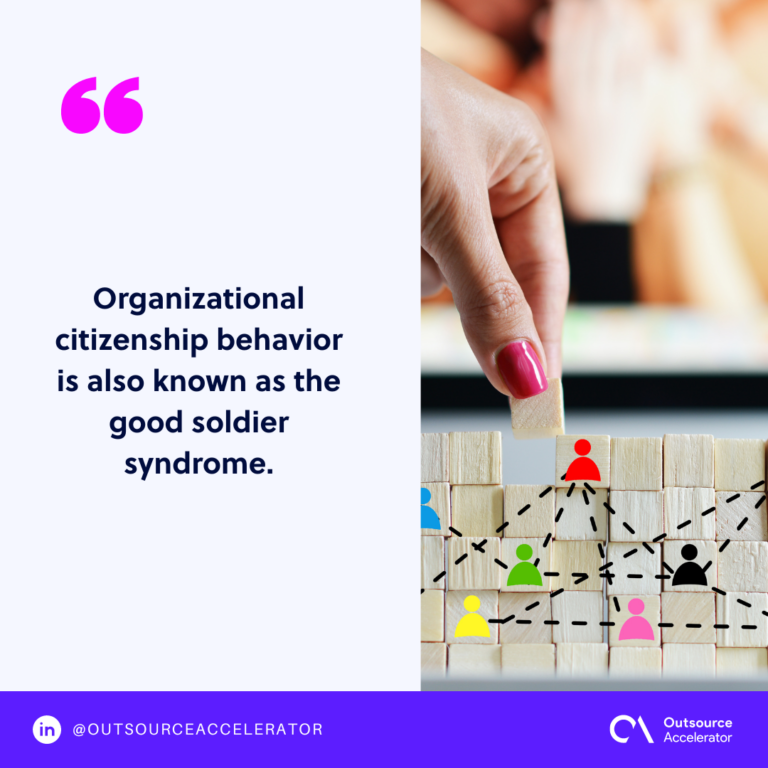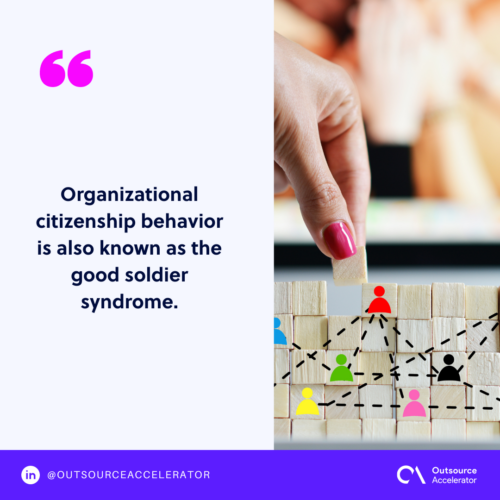 Types of organizational citizenship behavior
From a historical perspective,[2] Dennis Organ performed a study on organizational citizenship behavior (OCB) in 1988. 
His research discovered five frequent behaviors that, when expressed in a group context in the workplace, boost the group's or organization's effectiveness.
Altruism

Conscientiousness

Sportsmanship

Courtesy

Civic virtue
These five behaviors are further explained below, together with additional dimensions of OCB:
Altruism
Altruism occurs when an employee assists a co-worker without asking for anything in return.
In a professional situation, this would manifest as a worker helping a colleague in completing a project. The employee is ready to do it even if the job may not directly correspond to what they need to complete during their typical workday.
Conscientiousness
Conscientiousness is the quality linked with being organized, efficient, goal-directed, and dependable.
Staff who demonstrate this organizational citizenship behavior may do this in the following instances:
Arriving at work early to finish a project

Working to surpass team objectives for the quarter

Coming up with a novel method to approach a process



Sportsmanship
Sportsmanship entails accepting responsibility for errors and keeping a positive outlook under trying circumstances. Sportsmanship also includes showing others support and encouragement.
One example is when an employee chooses to remain positive even when things don't go their way or cause significant anger or frustration.
This may be demonstrated in a typical office setting by a staff member who chooses not to complain or spread rumors regarding a rejected project proposal.
For organizations, the outcome of this organizational citizenship behavior is: 
Fewer complaints = managers can focus on other critical business functions.
Courtesy
Being friendly and respectful to coworkers, customers, and suppliers exemplifies courtesy. Courtesy improves the general atmosphere of a workplace and fosters strong connections among coworkers.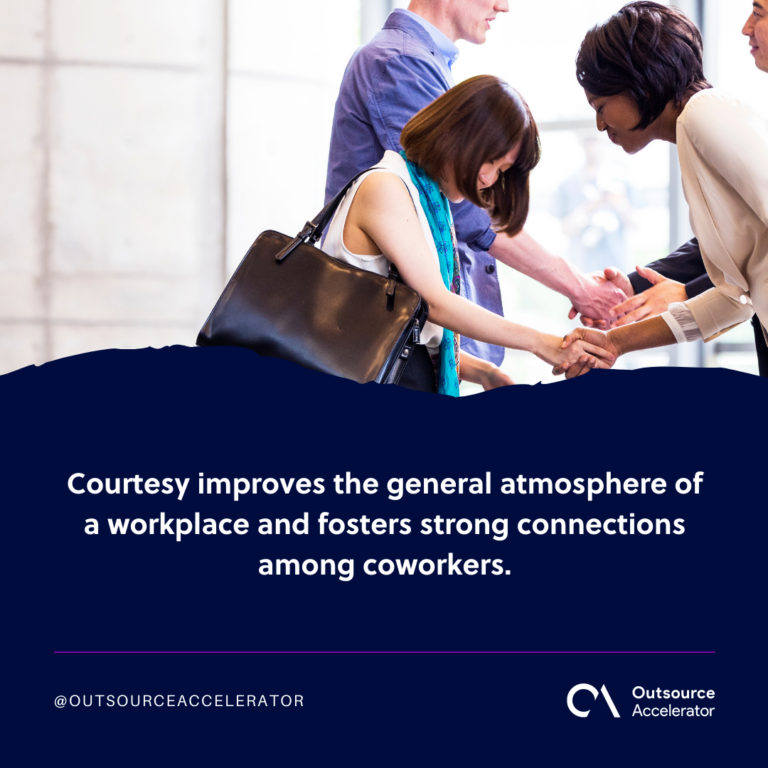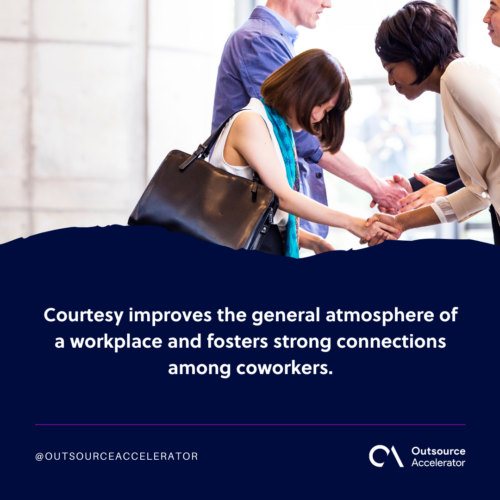 Civic virtue
Civic virtue entails taking responsibility for the organization's well-being and actively contributing to its success, including volunteering for extracurricular activities as necessary.
This might happen inside or outside of the company. It fosters a feeling of community and solid interpersonal bonds among coworkers.
Self-development
This type of organizational citizenship behavior refers to workers who engage in self-development activities such as:
Skill development

Personal goal setting

Reflective learning
Employees who practice self-development in the workplace are fully committed to their growth and development.

Organizational compliance
Employees who obey the organization's principles, conventions, rules, and regulations while going above and above at work exhibit this organizational citizenship behavior.
This type of OCB benefits an organization because there is a reduced need for supervision, and instead, allowing companies to be more open with macromanagement.
Organizational citizenship: Best practices
Managers and leaders may support these OCB practices by applying these best practices in the workplace:
Encourage teamwork

– workers will regard themselves as playing an essential part in helping out their colleagues if a

culture of collaboration

and cooperation is formed early on.

Set an example

– leaders must be shining examples of the organizational citizenship behavior they want their workers to adopt.

Connect OCB to company objectives

– its types should be incorporated into the corporate goals as this will assist in promoting the culture represented by OCBs.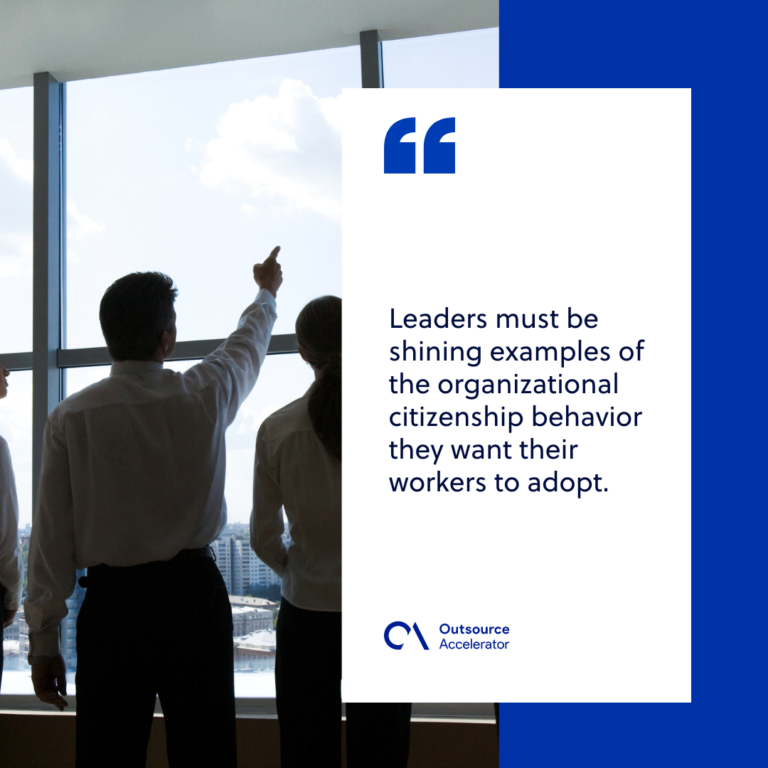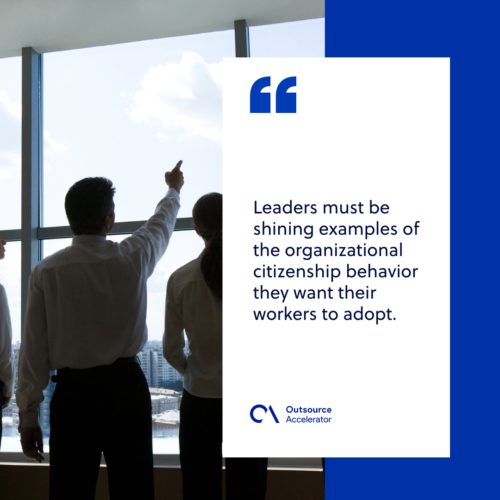 Organizational citizenship behavior fosters team cooperation 
While not every employee will engage in corporate citizenship behavior, it may have significant benefits for both your workforce and the firm.
Furthermore, if your organization wants to strengthen the bonds of its people, this might be an excellent time to incorporate organizational citizenship behavior into your company culture!
Article references:
[1] employees that operate autonomously: Noordegraaf, M. (2020), "Protective or connective professionalism? How connected professionals can (still) act as autonomous and authoritative experts." Journals of Professions and Organization, Vol. 7 (2), pp. 205-223. doi: 10.1093/jpo/joaa011
[2] historical perspective: Ocampo, L., Acedillio, V., Bacunador, A.M., Balo, C.C., Lagdameo, Y.J., Tupa, N. (2018), "A historical review of the development of organizational citizenship behavior (OCB) and its implications for the twenty-first century" Emerald Insights Journals, Books, and Case Studies, Vol. 47 (4). doi: 10.1108/PR-04-2017-0136.