Macromanagement: Is it the right management style for you?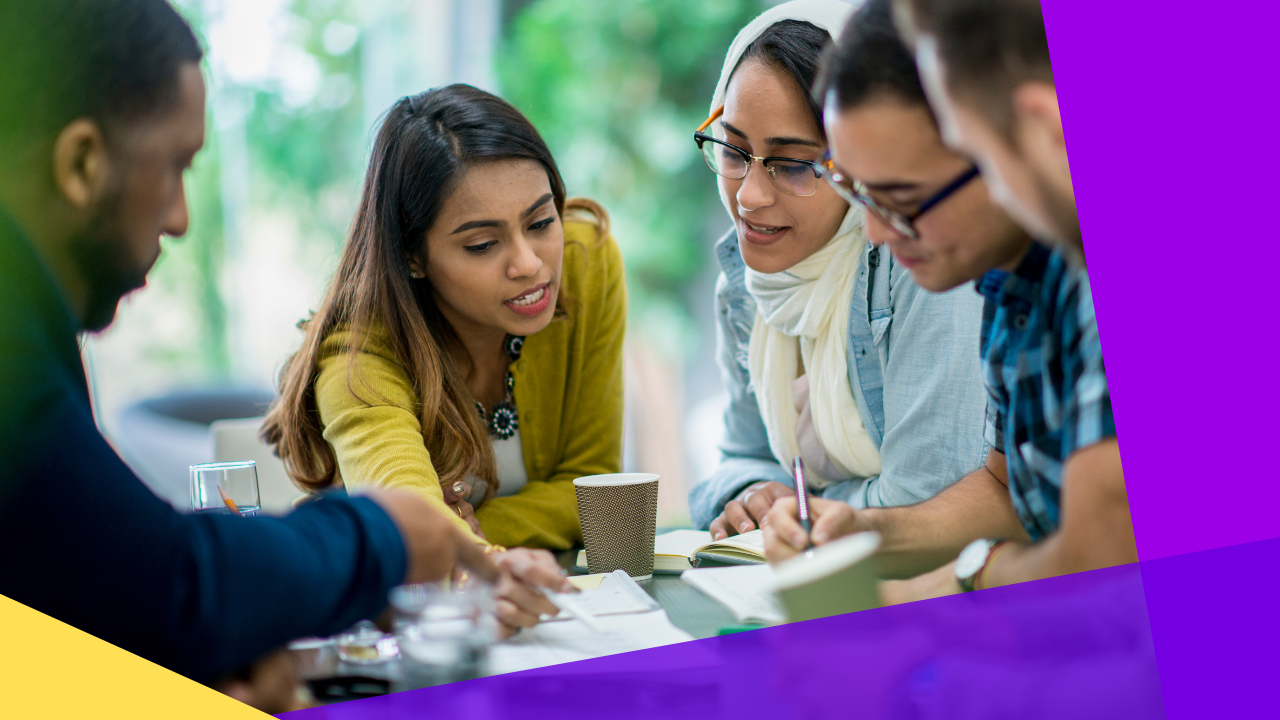 Managing a team – whether virtual or in-office – can be challenging even for veterans of any industry.
It takes more than just knowing and playing to the strengths of each of your team members.
You'll also have to factor in their personal workstyles[1] and individual roles to keep the entire team in good spirits.
For some employees, being micromanaged – being told exactly how to do every little thing – can be counterproductive.
In such cases, adopting a macromanagement leadership style can help you better manage your team.
But what exactly is this management type, and what makes it better than micromanagement? Read on to find out.
What is macromanagement?
Macromanagement is a management style that focuses on the big picture rather than the small details.
It's often described as a "laissez-faire"[2] and hands-off style in managing team members.
In a macromanagement approach, managers leave the non-essential parts of day-to-day operations to middle managers and rank-and-file employees.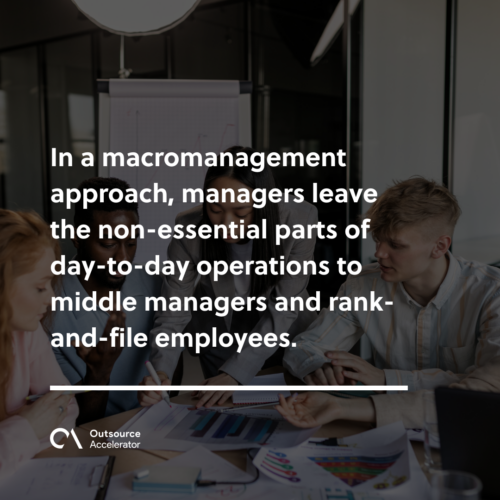 Instead of quibbling over minute details, adherents of macromanagement focus on developing long-term strategies and goals.
The practice of macromanagement can often be seen in larger organizations with many employees to direct and supervise.
In these kinds of organizations, micromanaging every employee would bog down managers and hamper their productivity.
Macromanagement vs. micromanagement
Where macromanagement is a hands-off leadership style that lets employees execute their tasks as they see fit, micromanagement is the complete opposite.
In a micromanagement leadership style, the manager closely observes, directs, and controls how team members do a given task.
For example, say that a company's marketing department needs to increase its campaign's effectiveness and reach.
In macromanagement, the marketing manager would simply let their team know their overall goals and objectives and give their team general guidance.
It will be up to the team members to finish their tasks and how they do them.
In a micromanagement approach, the manager will often tell members the "right" way of doing their jobs and frequently check on their progress.
Jane Britcher, president of Transformation Management LLC and author of a book on modern-day business leadership, described micromanagement as "demotivating … stifles innovation, and keeps people from using their own judgment."
In the same article on Forbes' website, the author also lauded macromanagement as an effective middle ground between micromanaging and complete team neglect.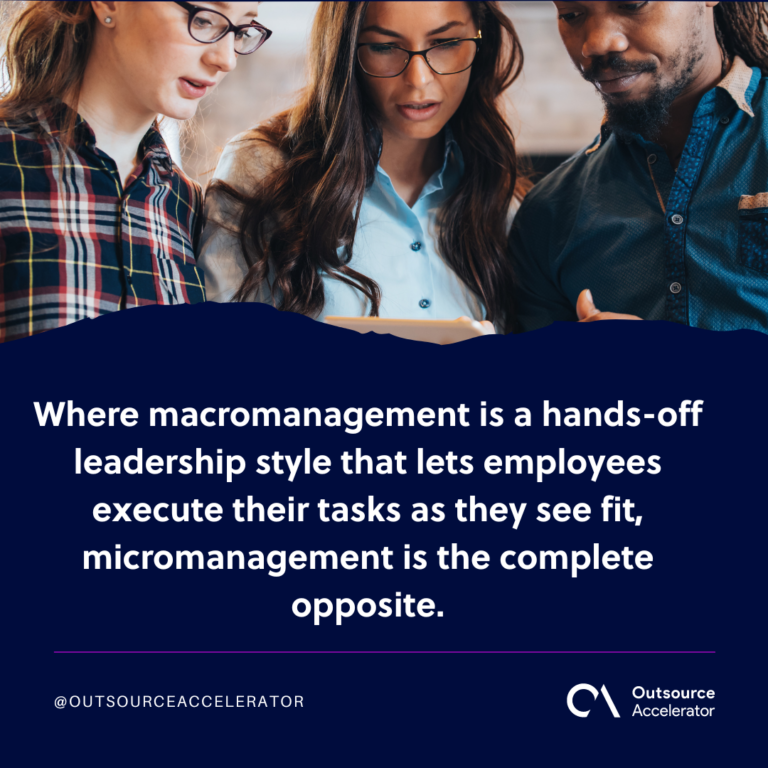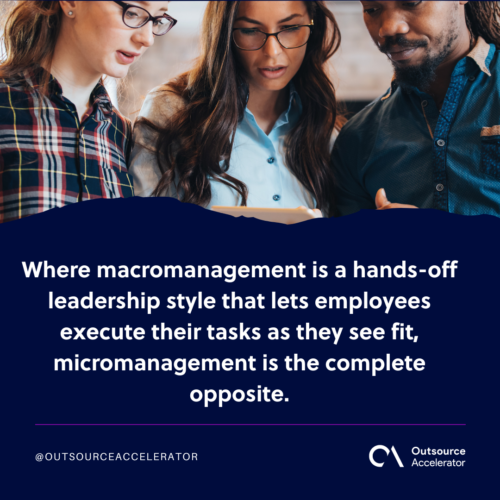 Macromanagement: Advantages and disadvantages
Despite being a more favorably looked upon managerial style, macromanagement still has its share of disadvantages.
Advantages of macromanagement
Below are the benefits of macromanagement:
Increases employee autonomy
Macromanagement entails managers taking a more hands-off approach to their team members' work.
This gives employees the freedom to execute their work however they may be comfortable with – even if their methods aren't similar to the manager's.
In a Harvard Business Review article, increasing employee autonomy was seen to improve employee satisfaction as well.
This position has been demonstrated in the results of a hybrid work study that showed employees prefer "flexibility through autonomy."
Increases trust between managers and employees
The laissez-faire style of macromanagement instills a sense of trust between employees and managers.
It shows that a manager trusts his team members' capability to perform at their most excellent, even without strict supervision.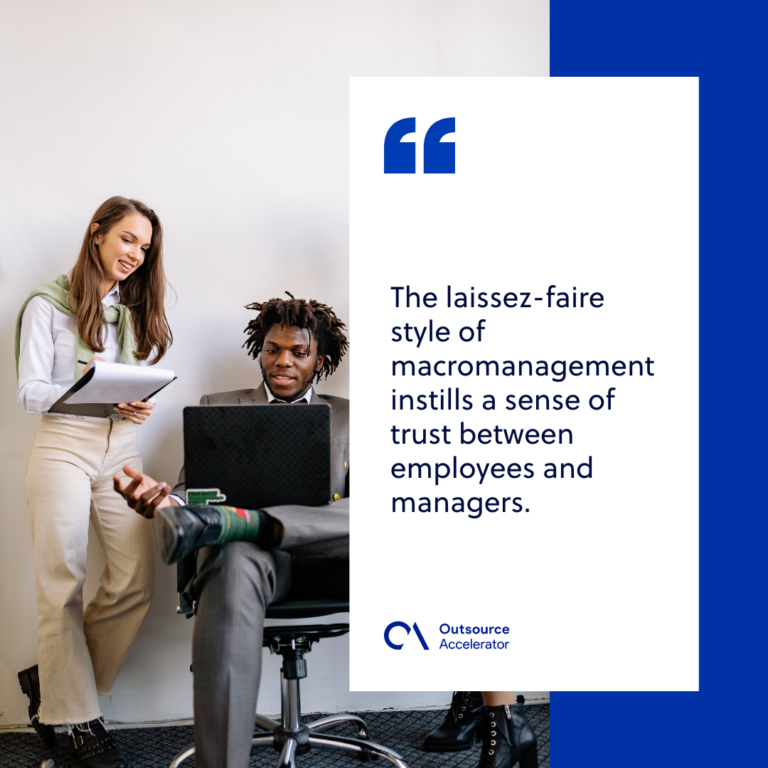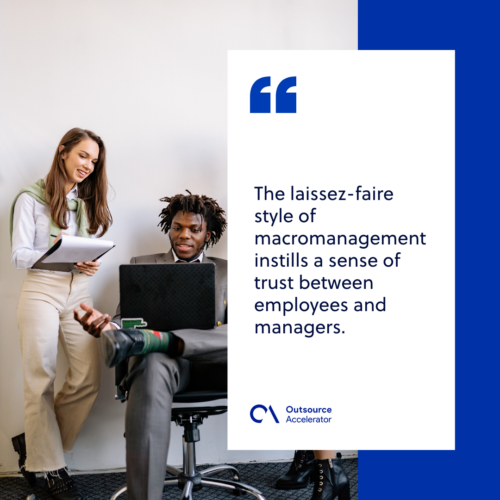 Reduces stress and pressure in the workplace
Macromanagement decreases pressure on employees as they don't have to worry about what their manager thinks of them.
Instead, they have the liberty to do their tasks at their own pace without management breathing down their necks.
Reducing – if not completely eliminating – this management-induced stress and pressure increases employee productivity.

As stated in a Harvard Business Review article, employees in a high-stress environment compromise their abilities to think long-term, strategize, and innovate.
Disadvantages of macromanagement
Here we have the drawbacks of macromanagent: 
Risk of communication gap
In macromanagement, managers distance themselves from their team members to reduce intervention in their work processes.
This setup may result in a communication gap between managers and their team members.
For example, a team member may have valuable knowledge that can improve their team. However, because the manager fails to ask about this, the team member doesn't communicate his idea.
Slows down problem-solving
Macromanagement gives team members space to figure things out on their own.
While this certainly has benefits (e.g., less pressure), it's a double-edged sword that can also slow down their work processes.
Without effective guidelines to follow, macromanaged employees may end up lost when their manager fails to properly guide them.
Less frequent feedback
One of micromanagement's less desirable effects is having too much feedback that team members become demotivated.
The inverse of this is also true.
Receiving little to no feedback may make employees feel that their work is undervalued.
Tips for successful macromanagement
No management style is perfect, everyone has its advantages and disadvantages.

However, there are steps you can take to ensure that macromanagement will not become a hindrance to your team's performance.
Below are some actionable tips you can follow to mitigate – if not completely circumvent – the drawbacks of the macromanagement approach:
Set clear expectations
It's important to clearly establish what you expect from your team members after laying down your team's objectives.
Ensure that you and your team are on the same page and share the same vision for your current projects.
Establish clear milestones and objectives
Setting clear objectives and milestones lets everyone in your team know what needs to be done and when.
Breaking down big objectives into smaller ones can help your team adjust their strategies accordingly if results aren't going the way you expect.
Allow and encourage open inquiry
Make it clear that you are open to questions and suggestions, whether about your current objectives or otherwise.
You can also ask your team members what they think of your laid-down goals and objectives.
For example, you may ask which aspects they think are likely or not likely to work and why.
Express appreciation for progress
Just because you're not micromanaging your team's performance doesn't mean you don't have to appreciate even small progresses.
Acknowledging and appreciating your team's hard work lets your members know that you still take the time to look over their work even without micromanagement.
References:
[1] personal workstyles. Maheswari, M. (2019.) "A study on workstyle of information technology employees with their attitude in Chennai District, Tamil Nadu." Asian Journal of Management, 10(1) pp. 67-71. DOI: 10.5958/2321-5763.2019.00012.X
[2] laissez-faire. Iqbal, Z.A. et al. (2021). "Impact of authoritative and laissez-faire leadership on thriving at work: The moderating role of conscientiousness." European Journal of Investigation in Health, Psychology and Education, 11(3) pp. 667-685. https://doi.org/10.3390/ejihpe11030048