Advantages of outsourcing your order taking process
Order-taking is one crucial part of customer fulfillment that greatly impacts your customer lifecycle. 
Of course, the goal is to keep a solid customer base that will not only be loyal to your brand but will also recommend your products and services to others. And order-taking is essential to help you achieve these goals. 
A robust order-taking solution can help you cultivate your customer relationships, from the moment they place their first order and share their personal information until they successfully receive their purchases. 
Given how important this process is, there has been an increasing demand for order-taking outsourcing over recent years. In this article, learn how outsourcing your order-taking processes can be more beneficial to your growing business. 
What is involved in the outsourcing order-taking process? 
For a lot of businesses, order processing through the phone often is their first direct contact with customers. 
When you outsource order-taking, it means that you will pass this part of your business operations onto a third party. Outsourcing service providers like OP360 provide agents that are not only well-versed in order-taking services through phone but are also technically proficient. 
Outsourcing your order-taking process helps you provide a more efficient and personalized order-taking service to your patrons. Aside from order processing, your outsourced agents will also be in charge of answering customers' inquiries, post-purchase customer service.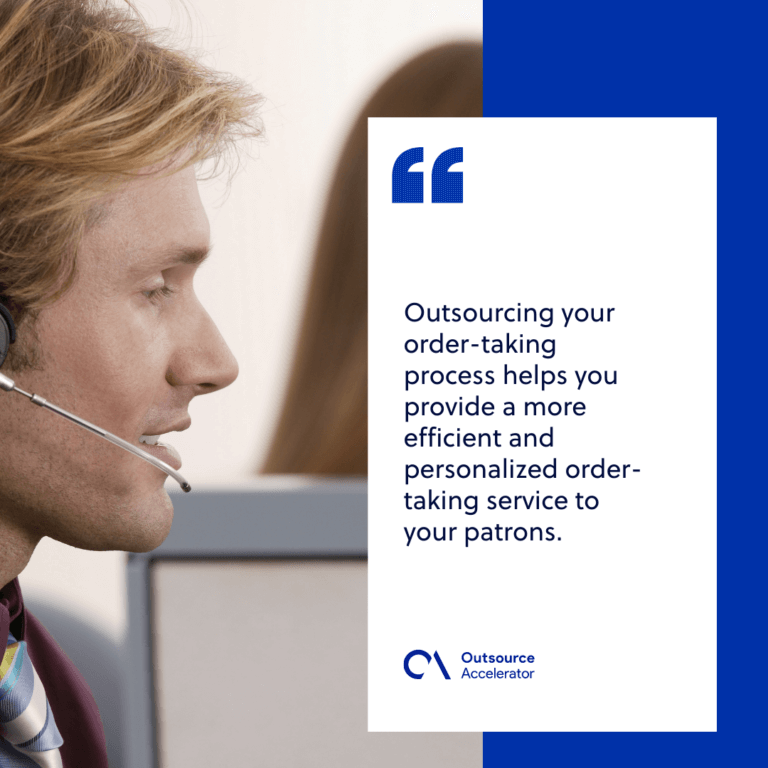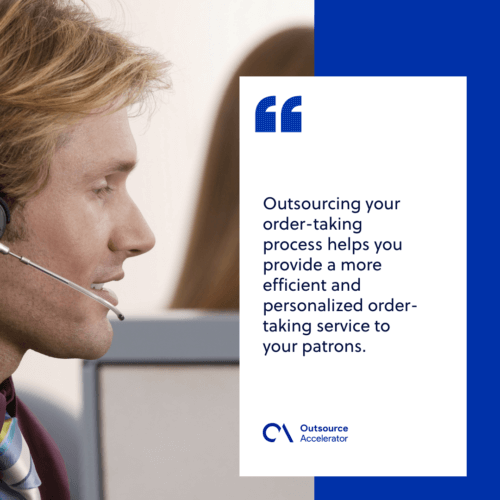 6 key benefits of outsourcing order-taking process
Outsourcing to experts allows you to streamline your order-taking process. Partnering with the right outsourcing provider that understands your order-taking process needs gives you the following advantages: 
Customer satisfaction
Your agents should be able to communicate comprehensively with your customers. Otherwise, poor communication will result in dissatisfied customers. 
Outsourcing companies have experienced agents that can effectively handle and improve your order-taking service. This will most likely lead to a boost in your customer satisfaction rates. 
Error-free order-taking 
Order-taking agents employed in outsourcing companies undergo extensive training to enrich their speaking, listening, and technical skills. Meaning, your outsourced agents are capable of processing orders and recording all customer information into your CRM accurately. 
Cross-selling and upselling 
The order-taking process is also a perfect opportunity to cross-sell and upsell your products and services. Outsourced agents typically have mastered the art of cross-selling and upselling. Thus, they can persuade customers to buy additional offers that they believe will benefit them. 
24/7 order-taking process
Another advantage of outsourcing, in general, is that outsourcing companies commonly operate over extended hours. This is especially true if you are offshoring to another country with a different time zone. OP360, for example, offers 24/7 contact services to their clients all over the world.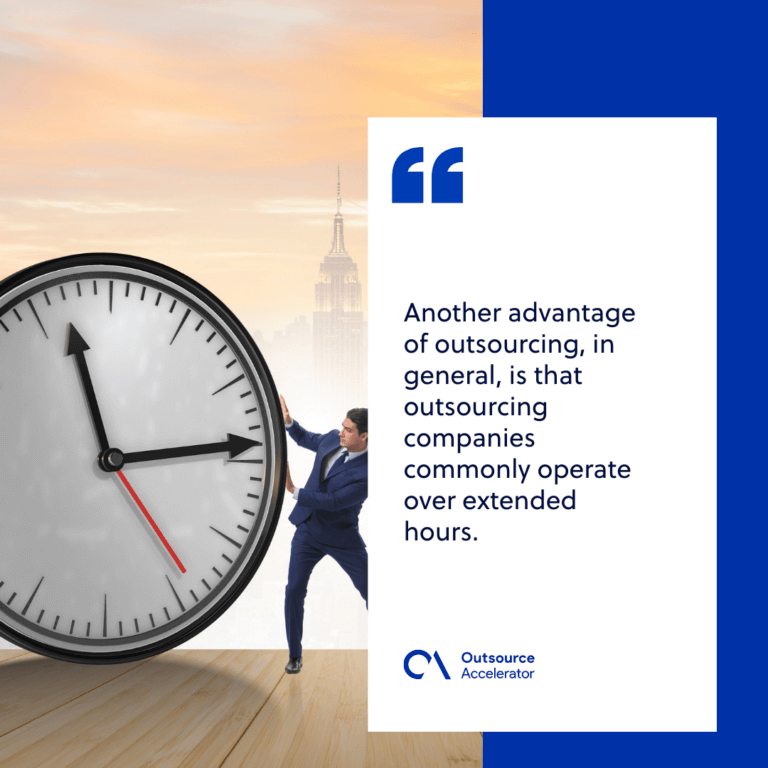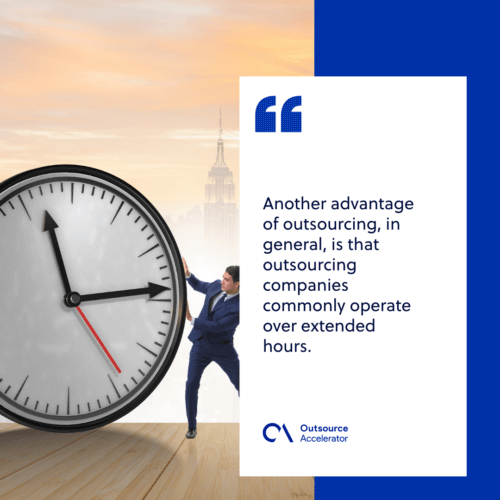 Cost-saving 
Setting up your in-house order-taking team requires a significant amount of budget. Apart from hiring and training agents, you will need to allot office space, equipment, and other necessary resources for the job. 
Outsourcing helps you bypass all these costs. On top of that, outsourcing companies invest in utilizing the latest in contact center technology, helping them offer the best services to their clients.  
Staffing scalability and flexibility 
You can easily scale your outsourced staff according to your order-taking demands. As for flexibility, you may opt to contract out your entire order-taking management to your outsourcing provider. Or you also have the option to get involved in certain parts like hiring or training. 
Partner with OP360 for your outsourcing needs! 
OP360 has agents who are not only capable of handling your order-taking process but are also dedicated to boosting your overall customer satisfaction. 
Head over OP360's website to know more about this featured service!