Open talent: The future of work in a globalized world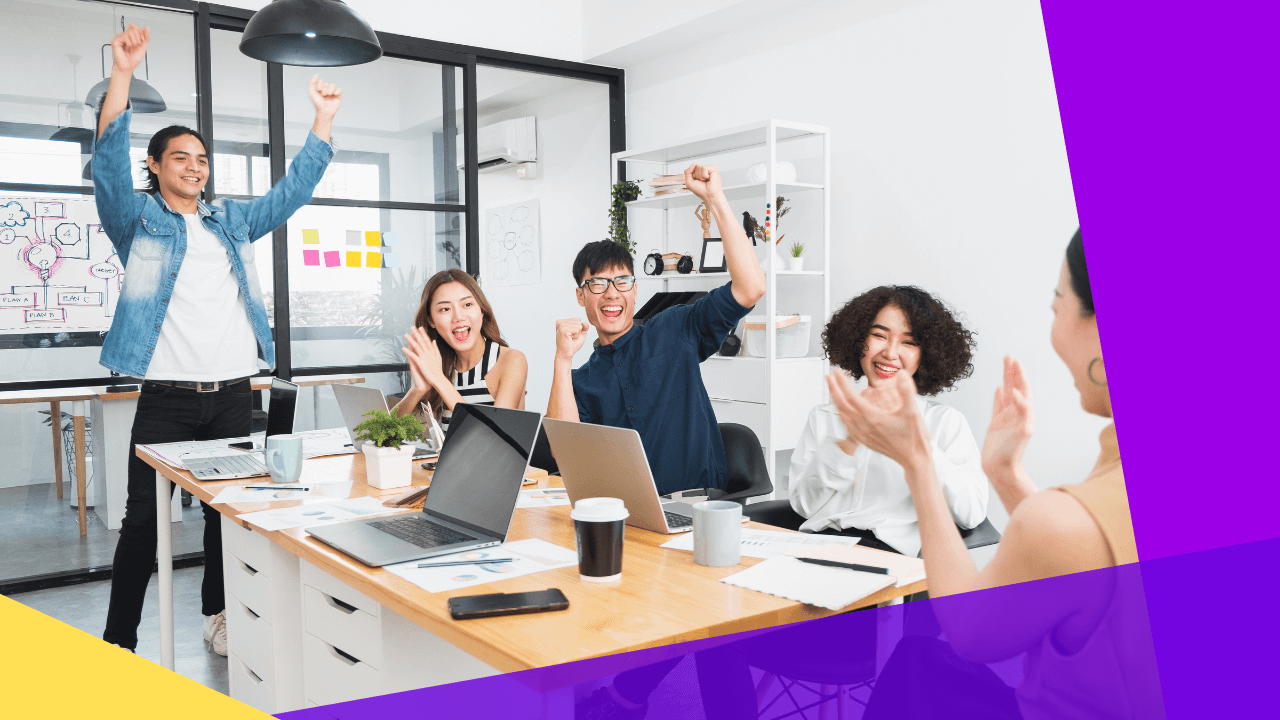 Traditional employment models are undergoing a paradigm shift in today's evolving business landscape. 
One of the most prominent trends shaping the future of work is the concept of open talent. 
Open talent is an innovative approach to hiring and collaboration. It is a "borderless" workforce where companies gain the ability to leverage a global talent pool. 
On the Outsource Accelerator podcast's 450th episode, Global Sourcing Association UK (GSA) CEO Kelly Hallard touches upon the concept of open talent.
Kerry claimed that, "Open talent is [probably] the biggest game changer to the outsourcing industry since the advent of offshoring."
What is open talent?
Open talent (aka open talent economy or gig economy) is a workforce model that relies on hiring individuals on a project-by-project basis. 
On the podcast, the GSA CEO shared, "Open talent is the term we use in the industry for gig workers."
This approach enables businesses to tap into a diverse and geographically dispersed talent pool. It breaks away from the constraints of traditional office-based work structures. 
The open talent economy has been empowered by technological advancements – particularly with the rise of digital platforms connecting businesses with freelancers and independent contractors. 
These platforms facilitate the exchange of services between businesses and talented individuals.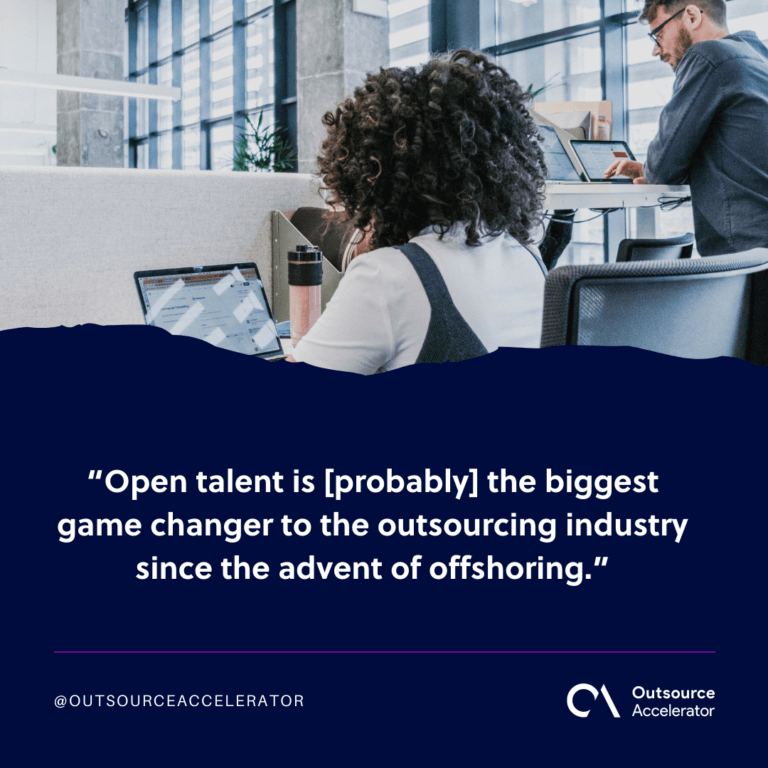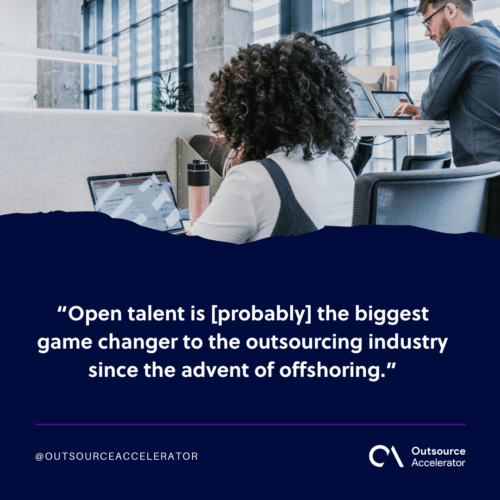 Why companies are using the open talent hiring model
There are numerous reasons why organizations are turning to the open talent hiring model. 
According to Kerry, "There's a massive move in individuals wanting to work for themselves and work from anywhere…
That has now been enabled by the pandemic. Anybody can work remotely these days and Gen Z are all voting with their feet to really be able to work for themselves…
Our industry absolutely has to get on board with open talent because we have got a global talent crisis."
Here are a couple of other reasons why open talent hiring is becoming a viable option:
Flexibility

. Gig work models give companies more flexibility in their workforce. It enables them to hire people for specific projects when they need them.

Cost-effective

. Hiring open talent can be more cost-effective than hiring full-time employees. Businesses can significantly reduce payroll costs, benefits, and overhead expenses while still accessing a wide variety of skills and talents.

Access to a larger pool of talent

. Freelance hiring models access a larger and diverse pool of talent from across the globe. This can improve the quality of work delivered by organizations.

Increased agility

. Open talent allows companies to become more agile. It helps them adapt quickly to changes in the market, client needs, and technological advancements.

Specialized skill sets

. Organizations can gain access to highly specialized skill sets by working with open talent. This can help businesses complete projects that require deep expertise in a particular area without the need to train full-time employees.
Types of jobs performed by open talent
The open talent model encompasses a wide array of jobs and industries. Here are some examples of roles commonly performed by open talent:
Creative and design services
The creative industry heavily relies on open talent for graphic design, web development, copywriting, video production, and other artistic services. 
Many businesses turn to freelance designers and content creators to enhance their brand identity and online presence.
Software development and IT services
In the tech world, open talent plays a crucial role in software development, app creation, cybersecurity, and IT support. 
Startups and established tech companies alike often collaborate with independent developers to build innovative products and solutions.
Marketing and digital marketing
Marketing is an area where the gig economy has thrived. 
Companies frequently hire freelance marketers, SEO specialists, social media managers, and content strategists to execute targeted advertising campaigns and optimize their online visibility.
Consulting and advisory services
Open talent extends to consulting and advisory roles, where professionals with niche expertise provide guidance and insights to businesses. 
Management consultants, financial advisors, and industry experts often operate as independent contractors.
Data analysis and research
Data-driven decision-making is crucial for businesses in various sectors. 
Open talent includes data analysts, researchers, and statisticians who help companies gather insights and analyze data to make informed strategic choices.
Administrative and finance work
Open talent can also perform jobs such as accounting, bookkeeping, administrative tasks, and customer service.
Kerry noted, "Technology is really improving the way we deliver customer experience." With the help of technology, it's more possible for gig workers to provide excellent customer service.
The future of the open talent economy
The open talent economy is expected to keep growing. Especially given the increasing demand for flexible and cost-effective labor. 
The effects of the COVID-19 pandemic may have caused some short-term slowdowns in freelance work. 
Though the overall trend towards freelancing, remote work, and project-based employment continues.
Kerry cited relevant statistics from Gartner. "By 2027, more than half of the United States workforce will be freelance workers."
As the open talent economy continues to grow, organizations must stay up-to-date with the latest trends.
According to the GSA CEO, "We've got to embrace open talent… I think a lot of the service providers out there are now recognizing that they need to augment their workforce with open talent workers.
"There's some [companies] that aren't doing it. They just don't get it. And I think they're going to be the laggards in this industry."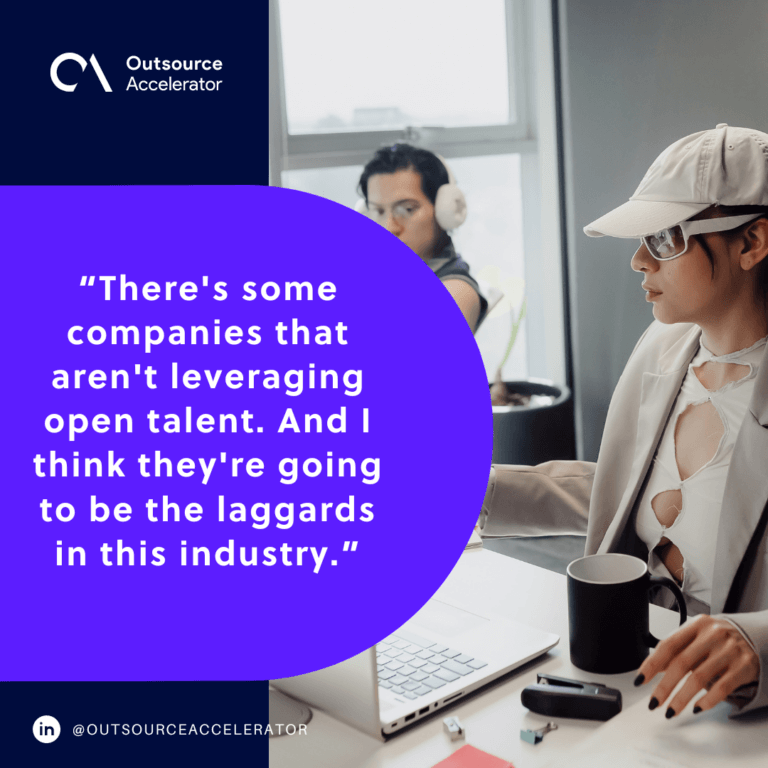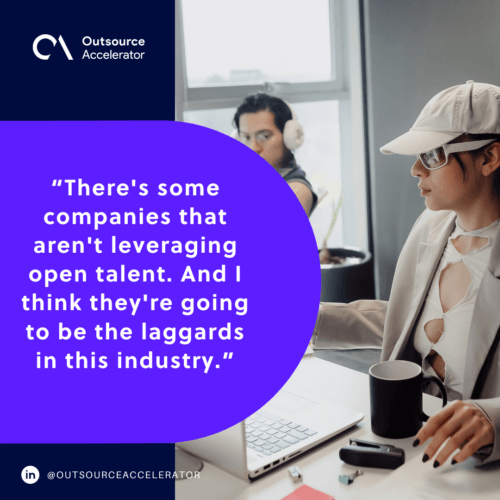 Organizations that effectively leverage open talent in their broader workforce strategy will be better positioned to accelerate growth and remain competitive.
As Kerry put on the podcast, "Everybody needs to [be] on board with open talent and build or harness open talent platforms."