Offshoring to Vietnam, Malaysia, and the Philippines: A quick comparison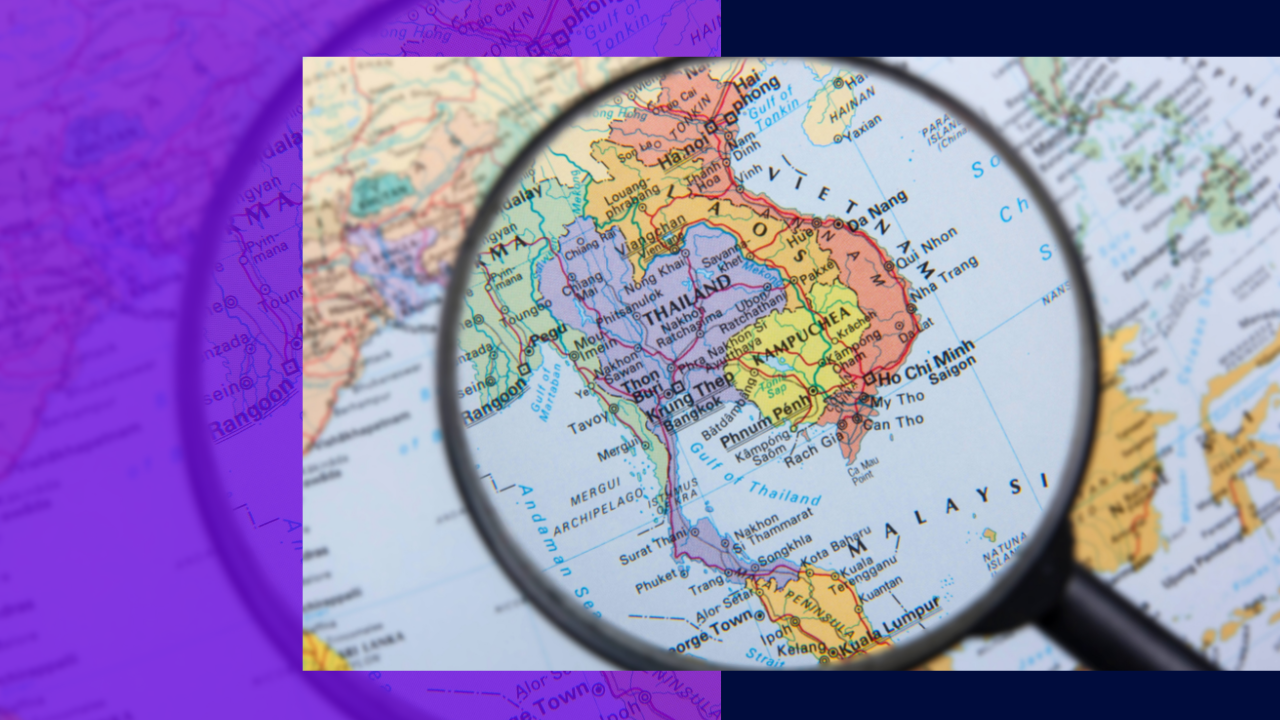 Businesses around the world have been looking up to Asia as the home of leading offshoring destinations for decades now. Aside from the Philippines and India, neighboring countries such as Vietnam, Malaysia, and Singapore are slowly gaining the spotlight in several business aspects.
Offshoring companies such as AS White Global have also contributed to the growth and development of these countries. The company currently has offices in three countries – Vietnam, the Philippines, and Malaysia. 
Daniel Breese, its general manager, discussed with Derek Gallimore of the Outsource Accelerator Podcast the advantages of each country, as well as the best way to hire quality offshore staff 
Offshoring to Vietnam
Vietnam continues to be recognized as one of the rising offshoring destinations in Asia. The country currently ranks 25th in the latest Tholons Digital Nations report and 6th in the A. T. Kearney Global Service Location Index. 
The country is heavy on IT-related work, especially software development. Whilst a smaller economy than India, the calibre of talent is highly sought after with many global brands establishing their technology hubs in Ho Chi Minh. 
Why companies outsource to Vietnam
ASW Global hired successful development teams in Vietnam. According to Daniel, hiring offshore teams in the country has been "somewhat of a unicorn story". 
Companies have shown interest in offshoring to Vietnam for the following reasons.
High-quality work

. Software developers in Vietnam have terrific initiative and deliver high standard quality of work and are widely recognised for their work ethic.
Leverage Cost.

As technology talent salaries continue to increase at an incredible rate, the cost of development talent in Vietnam has become highly attractive. The opportunity for business to double and triple the team size for the equivalent cost in many Western Countries is hard to overlook.

Availability of an educated labor force

. Vietnam provides a wide availability of skilled and educated workforce each year with Australian Universities having set up campus in Ho Chi Minh (RMIT). 
However, as Daniel advised, the only thing that could hold companies back is the language barrier. According to him, companies outsourcing to the country should hire a team leader that has exceptional English communication skills to reach out to them better.
On the bright side, English has been rapidly integrated into the country's education system. This means more young people joining the workforce are armed with the English proficiency needed at work.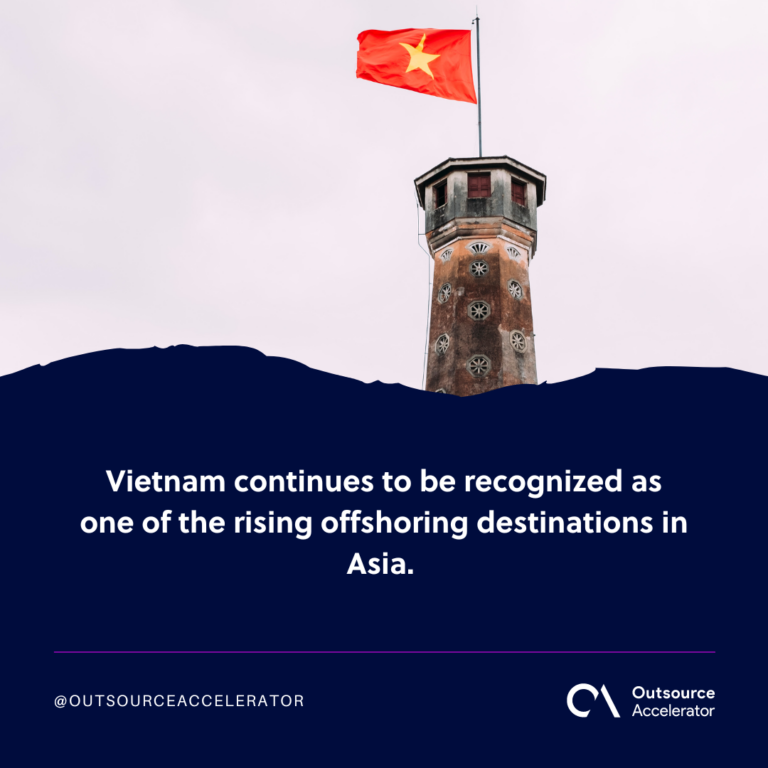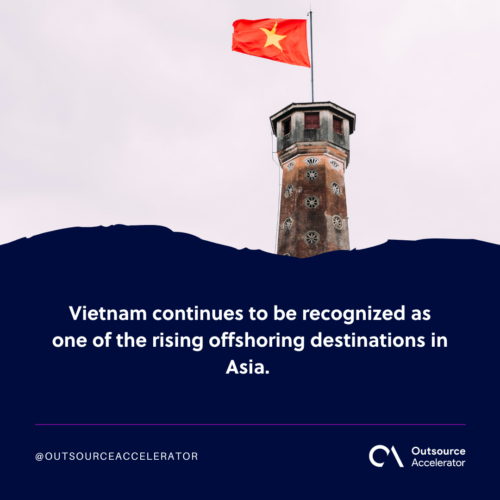 Offshoring to Malaysia
Though a late bloomer, Malaysia continues to rise as an offshoring powerhouse in Asia. Despite falling to the 33rd rank in Tholons Digital Nation Index, the country continues to benefit from the industry, with a reported 18.3% contribution in 2017.
Malaysia started as a hub for outsourcing manufacturing and service-related functions such as customer support. It has recently started to venture into IT outsourcing, integrating numerous business and educational programs to continue developing the sector.
Why companies outsource to Malaysia
Per Daniel, ASW Global expanded to Malaysia due to their increased need for high-quality IT talent. He mentioned that the country has a great advantage in terms of:
Steady infrastructure

. Daniel said Malaysia is a more developed country in terms of infrastructure compared to the southern Philippines.

Stable workforce

. The country produces a steady amount of competitive workforce yearly that can be tapped for offshoring services.

Privacy laws

. Malaysia is known to have strict censorship and data privacy laws. This makes it ideal for businesses who want to ensure high data protection and security.

Multi-Cultural Diversity.

Malaysia has proven an ideal hub to launch into Hong Kong, China, Singapore and Australia among others.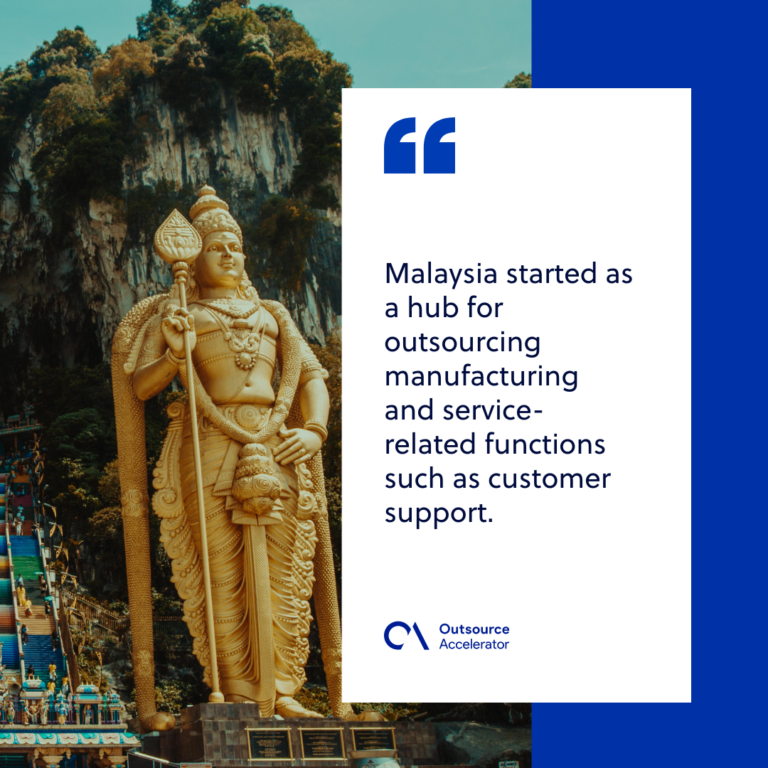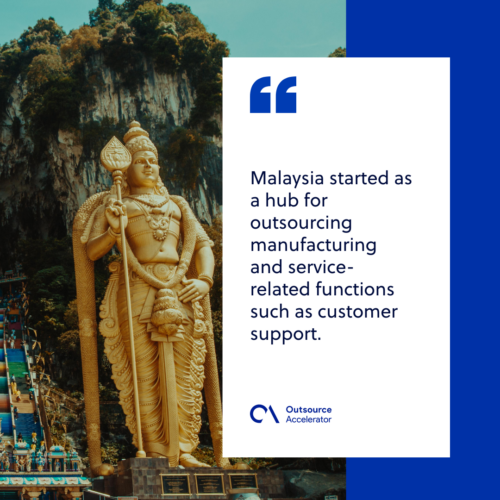 Offshoring to the Philippines
Lastly, the pandemic and other calamities won't hinder the Philippines in providing the best work results in offshoring. Being a leading offshoring destination next to India, the "BPO capital of the world" foresees its bright future for the years to come.
The country is ideal for a wide range of services including IT, customer service, and back-office functions.
Why companies outsource to the Philippines
The company saw the Philippines as the most ideal location in Asia for Business Administration functions. Moreso, the country is the most ideal for Western businesses when it comes to:
English proficiency

. Unlike in Vietnam, as Daniel said, companies can  communicate with their teams in the Philippines with ease since they possess strong English proficiency.
Wide range of services

. The Philippines is one of the main destinations for back office, IT, and front office services.

Cultural compatibility

. Among its Asian neighbors, the Philippines is the most compatible in the West in terms of culture.
However, most businesses would oppose a work-from-home set up in the country. This is because connectivity and equipment security won't always be assured outside of a controlled office. A lot of the locations here do not have strong internet connections yet.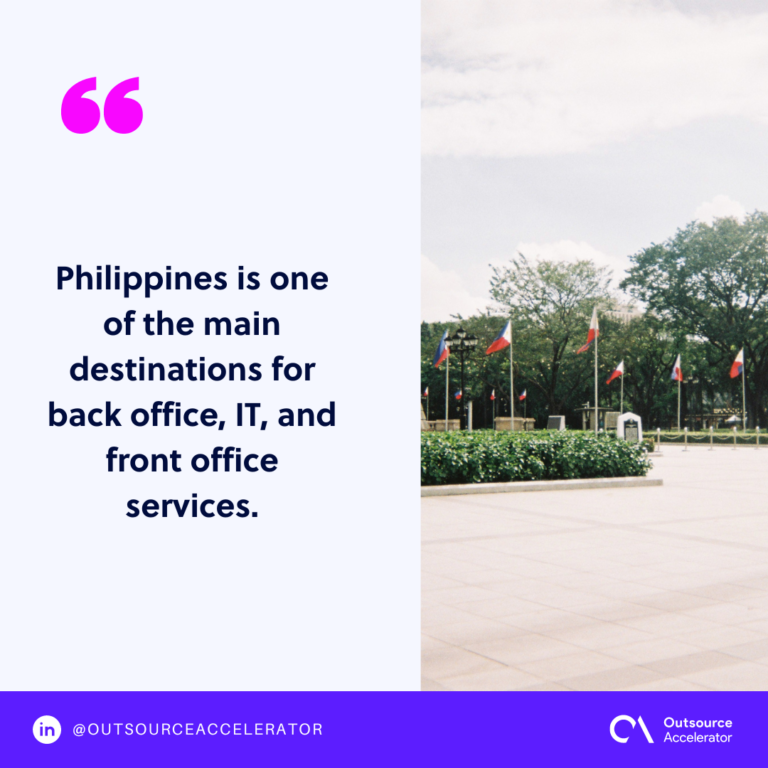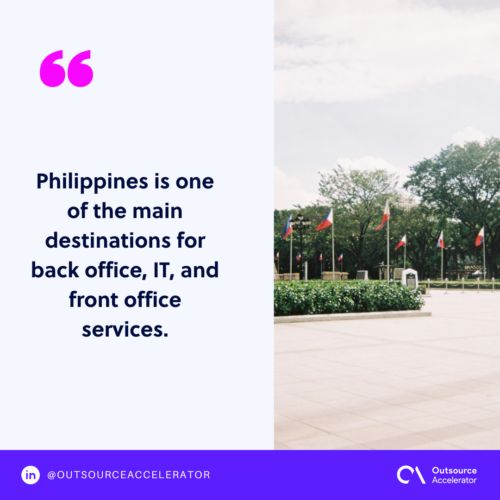 ASW Global on hiring offshore staff
With the comparison given to the three countries, which should be the best one to hire an offshore team?
Regardless of the popularity and development, it's best to weigh in on the objectives of a company in hiring offshore staff. As Daniel mentioned, each location has its own strengths and disadvantages in certain ways. 
With this, they can play out which country they think will help them improve a certain function. For instance, they can delegate development and support in Malaysia while back-office duties will be in the Philippines.
However, it's best to co-locate each team for those who are first time offshoring. This makes collaboration and communication better since they are only located in a single country.
Having operations in three countries, ASW Global aims to expand more on developing countries with a strong talent base. This is to give their local talents a chance to improve themselves economically and develop the country's technology. Check out their website for further inquiries and listen to the latest episode of the Outsource Accelerator podcast here.