Why you should consider offshoring consultancy services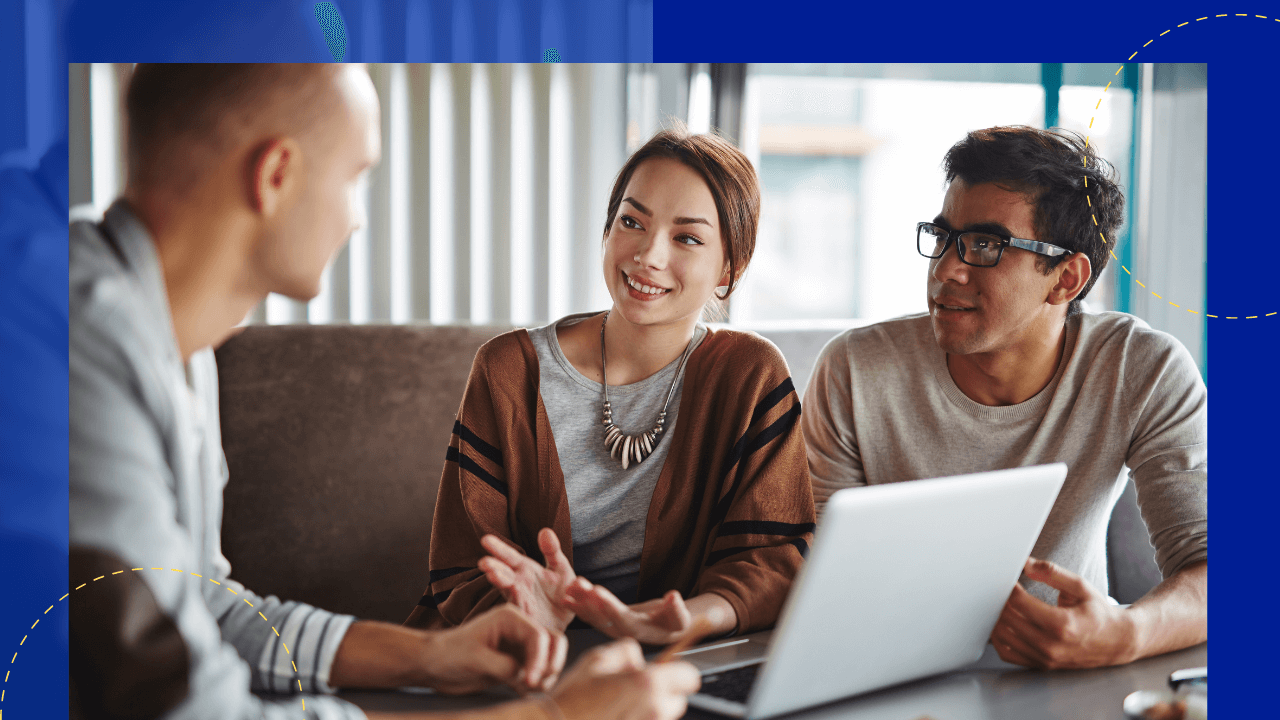 Organizations constantly seek ways to improve operations, make informed decisions, and achieve sustainable growth. This is why companies avail consultancy services. 
Aside from being an emerging trend, offshoring consultancy services provide businesses with expert advice and guidance in various areas. 
As per Consultancy.org, the global consulting sector is one of the most mature and largest markets in the professional services industry. 
Its billions of dollars in market value is a testament to that claim. This shows how offshoring can maximize the resources invested in the growing sector.
In this article, we will identify the common types of consultancy services and explore the benefits of offshoring them.
Who are consultancy services experts?
Consultancy services refer to professional advice and expertise experienced consultants provide. They help businesses improve their operations, solve specific problems, or achieve their strategic goals. 
These consultants are specialists in their respective fields. They offer valuable insights and recommendations to guide organizations toward success.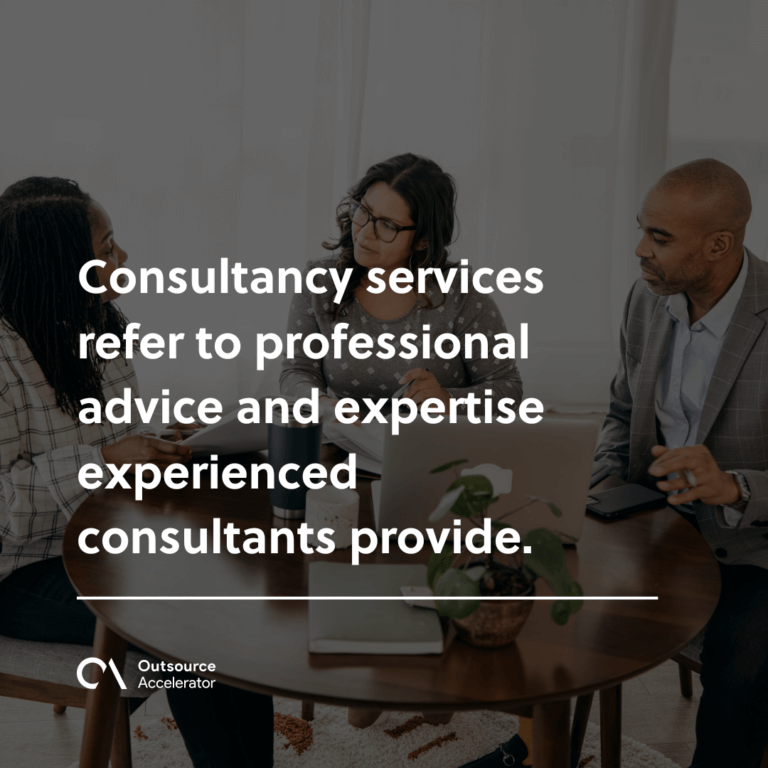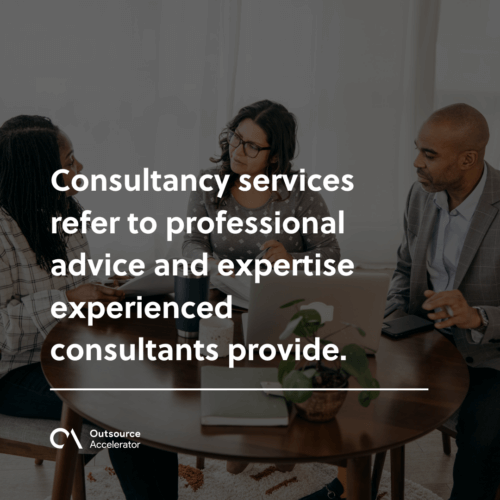 Common types of consultancy services
Businesses can choose from a wide array of specialized areas for offshoring consultancy services. 
Here are some common types that are often sought out:
Strategy consulting
Strategy consults develop effective strategies for growth, competitiveness, and long-term success. They analyze market trends, competition, and internal capabilities to provide actionable recommendations.
Marketing consulting
Marketing consulting helps with forming and implementing effective marketing strategies. It aims to reach a target audience, increase brand visibility, and drive sales. It also offers insights into market research, consumer behavior, and digital marketing channels.
Business consulting
Business consultants assess a company's operations and processes to increase efficiency and profitability. These specialists often specialize in specific industry verticals.
Financial consulting
Financial consultants aid in managing finances, optimizing cash flow, and enhancing profitability. They offer advice on budgeting, financial planning, risk management, and investment strategies.
Management consulting
As for management consulting, it focuses on improving overall organizational performance. This type of consulting service offers guidance on leadership development, organizational structure, change management, and operational excellence.
IT/Technology consulting
IT/Technology consulting leverages technology to improve efficiency, productivity, and competitive advantage. It offers software development, system integration, cybersecurity, and IT infrastructure expertise.
Sales consulting 
Sales consulting allows enterprises to improve their sales processes, techniques, and performance. It analyzes sales strategies, provides training to sales teams, and offers recommendations for increasing conversion rates and revenue.
Brand consulting 
Brand consulting experts help companies develop and enhance their brand identity, positioning, and messaging. They review market trends, consumer perception, and competition to guide brand strategy, differentiation, and equity.
Advantages of offshoring consultancy services
Businesses are offshoring consultancy services for the following: 
Access to specialized expertise
Offshoring consultancy services provide businesses access to highly skilled professionals. They have specialized knowledge and expertise in their respective fields.
By leveraging their insights and experience, companies can gain a competitive advantage and make informed decisions.
Cost-effectiveness
Offshoring consultancy services can be a cost-effective solution. By partnering with offshore consultants, firms can avoid the expenses associated with hiring and training full-time employees. 
Additionally, offshoring allows businesses to tap into global talent pools and access high-quality services at competitive rates.
Flexible engagement models
Offshoring consultancy services offer flexible engagement models that cater to unique business needs. Offshored consulting can cover:
Short-term or long-term contracts

Project-based engagements

Part-time consultancy arrangements
The flexibility offshoring offers allows enterprises to scale their consultancy services according to their requirements.
Objective perspective
Offshoring consultants bring an objective perspective to the table. They can view a business's operations with fresh eyes. 
An offshore consultant's point of view can identify areas for improvement and recommend unbiased solutions. This objectivity helps companies overcome internal biases and make strategic decisions based on reliable insights.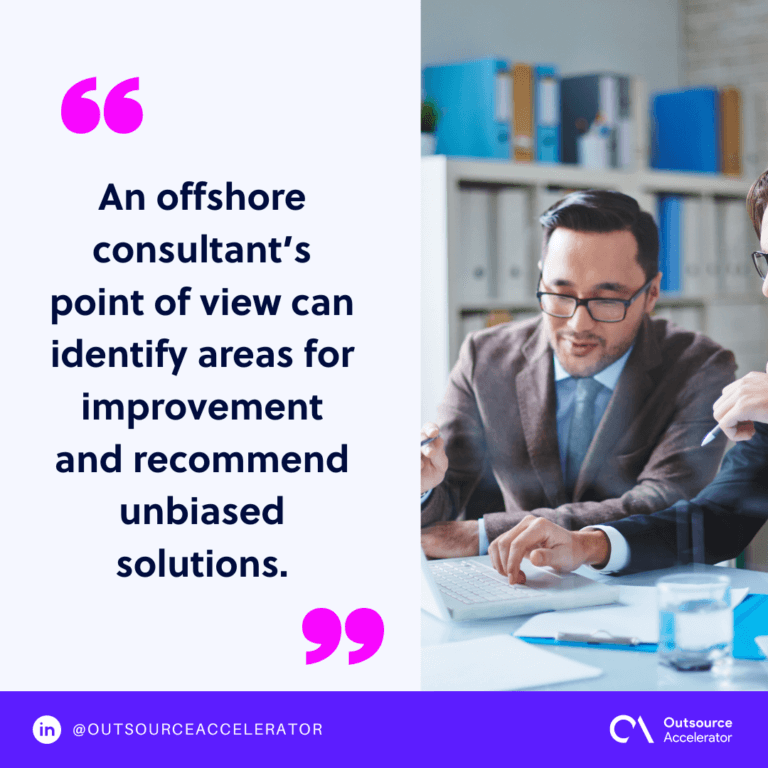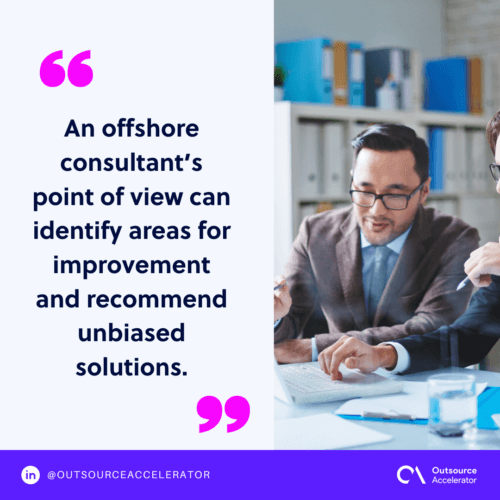 Enhanced efficiency and productivity
Offshore consultants can streamline work processes, optimize operations, and improve efficiency. They have the expertise and industry knowledge required to work effectively.
An offshore consultant can identify bottlenecks, implement best practices, and introduce process improvements. This allows businesses to boost productivity and achieve better outcomes.
Focus on core competencies
Offshoring consultancy services allow firms to focus on their core competencies. This then leaves specialized tasks to experts. 
By delegating consultancy services, companies can allocate their internal resources more effectively. 
Reduced time to market
Offshore consultants often have faster turnaround times. This is due to their experience, expertise, and dedicated resources. 
They help businesses save valuable time in decision-making, problem-solving, and implementing recommendations.
Offshoring consultancy services with ConnectOS
When it comes to offshoring consultancy services, ConnectOS is a trusted partner. 
Its offshore consultancy services are focused on developing strategies that remove inefficiencies, streamline operations, and expand team capacity at a lower cost. 
ConnectOS helps you find talented consultants by:
Assessing your core functions

Providing a cost-benefit analysis

Building an offshore talent strategy

Boosting your talent retention
Get in touch with ConnectOS through its website and learn more about its integrated resourcing solutions.