How offshore staffing can help improve your business operations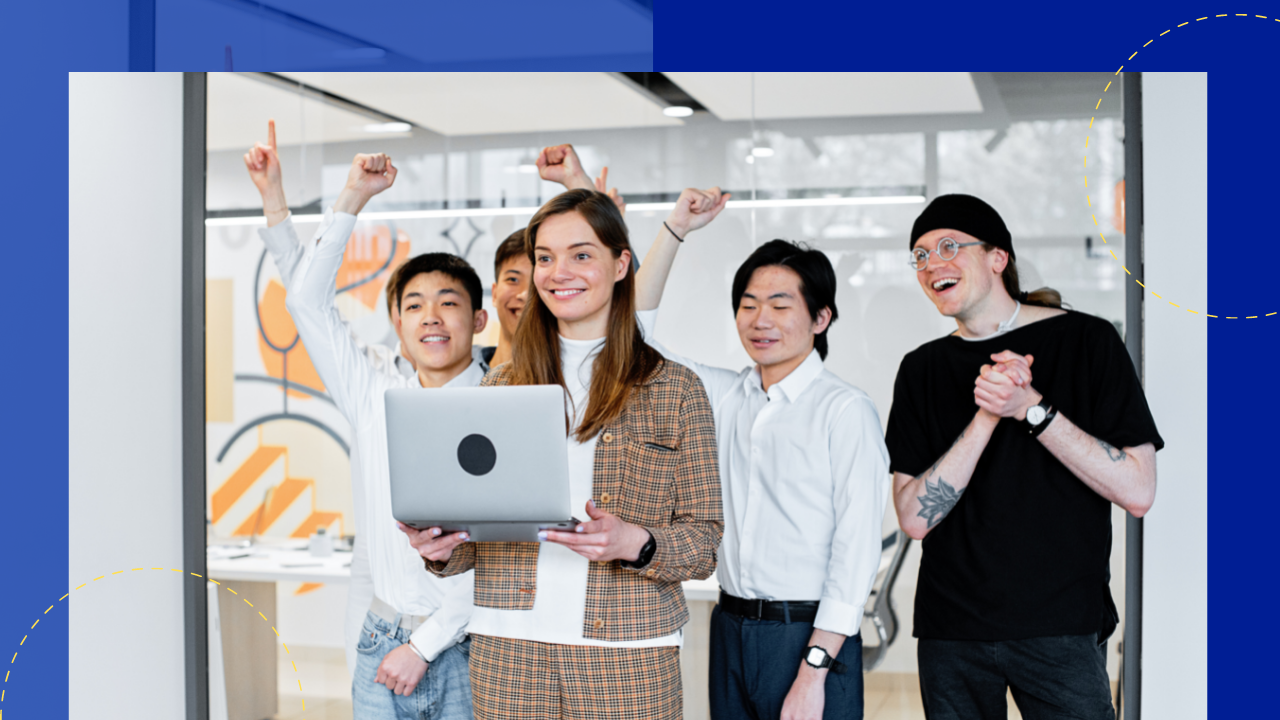 Running an expanding business or company can be taxing, especially if you're simultaneously looking for new talents for your expansion.
Most of the time, companies have insufficient human and material resources to facilitate the recruitment, hiring, and training of new employees. This scenario has opened up a new avenue for a market that a relatively new industry would dominate: business processes outsourcing (BPO).
Outsourcing is done through either onshore, nearshore, or offshore staffing – delegating a business process or operation to an external company.
Among the three types of outsourcing, offshore staffing is by far the most common.
What is offshore staffing?
Offshore staffing is a type of outsourcing where a company lets a third-party company handle some of its processes or operations.
From the term itself, the offshore staff is employed by the outsourcing firm operating in a foreign country, far from the outsourcer's base of operations.
Although outsourcing – and indirectly, offshore staffing – in the modern sense of the term wasn't conceived until around 1950, the practice has been around since the 18th century at the height of the industrial revolution.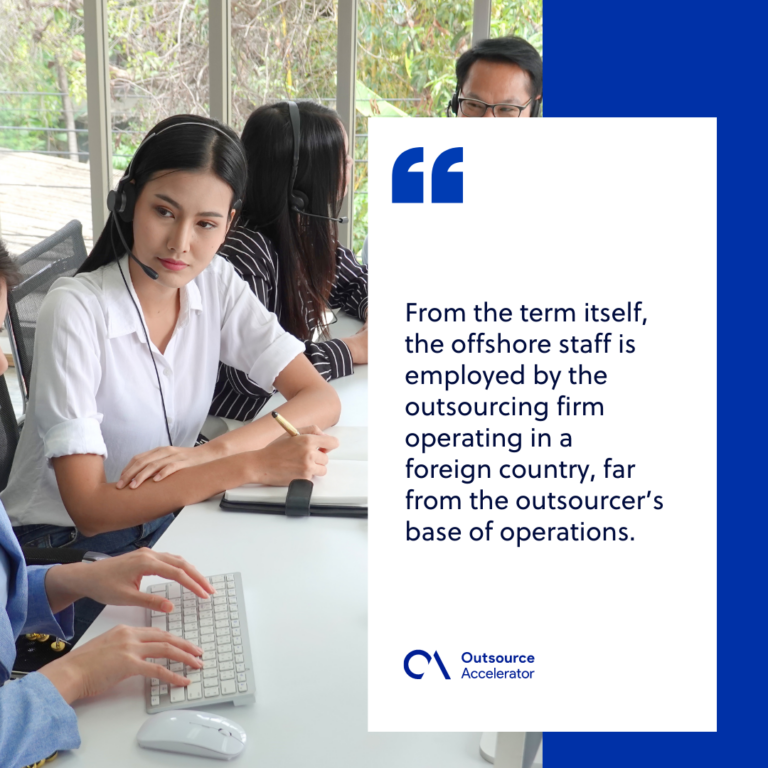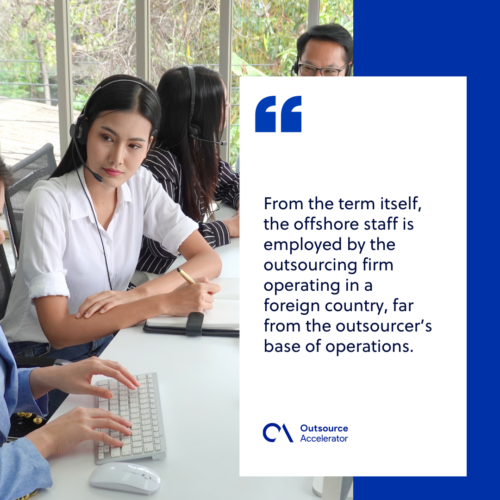 For instance, in the textile industry, raw materials would often be sourced from counties where they are cheaper, like India, and processed in countries with cheaper labor, such as Scotland.
Like modern outsourcing, this practice has allowed textile manufacturers to save on material and labor costs more than if they sourced the material and labor in their locality.
Onshore vs nearshore vs offshore staffing
The difference between onshore, nearshore, and offshore staffing is the location of the outsourced companies.
Onshore staffing pertains to enlisting the help of a third-party service provider within the same country as the outsourcer.
For example, if a firm in New York city outsourced its IT services to another company in New Jersey, it's onshore outsourcing.
Meanwhile, nearshore staffing refers to hiring an outsourcing company outside the outsourcer's country but is still geographically nearby.
An example of this is a US company delegating its customer service operations to a Canadian service provider.
Finally, as discussed earlier, offshore staffing transfers a business's function or process to an outsourcing company that is both outside of and geographically far from the outsourcer's country.
For example, an American company hiring an outsourcing company in the Philippines, like Outsourced, to take over its IT services and operations is considered offshore staffing.
How do businesses benefit from offshore staffing?
Offshore staffing brings an abundance of benefits to the table. By choosing the right partner for your outsourcing needs, you'll be able to save on costs, improve efficiency, increase productivity, and more.
Below are just some of the advantages that your business can gain from offshore staffing:
Cost reduction
Cost-effectiveness is one of the most attractive and oft-touted benefits of outsourcing.
Outsourcing companies often operate in countries with a much lower cost of living than the outsourcer's country of origin.
For example, the outsourcing company Outsourced operates in the Philippines and employs Filipino professionals for their clients. 
By partnering with Outsourced for their offshore staffing needs, foreign companies are essentially hiring Filipino workers to fill the roles in their companies.
The Philippines' low cost of living plays a vital role in giving both the outsourcer and the outsourced workers mutual benefits. 
The outsourcers pay significantly lower salaries than if they hired the foreign counterparts of the Filipino workers, while the workers are given job opportunities with a decent and livable wage.
Aside from the cuts in labor costs, outsourcers will also save additional expenses incurred from the recruitment, hiring, training, and other associated human resources expenditure.
Easier business expansion
Offshore staffing offers an easier route for expanding your business operations.
By tapping an outsourcing company's resources, you'll gain access to their deep and diverse talent pool, existing equipment and facilities, and other support personnel.
This will save you the hassle of the typically expensive and time-consuming recruitment process and let you focus on the scaling aspect of your business.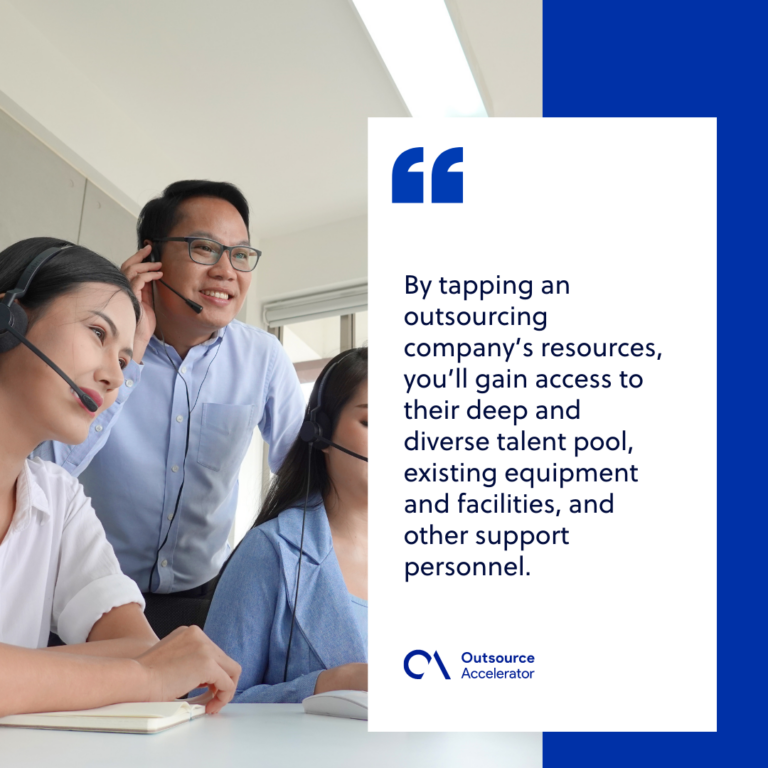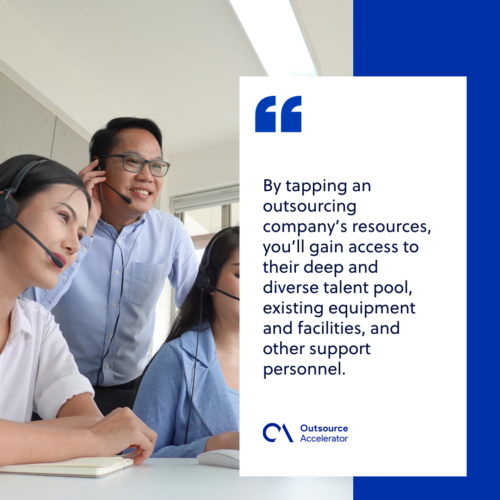 Improves in-house employee efficiency
Delegating some of your business processes to offshore staff gives your in-house employees more time to focus on the more critical aspects of their jobs.
For example, the time your in-house employees spend on repetitive back-office tasks can instead be devoted to tasks that directly affect your business, such as the development of marketing strategies.
Faster turnaround time
Most outsourcing companies are willing to work at your preferred hours or even provide 24/7 operations with rotating staff.
These offshore staffing companies will provide you with experienced professionals to ensure you'll get the same, if not better, quality of service you'll have from local markets.
Moreover, outsourcing companies are often equipped with leading industry technologies to ensure timely delivery of quality output and services.
Where can businesses turn for their offshore staffing needs?
The coronavirus pandemic has underscored the importance and inherent efficiency of remote work and has increased the demand for outsourcing services, especially in the IT sector.
To meet this surge in demand, outsourcing companies sprung up in countries commonly chosen as outsourcing destinations, like the Philippines.
Now, you'll never be in shortage of options for your offshore staffing needs. However, you'll still need to ensure that your outsourcing partner is one that you can trust to provide quality services.
If you're thinking about outsourcing, Outsourced is one of the most solid choices among outsourcing companies.
Outsourced has been in the outsourcing business for roughly a decade and is one of the leading BPO companies in the Philippines.
This ISO-certified company offers a wide range of services across an equally extensive range of industries.
Among Outsourced's numerous services offered are recruitment, logistics support, web development, human resource, telemarketing, graphic design, and even geological services.
If you're in need of outsourcing solutions, reach out to Outsourced for guaranteed quality service you'll not come to regret.