Media analyst: Definition, importance, roles, and responsibilities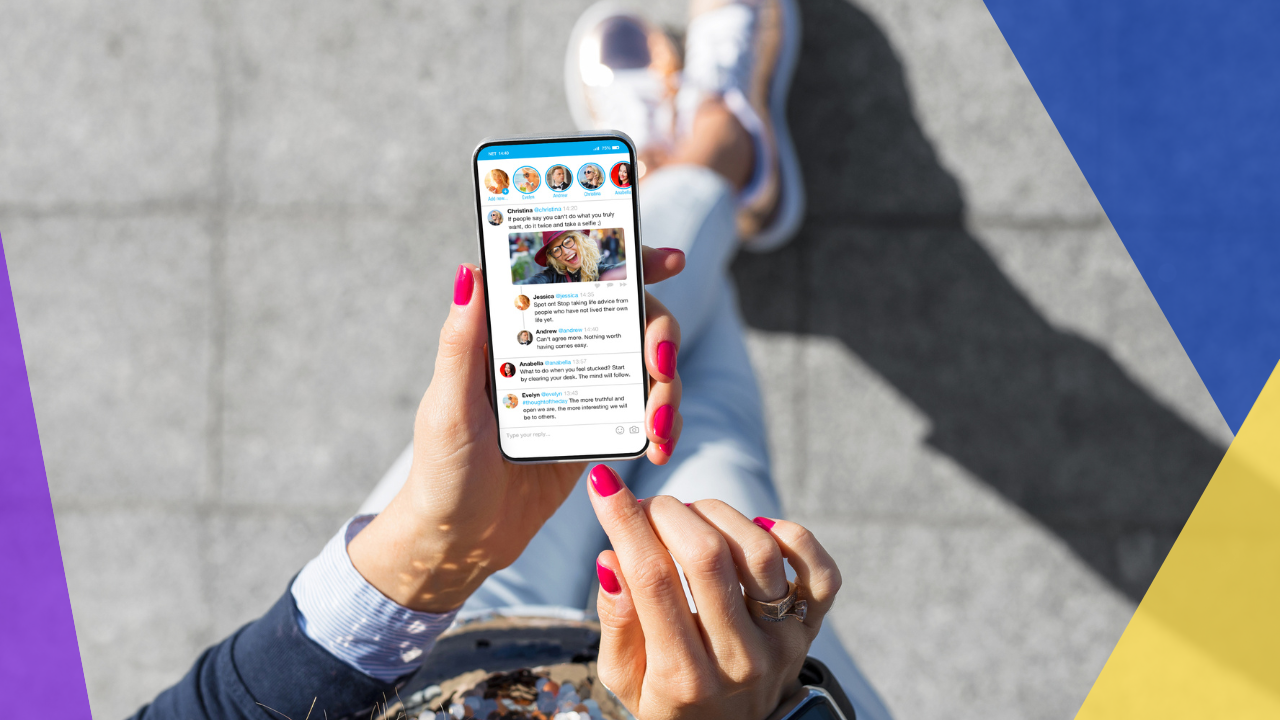 In the digital age, businesses are more dependent digitally to interact with their audience.  The rise of digital content, online advertising, and social media platforms has resulted in an explosion of online information. 
Businesses can utilize these volumes of data to understand their clients and consumers better.
As more businesses develop more creative methods,  they need professionals to help them adapt to the ever-changing landscape. 
Media analysts play the utmost role in the successful execution of businesses' marketing efforts. With a media analyst's assistance, new information and complicated media data can now be easily understood.
This article uncovers media analysts' importance and significance in the industry, including their roles and responsibilities.
What is a media analyst?
A media analyst is a professional who filters valuable information from numerous media sources to offer businesses advice and guidance. 
Media analysts can find work in many different industries, such as journalism, PR, marketing, and advertising. A media analyst researches and analyzes pertinent social media data to see if businesses' marketing efforts meet their goals. 
Media analysts also utilize search engine optimization (SEO) and blogging tools to assist content teams in expanding their brand's online presence and raising consumer awareness.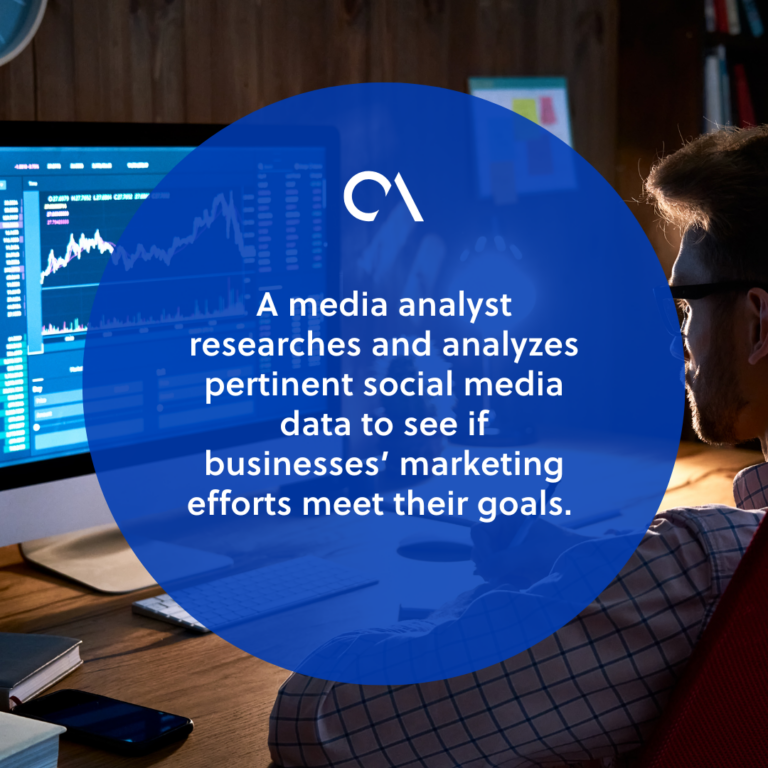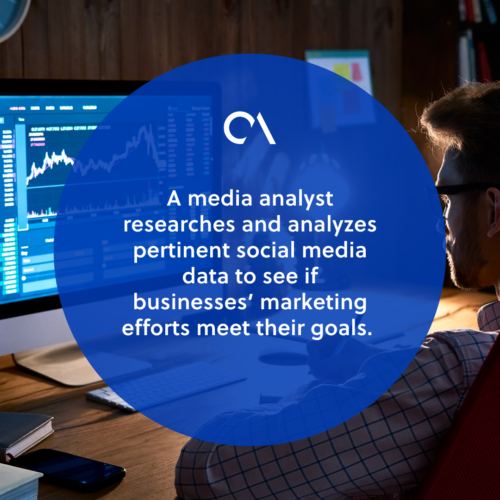 Importance of media analysts in the industry
In the media sector, media analysts are fundamental since they provide organizations with valuable information from media sources and consumers using different platforms.
Through analyzing media data and identifying trends and patterns, a media analyst assists organizations in making well-informed decisions. Media analysts also help firms understand their target audience and their rivals.
Media analysts can analyze companies' online advertising efforts, social media presence, and digital content. These marketing professionals determine areas in which businesses thrive and which they need to improve.
With the essential insights a media analyst reports, businesses can devise more effective strategies to set them apart from their competitors.
In crisis management, media analysts are often crucial to the team. During a crisis, they can monitor the media coverage and give businesses advice on how to respond and offer effective solutions.
Significant roles and responsibilities of a media analyst
Some of the common tasks of a media analyst involve:
Devising plans to promote the goods or services of a firm

Keeping an eye on social media platforms

Evaluating data

Using marketing information to get in touch with clients
Further, here are other significant roles and responsibilities of a media analyst:
Collecting and analyzing media data
A media analyst uses a wide variety of resources and techniques, such as:
Media monitoring

– this tool is often used by a media analyst to monitor organizations' reputation, forecast future trends, and plan for crises.

Web analytics systems –

media analysts use

web analytics systems

to examine the efficacy of various types of communication and enhance their efficiency.

Social media analytics tools

– a media analyst uses this tool to learn about audience behavior and engagement rates across various networks. Marketing teams may also utilize the data to track current trends and brand reputation and develop smart marketing campaigns alongside the media analyst.



Recognizing trends and patterns
A media analyst researches media-related data to provide advice and suggestions to businesses. Data analysis is an important technique for media analysts to learn about audience patterns, competitive strategies, and market trends.
Businesses working with media analysts are likely to stay updated on emerging trends. They can also experiment with new and fresh ideas and see if they will work for their business and campaigns.
Creating new insights and recommendations
Based on their assessment of media content, media analysts can draw findings and provide valuable business recommendations.
As mentioned, a media analyst provides practical recommendations to businesses that may be utilized to make better decisions. Businesses profit from the expertise of a media analyst and implement critical advice in advertising and public relations strategies.
Creating reports and presentations
Media analysts deliver presentations and reports to companies detailing their findings. To convey information clearly and concisely, they employ data visualization techniques.
Additionally, a media analyst will typically give businesses actionable advice in addition to their insightful analysis.
Collaborating with other teams and stakeholders
Media analysts collaborate with other teams and key stakeholders to ensure their analysis supports the company's goals. 
A media analyst works closely with the PR, advertising, and marketing departments to develop effective campaigns. Media analysts also coordinate closely with upper management to ensure their efforts are effective.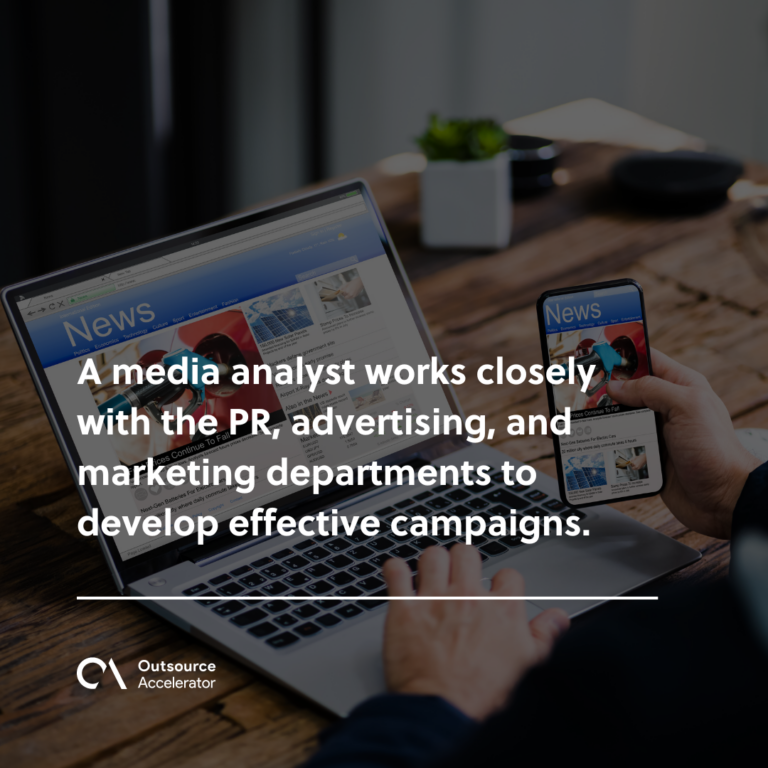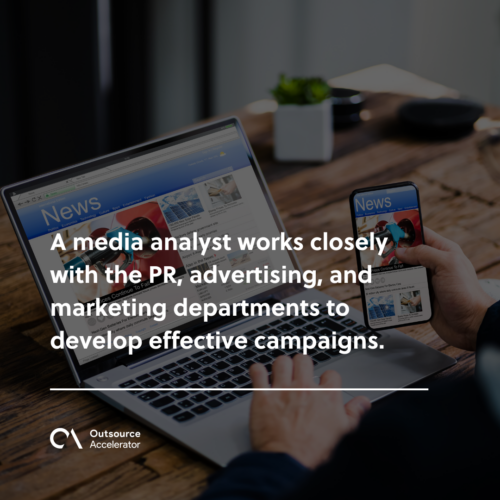 Media Analyst: Develops insights into the modern media industry
Successful client acquisition strategies are developed with the use of appropriate data and insights. It's great that a media analyst can supply such insights to help businesses stay ahead of the competition and target their marketing and communication efforts to the right audience.