A quick guide to outsourcing a live chat support team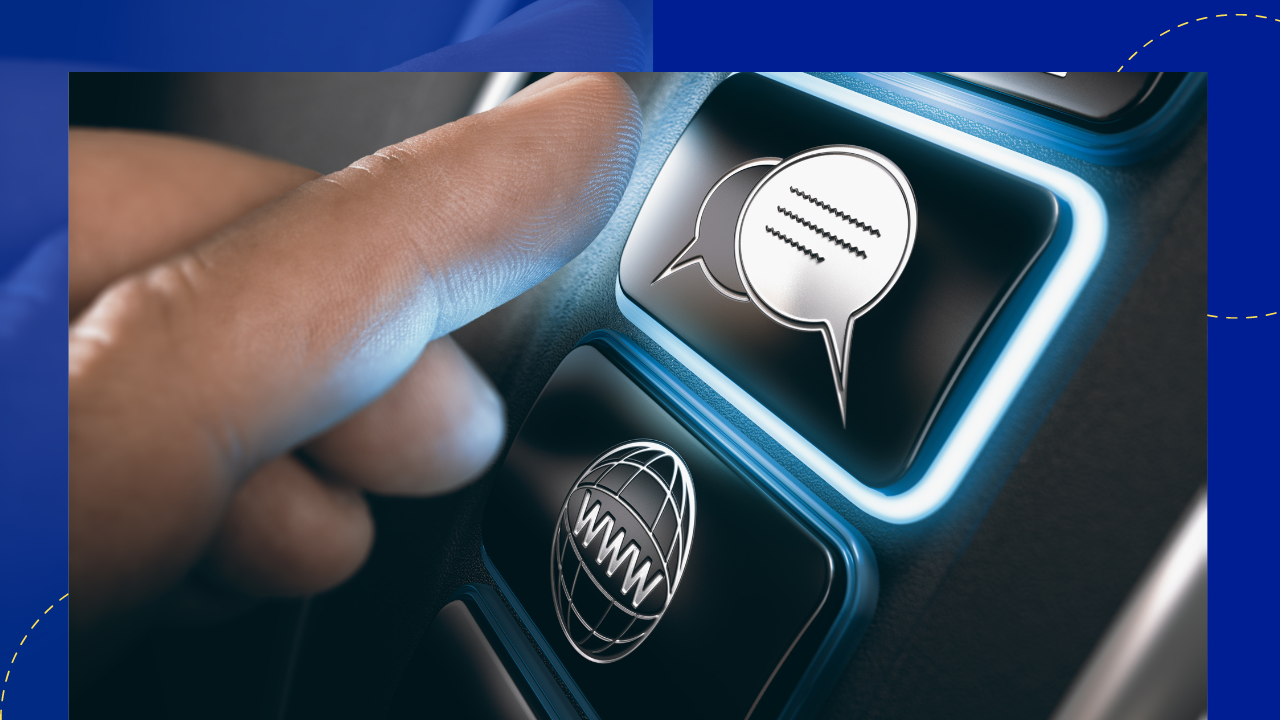 A quick guide to outsourcing a live chat support team
Buyers demand real-time assistance be provided as soon as possible. Unresponsive customer service may harm a retailer's brand name – and a poor brand impression leads to losing recurring consumers.
An essential attribute to any organization is fast response time. The customer support team's quick response contributes to a good customer experience. 
In other words, when you respond to customers promptly, you meet their expectations. When a support team takes too long, customer stop doing business with you.
The solution is to build your efficient live chat support team. You must ensure that your support representatives and tools are in sync to guarantee the effectiveness of your live chat. 
If you don't have a support team, OP360 has top-tier resources and a team of experts ready to meet your needs. 
But first, let's discuss what a live chat support team is, how it works, and the benefits of outsourcing live chat support agents. 
Live chat support explained
Customer support teams use live chat support to answer client inquiries, resolve issues, and interact with them. 
They also use a live chat help desk software that lets clients send their queries via a company's website. Customers can initiate a new chat or interaction with a chat representative. 
Help desk software makes it easy for the live chat support team to handle concerns rapidly without escalating them.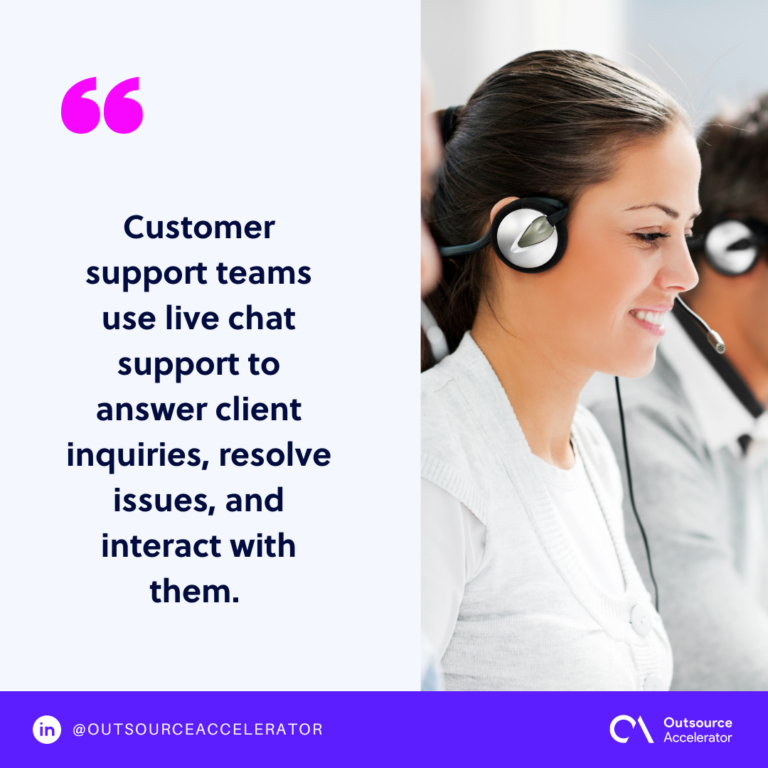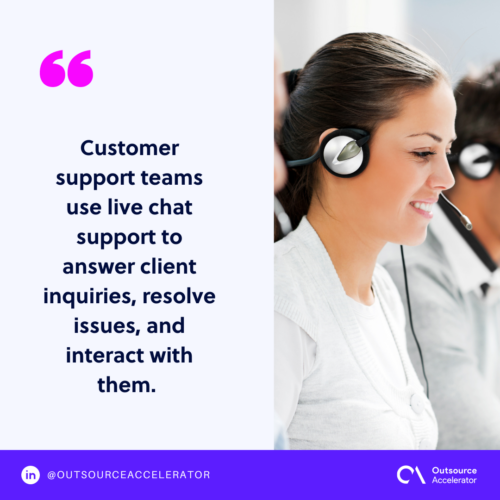 How does live chat support matches customer needs?
Customers can get live chat assistance using instant messaging services. It occurs in a one-on-one interaction between the support representative and the client through a corporate website.
The format of live chat might vary. Most company websites today have a proactive chat pop-up message with a live chat support representative waiting on the other line for the customer's statement. You may contact a live representative by clicking it.
Customers can also use live chat software installed on a company's website to submit their inquiries to a human who can immediately react to them in the same tiny window.
Moreover, help desk software built specifically for live chat support may require extra support-focused capabilities such as deep integration with knowledge bases.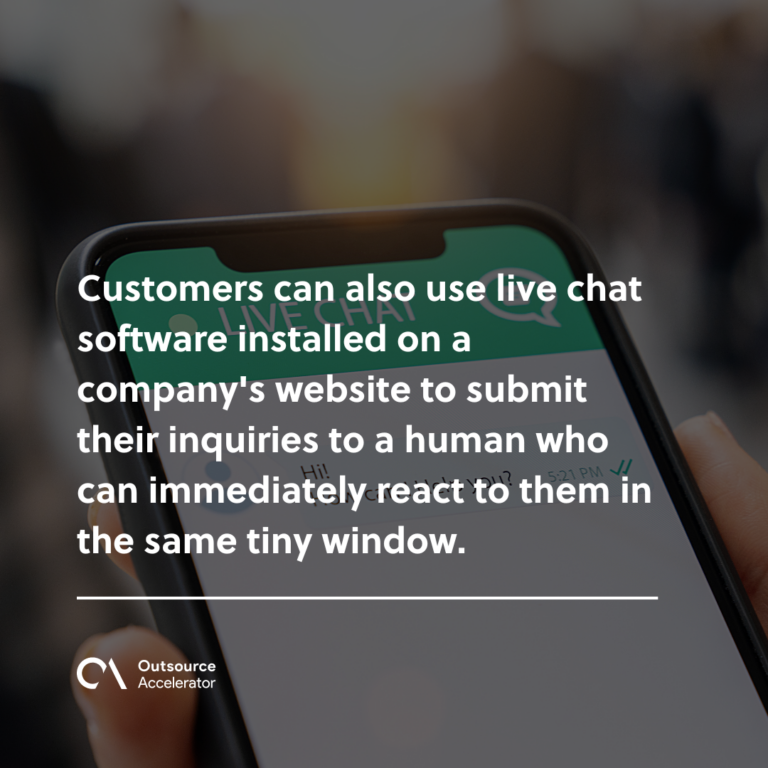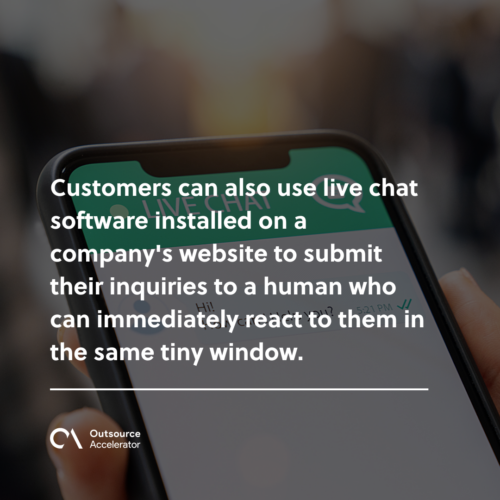 Why outsourcing a live chat support team is a smart move
In a growing business environment, organizations are getting busier each day. Thus, outsourcing a live chat support team ensures you always keep a dedicated and professional team for your consumers.
As mentioned, faster response time is one way to revitalize your customer service performance. 
OP360 provides a reliable live chat support team to assist you in managing your clients, technical difficulties, and feedback.
Here are the following reasons why going for outsourced live chat support is a smart move:
Optimized conversions
Outsourced live chat support teams solely focus on their role as your third party service provider. That is why they can provide your patrons with immediate support.
As a result, it helps increase customer satisfaction, leading to higher conversion rates.
OP360 has highly-skilled and experienced live chat support agents who can attend to your customer needs effectively so you can focus on your main business responsibilities.

Improved service efficiency
Customer support automation and access to the latest strategic processes are two ways to improve the service quality and efficiency of a live chat support system.
An outsourced live chat support team from OP360 can make your live chat more efficient than other channels.
You can be ensured that your outsourced live chat support team possesses these qualities:
Excellent grammar

Great reading comprehension

Creative communicator
Personalized support
An outsourced live chat support team may direct website visitors and respond to their inquiries in real-time. They focus on responding to the customer's questions directly and provide a more detailed, personalized answer to their queries.
OP360's seasoned agents can support your customers by giving them helpful information about their queries. 
At the same time, they can assist you in getting real-time data and reporting to aid you in making critical business decisions.
Reduced customer effort
Third party providers like OP360 provide their clients and customers with 24/7 support. This reduces the customer's effort to wait hours for a live representative to respond to them.
Rund-the-clock live chat support can help you beat rival brands in your sector and improve the consumer experience for your business.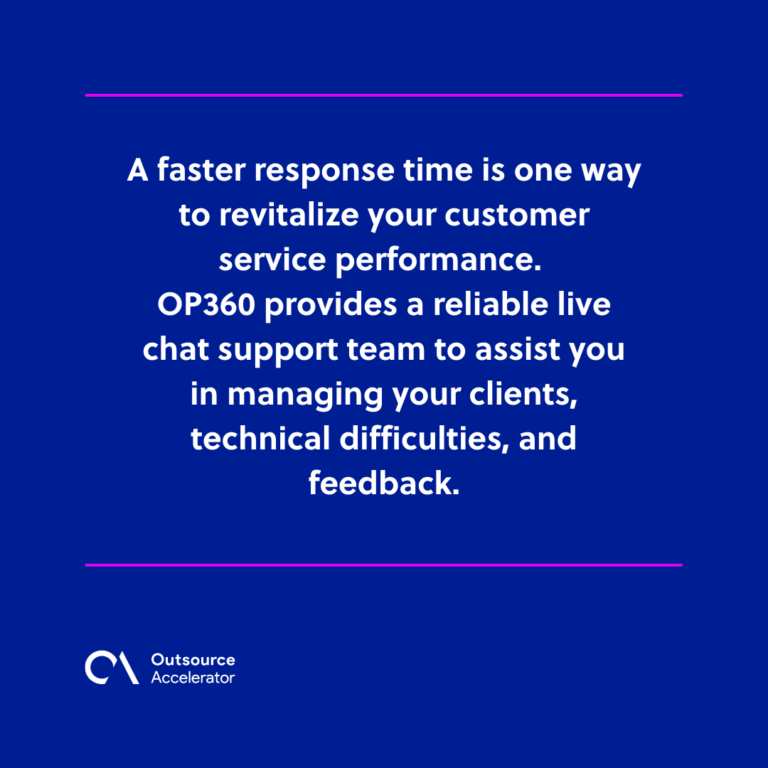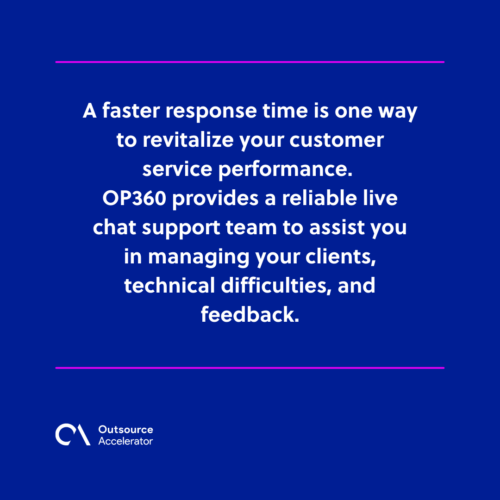 Hire a live chat support team from OP360
Let OP360 assist you in filling your live chat support team vacancies with their skilled talents. They have a large talent pool of eager, highly qualified chat support representatives.
As a dedicated BPO firm, they are prepared to start working for companies in need of outsourcing services. 
Contact OP360 to learn more about their featured services and pricing!