How does knowledge sharing improve customer service in BPOs?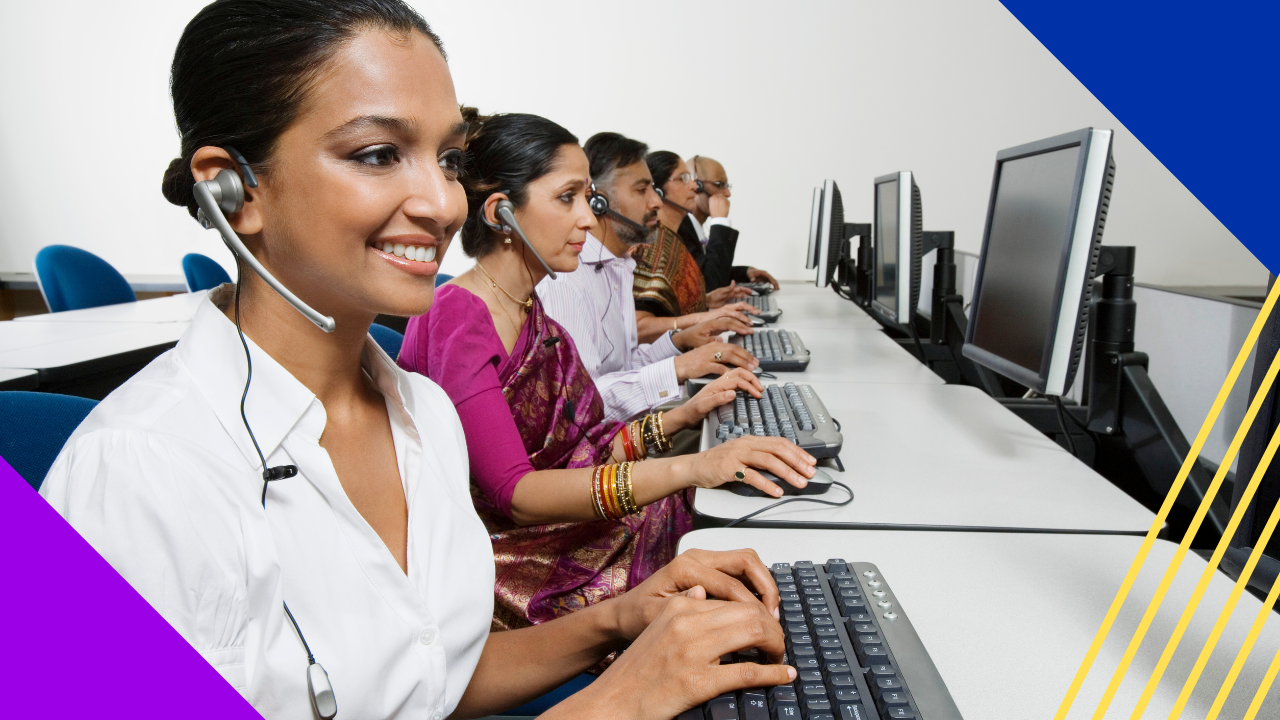 This article is a submission from Knowmax. Knowmax is an AI-powered knowledge management solution that helps companies provide first-rate customer experience.
In the fast-paced business process outsourcing (BPO) industry, customer service is always a top priority. Knowledge sharing through knowledge management (KM)  systems is essential to ensure that you provide exceptional customer service and stand out from the competition. 
One of the main goals of KM is to make knowledge sharing frictionless, as this allows employees to more easily access and share the knowledge they need to do their jobs effectively.
By providing a centralized repository for storing and accessing information, KM systems can help employees find the knowledge they need to solve customer issues and provide better service. This can improve customer service and drive business growth.
This blog will explore how improved knowledge-sharing mechanisms reflect positively on customer service!
What does knowledge sharing mean?
The concept of 'knowledge sharing' refers to the practice of making information readily accessible to those employees of a company who express an interest in acquiring it, as well as the act of "directly giving the right information to a user who uses it for your business's benefit."
Knowledge sharing has been identified as the most crucial success criterion for knowledge management (KM). The interchange of workers' knowledge, skills, and experiences guarantees that workers have access to the organization's knowledge whenever they need it.
Its advantages include maintaining intellectual assets and improving productivity.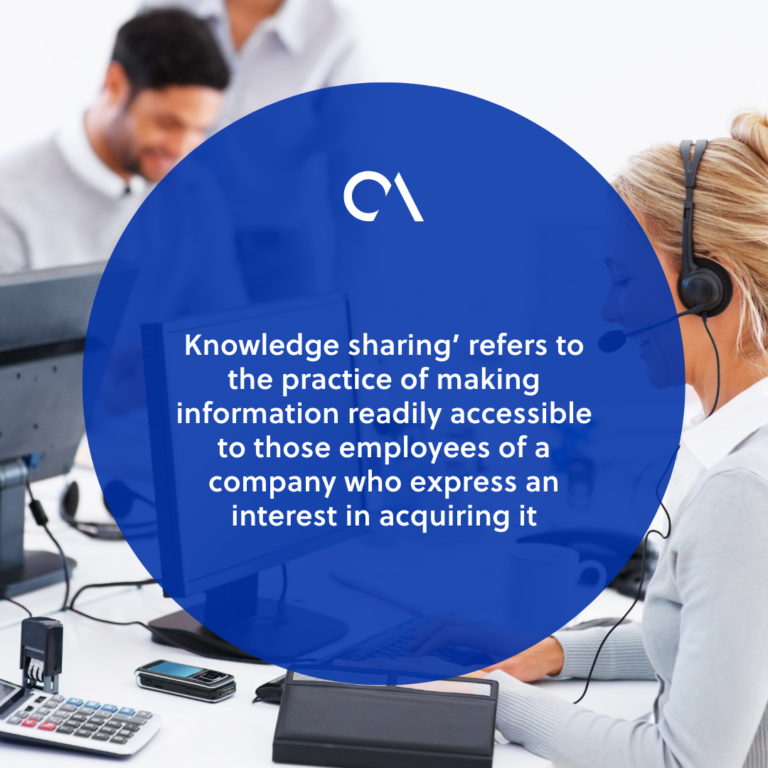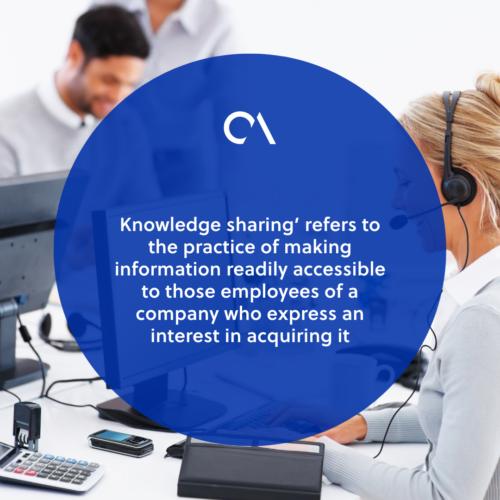 Importance of knowledge sharing in BPO 
International Data Corporation (IDC) estimates that Fortune 500 organizations lose at least $31.5 billion annually due to insufficient information sharing.
The appropriate individuals get the correct information at the right time when a knowledge-sharing framework is effective. They also know how to share and where to search. 
From a managerial standpoint, this entails skillfully streaming information to maximize its worth without overburdening the workforce.
A sound knowledge management system will help customer service representatives (CSRs) find the information they need quickly and efficiently. It will also allow them to share knowledge so that everyone is up-to-date on the latest procedures and policies.
A knowledge management system may be as simple as a shared folder or Google Drive full of data or as complicated as a software application. 
Regardless of its shape, a knowledge management system is a must-have for every BPO provider that wishes to deliver superior customer care.
How does BPO's customer service improve through knowledge sharing?
Knowledge sharing (KS) in conjunction with knowledge management (KM) facilitates the attainment of quantifiable and quantitative objectives. The advantages include the following:
1. Higher customer satisfaction 
Knowledge management strategies also result in dramatically improved service quality. It increases the likelihood that customers will get the correct answer promptly.
Consequently, there is less need to put the concerned consumer on wait or transfer the call to another agent. Clearly, improving customer service would benefit any firm tremendously. A higher score on the Customer Experience Index has been proven to correlate with more significant traffic and customer loyalty.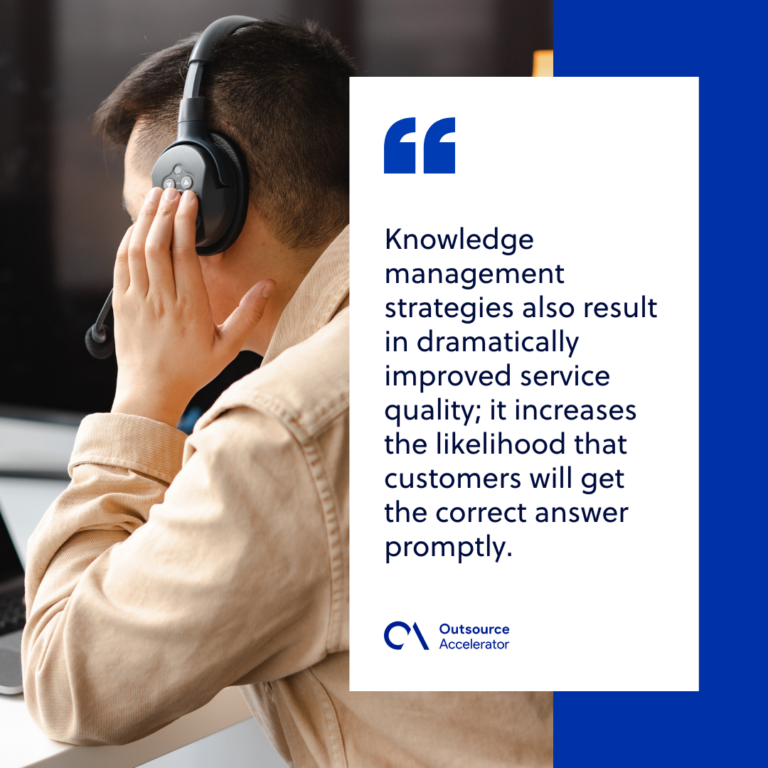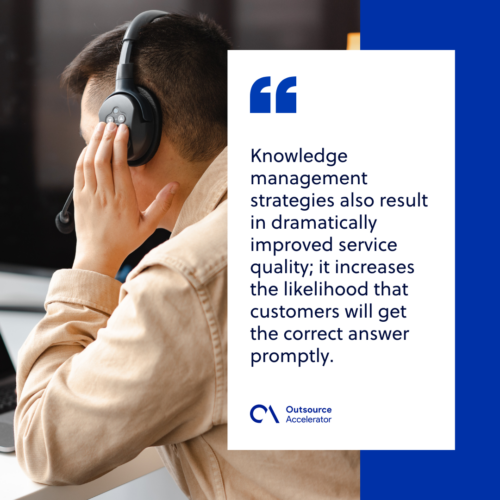 2. Reduced support costs
Knowledge management helps a BPO drastically cut its customer service costs by: 
Minimizing the frequency of repeat calls, reducing the

average handle time (AHT)

, average talk time (ATT) and total talk time, and boosting the agents' capacity to resolve myriad customer issues. 

Apart from reduced support cost, KM also results in improving an agent's capability to handle more customer calls. 
3. Increase in Customer Retention
Using a KM system helps BPOs get a higher ROI by retaining customers. They can make a knowledge base to easily store important information that customers can access to find answers to their queries.
BPOs build relationships with customers based on familiarity, trust, and value by making it easy for them to solve problems.
When customers' needs and pain points are consistently met, they feel satisfied and will always pay back the firm by staying with them. This can only happen if BPOs utilize their knowledge efficiently to enable customers reach from problem to solution stage faster and without any friction. 
4. Increase in agent productivity
BPO spends a great deal of money on agent training, which is a resource-intensive endeavor. It was a terrific concept in the past.
However, the current increase in automation and self-service has altered BPOs' operations. Traditionally, agents were responsible for solving all customer's issues. However, now, only the most complex situations are forwarded to agents.
Now, rather than focusing excessively on classroom training, the approach is to deploy a centralized knowledge repository that even the newer agents can use to learn on the job.
This reduces the time to proficiency and gets agents up to speed with handling customer problems, reducing costs and increasing agent productivity. 
5. Fill in the blind spots
The base of a BPO is designed to centralize the business's vital information in a single location. In this process, BPOs assess their internal expertise and determine if they possess the necessary skills and knowledge to meet customer expectations. 
If customers' queries often go unresolved, then it is worthwhile to invest in the necessary tool to fill the void. 
Through comprehensive reporting, an effective knowledge management system provides a clear picture of the knowledge base's performance.
Reports detailing which articles perform well and which require change, as well as the keywords that led to successful searches and those that did not.
6. Consistency in multichannel service 
According to research conducted by Salesforce, seventy-five percent of customers want a unified, consistent experience across all available channels of customer support.
Without the implementation of a KM mechanism, it is actually impossible for a BPO to interpret and manage the responses customers get.
The application of KM practices assures that customers who ask the same question receive the same response regardless of agent, interaction channel, or mode of interaction.
Once the required level of consistency has been attained, the business can consider enhancing its quality and productivity.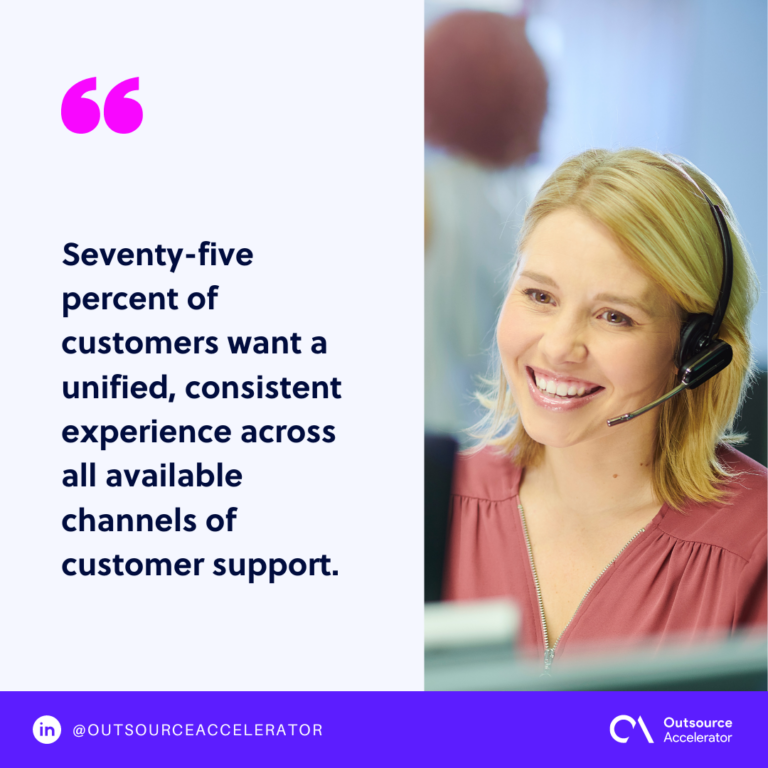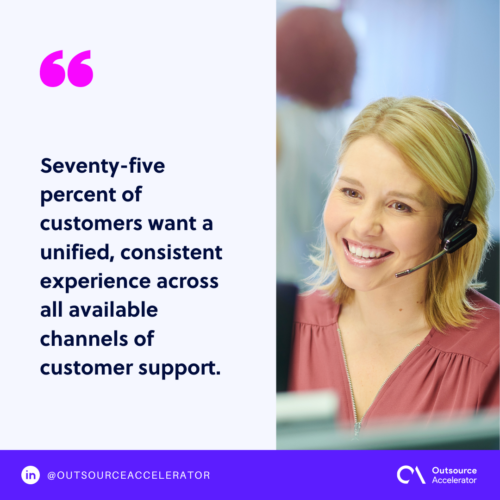 7. Improvement in overall service
Practices in knowledge management also result in considerably higher service quality. It increases the likelihood that customers will receive the appropriate response and do it quickly. 
Consequently, there will be less need to put the anxious customer on wait or transfer the call to a different agent. Improved customer service would undoubtedly benefit any company greatly.
A higher company score on the Customer Experience Index has been proven to correlate with better traffic and more loyalty.
Author Bio
Baphira Wahlang Shylla is a member of the digital marketing team at Knowmax, a SaaS company that provides knowledge management solutions for various industries that are seeking to improve their customer service metrics.
Other than her passion for digital marketing, she is an avid reader who dabbles every now and then in painting and digital art.