Here's why you should hire a lead programmer offshore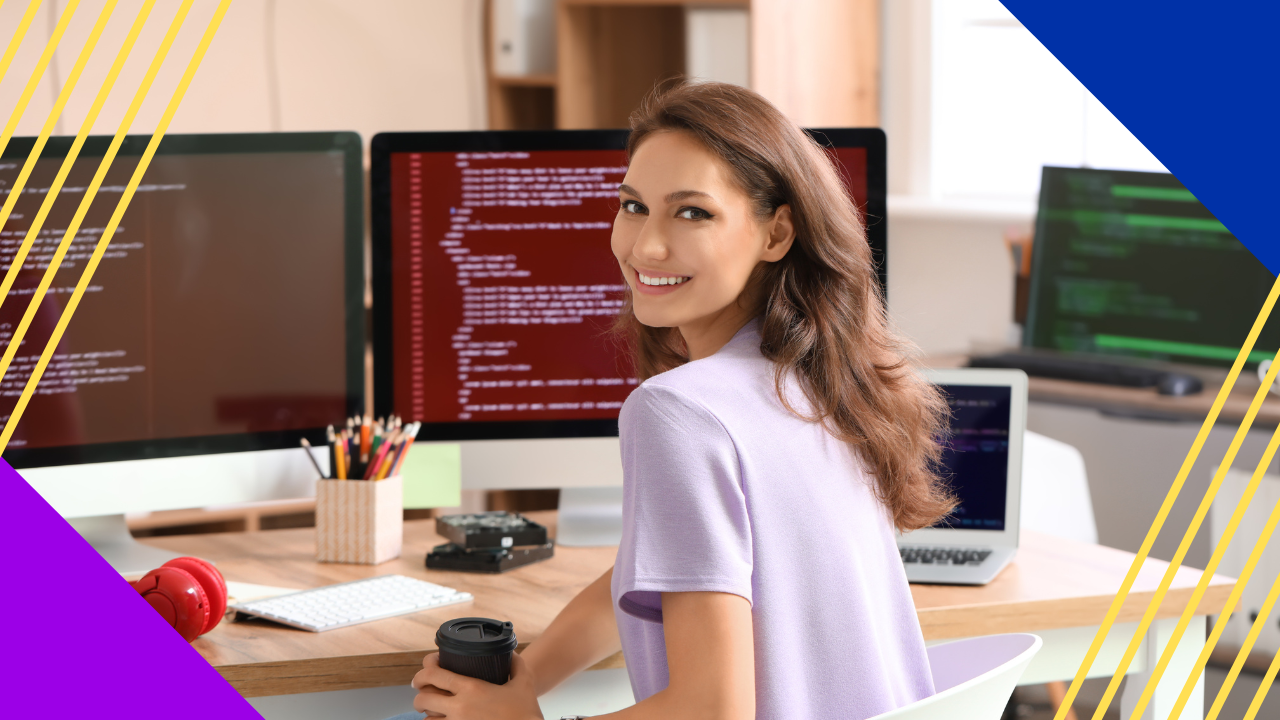 As the digital space continues to expand and businesses look to keep up with the competition, the role of a lead programmer has become increasingly essential.
A lead programmer manages the development team and ensures software projects are delivered on time and within budget.
However, the shortage due to their specialized skill sets and increasingly high salaries make them difficult to find and hire. Not to mention the economic decline and mass resignations even impacting this demand.
Hiring an offshore lead programmer is a good alternative for global businesses looking to fill this role without the hassles and costs of local employment.
This article will discuss what a lead programmer does and the benefits of hiring one offshore.
What does a lead programmer do?
Simply put, a lead programmer oversees software development teams while completing their projects. Often juggling several projects simultaneously, they support teams and ensure the software product meets the client's requirements.
A lead programmer is typically responsible for creating project timelines, coordinating project tasks, and providing technical guidance to the development team.
They also ensure that the project remains on track in terms of budget and timelines.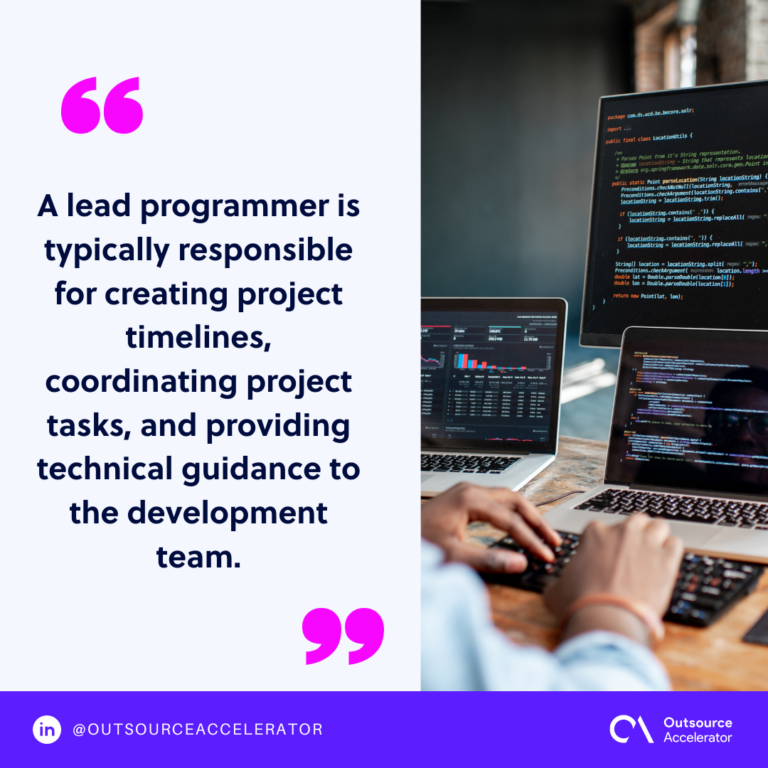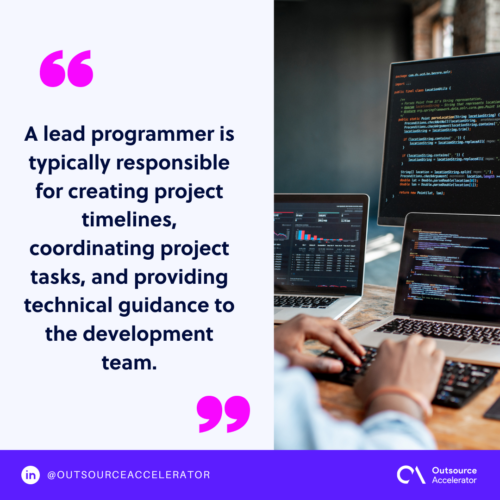 Duties of a lead programmer
A lead programmer is tasked with various duties pertaining to their role.
Project planning
A lead programmer is responsible for developing project plans, including timelines, budgets, and resource allocation. They work with project managers and business analysts to ensure all client requirements are met, and the project is aligned with the company's objectives.
At the same time, they contribute to setting and meeting these project goals.
Technical guidance
Lead programmers provide technical guidance to the development team.
They offer advice on coding best practices, technical design decisions, and recommendations on how their teams can meet industry standards. In addition, they ensure that the team has the resources and tools they need to accomplish the project.
Team management
Lead programmers are the ones managing the development team. They serve as team leaders that assign tasks, monitor progress, and ensure that the members work efficiently.
In some cases, lead programmers are also responsible for resolving conflicts within the team and maintaining a positive team dynamic.
Quality assurance
A lead programmer ensures that all products the team develops meet the required quality standards. They conduct code reviews, perform testing, and ensure that the software products are user-friendly and meet the client's needs.
Lead programmers sometimes create custom codes and systems as clients need them.
Training and mentoring
Lastly, lead programmers provide development opportunities to junior programmers and software developers on the team.
They offer training and mentoring to ensure junior staff members grow their skills and meet future career objectives.

How an offshore lead programmer benefits your business
A lead programmer in the US earns an average of US$112,524.00 per year, per Glassdoor. Add it with the equipment, systems, and office spaces needed for in-house staffing, and it can gradually hurt a startup's budget in terms of growth.
Hiring an offshore lead programmer is a good solution for this. As a company, you can enjoy the following benefits, such as:
Cost savings
One of the most significant benefits of hiring an offshore lead programmer is cost savings.
Not only are salaries lower in offshore locations, but the cost of living is also generally lower. Outsourcing companies have the power to package their services and include training, equipment, and other aspects with them.
Therefore, businesses can save significantly on overheads.
Access to a large pool of talent
Offshore locations have a large pool of highly skilled programmers. In the Philippines, for instance, tech-related courses remain in high demand due to technological advancements and competitive pay.
Outsourcing your lead programmer role to these countries ensures your business can access top talent without increasing hiring costs.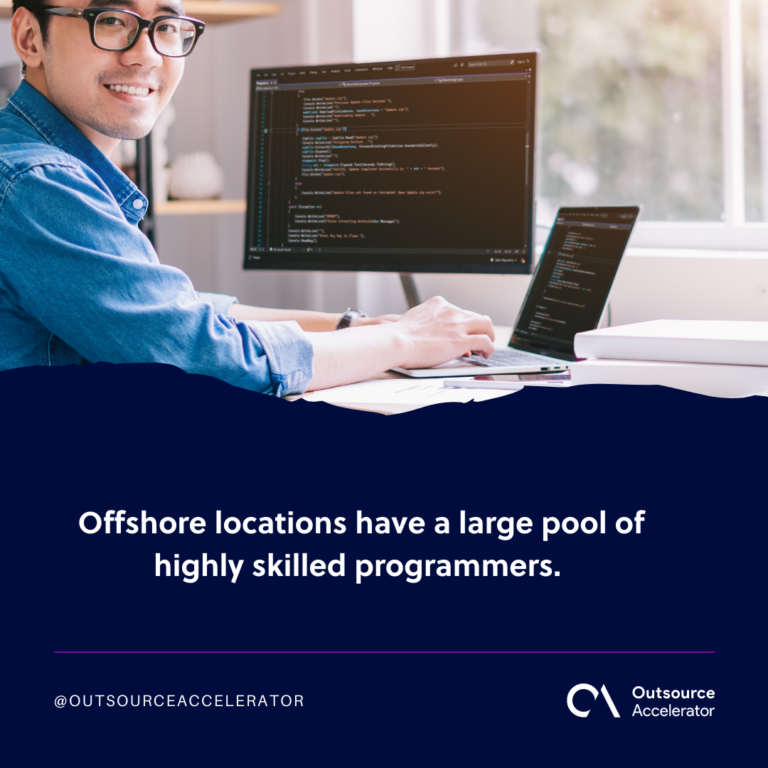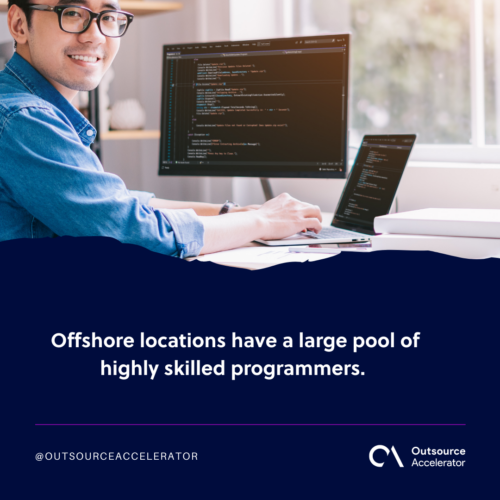 24/7 service availability
Offshore lead programmers enable businesses to take advantage of a 24/7 work cycle. This is particularly useful for companies with clients in different parts of the world.
Through this advantage, you can act on urgent issues, such as bug fixes any time and still make 
Faster project completion
By hiring an offshore lead programmer, businesses can take advantage of quicker project completion times.
Offshore programmers can be an alternative to your in-house teams in developing your software in a different time zone. As a result, your projects can be completed faster.

Reduced risk of staff attrition
Staff attrition is a prevalent issue in many tech companies. According to reports, the tech sector has the highest turnover among all industries, with a 13.2% rate.
Offshoring your lead programmer role reduces this risk since remote programmers are typically more loyal to their employers.
The best way to hire a lead programmer offshore
One of the best ways to hire an offshore lead programmer is to engage the services of a reliable service provider, such as MVP Asia Pacific.
Many outsourcing partners can assist in identifying qualified lead programmers, managing the hiring process, and providing staffing solutions. Other effective ways include networking with offshore development firms or posting job advertisements on trusted job boards.
Hiring an offshore lead programmer can offer significant benefits to your business. You can reduce overhead costs, access a larger pool of talent, take advantage of round-the-clock availability, and get your projects done fast with the help of their services.
Consider the outlined factors to find the best way to hire an offshore lead programmer.