What is law enforcement transcription outsourcing?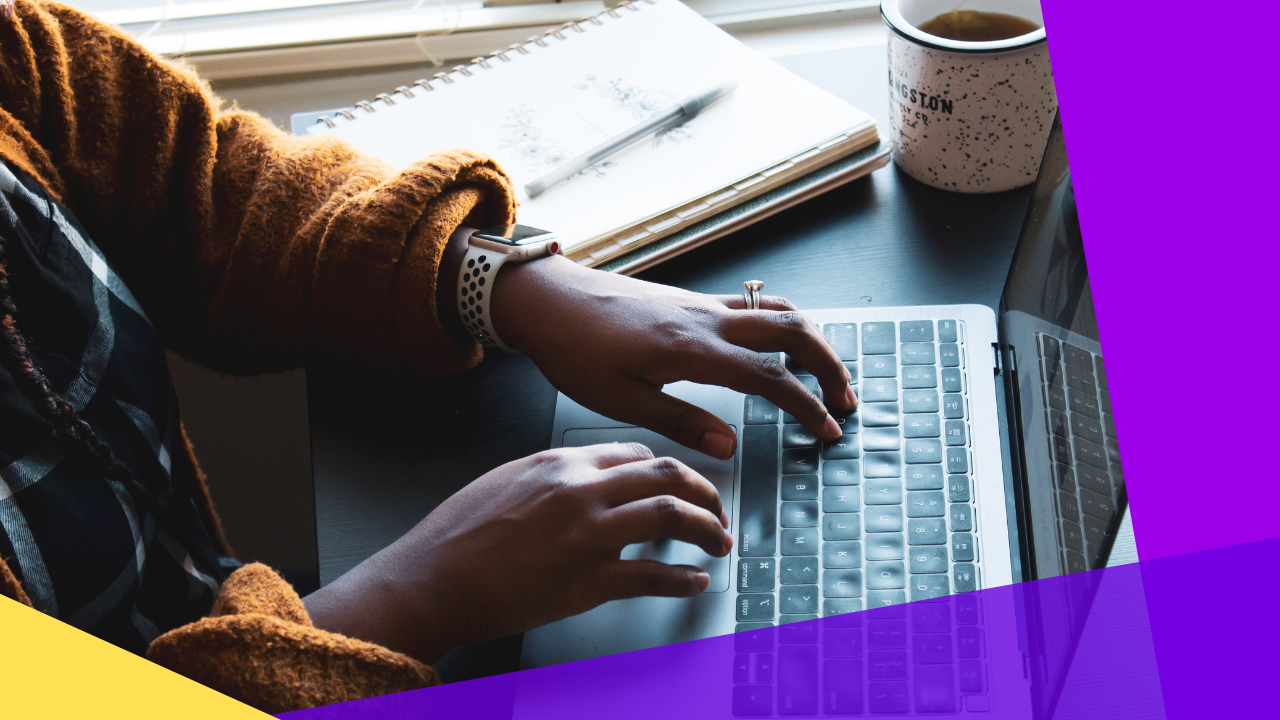 Law enforcement plays a significant role in maintaining the peace and order of our society. Police officers do not just risk their lives to keep the safety of people within a community; they also hold key responsibilities to implement laws. 
In law enforcement, police documentation is paramount to any case. Let's say a crime happened while an officer is on duty. The officer should provide an incident report with accurate documentation of their investigation. 
Police reports and documentation can be time-consuming. The myriad of paperwork and forms to submit sidetracks officers from doing actual law enforcement activities – this is where law enforcement transcription outsourcing comes into play. 
Defining law enforcement transcription
Law enforcement transcription is an extension of legal transcription services. This type of outsourcing service has also become a vital part of enforcement firms for years. 
Law enforcement reports are critical in court assemblies as they are considered judicial evidence. These legal documents must be timely to aid the work of law enforcement agencies, legal counsels, and prosecutors.
Professional law enforcement transcriptionists undergo excessive training and certification to qualify for the job. Part of their training is to precisely transcribe different types of files like witness or victim interviews, recorded police reports or statements, and more.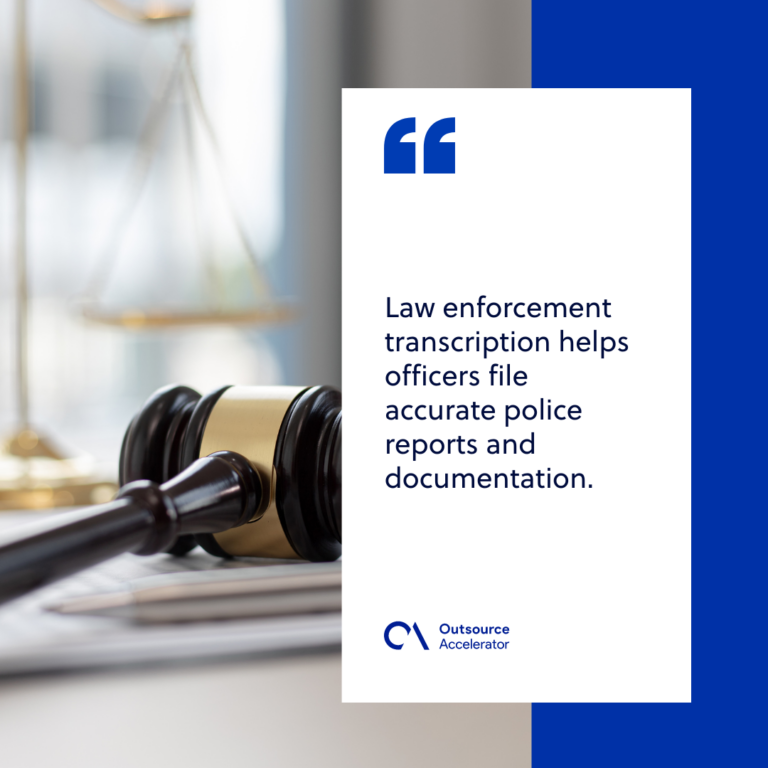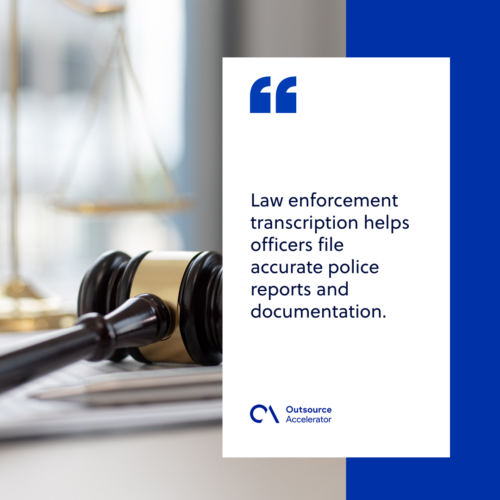 These days law enforcement officers have their handheld digital recording devices while on patrol. They also carry out micro-cameras with them as they continue with their daily duties.
These tools allow them to record incidents like traffic violations or accidents as they happen. It cuts down the need for police officers to remember these incidents as they proceed with the documentation.
Outsourced law enforcement transcription process
Law enforcement transcription typically has the same process as any other legal transcription service:  
Receiving and transcribing the recorded file
When the transcription service provider receives the audio or video file, a professional law enforcement transcriptionist will carefully listen to the source material. All spoken words will be transcribed verbatim and following a prescribed format. 
Proofreading
After the transcription process, the next step is proofreading. Another person will review and perform necessary edits to ensure the accuracy of the transcribed file. 
Sending transcript to client
The client – the law enforcement agency, legal counsel, or prosecutor on the case – will receive the complete transcript either in a digital file or hard copy. Clients may also request to have their documents sent in several digital or printed formats. 
An average-length police transcription assignment that lies usually takes twenty-four to forty-eight hours to be accomplished.
However, for large volumes and bigger files, it may take one to two weeks. Other transcription outsourcing providers may also accept rush projects but with an added charge. 
The transcription outsourcing provider will also archive the documents securely for safekeeping. Moreover, these law enforcement transcripts may also be notarized or certified, if needed. 
How law enforcement transcription services can help you
A law enforcement agency is a busy and fast-paced work environment. Law enforcement personnel traditionally have to allot some of their valuable time typing out documented or dictated police reports. 
Fortunately, professional transcription outsourcing providers offer law enforcement transcription. This kind of outsourcing service helps law enforcement firms with the following: 
Time-saving
Law enforcement officers will not be required to transcribe their interviews or reports anymore. Meaning, they will have more time to perform their other more important crime-fighting roles.  
Cost-effective
Outsourcing helps law enforcement agencies to save up to 50% compared to hiring in-house professionals. On top of that, they won't also have to worry about providing technological resources, training, or additional office space for the job.  
Stay focused
Law enforcement officers will no longer get caught up doing reports and documentation all day. Outsourcing the law enforcement transcription process helps them to be more focused on their jobs. 
Accuracy
Professional law enforcement transcriptionists are highly precise in transcribing. Moreover, outsourcing agencies maintain a good reputation by keeping a strict accuracy rate for all their clients.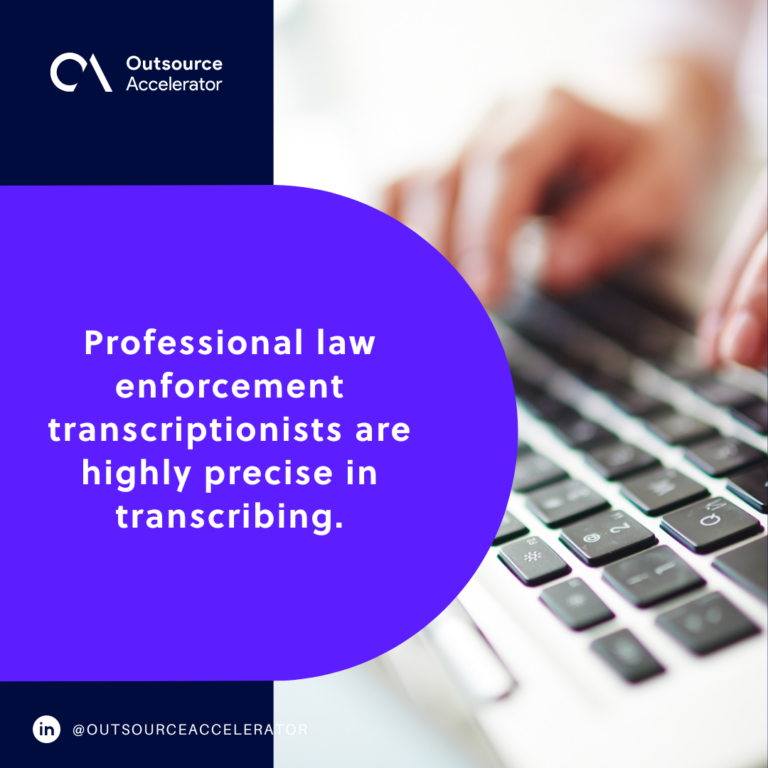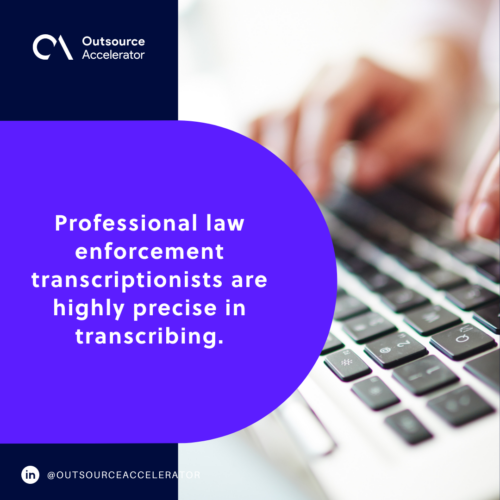 Why is outsourcing law enforcement transcription necessary?
Outsourcing law enforcement transcription helps law enforcement agencies enhance their employees' morale. It keeps investigators and police officers stay efficient and productive in the line of duty. 
Law enforcement transcription also saves officers from working extra hours at their desks finishing up various reports. 
The demand for professional law enforcement transcriptionists has increased over the last couple of years. Apart from certification and training, these professionals have also passed a criminal record background check. 
On top of that, a good law enforcement transcription provider follows all rules and regulations given by the Criminal Justice Information Services (CJIS).