Is workation the new norm?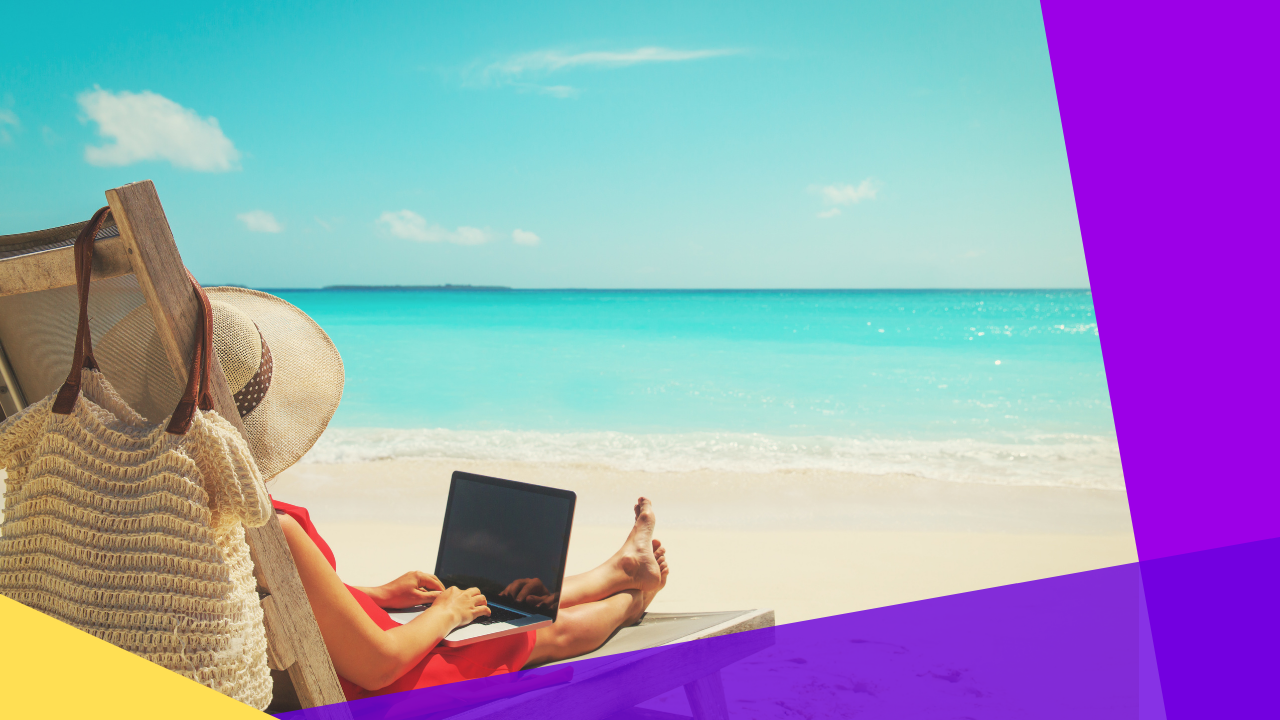 The COVID-19 pandemic has led to organizations embracing the concept of working from home. Although every nation across the globe has started to ease out of lockdown restrictions slowly, remote work remains to be a default work model.
Now that people can pretty much perform their day-to-day work from anywhere, it is easier to mix travel with work. Workation is now becoming an emerging trend in today's remote work age. 
As per a recent survey conducted by Booking.com, 37% of global travelers have considered booking a destination trip to work somewhere. 
Countries have also started to open their borders for tourism to help them bounce back from the economic effects of the global pandemic. 
Dubai, for one, has recently launched a remote visa program, wherein visitors are granted up to 12 months stay in the country. The same goes with India. Organizations like Homestays of India have been promoting the workation practice.  
What is a workation? 
Workation comes from the blending of the words, "work" and "vacation." It means a working vacation. 
A workation lets you combine travel, work, and leisure while working remotely. While it may sound like a lucrative idea, it still has its perks and downsides. 
Workation helps working professionals achieve work-life balance. A change in the environment also helps you boost your creativity and productivity. It allows you to take full advantage of non-peak periods at work without having to worry about your performance in the company. 
Workation can also blur the lines between vacation and work. It can defeat the true meaning of holiday and leisure in the sense that you will not be able to rest and have fun properly.
All the same, it can also limit your supposed time in doing your work.
But there is nothing wrong with working at the beach, the mountains, or in a different country as long as you are committed to working remotely.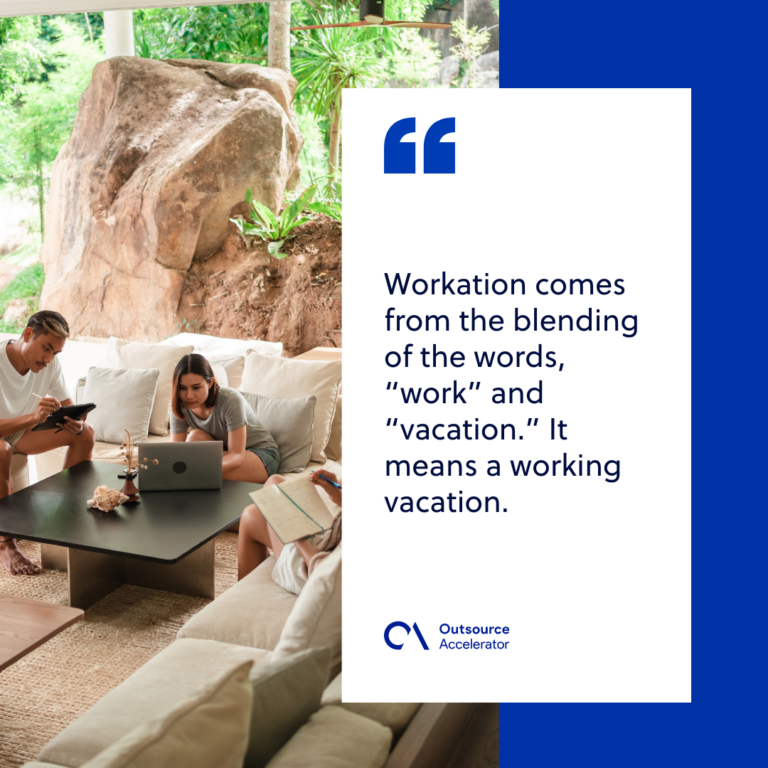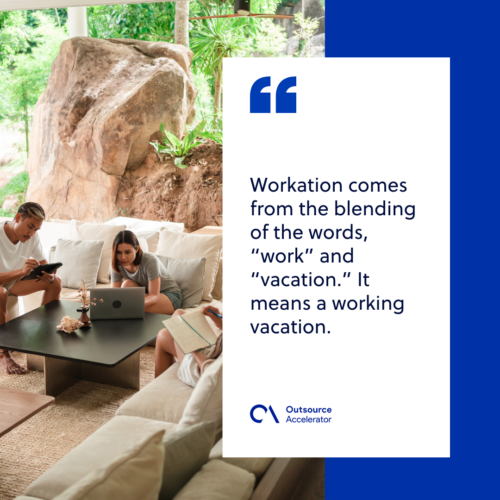 Three types of workation
After more than a year of being cooped up at home, people are just dying to go somewhere for a change and relax. Workation is a great way for you to travel without having your work interrupted. 
Take note that workations are not always alike. A workation can be classified into the following: 
Short-term workation
A short-term workation only lasts for a short period. You can have your short-term workation on a destination that is close to your home. In most cases, it can either be a quick weekend getaway or a mid-week trip for a few days
Medium-term workation
A medium-term workation can last for a few weeks. For example, you can spend up to a month in a holiday destination like Thailand, while working. 
Long-term workation
Lastly, a long-term workation is when you temporarily relocate to one specific area or country, mainly for work purposes. Depending on your destination, some long-term workations will require you to have permits or special visas. 
Tips for a successful workation
To help you get the most out of your working experience, here are some tips to consider before you plan out your trip: 
Go to a "work-friendly" destination
Don't forget that a workation is not about having a full-on vacation. Choose a destination where you will allow you to do your work properly and productively, without distractions.  
If you are going on a camping trip or the beach, make sure to choose a location that offers amenities for workers. Check for stable internet connection and a working station. 
Plan your time appropriately 
A workation is not as easy as packing your suitcase and going straight to your desired destination. Remember that the purpose of your workation is to be able to relax and be productive at the same time. 
As much as possible, stay professional and plan out your entire travel duration properly. Have a detailed plan on your leisure times and working times to help you achieve an efficient workation experience.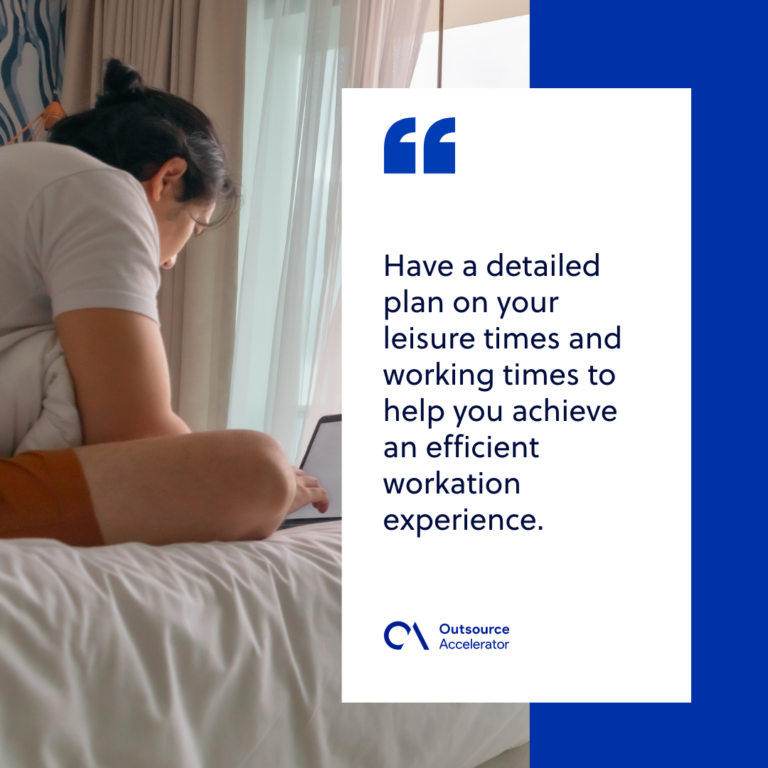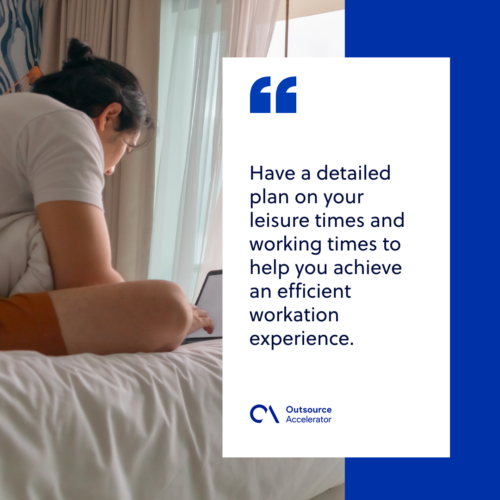 Bring the right tools and equipment
Bring all the necessary tools and equipment needed for your work. Create a packing list a few days before your supposed trip to make sure that you won't leave any important stuff needed to carry out your work.
Secure your adapters, chargers, laptop, powerbanks, internet backup, and your headset. 
A dedicated work-space
Choose a destination with a dedicated workspace. You have spent most of your days for the past year working from home, perhaps in your room. The purpose of workation is for a change of scenery, relaxation, and motivation for work. 
Make sure that your chosen destination has a proper workspace that will allow you to focus on your work. 
There are thousands of tourist destinations you can go to for your workation. CNBC has recently published an article about the world's top 10 spots for workation, from locations around Asia to the EU.