Top 30 insurtech startups for 2024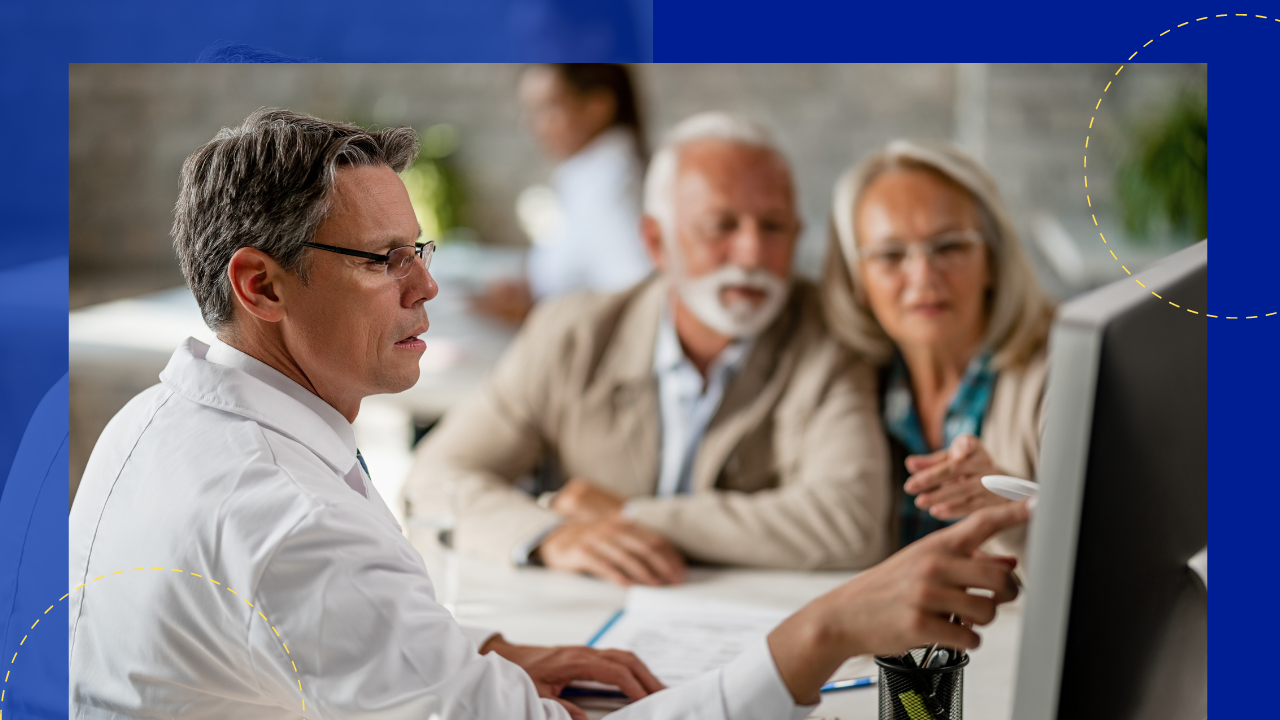 List of insurtech startups
The 30 leading insurtech startups mentioned in this article lead the charge in transforming the industry. 
With their creative methods, advanced technology, and focus on customers, these startups are set to revolutionize the insurance sector in 2024.

Defining insurtech startups
Insurtech involves using technology and innovation to change the insurance sector. Startups in this field use technology to create better insurance products and services. 
They aim to fix issues with regular insurance, like slow claims, complicated underwriting, and poor customer experience.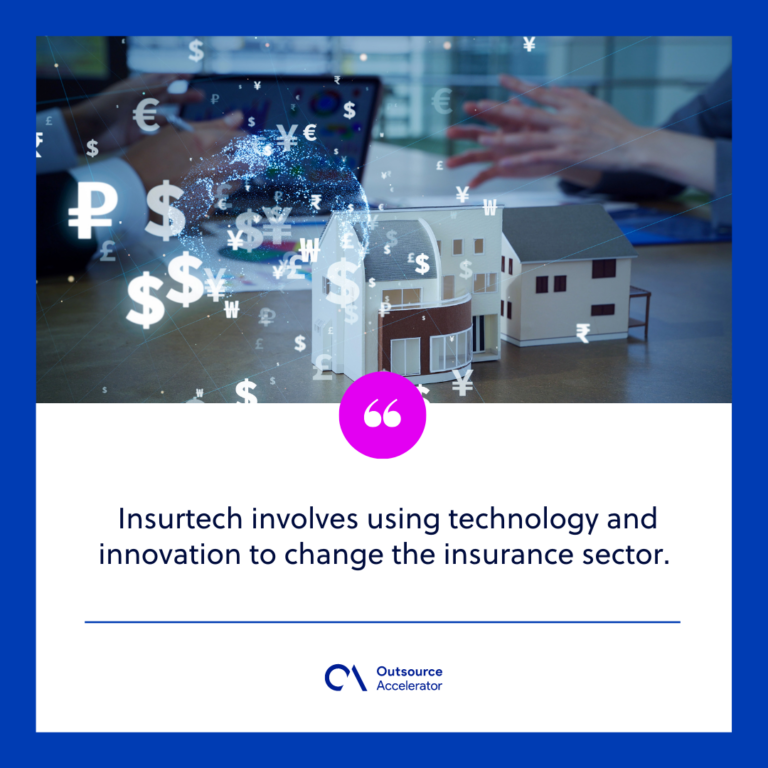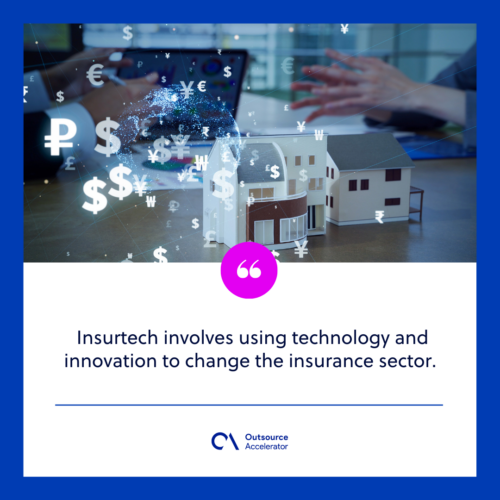 What insurtech startups do
Insurtech startups are changing the insurance sector with fresh and useful ideas. Some of their features are:
Online platforms for comparing and buying insurance from different companies

AI-driven

claims are processed for quicker and more precise settlements

Pay-per-mile auto insurance, encouraging those who drive less

Customized on-demand insurance for specific situations

Telematics-based policies that offer rewards for safe driving

Specialized insurance products for specific customer groups
Top 30 insurtech startups for 2024
Below are 30 premier insurtech startups dominating the industry: 
Lemonade provides various insurance services in the United States, including renters', homeowners', car, pet, and term life insurance. Its headquarters is situated in New York City.
The company also offers contents and liability policies in Germany and the Netherlands, along with renters' insurance in France.

Snapsheet has been serving the insurance industry since 2012 and has gained the trust of leading insurance companies worldwide. 
It aims to streamline insurance claims processing using its state-of-the-art claims processing software platform hosted on the cloud.
CoverHound is an innovative insurtech company allowing individuals and enterprises to conveniently analyze and buy insurance online. 
It offers competitive premiums and coverage options across every state, furnishing swift, precise, and practical quotations from highly-rated US insurance providers.
Hippo provides comprehensive home insurance and preemptive security across a wide geographical range. 
The company is officially authorized as an insurance agency. Currently, it extends its range of Hippo Home Insurance offerings in different states, with plans to expand to additional locations soon.
Metromile is a pay-per-mile car insurance provider that rewards low-mileage drivers with lower rates.
Metromile calculates your premium according to your real driving behavior. On average, the company's clients experience a 47% reduction in costs compared to their previous auto insurance expenses.
Sure's exclusive platform offers cutting-edge technology for evaluating, generating quotes, securing policies, and collecting premiums. The platform also manages CRM policies, produces reports, and offers other additional functions. 
Sure enhances the accessibility of insurance for all individuals and the connection between insurance providers and customers. It simplifies the process of selling and servicing insurance.
Root is an API-first, low-code insurance platform that enables digital insurance products to be launched and managed through any digital sales channel. 
Root is a complete digital policy administration solution that manages the full policy lifecycle, from quote generation and policy administration to premium collection and claims management.
Cuvva is a UK-based insurance technology company that offers flexible and on-demand insurance policies. It aims to revolutionize the insurance industry by providing simple and convenient insurance solutions through its mobile app.
Cuvva app lets customers get quick quotes, purchase coverage for specific durations, and easily manage their policies.
Pie Insurance is a company that provides workers' compensation insurance specifically designed for small businesses. They aim to make getting workers complete insurance as easy as pie. 
They offer coverage options directly to small businesses and collaborate with local, regional, and national insurance agencies to provide coverage to their clients.
Bold Penguin stands out as a prominent digital solution platform, streamlining small commercial insurance through innovative and integrated technology products. 
It simplifies the quote and bind process that benefits agents, brokers, and carriers. The digitized product suite effectively cuts costs and enhances efficiency, improving overall outcomes.
Policybazaar serves as an online platform enabling users to compare and purchase a range of insurance plans conveniently. Each plan covers health, term life, car insurance, annuity, and ULIP investment plans.
Additionally, Policybazaar presents an alternative ULIP investment plan that ensures returns of up to 7.5% and includes a life cover.
Zego is an insurance company that offers smart and flexible insurance coverage for self-employed drivers and fleets.
It provides various insurance solutions tailored to the needs of different industries, such as private hire taxi drivers, delivery and courier fleets, and heavy goods vehicle operators.
NEXT Insurance offers a range of benefits, including:
Instant proof of insurance through a live certificate

Monthly payments at no extra cost

The ability to get an instant quote in less than 5 minutes
Next Insurance prides itself on providing phenomenal service and has a strong company culture that aims to support small business owners.
ManyPets provides comprehensive pet insurance and additional services to support the well-being and contentment of pets. The company designs high-quality insurance plans to ensure that pets receive optimal care precisely when it is essential.
The policy includes a lifetime veterinary fee coverage of £15,000, standard dental care, and £6,000 coverage for loss, theft, or unfortunate demise.
Oscar is a health insurance provider that offers a range of services designed to simplify healthcare for its customers. 
Oscar helps you find a primary care provider and coordinates all your health needs for the long haul. You can set up autopay to make payments seamless and keep your plan running smoothly.
NEOS Protect presents a life insurance solution meticulously crafted to aid Australians in safeguarding their valued assets. 
The product encompasses a spectrum of cover options, such as life cover, total and permanent disability (TPD) cover, critical illness cover, child cover, and income support cover.
Clearcover is an auto insurance company offering a range of insurance products that are fast, hassle-free, easy to understand, and designed to save you money. 
The Clearcover app makes it easy to file claims and get your questions answered. It is designed to help you file claims instantly and get help fast, all in one game-changing app.
Wefox curates the best insurance options for its customers, whether switching policies or taking out a new one. It offers various insurance types from reputable providers like Allianz and Zurich, including household and motor insurance.
With the help of digital tools, Wefox reviews policies from over 200 insurance providers, allowing them to find and select the most suitable insurance options for individual customers.

Slice is a technology firm with the support of major international insurers and reinsurers. It specializes in distributing on-demand insurance offerings via prominent platforms.
Slice's core focus is providing right-fit insurance for all types of small businesses, all automated and online. 
MetLife has been a longstanding provider of insurance services since the 1800s. Since then, MetLife has assisted multiple generations of customers across the globe in safeguarding their assets, financial stability, family, and prospects.
MetLife introduced "Simply Smart Bundles," which are packages of employee benefits products. These adaptable bundles enable small business owners to provide comprehensive employee benefits in a single streamlined transaction.
Vouch represents insurance with a digital-first approach. Users can secure coverage for their startup within 10 minutes and efficiently manage their insurance policies using a contemporary platform.
Vouch's insurance coverages are meticulously designed to cater to technology firms and are backed by a consortium of leading carriers and reinsurers.
Embroker is an insurance company focused on technology. It is designed from scratch to use modern technological advancements to eliminate problems that make prices higher and customers unhappy.
Embroker uses the most up-to-date technology that can learn and act like humans and smart machines. It can create insurance plans that fit each person better, cost less, and are easier to purchase.
Kin Insurance provides homeowners insurance designed to be easy and affordable, catering to individual needs. It offers both phone and online quote options for customers to explore.
Kin Insurance has coverage for various types of homes and situations, protection against disasters, coverage for rental properties, and additional coverage for storm surges.

Cover Genius is a prominent insurtech specializing in integrated safeguarding solutions. It provides comprehensive protection for the expansive clients of major digital corporations worldwide. 
The list features well-known companies like Booking Holdings, Intuit, Hopper, Ryanair, Turkish Airlines, Descartes ShipRush, Zip, and SeatGeek.
Policygenius serves as an internet-based insurance marketplace that seamlessly integrates advanced technology with the knowledge of licensed agents. 
Since 2014, it has offered an array of informative content, digital utilities, and expert advice proven to be invaluable to countless individuals embarking on their insurance endeavors.
Doma is a real estate technology company aiming to streamline homebuying. It combines technology with human expertise to provide optimal customer outcomes. 
Doma aims to use technology to provide an innovative solution that serves customers, brokers, and mortgage bankers' interests.
Anorak is an independent online broker that helps individuals protect their families in case of death or disability. It provides life insurance, income protection, and critical illness coverage.
Anorak provides whole-market quotes, scanning all major insurers and recommending policies best suited to the customer's needs and profile.
Insurify believes that quality and affordable insurance should be accessible to all. Its mission involves streamlining the procedure of purchasing insurance for various categories such as auto, home, pet, health, and life coverage.
Insurify operates as a licensed agent across all 50 states and functions as a virtual entity. 
Waterdrop emerges as a prominent technological platform committed to insurance and healthcare, driven by a positive societal influence. 
It has successfully established a substantial social network of assistance for individuals through medical crowdfunding, an insurance marketplace, and healthcare provisions. 
Parsyl integrates data-driven insurance and risk management into a unified industry solution. It helps customers to understand and reduce risk using data and providing insurance policies based on their unique needs. 
Parsyl's solution has end-to-end supply chain monitoring, enabling proactive measurement and improvement of shipment quality.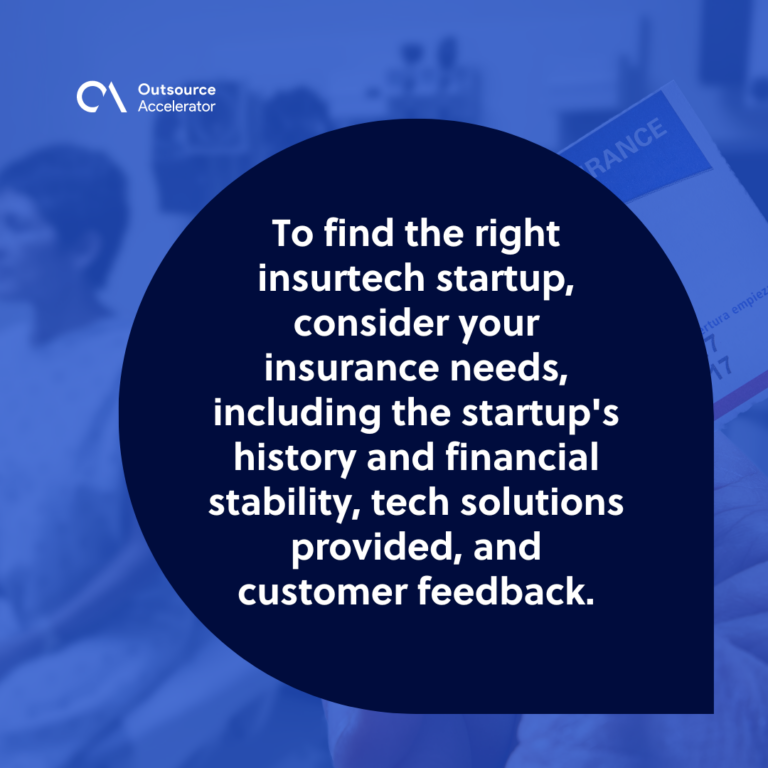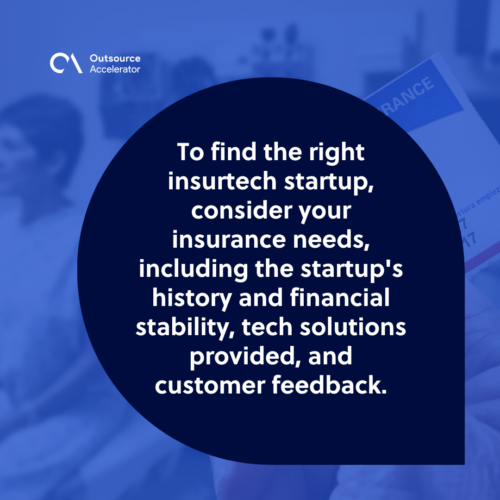 Choose the best insurtech
startup
company this coming 2024
To find the right insurtech startup, consider your insurance needs, including the startup's history and financial stability, tech solutions provided, and customer feedback.
Research and compare different startups based on these factors before deciding. Reach out to them for details and seek advice from insurance experts.
Stay updated on Insurtech trends throughout the year to be aware of new opportunities and innovations.