Outsourcing insurance back-office functions for better output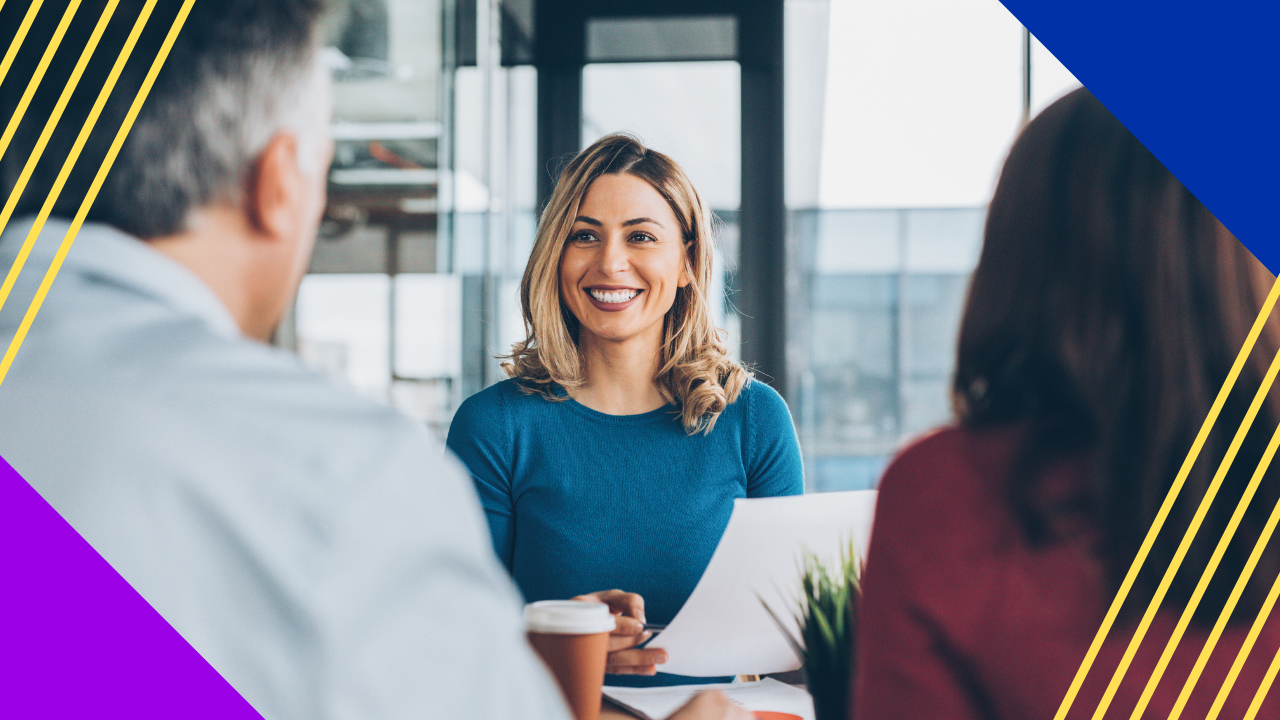 Managing a business's back-office functions is an arduous task. Adding the responsibility of maneuvering core business processes on top of it makes it doubly hard.
This dilemma is especially true for businesses in heavily customer-centric sectors, such as insurance.
Keeping client satisfaction high while staying on top of back-office operations can be taxing for employees and businesses.
Fortunately, outsourcing insurance back-office functions is an option for companies facing this problem.
The growing number of insurance companies turning to reliable outsourcing firms like 123Employee for their back-office functions is proof of outsourcing's effectiveness.
How does outsourcing insurance back-office functions work?
Outsourcing insurance back-office operations works just like any other outsourcing process.
That is, an insurance company's back-office functions are entrusted to a third-party service provider like 123Employee.
For example, an insurance company can delegate this task to outsourcing firms instead of letting in-house employees do time-consuming and repetitive work like data entry.
Doing this saves in-house employees a lot of time. In turn, they can spend more time doing tasks critical to the company.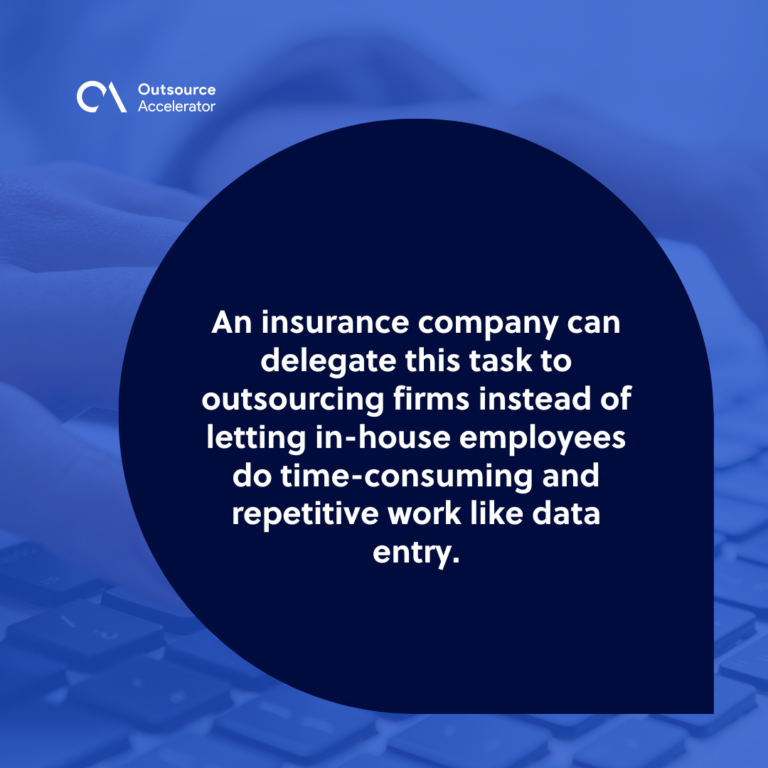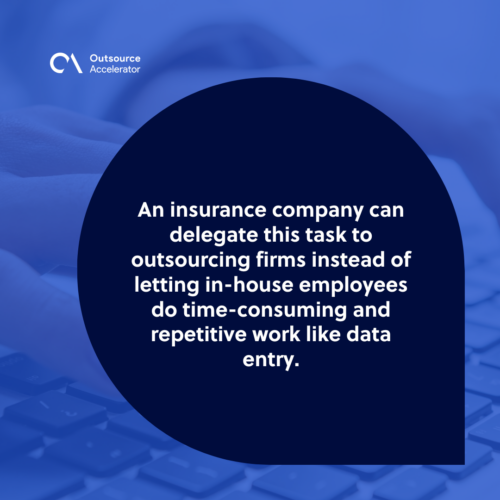 Commonly outsourced insurance back-office functions
These are some back-office functions commonly outsourced to offshoring firms like 123Employee:
IT infrastructure management
Many insurance companies rely on specialized software and financial technologies (FinTech) to improve their processes' efficiency.
Managing these technologies and troubleshooting related issues require dedicated IT staff or other personnel knowledgeable in IT.
Data processing
Insurance companies generate massive amounts of data that require high-end and proprietary software for processing.
Even with specialized tools, data processing is still a time-consuming and routine process.
Customer support
Fielding inbound client calls is another non-core function critical to an insurance company's operations.
As a non-core function, customer support services are better outsourced to offshoring firms with staff and equipment designed to handle this specific task.
Telemarketing
Telemarketing and generating new leads for insurance policies can also be entrusted to outsourcing firms.
These firms employ agents with extensive experience marketing products and services through phone calls, face-to-face meetings, or video conferencing.
Advantages of outsourcing insurance back-office functions
There are many other benefits insurance companies gain by outsourcing their processes aside from saving time and effort.
Below are some examples of these benefits.
Reduced labor and overhead expenses
Outsourcing gives insurance companies access to cheap labor from developing countries, such as the Philippines and India.
Due to living costs differences, outsourcing insurance back-office functions to these countries can save companies as much as 70% on salary costs.
Moreover, they can also save on overhead expenses such as equipment and supporting personnel salaries as offshoring firms already shoulder these. 
Access to premium technologies
Outsourcing firms possess premium and proprietary software and equipment that drives the efficiency of insurance processes.
These technologies can include AI-powered analytics tools to assess risk exposure and develop preventive measures.
These types of software are often costly, but outsourcing helps insurance companies mitigate these costs.
Improved client satisfaction
Outsourcing back-office processes improves the overall efficiency of an insurance company.
In turn, the overall improvement of a company's processes (e.g., faster claims processing or better customer support) enhances customer experience and satisfaction.
Makes expansion easier
Tapping into an outsourcing firm's resources opens up a new marketing avenue for insurance companies.
With access to developing countries' low-cost labor market, not only do they save on expenses but also gain footholds for operations in those countries.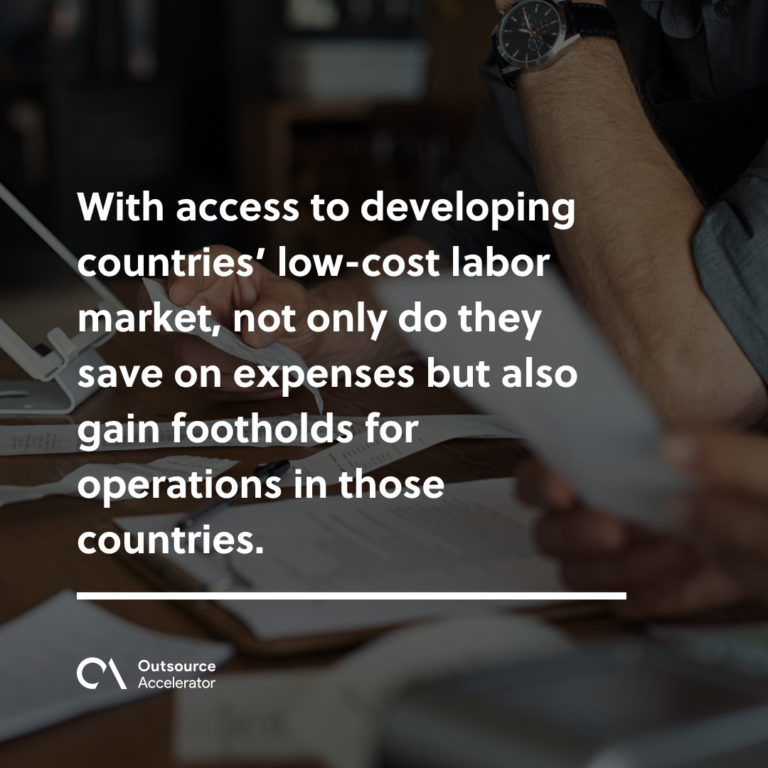 Outsourcing insurance back-office functions thru 123Employee
123Employee is a premier outsourcing services provider in the Philippines.
This company's team of highly-skilled agents can provide your insurance firm with all the support you need for your back-office functions.
123Employee has over eight years of industry experience under its belt. You can rest assured that you're outsourcing your insurance back-office operations to a reliable and well-established outsourcing company.
Contact 123Employee and be one step closer to improved business efficiency!