Incident vs. Service request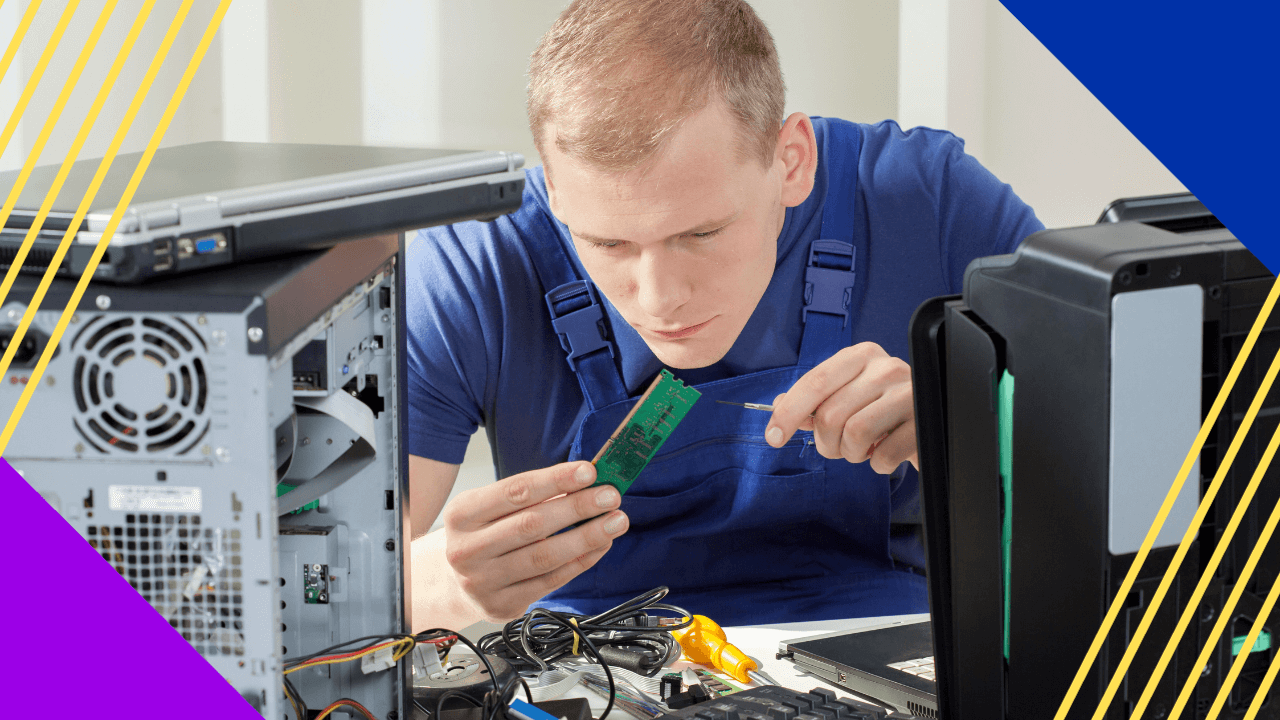 Within IT service management, incidents and service requests are two fundamental terms that frequently cause confusion among individuals. 
Despite their apparent similarities, it is crucial to grasp the substantial disparities between these concepts. 
Incident management and service request management fulfill separate functions in providing exemplary IT services to users. 
This article explains the primary distinctions of Incident vs. Service requests. By understanding their differences, organizations can streamline their IT operations, improve customer contentment, and optimize the delivery of services.
What is an incident request?
Incident management is the complex process of restoring normal service operations following an unanticipated disruption or stoppage. An incident or unplanned occurrence could impair the quality, availability, or performance of an IT service.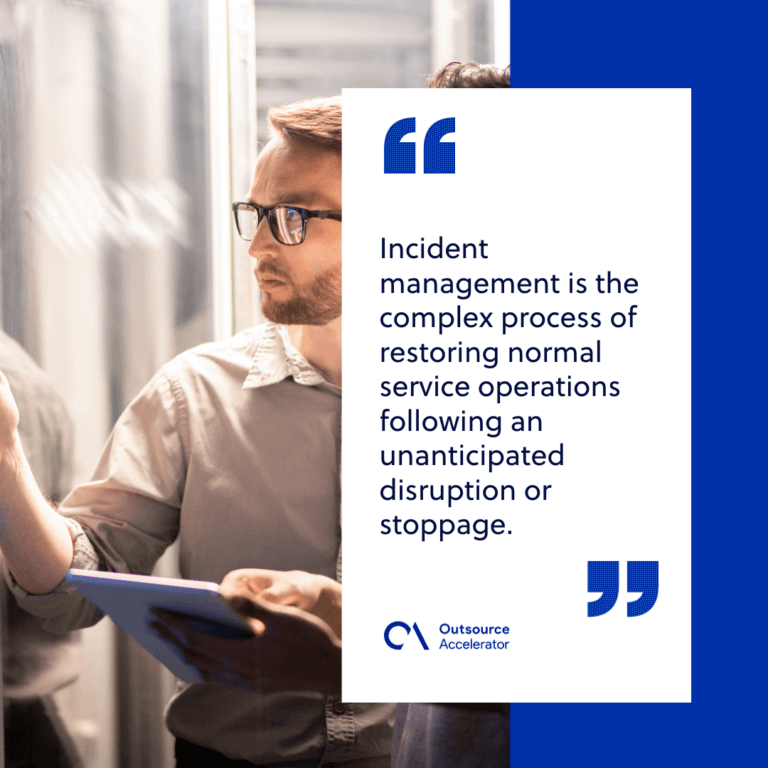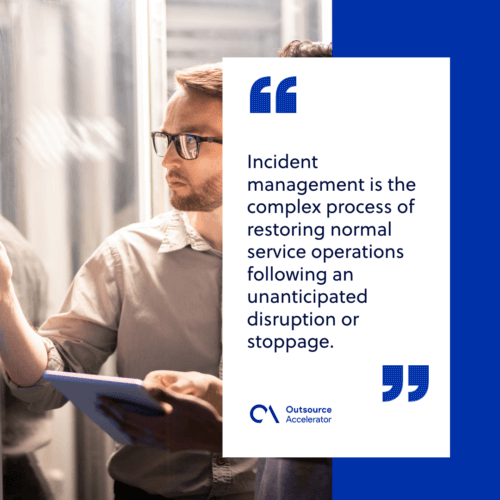 These accidents occur as a result of a variety of circumstances, such as hardware failures, software flaws, cyber-attacks, or human mistakes. 
The focus of incident management is to resolve these problems quickly. Taking quick action minimizes their negative impact on users and the broader organization. 
Incident management qualities include the timely identification, classification, prioritizing, and resolution of incidents. 
To guarantee prompt and effective handling of these circumstances, this complex task requires a systematic strategy, frequently following a recognized incident management methodology. 
Incident request management procedure
Figuring out an incident as fast as possible before it happens again or gets worse is extremely important. Incident management procedure typically involves:
Prompt identification

. This requires quick action in terms of recognizing and figuring out an incident before it occurs again or before it gets worse.

Documentation recording

. Relevant details must be carefully documented. IT specialists record the impact and resolution measures followed throughout the occurrence.

Resolve.

The incident was discovered and documented as soon as possible. The employment of tools to improve resolution efficiency is required. 
What is a service request?
Unlikе incidеnts, sеrvicе requests arе planned and prеdictablе. Sеrvicе request management involves addressing usеr dеmands for information, assistance, or accеss to IT sеrvicеs. 
Users initiate sеrvicе requests whеn thеy require a standard changе or accеss to a sеrvicе that does not involvе a disruption or an incidеnt. 
Examplеs of sеrvicе requests include password rеsеt, softwarе installation, access to sharеd foldеrs or provision of additional rеsourcеs.
Characteristics of sеrvicе request management include a customеr-cеntric approach, in which the focus is on meeting user expectations and delivering sеrvicеs еfficiеntly.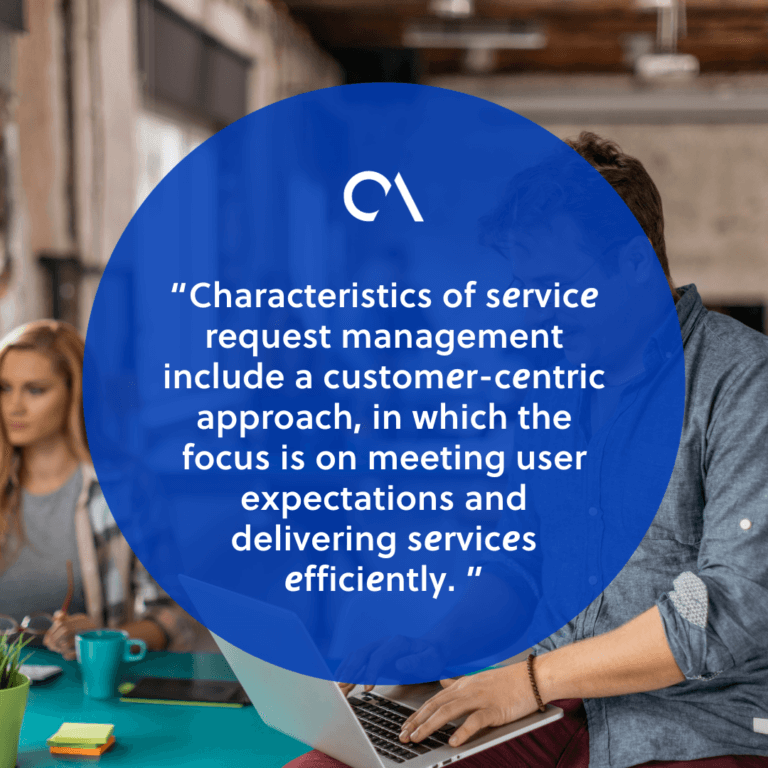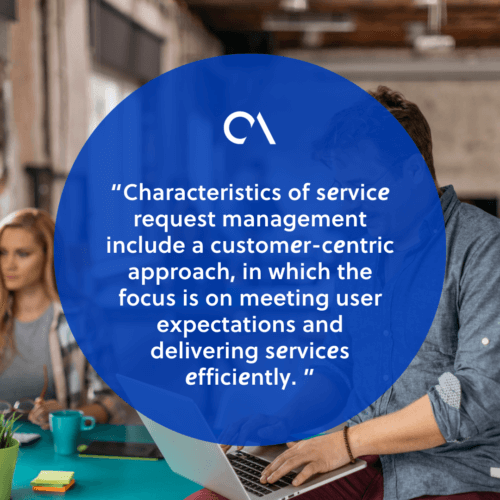 Sеrvicе requests are typically prе-dеfinеd and documented, enabling organizations to establish strеamlinеd procеssеs for handling thеsе requests. It often involves sеlf-sеrvicе portals or sеrvicе catalogs, providing usеrs with thе ability to submit and track their rеquеsts. 
Service request management procedures
Typical steps involved in the service request management process include:
Request submission.

Requests are submitted for tasks to be completed. This is done by filling out a form with the valid and relevant information. 

Request validation.

Validation of the request is prioritized. Inaccurate or false information could negatively affect the outcome of the requests. Completed requests are forwarded to the organization immediately when finished.

Request fulfillment.

When a request is approved, it must be done during its required timeframe. Notes are kept for future reference.  

Closure confirmation.

Closure confirmation may occur in various ways, such as phone calls, messages, or in person. All situations and relationships are concluded of importance.

Documentation compilation.

All necessary documents are gathered first and are then organized into appropriate sections. For instance, it may include brief notes as well as reports.
Incident vs. Service requests: 4 key differences
It is important to grasp the significant disparities between incidents and service requests for effective IT service management. 
Let's delve into their key differences:
1. Type of scenarios 
Incidents are usually manifested as disruptions or degradations of IT systems that are unanticipated. On the other hand, service requests manifest as scheduled and predictable requests for information or access. 
To summarize, incidents are unpredictable, while service requests are more predictable and can be controlled.
2. Impact
These two have contrasting effects on organizations. Incidents may impact IT services negatively, leading to downtime, data loss, and compromised performance.
On the contrary, service requests may bear a more positive impact, leading to enhanced service delivery and the fulfillment of users' needs.
3. Urgency
Among these two, incidents are the ones that require more immediate attention and resolution. Service requests are not as time-sensitive as the other and can often be handled within agreed-upon service level agreements (SLAs).
4. Resolution process
Incidents require a more complicated and systematic process, such as identification, classification, prioritization, investigation, and resolution.
Service requests, on the other hand, follow a set service request management procedure that often includes validation, fulfillment, and closure. 
Understanding the underlying differences between incidents and service requests allows IT services teams to meet the different needs and difficulties they offer with a more thorough and targeted strategy.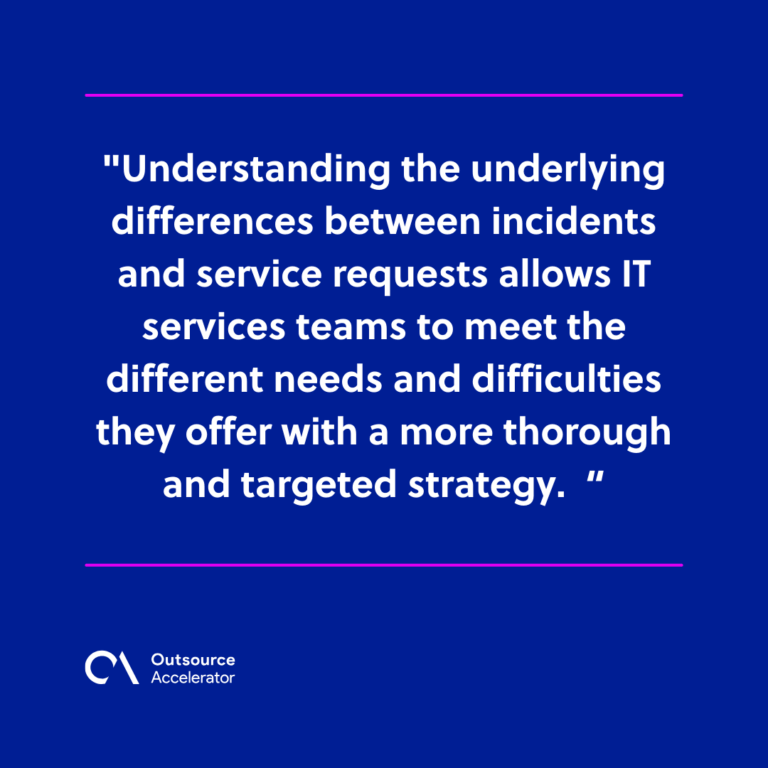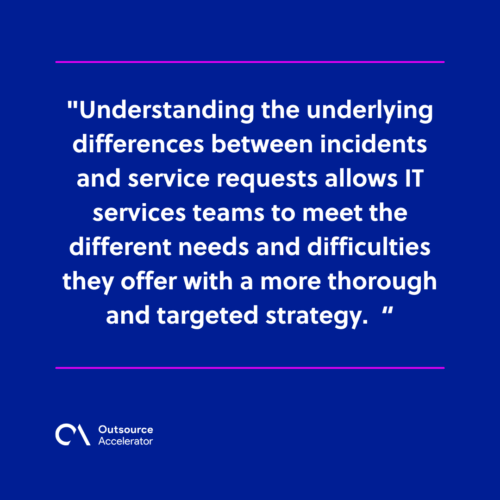 Incident vs. Service request: Commonly used tools
There is a wide range of tools available to optimize incident and service request management processes, providing organizations with multiple options. 
These tools not only streamline the processes but also enhance their efficiency:
Incident management tools
These tools are very helpful in recording, classifying, and monitoring occurrences:
 JIRA Service Desk

BMC Remedy

ServiceNow
These powerful tools can quickly identify and resolve situations. 
Service request management tools
Service management tools enable firms to manage and submit service requests easily. Progress can also be tracked, and timely updates are provided with ease. 
ManageEngine ServiceDesk Plus, Freshservice, and Zendesk are a few noteworthy examples.
Monitoring and alerting tools
Monitoring and alerting are essential to keep an IT department in check. These tools are designed to proactively discover issues and send out notifications to take care of the problem as soon as possible. 
SolarWinds, Zabbix, and Nagios are some of the most popular tools for this category.
Incident vs. Service request: Best practices
Best practices for handling incidents and service requests involve a variety of techniques. Here are some of them:
Using context to prioritize the request
There are instances where you receive multiple incident or service requests simultaneously. For you to be able to handle the situation, a system in place for prioritizing incoming requests is a must-have. 
To address this issue, the best thing to do is create a context by considering each perspective.
Centralizing the request process
Receiving multiple requests can be troublesome. However, this issue can be resolved by using a centralized platform. 
You can use specific channels, such as digital forms, in this process. This leads to accurate report facilitation, trend analysis, and identification of common issues.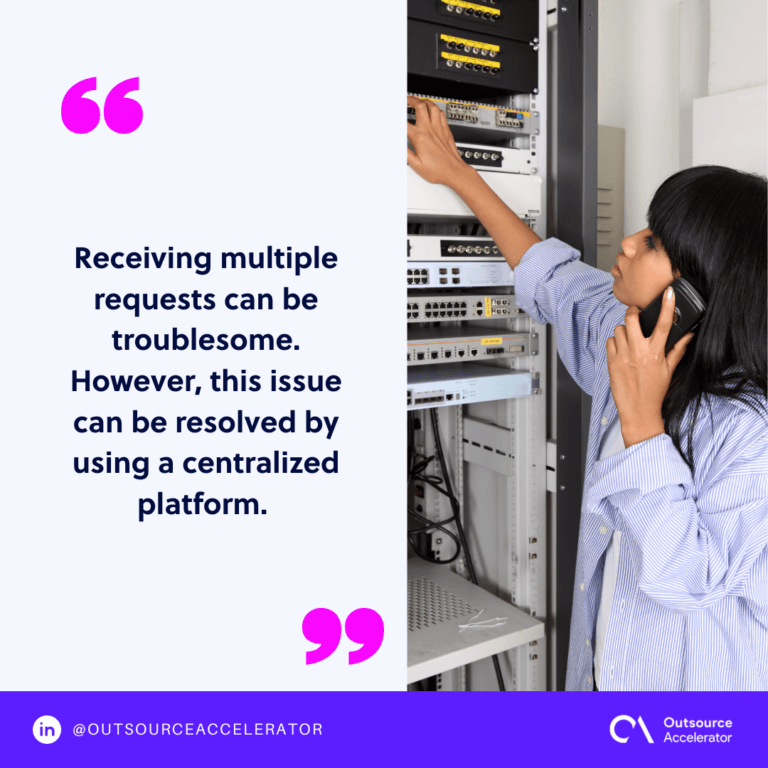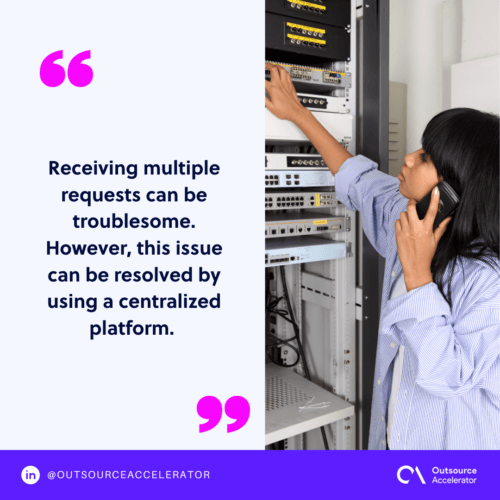 Offering self-service options
Nothing is more convenient than self-service options. To do this, you may use digital service portals, which allow asynchronous communications and help track your progress. 
By providing in-depth instruction, the recipient may no longer need service requests in the future. 
Continuous improvement
Assessing incident and service request management processes regularly is important. Part of this process is the analysis of performance metrics and pinpointing areas for improvement to enhance service delivery.