How to start a corporation in the Philippines: Your guide in 2024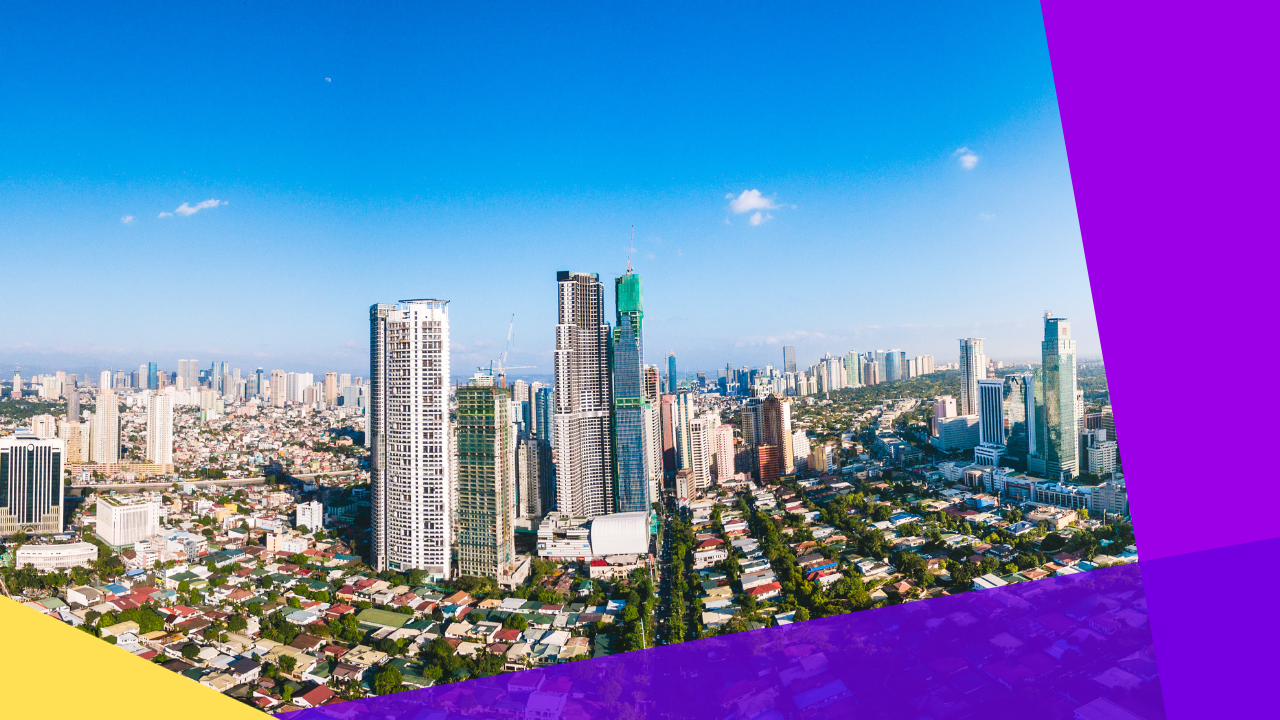 Starting a corporation in the Philippines can be a rewarding and lucrative venture. With its strategic location and skilled workforce, the country offers immense opportunities for entrepreneurs and investors.
Posing a GDP growth of 5.9% in 2023, the Philippine economy continues to thrive due to foreign investments. Government processes are also improving with the rise of automated and streamlined systems.
Now is always a good time to start a corporation in the country. This comprehensive guide will walk you through how to start a corporation in the Philippines.
Starting a corporation in the Philippines
The country continues to improve its investment climate and processes to adapt to everyone setting up shop there.
2021 was a record-breaking year for the country's economy, posing a growth of 12%. Most of the year's foreign investments targeted the manufacturing, energy, financial, and real estate sectors.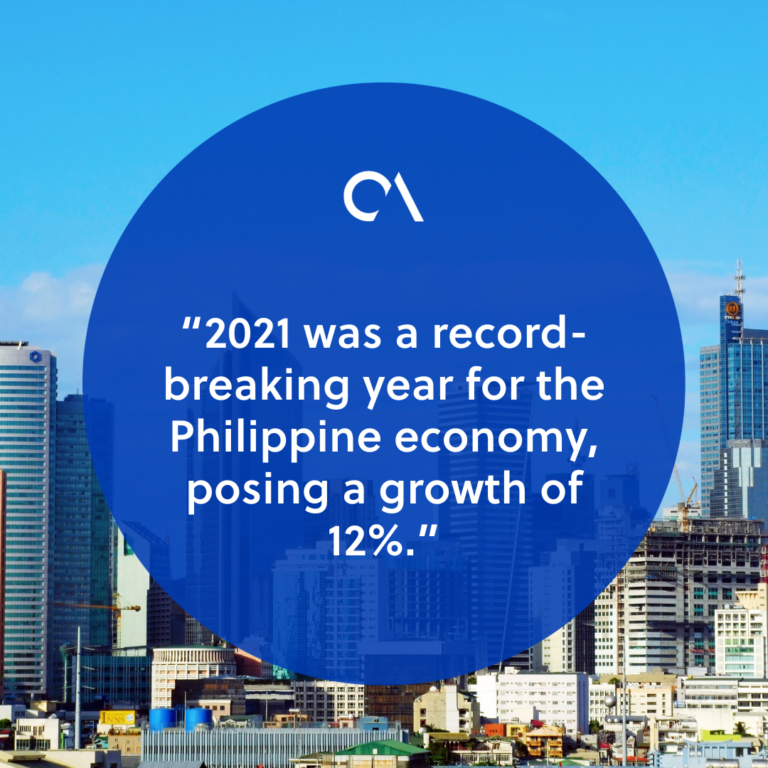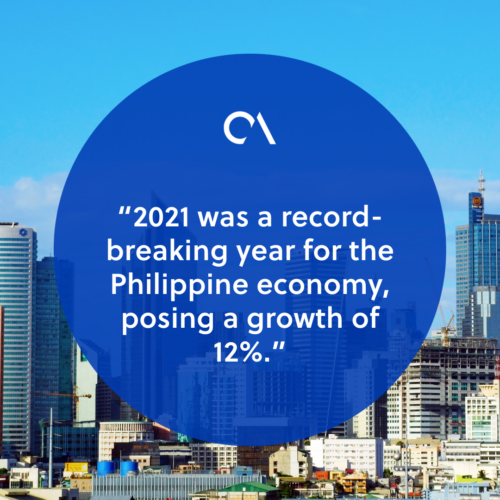 Starting a corporation in the Philippines has become easier beyond documentary requirements due to the following legislations:
Benefits of starting a corporation in the country
Starting a corporation in the Philippines means businesses get to take full advantage of the following advantages:
The Philippines provides a fertile ground for business growth and expansion. With its strategic location, the country is promoted as

a gateway to the Asia-Pacific region

.

The country has a skilled and English-speaking educated workforce. This makes it easier for employers to communicate with their teams in the workplace. 

The labor cost is also relatively low compared to other countries. With an average salary of around US$300, foreign corporations can afford to provide at least

US$500 monthly salary

for their employees.

You can take advantage of the government's economic incentives and tax benefits. These incentives include tax holidays, duty-free imports of capital equipment, and simplified customs procedures.
Guidelines and limitations in ownership
Both domestic and foreign entities can start a corporation in the Philippines as long as they follow the guidelines and limitations in the country.
Domestic ownership
A Philippine company is domestically owned when it has at least 60% Filipino ownership. 
Filipino citizens can start a corporation in all sectors with full domestic ownership or with a foreign entity involved. Foreign entities can only cover up to 40% ownership in domestically owned companies.
Foreign ownership
Foreign ownership, meanwhile, is declared when a registered corporation has more than 40% up to 100% foreign involvement. Thanks to the legislative amendments mentioned above, foreign ownership in various sectors is permitted.
Despite this, restrictions on foreign ownership still apply in the following public services:
Distribution and transmission of electricity 

Petroleum and petroleum pipeline

Water distribution systems

Seaports

Public utility vehicles



Organizational structure of a Philippine corporation
Types and classifications
The Philippines does not have limited liability (LLC) or private liability (PLC) corporations. However, they register various types similar to the two entities.
Depending on the ownership, a registered corporation is determined by various types according to the Revised Corporation Code.
Sole proprietorship

. Established by one person, sole proprietorships hold an owner's personal asset as an answer to claims against the business.
Partnership

. Partnerships are composed of two or more individuals or entities running the organization

One-person corporation

. Introduced in the Revised Corporation Code in 2021, an OPC is registered with a single stockholder. OPC combines the benefits of a full corporation and sole proprietorship through limited liability and complete dominion.

Full corporation

. Lastly, a traditional corporation is comprised of at least eight but not exceeding 15 individuals acting as a single entity. 
Owners can choose to register a stock, non-stock, or foreign corporation.
Stock corporations are those that share income and dividends with shareholders and the board of directors. Meanwhile, non-stock corporations do not share their income or dividends with their trustees or members.
Composition
A typical Philippine corporation consists of shareholders, directors, and officers.
Shareholders are the corporation's owners and hold shares representing their ownership interests. They can vote on important matters and receive dividends based on their shareholdings.
Directors are responsible for making strategic decisions and overseeing the corporation's direction. The shareholders elect them and ensure the corporation complies with legal and regulatory requirements.
Appointed by the board of directors, officers handle day-to-day operations and manage different functional areas such as finance, operations, and human resources.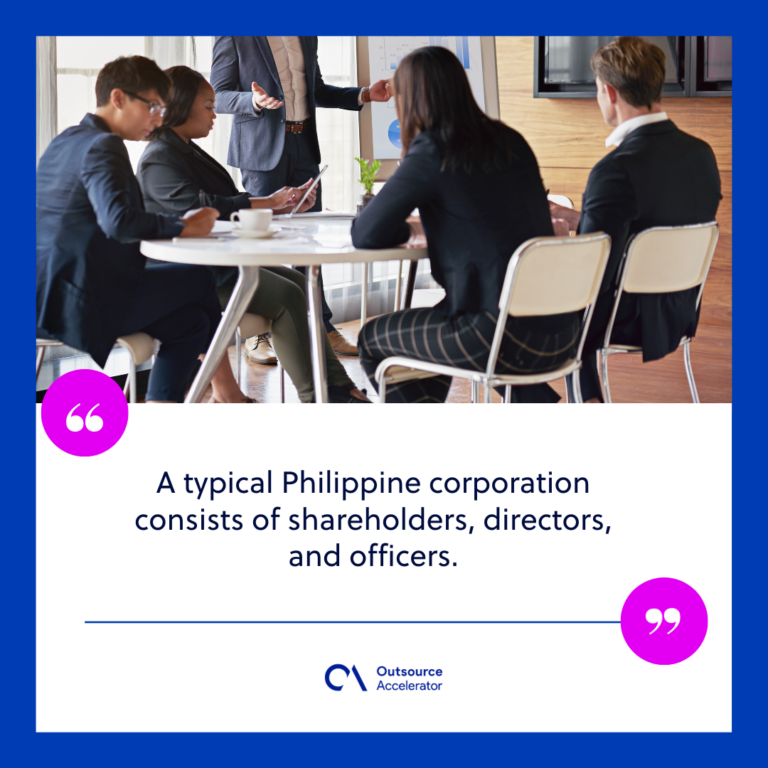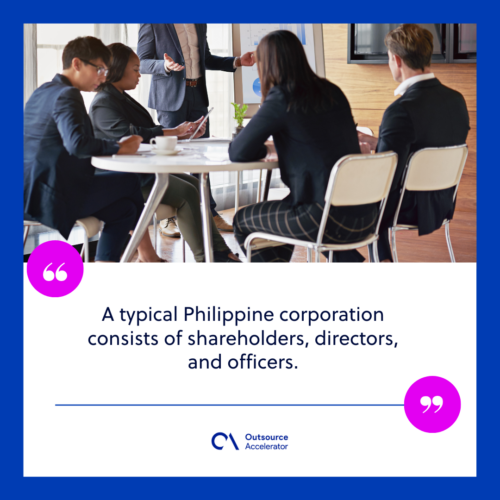 How to start a corporation in the Philippines in 2024
You can start a corporation in the Philippines online using a verified address and contact. Documentary requirements are also made easy with the revised code by the SEC.
Let's explore how to start a corporation in the Philippines in 2024.
Verify and secure a corporation name
The first step in starting a corporation in the Philippines is to verify and secure a unique corporation name. 
This name should be distinctive and not similar to any existing corporations or registered trademarks.
The Securities and Exchange Commission (SEC) allows registrants to verify corporation names online or through their main and satellite offices. Upon verification, registrants should pay PHP 100 for a name reservation valid for a certain period.
Register with the Securities and Exchange Commission (SEC)
After securing the corporation name, the next crucial step is registering with the SEC as either a stock, non-stock, or foreign corporation.
Prepare the necessary documents, such as articles of incorporation, bylaws, and the treasurer's affidavit, and file them with the SEC.
Apart from this, the SEC includes capital requirements for domestic and foreign corporations.
Pay the corresponding fees and await the approval of your registration. It usually takes two to three weeks for the SEC to verify your documents and send a Certificate of incorporation.
Register with the Local Government Unit
In addition to the SEC registration, you must register your corporation with the local government unit (LGU) where your business will operate.
You must secure the following clearances and licenses to operate legally within the jurisdiction.
Mayor's permit

Barangay clearance

Building permit from the Municipal Hall
Acquire registration with the BIR
The next step in starting a corporation in the Philippines is obtaining registration with the Bureau of Internal Revenue (BIR). 
Obtain a tax identification number (TIN) and register your corporation for the appropriate taxes. You can do this through the NewBizReg portal or directly to your regional district office (RDO).
Register as an employer to file employee benefits
If your corporation plans to hire employees, it is necessary to register as an employer with the appropriate government agencies, namely:
Social Security System (SSS)

PhilHealth

Home Development Mutual Fund (HDMF), also known as PagIBIG fund
Once you have acquired your registration with the three, you can start filing your employees' numbers as well.
How to start a corporation in the Philippines: Next steps
Congratulations! You have successfully started your corporation in the Philippines. However, the journey doesn't end here.
To ensure the long-term success of your business, consider the following next steps:
Develop a comprehensive business plan to outline your objectives, strategies, and target market.

Build a strong network of professional contacts and potential clients within the industry.

Establish an effective

marketing plan

to promote your products or services.

Comply with ongoing reporting requirements and deadlines set by the SEC, BIR, and other government agencies.

Stay updated with changes in laws, regulations, and policies that may impact your business operations.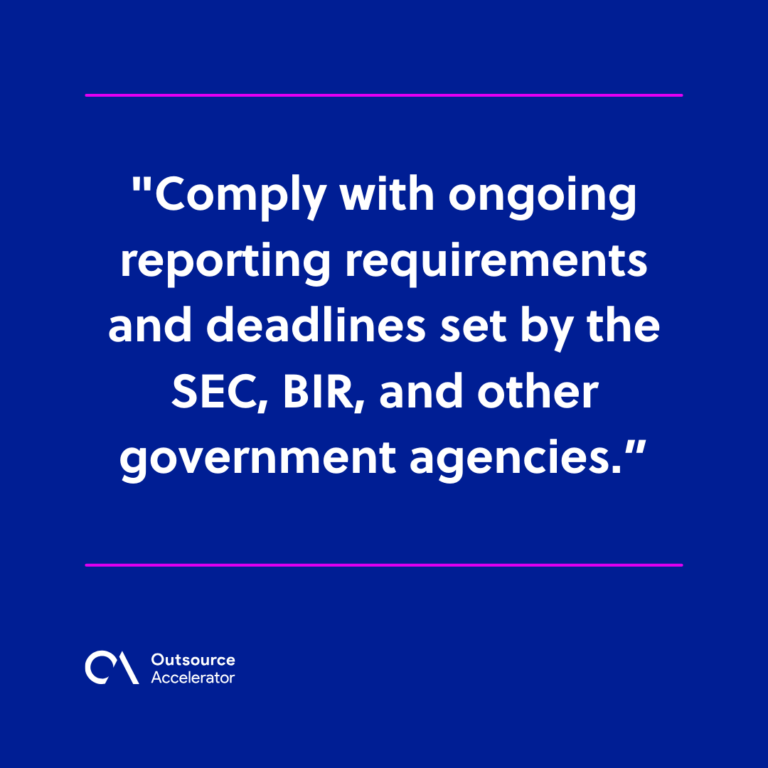 Starting a corporation in the Philippines can be an exciting and rewarding endeavor. 
By following the guidelines and procedures outlined in this guide, you are on your way to establishing a thriving business in the dynamic Philippine market.
Good luck on your entrepreneurial journey!