How to find the right legal process outsourcing provider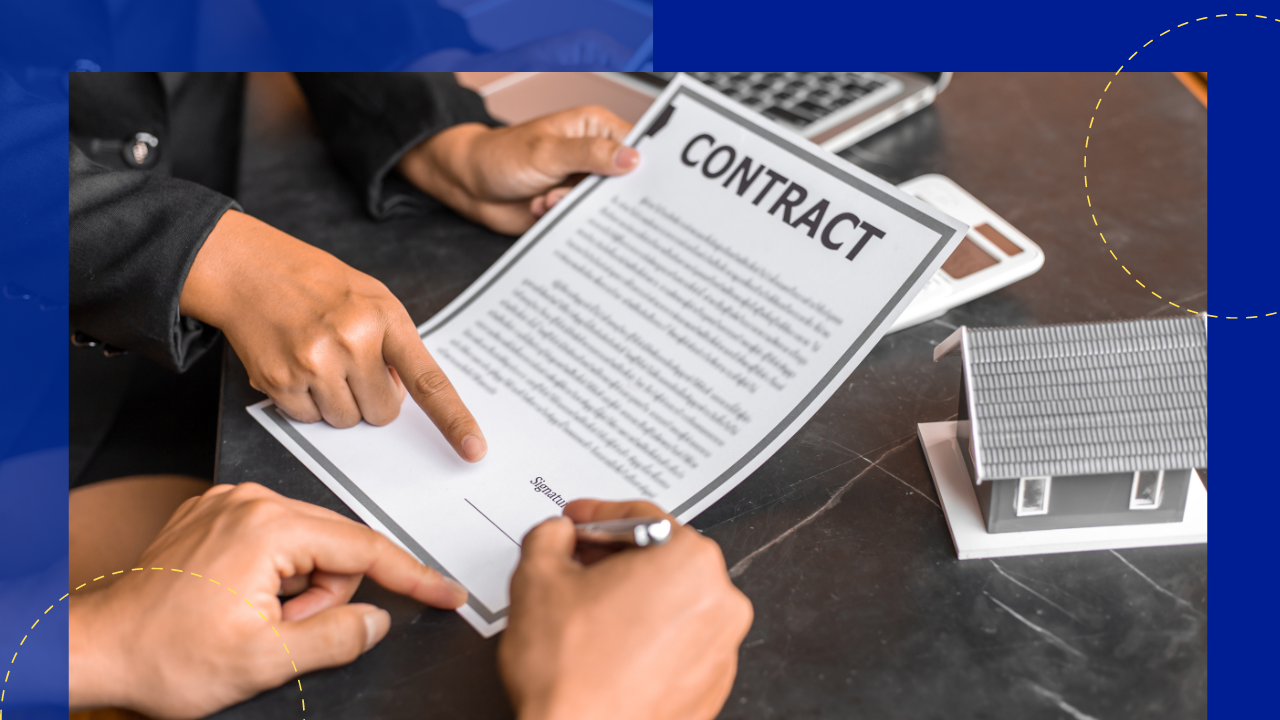 It's easy to search for a possible legal process outsourcing provider; there are, after all, a lot of companies engaged in this type of service that are vying for your business online. However, it takes a decent amount of effort to find a great company that can work well with yours.
One sure way of making the task easier is by having a set of criteria on hand when you start your search. List down the qualities that make up an ideal LPO provider and use that list to judge if a company is a possible candidate for the job. Here are a few factors that can help you decide which among the many potential legal service providers out there can be a great fit with your business: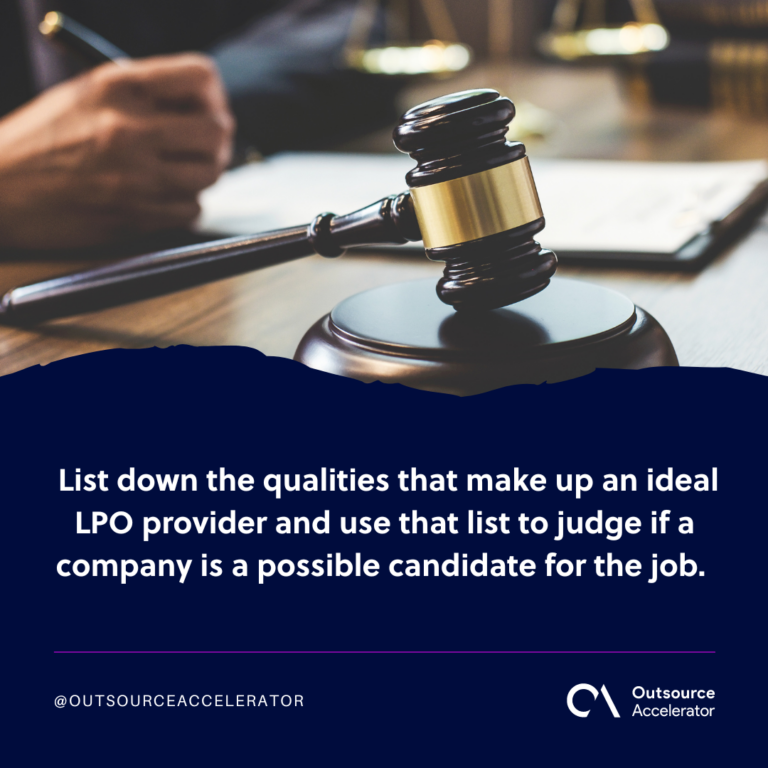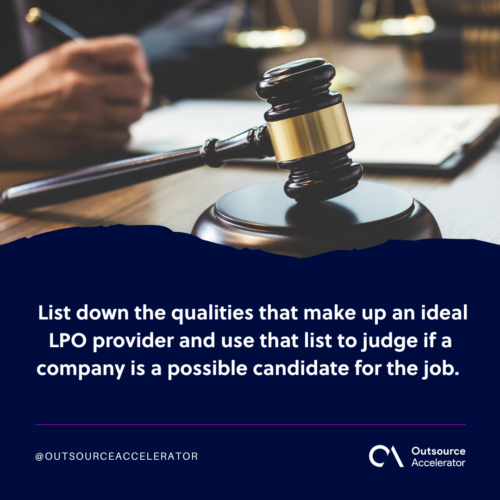 Cost. The cost of contracting an LPO provider varies depending on the scope of service you need, where the provider is located, and many other factors. To find out the real cost of the service, however, you need to look beyond the quote given to you. What about taxes? Are there laws in place to protect your company's intellectual property? These can affect your long-term expenses and the savings that you are supposed to earn by outsourcing your legal functions.
Reputation. Potential providers will always put their best foot forward in order to attract clients. Their website may feature the specifics of their services, but their previous clients can also provide you a lot of valuable information. If possible, look into the company's list of former and present clients and see what they have to say about the services they've received. Their reviews can help you gauge if the LPO provider can really live up to your expectations and provide you exactly what you were promised.
Infrastructure. The infrastructure in your provider's base of operations also plays a big role in making your business relationship work. Spotty internet connection, for example, can disrupt your processes and foster misunderstandings between your in-house and outsourced teams. Unfavorable working conditions, bad roads or heavy traffic, and power outages, among others, can also distract your outsourced staff. The delays caused by these conditions or events can reduce your company's savings and overall productivity.
Cultural compatibility. It's also a good idea to look into LPO providers based in countries that are culturally compatible with yours. This way, you'll have a faster and easier time getting around cultural and communication barriers that can get in the way of working together.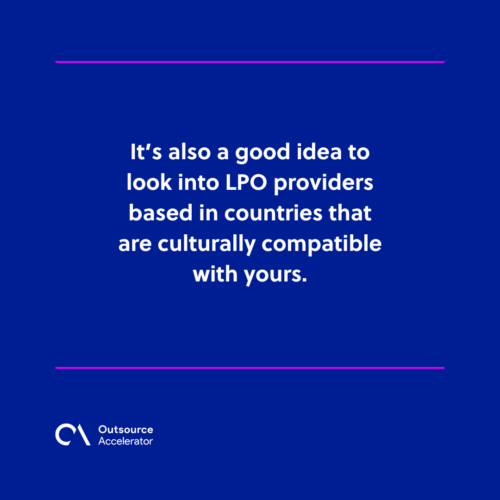 You can easily amend the list if you feel that you need a few more qualities to narrow down your search. It's also a good idea to list the qualities in order of priority. For example, if you feel that you can compromise on cost but not on reputation, then make sure you take note of it when screening companies.
Finding the right LPO provider is already a good step, but it's just the start of the journey. While the outsourcing company or agency may be a good fit with yours, it still takes a lot of adjustments so that both your teams can make the most out of this partnership. Get to know your external workforce's team members and their culture, and take time to understand the way they communicate and do things at work. Also, make sure you touch base regularly at the start of your engagement so you can clear up misunderstandings and miscommunications as soon as possible.
If you're interested in knowing about the cost of outsourcing legal services to the Philippines and how to get along well with your outsourced workforce from the country, make sure to check out Outsource Accelerator's resources on these topics.