How outsourcing can help with labor shortage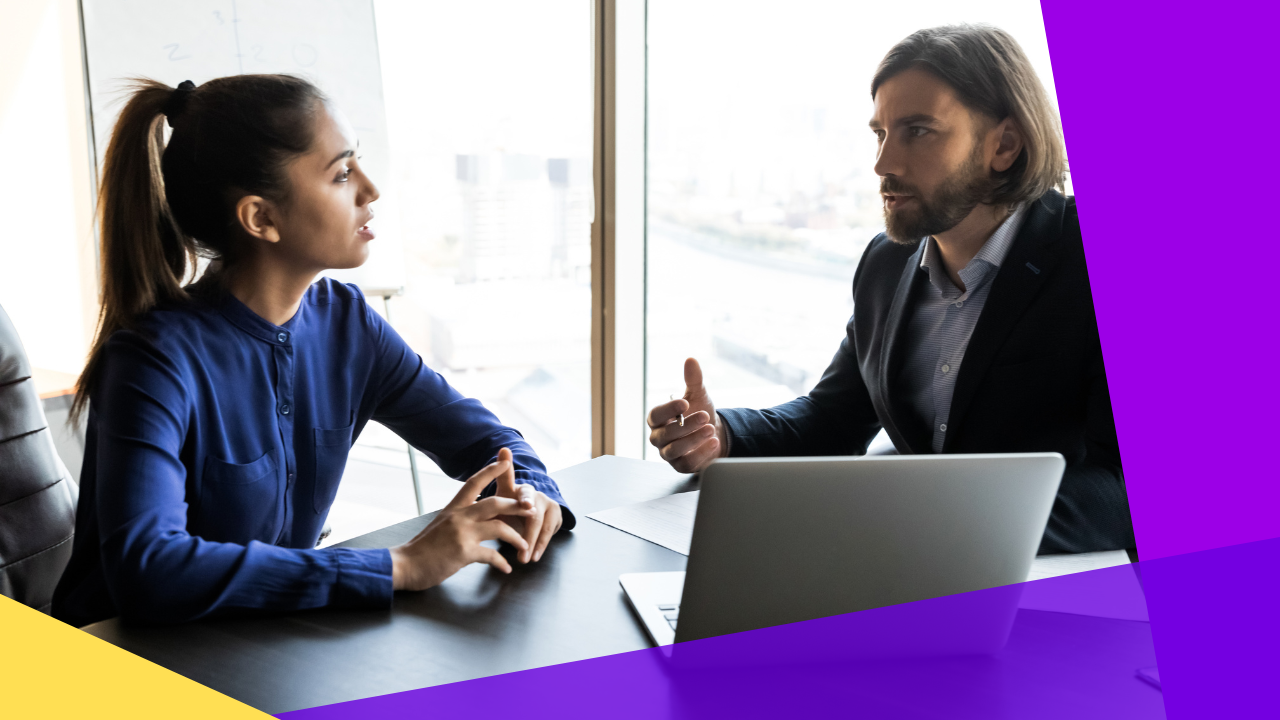 Needless to say, every business owner wants nothing but success for their respective companies.
For a company to be prosperous, a lot of consideration should be placed on the employees to hire.
How many workers do you need? For each job position, what are the qualifications of an ideal candidate? How much resources are you willing to spend on their wages?
Pondering the answers to these questions can prove to be challenging enough when recruiting employees. On top of that, there is a phenomenon referred to as labor shortage.
Labor shortage is a difficult problem to conquer. Business owners need to be equipped with the proper knowledge and enforce strategies specifically for dealing with it. 
In this article, you will learn what labor shortage is, what causes it, the detrimental effects it can have on your business, and how outsourcing can help you overcome it. 
What is a labor shortage?
Labor shortage is when there are more available roles than the qualified and available workers. This phenomenon is based on the supply and demand of manpower.
In the event of a talent shortage, the candidate pool is low, recruiting qualified applicants is more challenging than usual, and the retention rate is not ideal.
Businesses may need to pay higher wages and provide better benefit packages just to attract and retain workers. 
Labor shortages aren't limited to specific industries and occupations. As the job market and economy shift over time, impacted sectors will also change.
In addition, manpower shortage is also a result of different factors that affect the hiring process:
Training and experience level of applicants

Qualifications of an ideal candidate as required by an employer

Wages a company is willing to pay
These are the roots of labor shortage as it happens "naturally".
However, there will be trends that arise as products of time-specific events, which may also result in this type of shortage.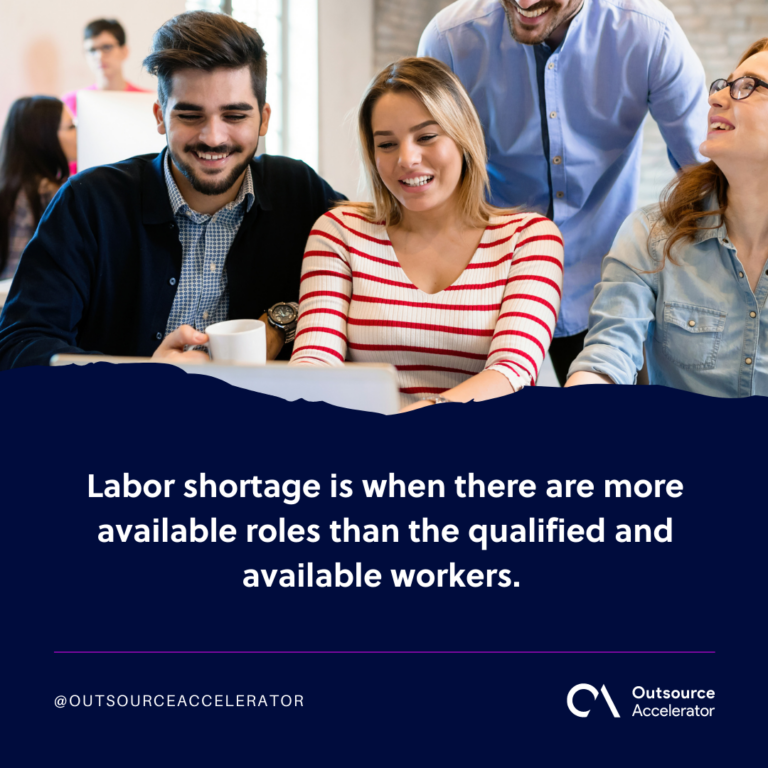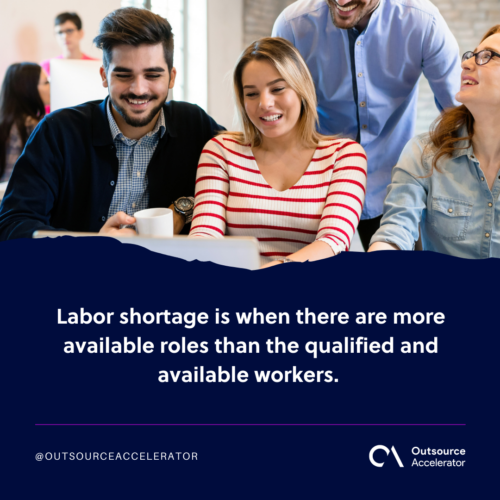 Why does labor shortage happen?
Apart from what had already been mentioned, there are currently five common causes of labor shortage.
These are:
Covid-19 pandemic
In our post-Covid-19 environment, the dynamic between businesses and employees have been disrupted.
This is due to the sudden unemployment, evolving working conditions, and newly-found time for self-reflection regarding work-life balance.
The current unemployment rate is about the same as it was before the pandemic. However, employees in general are now asking for more from hiring companies.
They now have higher standards, implying that they may not take jobs that fall short. 
Many employees now desire better flexibility, opportunities for growth, and superiors and companies that treat them with empathy and respect. 
The Great Resignation
The effects of the Covid-19 pandemic discussed above ultimately resulted in The Great Resignation.
This is a phenomenon where a large number of employees quit their jobs voluntarily. It first surfaced in 2021 and is still evident to this day.
According to the Bureau of Labor Statistics (BLS), resignation was 3.8 million in April 2023, putting the quit rate at 2.4 percent. 
Skills gap
The most valuable and skilled candidates are the hardest to find. This, along with workers' frustrations with wage growth, contributes to the shortage of practiced workers.
During salary negotiation, applicants may ask for higher pay and better working conditions, posing a challenge for responsible committees.
The hiring process will be prolonged and companies will find it more difficult to find talent to match their resources. 
Aging population
The BLS predicts that only 11.7 percent of the working industry in 2030 will be composed of baby boomers. Their growing absence in the job market becomes more relentless when the population isn't growing as quickly.
Based on the same statistics, the number of workers between the ages 16 and 24 will decrease by 7.5% in 2030. This implies that there will be fewer new employees to replace the ones who are aging out of the job market. 
Fewer people entering the workforce can only make matters worse regarding labor shortage. 
A shift in expectation
The number of millennials in the working industry is bigger than ever.
According to Team Stage, millennials comprise 35% of the US workforce. It's also expected that they'll represent 75% of the global workforce by 2025.
This generation has more workplace demands than Gen X'ers and Baby Boomers. 
Millennials expect higher salaries and healthcare programs with better quality. They want more remote work, sick days, and extra benefits such as elder care and child care. 
When companies can't provide this kind of value, they won't be able to hire as many employees equipped with in-demand skills.
Undoubtedly, these phenomena have had adverse effects in companies globally. The next section discusses more outcomes of manpower shortage.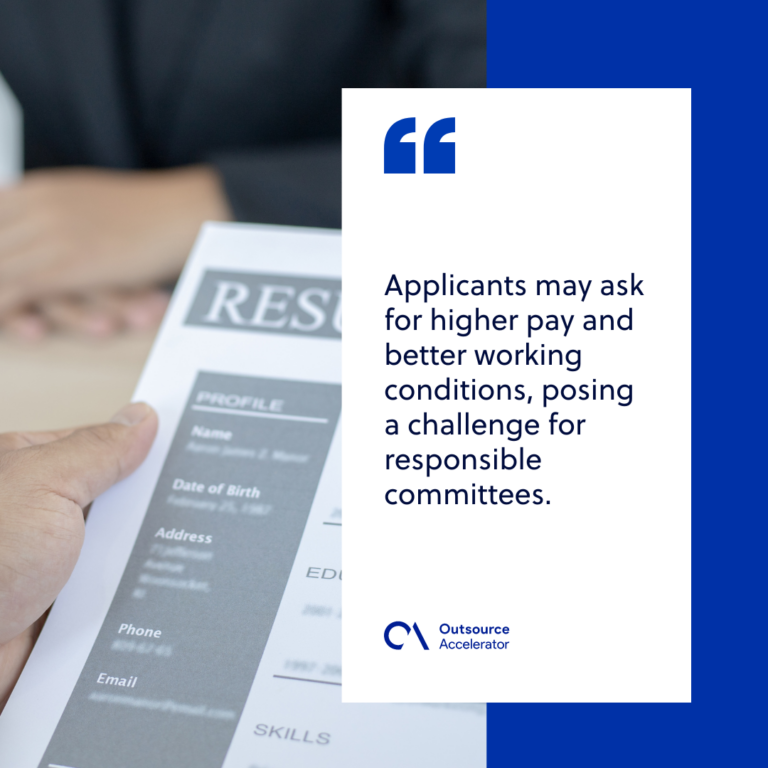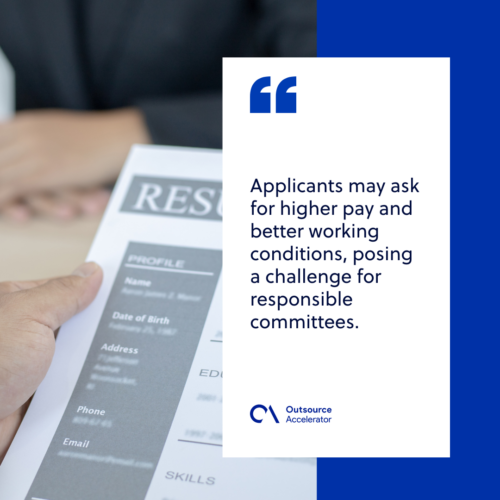 How does labor shortage affect your business?
Labor shortage may pose a significant dent on a firm's development and plans for expansion. This is because employees are an integral part of every business, and they're critical in generating success.
Here are some ways in which labor shortage negatively impacts companies:
Increase in workload
An immediate consequence of manpower shortage is an increase in workload.
Since there are less employees, each will have to do more than their usual responsibilities. This results in burnout and a decrease in productivity. 
Workers who are overloaded with work may fail to meet deadlines, submit flawed outputs, and overlook critical details.
There will be a decreased amount of work being turned in, as well as deterioration in their quality.
All of these factors can negatively influence a company's reputation, and may ultimately cause client loss, decline in sales, and decrease in revenue. 
Recruitment process
A company's recruitment process may also be affected by manpower shortage.
Since the talent pool is limited, the process may take longer and require a larger amount of expenses.
A business may even need to hire candidates who don't meet the qualifications, which will result in a struggle to meet objectives.
Limited growth
Labor shortage may limit a business' ability to grow.
If a company plans on expanding, it would need to hire more employees to match the larger workload. Undoubtedly, this cannot happen while there is a shortage in qualified manpower. 
This may have an adverse impact on the organization's growth trajectory and competitive capacity. 
Less capability for innovation
When there's a deficit in staff accomplishing ongoing tasks, there could be less opportunities for new thinking and innovation.
Companies may experience difficulty in implementing new ideas and policies, adopting new technologies, or making an entry into new markets.
This limits the capacity to remain competitive and appropriately react to shifting market conditions.
Upon reading how labor shortage can affect businesses, you may find yourself worried for your own. What could be of help to your company when facing a manpower shortage?
The answer is simple: Outsourcing. 
The next section is about the ways outsourcing can benefit you in the time of crisis, particularly the one we've been discussing so far.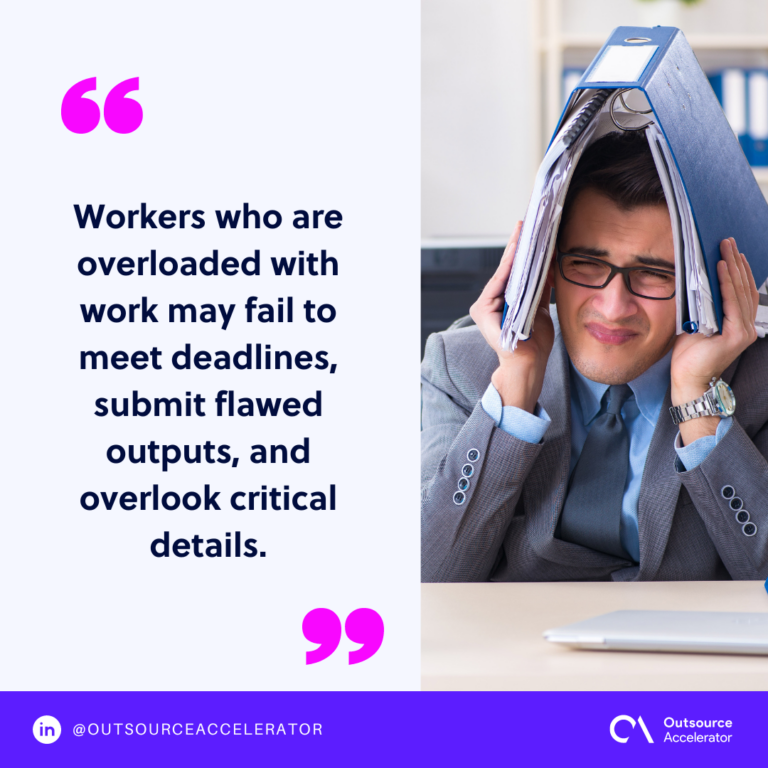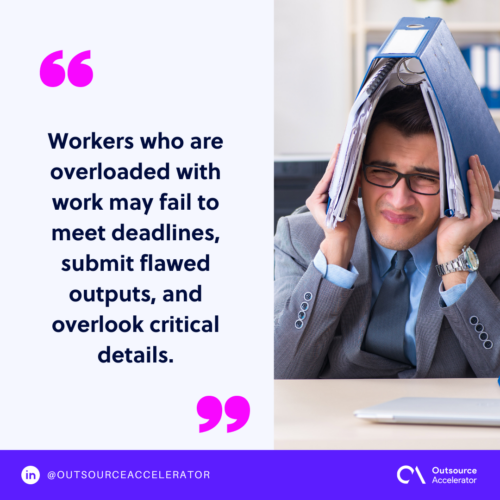 How can outsourcing help with labor shortage?
As a business owner, the concept of labor shortage can be intimidating to think about. But this phenomenon doesn't necessarily entail the complete failure of companies. 
There are a few factors that might just be the answer to an organization's manpower shortage. A significant one is offshore outsourcing.
Labor shortage is a problem for your business especially when you're only searching for employees locally.
But with the help of outsourcing, your company won't have to experience such a threat.
Overseas BPO companies don't lack workers. They are fully-staffed, which means they always have employees who are ready to work for you. 
With the help of experienced firms like Emapta, you can rapidly build a customized team composed of the best talent.
In addition, here are other benefits of turning to outsourcing:
Labor expenses are lower in some countries where you can outsource to. This doesn't affect the quality of work whatsoever, a fact that remains even during a manpower shortage.
Remote work-ready environment.

Another significant factor to mention is that offshore BPO companies are remote work ready.
There's no need for your company to wait, set up working environments, and provide equipment before reaping the benefits of outsourcing. 
Training background.

Outsourcing customer support roles require employees the ability to communicate effectively. Outsourced customer service representatives go through rigorous training to provide the best service possible before they even talk to actual clients.

24/7 availability

. For roles that require after-hours support, outsourcing is your best option. Since employees are located on the other side of the world, they'll have no trouble catering to clients in the time zone that is opposite to yours.
By outsourcing your services, you will effectively prevent your company from encountering the possible worst effects of the current labor shortage..