How ISO certification works: Tips in getting certified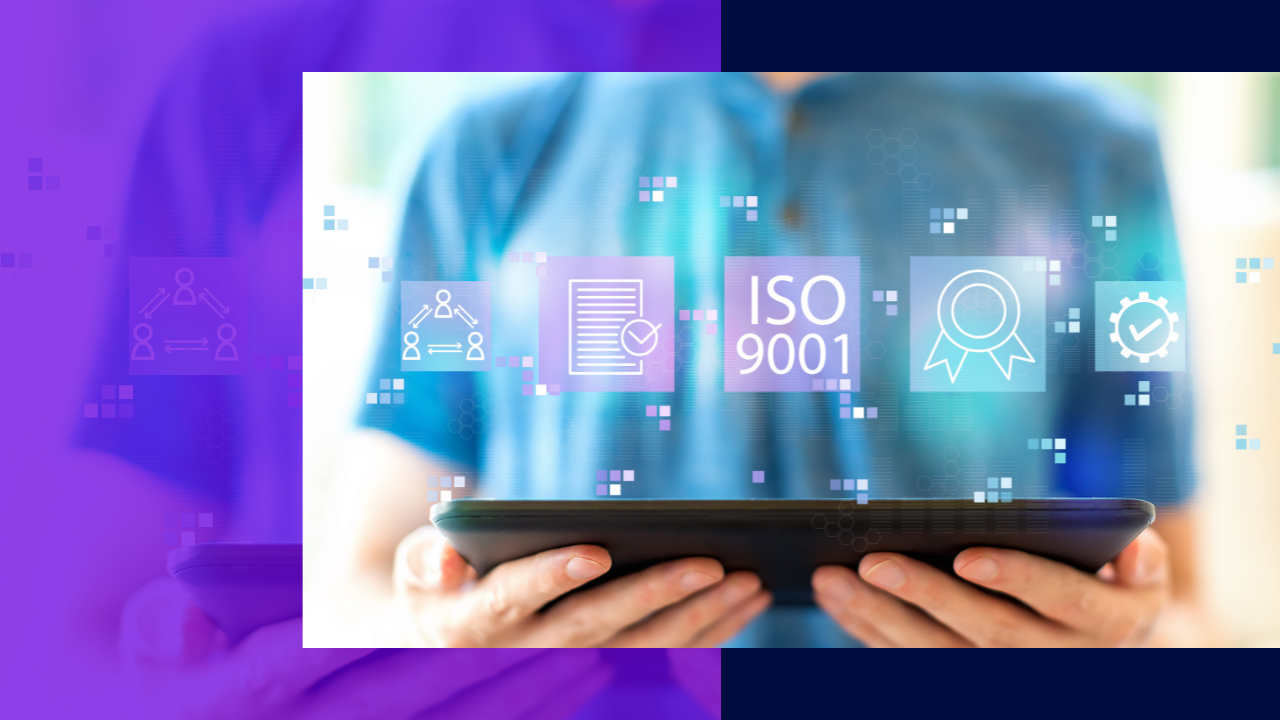 Global companies must maintain checks and balances every often. Aside from this, they need to overcome the challenges and risks they face in their industries to help them keep afloat and running.
Even before, signs show that processes can turn business to fail. This is why several institutions created international standards to resolve this.
Getting an ISO certification requires time, effort, resources, and even patience from companies. However, it can better help them improve company operations and resolve some of their challenges. But how do ISO certifications really work?
Outsourced.ph CEO and founder Mike Larcher tackles this with Outsource Accelerator CEO and podcast host Derek Gallimore.
What is an ISO certification?
An ISO certification is a third-party seal of approval given to an organization running processes and systems that adhere to those published by the International Organization for Standardization (ISO). This can be found in different industries, including healthcare, financial services, and outsourcing.
Each certification has different standards and criteria and is categorized numerically. It aims to have businesses maximize their growth and profitability by optimizing their operations.
Having an ISO certification means that a business commits to improving the quality of its products and services.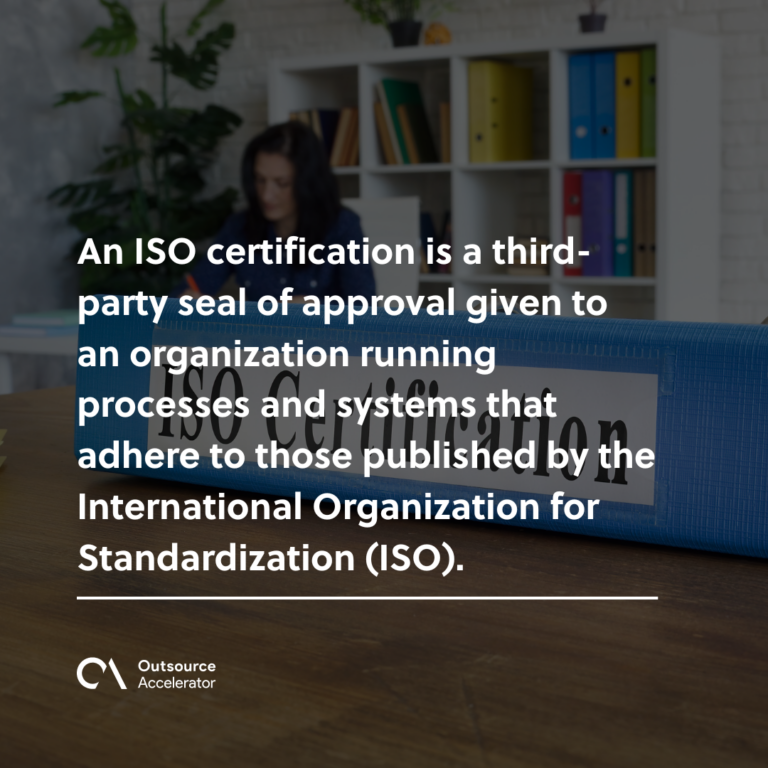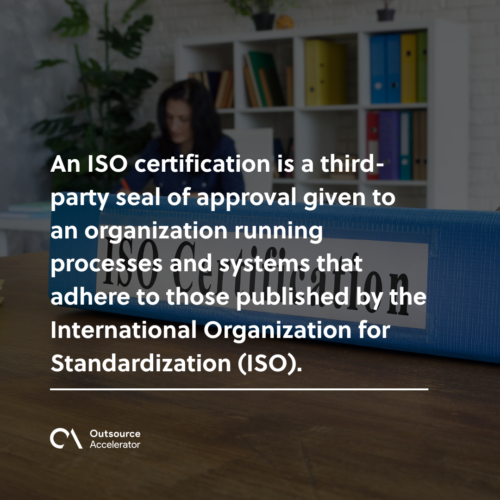 How do ISO certifications work?
Per Mike, getting and receiving an ISO certification "is an in-depth process" undergone by companies.
The ISO is not directly involved in issuing certifications for companies. Rather, companies interested in applying for one can contact an institution that issues the certification they need.
Mike explains that the organization will "come to the office and take a look at every process and system" a business has. In some instances, they will even review equipment and security measures in place to ensure that they follow security standards.
Some of the components that they could review include:
Network infrastructure

Webcams and their positioning

Desktops and laptops used at work and their protection, and

Security checks that are done on the employees
According to him, some of these reviews are done for months before a company fully complies with all of the standards and gets certified.
Why you should get ISO-certified
Companies have several reasons why they get ISO certifications for their operation. These reasons may vary depending on the certification they will get.
Ensure data security
In the case of Outsourced, their ISO processes are handled by a full-time employee and "a talented team of IT support staff" to ensure that "the data security and information management systems are the most robust and constantly improving." 
Indeed, having an ISO 27001 certification prevents companies from breaches and malicious activities at their primary level.
Define other risks and prevent them
Other risks and challenges can occur that could further affect a business. Through an ISO 9001 certification, they can identify these risks and problems encountered in the past, get to know their causes, and prevent them from happening again in the future.
Ensure operational continuity
The ISO 22301 certification even ensures business continuity management in case of calamities and interruptions. 
Compared to other certifications, this can be optional for industries that don't involve contingency planning. However, companies securing this certification can set up better BCM systems in their company to keep serving their customers when they need it the most.
Satisfy customers
Lastly, getting ISO-certified can be a way to satisfy their customers in the long run. Since they have an optimized and organized way of processing client concerns and securing their data, they get to serve customers better and faster.
To do this, they have to maintain their processes and services in their top shape.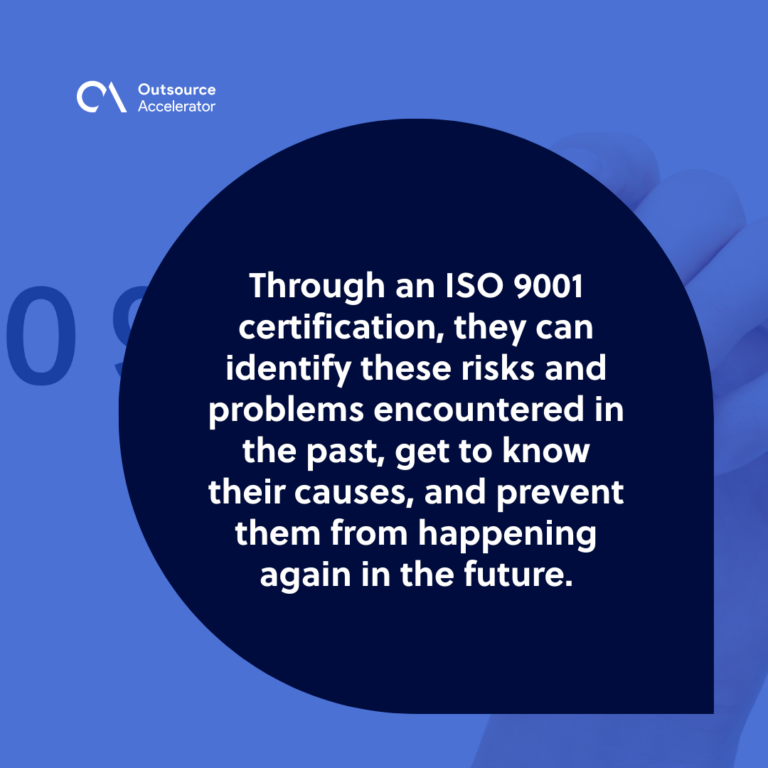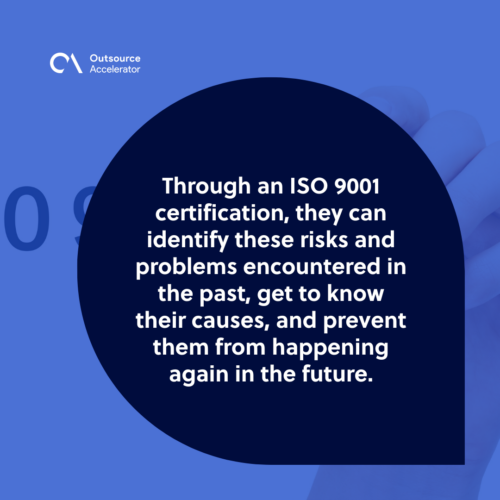 Tips in getting ISO-certified
Document processes beforehand

. Companies need to have their processes documented and organized in advance. 

Keep the entire organization informed

. Everyone has to take part in improving the systems and processes. This is why everyone in the company should be informed of the certification plans, from the management down to the employees. 

Review customer surveys and feedback

.

Customer surveys

are the best way to know what could be done to improve processes further.

Help teams have internal audits by themselves

. Lastly, companies should train their employees to take internal audits within their teams. They can help best in knowing how they can improve their processes and what challenges to resolve.
How Outsourced uses ISO certification for their clients' advantage
Having ISO 9001 and 27001 certifications, Outsourced.ph aims to give the best services possible for their clients. 
Outsourced prides itself in being "a company that invests in quality staff, systems, and information security." They continuously improve their services and security by updating their processes when needed and adapting to the changing times.
Listen to episode 366 of the OA podcast now. At the same time, check out Outsourced's website at https://outsourced.ph.