How complimentary words influence customer service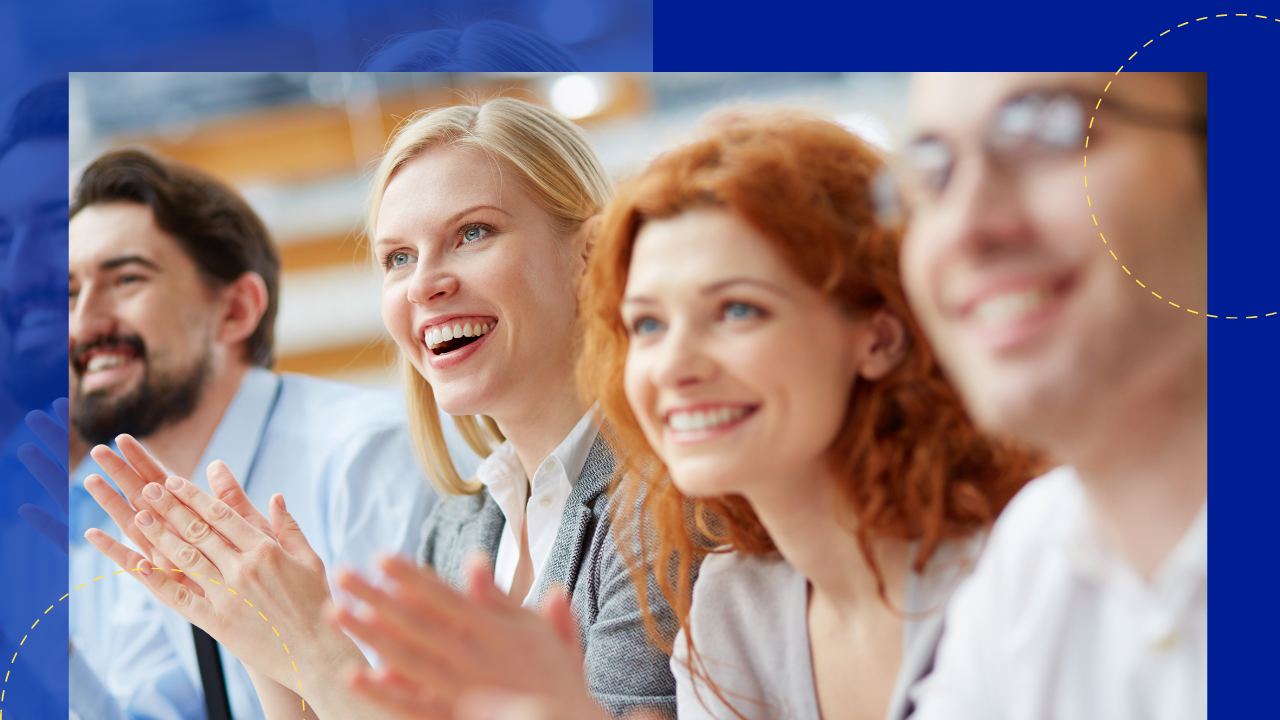 Customer service is a job known for dealing with irate, frustrated, and sometimes downright angry people. Be it over the phone or in person, talking to enraged customers is never fun or productive. 
Therefore, companies train customer service employees to deal with these kinds of situations with an air of professionalism and lots of patience.
Along with positive communication, encouraging and complimentary words are a great way to de-escalate certain cases.
Positive communication in the workplace
As with keeping up the morale, positive and open communication in the workplace is important as well. 
That being said, communication is a two-way street—team managers and supervisors can't do their job right if their employees lack communication amongst themselves. And vice versa, staff won't be able to fulfill their roles well if the higher-ups won't communicate with them too.
Positive communication doesn't always mean good news. It may also pertain to the practice of curating harsh feedback into something productive and constructive.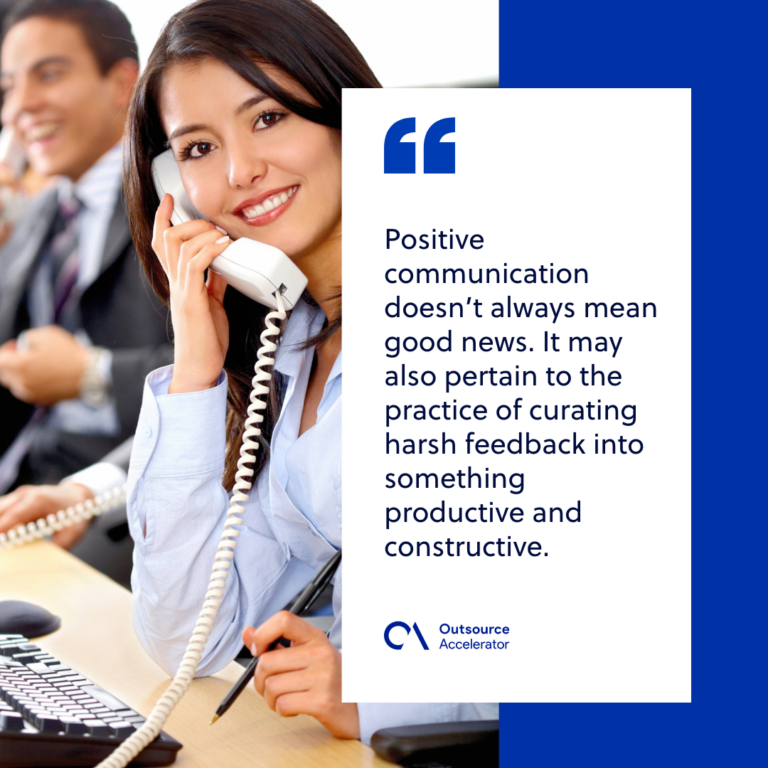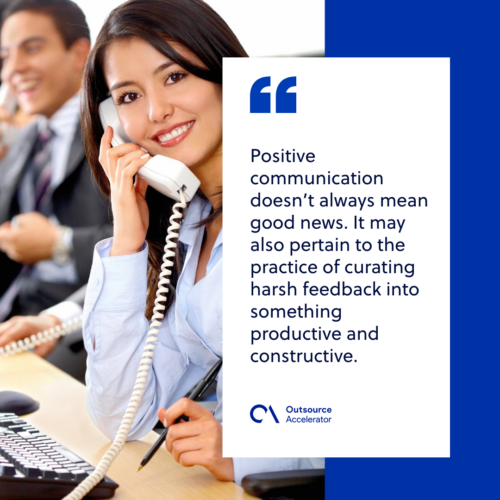 Revisiting emails: What to say instead of 'sorry'
We've all done it: saying sorry too much. While that's another story for another day, apologizing too much may affect how others view you, from sounding insincere to appearing insecure. Apologizing when you're not in the wrong also affects your morale.
Instead, try to replace the words "I'm sorry" or "apologies" with something positive and proactive.
For late reverts: "Thank you for your patience!"
Instead of apologizing for late replies and correspondences, thank the other party for patiently waiting. In an ideal world where no one should wait for anyone, patience will still be a virtue. 
Acknowledge that their time is valued and appreciated. Validating a customer's feelings is a surefire way to keep things smooth.
For miscommunication: "Thank you for understanding!"
Sometimes words can be bungled up. Messages don't come as clear as you'd hope for, leading to miscommunication. When this happens, try to locate where things got tangled and unclear—starting there, untangle and reiterate the mistaken points professionally. 
Now, this might be a little repetitive but patience is key to dealing with this situation.
For negative experiences: "I know/I understand how you feel."
Excellent customer service starts with empathy. Do the best you can to understand the customer's complaint and issue. Empathizing with customers gives the impression that you're doing your absolute best to help them with their inquiries and issue.
Like any other job and role out there, empathy is a required soft skill.
What complimentary words to use while de-escalating situations
The pen is mightier than the sword, but words are weapons as well. Again, positive and open communication is key to a better customer experience.
For different types of customers, there are different complimentary words and phrases that would help you de-escalate situations and enhance the overall customer experience.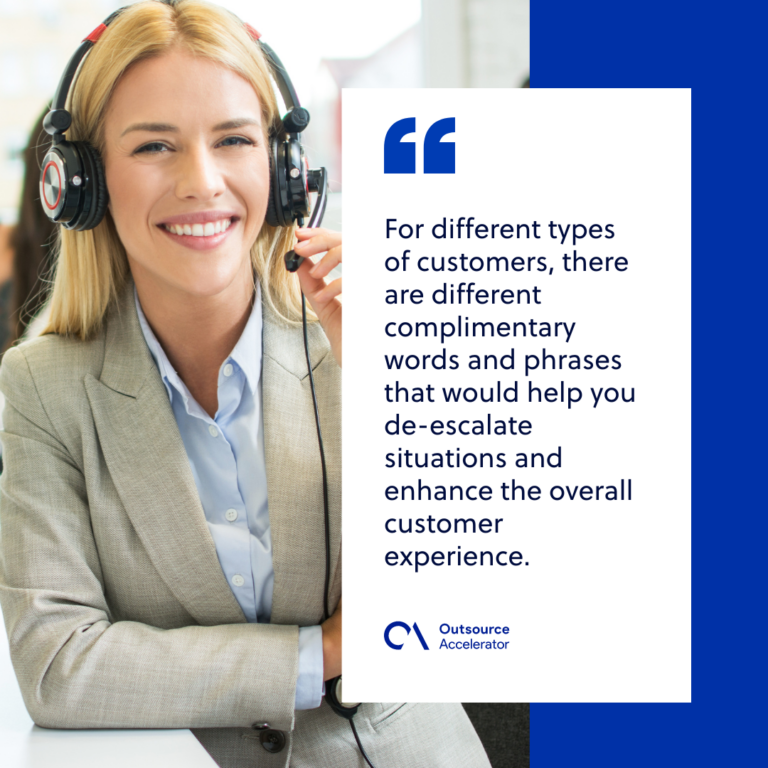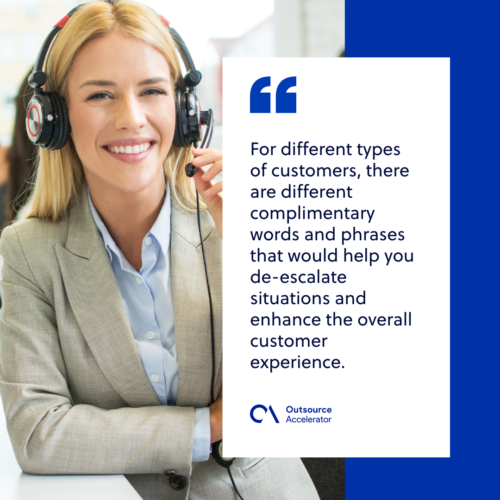 Proactive
When a customer calls about a problem (or just a simple question), this is them proactively reaching out to your brand to bring light upon an issue. While it may seem trivial, product and service issues can be quite impactful to the brand's integrity.
Phrases to use:
"Thank you for being observant!"

"We completely understand why you would want that."

"We thank you for contributing insights!"
Cooperative
Cooperation, especially with technical support dealing with issues and problems, is key to having a smooth transaction. Thank the customer for cooperating with you throughout the process. This can be another example of a soft skill on display at work.
Phrases to use:
"Your cooperation means so much to us."

"We thank you for being honest with us!"

"Your comments have been noted, and they've been a great help. Thank you!"
Patient
Customers who call a hotline often go through an interactive voice response (IVR) system and a queue before getting through to a customer service representative. If the issue is a pressing matter, they may feel like the wait times are too long, or that the company doesn't value their time. 
Make sure to always thank the customer no matter how short their wait time is.
Phrases to use:
"Thank you for being patient!"

"We value your time at (company name)."

"Thanks for staying in touch with me, (name), we appreciate you taking the time to reach out to us."
Determined
Determined customers will often go through multiple channels just to reach a satisfying answer. This is one of the reasons why knowledge bases are so important. 
When customers look for an answer or a solution for their problems, the first thing they should look for is your brand's knowledge base.
Phrases to use:
"I can see that you did your research!"

"Your insights make our job so much easier, thank you."

"We appreciate your dedication to finding a solution and we're here to help."
Loyal
Thank customers for their loyalty and for choosing to conduct business with your brand. Without customers, brands, companies, and businesses would fail to achieve their goals—never fully realizing their potential as a household name.
Phrases to use:
"I see that you've been with us for quite a while now, thank you!"

"We hope to hear from you again, (name)."

"Looking forward to another year with you!"
Dealing with difficult customers
What makes a customer difficult or unpleasant, anyway? 
Keep in mind that the circumstances that lead them to call for customer service often irritate and frustrate customers. Maybe the product or the service they received wasn't as high quality as it should have been. 
It's important to empathize with customers and validate their concerns and questions. Having a satisfied and happy customer is pertinent to running a successful business, no matter how big or small it is.