7 tips for hiring an offshore staff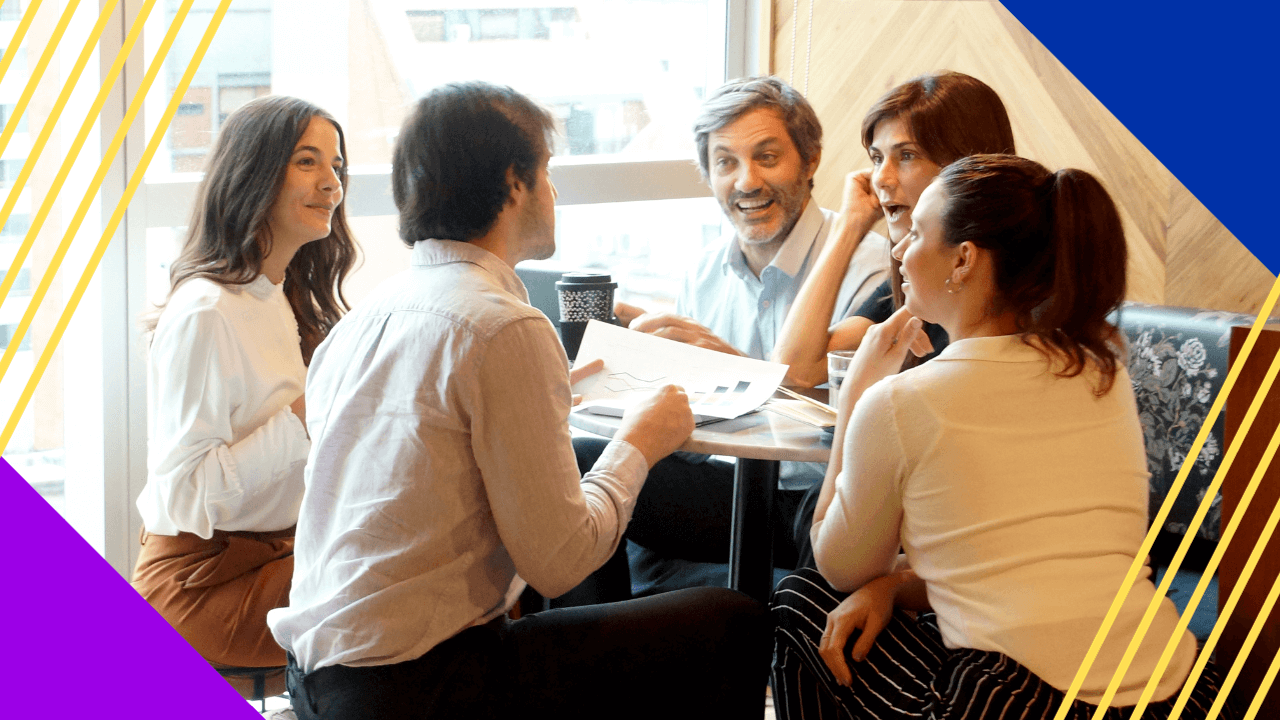 In an era defined by interconnectedness and technological advancements, the concept of the traditional workplace is evolving. Companies increasingly turn to offshore staffing to scale their operations while minimizing costs. 
However, the success of these endeavors hinges on more than just the allure of these benefits. It rests on the strategic and informed process of hiring offshore staff. 
Several factors must be considered, from cultural differences to legal complexities, before embarking on this journey. 
This article examines some tips and insights to help you navigate that process. 
You can check out Set Up My Offshore (SUMO) if you're already set on offshore staffing. This premier offshore staffing solutions company caters to various industries across Australia. 
Benefits of hiring an offshore staff 
Hiring offshore staff offers a myriad of benefits for businesses looking to expand their operations, increase efficiency, and stay competitive in a global marketplace. 
Some key advantages include: 
Cost savings

– Offshore staff in countries with lower labor costs can be hired at a

fraction of the cost

compared to local employees, allowing you to allocate your budget to other critical areas of your business. 

Access to a global talent pool

– Offshore hiring provides access to a diverse and expansive talent pool, including specialized skills that may not be readily available in your local market. 

24/7 productivity

–

Businesses can achieve round-the-clock productivity and support by leveraging different time zones.

 

Flexibility and scalability

– An offshore staff provides flexibility in terms of scalability, allowing you to adapt quickly to changing market demands or seasonal fluctuations. 

Focus on core competencies

– Offshoring non-core functions lets companies concentrate on their core competencies, which enhances

innovation

within the organization.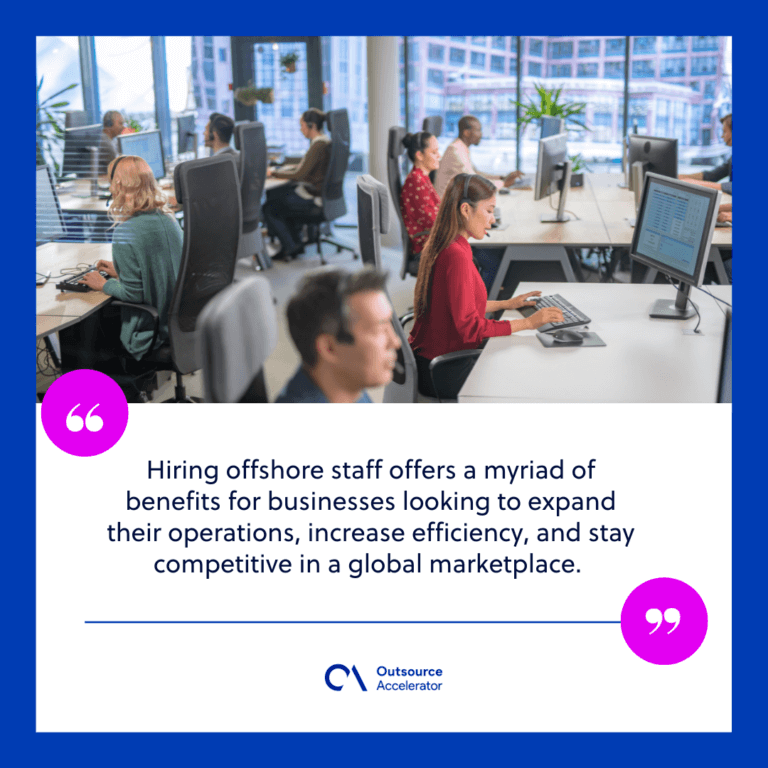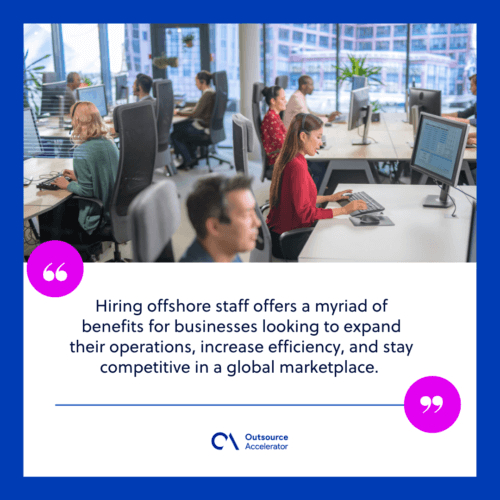 7 tips to find the right offshore staff
Finding the right offshore staff is a critical task that requires careful consideration and a systematic approach. 
To identify the perfect match for your company, consider the following tips:
1. Clearly define your business needs and goals 
Before you start the hiring process, it's essential to have a clear understanding of your business needs and the specific roles you want to fill with offshore staff. 
Outline the specific skills and expertise your offshore staff must possess. This includes technical skills, language proficiency, and any industry-specific qualifications. 
Articulating your goals will help you attract candidates who align with your business. 
2. Allocate a realistic budget
Allocating a realistic budget is a vital factor in hiring offshore staff. 
Setting a realistic budget involves careful consideration of various cost factors, including:

Average salaries in the desired offshore location

Additional benefits or incentives

Taxes

Legal or administrative fees
By seeking expert advice and regularly reviewing and adjusting as needed, businesses can ensure proper financial management even within cost-efficient offshoring. 
3. Choose the right offshoring destination
Each country has its own strengths and specialties regarding offshore staffing. Research and assess the reputation and capabilities of different countries. 
Consider factors like:

Language proficiency

Time zone alignment

Political stability
4. Choose a reputable offshore staffing partner
Collaborating with a reputable staffing agency that can simplify and streamline the hiring process. Offshoring providers often have a pool of pre-screened professionals, saving you time in recruitment. 
Look for partners with a proven track record, positive client testimonials, and expertise in your industry. 
5. Implement a rigorous selection process 
Treat the hiring process for offshore staff with the same level of rigor as you would for local employees, if not more so. 
Develop a process that includes multiple stages, such as:

CV screening

Interviews 

Skill assessments 

Reference checks 
Evaluate candidates based on their qualifications, experience, communication skills, cultural fit, and ability to work in a remote setting. Once again, an offshoring agency can benefit you in this.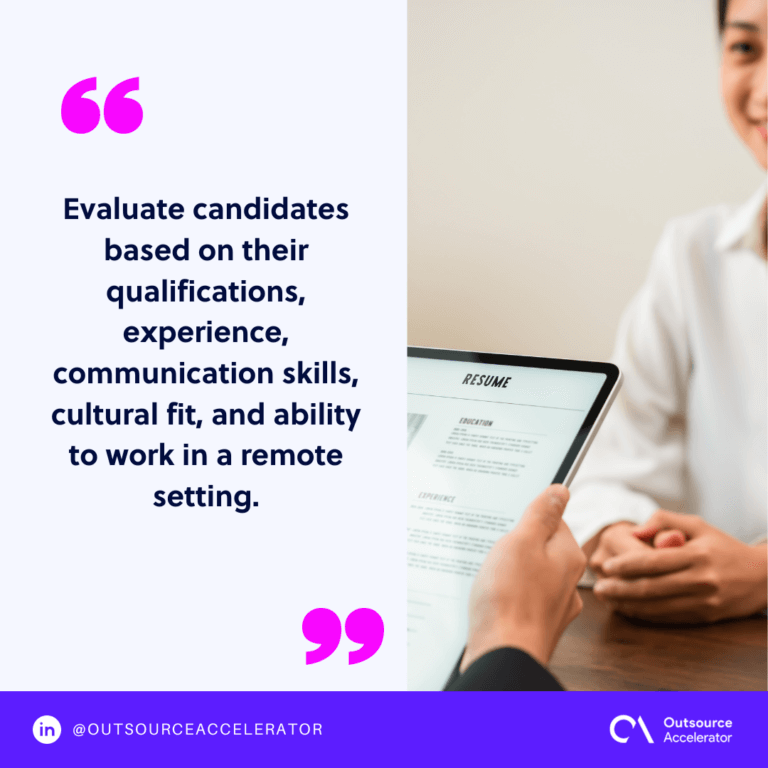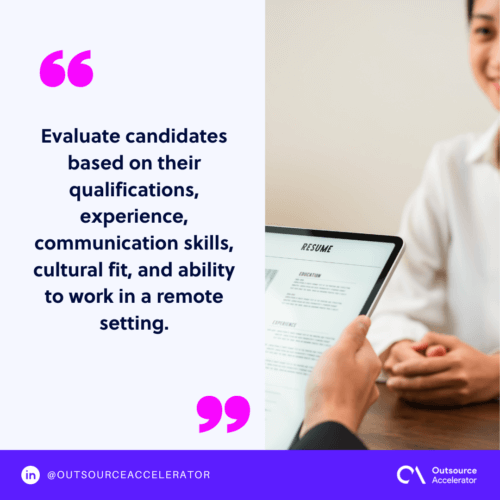 6. Check references and past work experiences
Verify references and work history to gain insights into a candidate's performance, reliability, and professionalism. Ask questions about their work ethic, ability to meet deadlines, and collaboration with others. 
7. Consider a trial period
To ensure a good fit, consider implementing a trial period or pilot project before committing to long-term contracts. This allows you to further evaluate the offshore staff's performance and compatibility with your work culture. 
By following these tips, you can increase the chances of finding the right offshore staff who will not only meet your business needs but also contribute to your company's growth and success. 
Set Up My Offshore's staffing solutions
If you're a small to medium-sized business looking for cost-effective offshore staffing solutions, look no further than Set Up My Offshore. 
SUMO provides highly skilled and collaborative offshore staff based in Manila. 
With Set Up My Offshore, you can build the dream team you want and need without the hassle of recruitment, training, and ongoing management. 
SUMO goes to exceptional lengths to cultivate an environment of growth, teamwork, and results for your staff. 
Get in touch with Set Up My Offshore today to explore your offshoring options!