My company spends millions of dollars yearly promoting fantastic offshore staff at ridiculously low salaries.
However, people are often surprised – or shocked – if there are costs on top of the salary.
Who's profiteering?
Some clients get incensed that outsourcing firms try to make a margin on top of the hard work of others.
Let's look at some typical costs (USD):
$600/mo salary

$120 Govt. contributions (@20%)

$600 outsourcing service fee (facilities, employment, etc.)

Total cost: $1,320/mo
For those shocked that a $600 salary can turn into a $1,320 total cost, let's dive deeper into this for a minute…
The real cost of employment
In real life, in every country, there are whopping costs on top of a basic salary. Usually:
Employee benefits

Payroll taxes

Training and development

Recruitment and onboarding

Equipment and supplies

Office space and utilities
In the US, the typical total cost of employment can be anywhere from 1.25 to 2 times the base salary, meaning if someone earns $50,000, the total cost could be anywhere from $62,500 to $100,000.
In the Philippines, employee benefits and taxes typically cost 20%-25% of the base salary. Then the recruitment, onboarding, and any costs for hardware and office space are on top of that (just like in your country).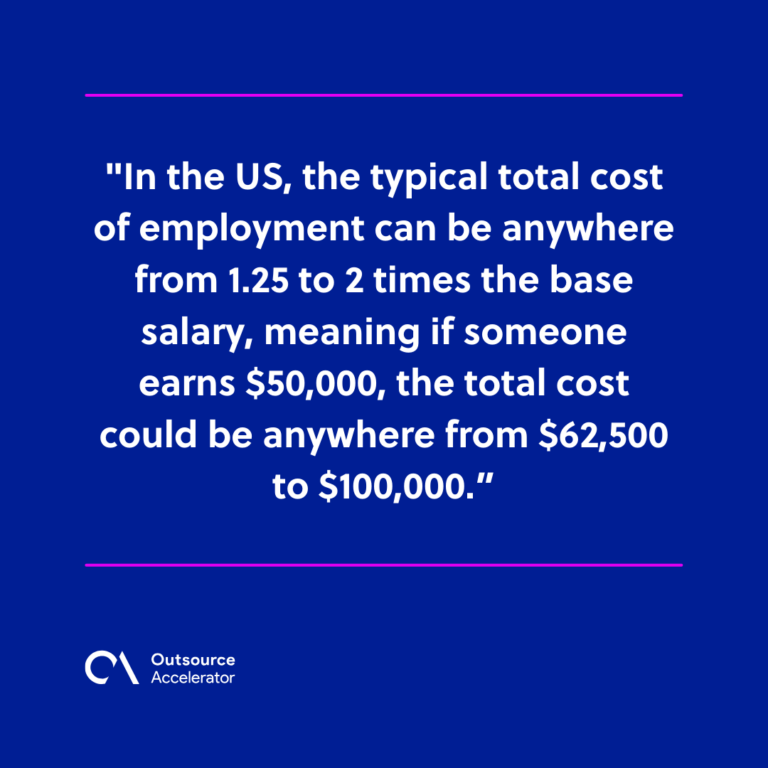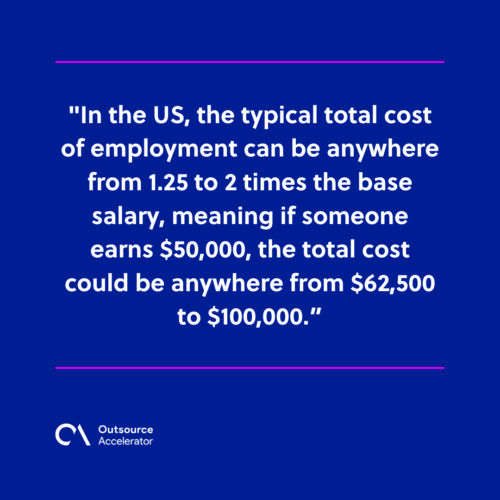 How outsourcing firms work
Typically outsourcing firms provide all of these services for a fixed fee. They provide staffing, compliant employment, and facilities so that the client can focus on running their own business.
Often, these fees would cover (i) office facility and infrastructure, (ii) hardware and IT, (iii) legal employment, compliance, and payroll, and also (iv) the account management between client and staff.
It's basically like the WeWork model – on steroids.
Outsourcing firms typically charge $300-$1,000/mo for these services.
Necessary margin
Before people accuse the outsourcing industry of exploitation (which happens all too often), it's worth remembering that 'markups' happen all the time in the US, UK, and beyond.
A typical SEO, marketing, or design agency usually 'charge out' their staff costs at a 3x multiple. If an agency has three employees earning $100k each, they will need to charge $900k just to cover expenses and make a safe margin. In fact, this 3x billing ratio applies to most professions – accountants, lawyers, and management consultants.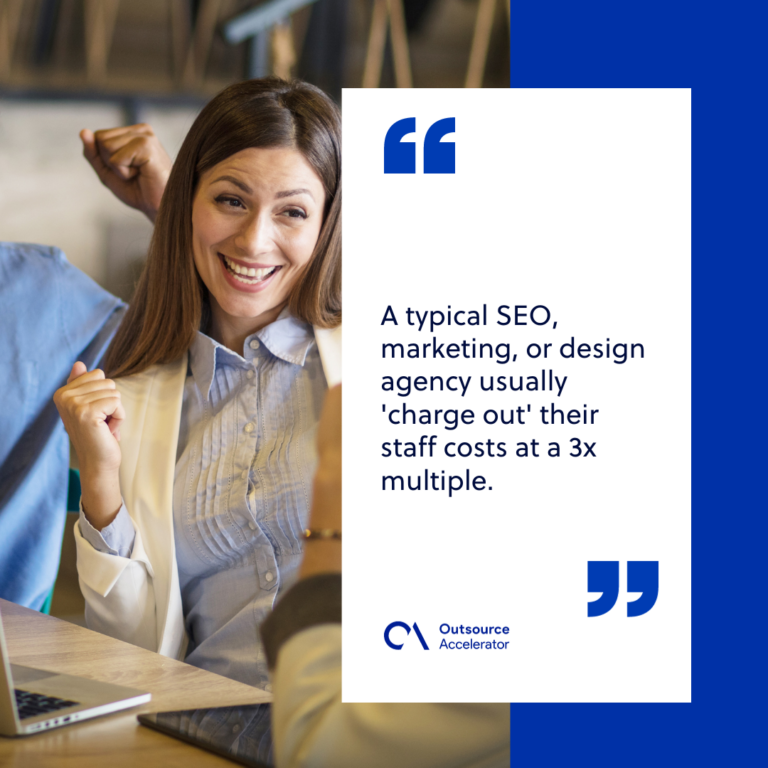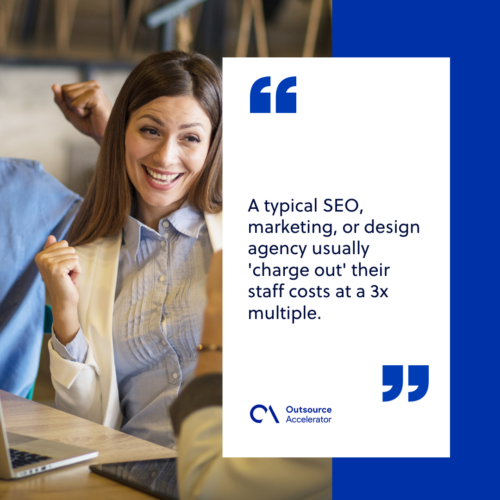 That's a 300% gross markup!
In the case of outsourcing, the markup is usually in the region of 60%-100%. And that covers all the facilities, hardware, and employment.
It's a good deal!
Wait, there's more!
The question for your business
What are the all-in costs of your employees?
Read more thought leadership articles here: