Hire bilingual virtual assistants working in the same time zone as you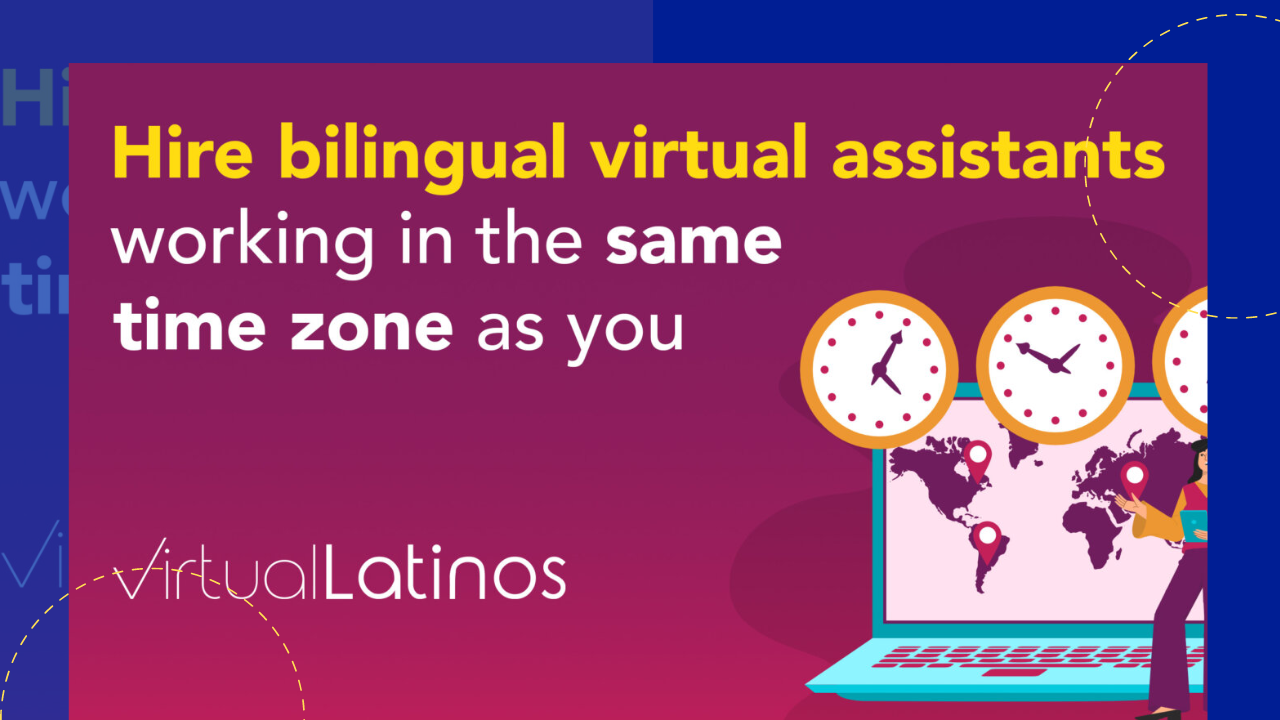 Hire bilingual virtual assistants working in the same time zone as you
This article is a submission by Virtual Latinos. Virtual Latinos is the first platform focused on connecting entrepreneurs, teams and agencies from the US, Canada and the world with virtual assistants and virtual professionals from Latin America.
Globalization is a very complex process that has influenced all areas of our lives. It is no longer a secret that your business has to expand its horizons beyond nearshoring if you want to stay competitive.
While English is not everyone's first language, it is the most widely spoken language in the world. Bilingual virtual professionals from Latin America with speaking and writing skills in English and Spanish/Portuguese are becoming a very reliable solution in the US and the world due to their competence, work quality, and ability to communicate in multiple languages.

A bilingual virtual assistant can help you reach a large international market. With a multicultural team, you can connect with people of different nationalities.
Hiring bilingual virtual assistants from Virtual Latinos is not only more cost-effective, but offers numerous additional benefits, such as professionals working in your same time zone. You will be surprised by how many companies take advantage of bilingual virtual assistants.
They are the best solution for your business needs!
What services can a bilingual virtual assistant provide?

A virtual assistant can be a huge help to your business, regardless of the size or industry you work in. The fact that they can work remotely makes bilingual virtual assistants an ideal option for most modern entrepreneurs and business owners of any industry.
Take a look at some bilingual VA roles that you can outsource: 
Virtual Administrative Assistant
Admin virtual assistants are gaining popularity as more and more businesses and individuals utilize the services of virtual assistants.
The range of administrative support services that can be outsourced includes bookkeeping, human resources, travel planning, personal assistants, virtual executive assistants, virtual office assistants, virtual receptionists, and other administrative support services.
Customer Service Virtual Assistant
Customer Support is one of the most important parts of any business. It is the first point of contact with your customers, and it is the last point of contact before they could decide to switch to a competitor.
A virtual assistant is a trained professional who knows exactly how to make customer interactions smooth and personable when making calls, sending emails, capturing orders, and responding to chat messages from customers.
Working with a virtual assistant allows you to take on more customers and offer them better service.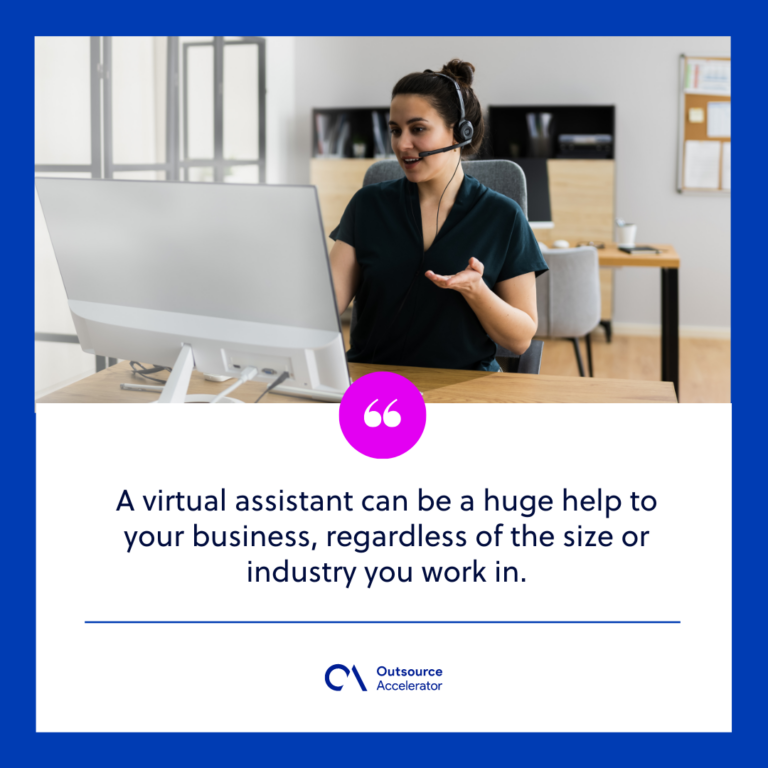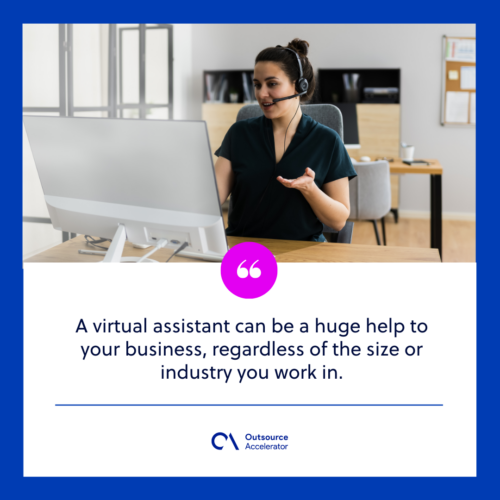 Sales and Marketing Virtual Assistants
​​Virtual Assistants in sales and marketing can greatly enhance business operations, and increase the likelihood of success. Having someone who can help with projects and take some of the load off of your shoulders is invaluable.
Virtual assistants perform a variety of services for their clients, but they usually focus on administrative and sales tasks, such as answering emails, scheduling appointments, creating and managing CRM (Customer Relationship Management) databases, and much more.
Digital marketing virtual assistants can also help with tasks related to content creation, such as copywriting, graphic design, and social media management.
Marketing assistants can even perform more specialized tasks related to SEO, paid ads, or project management.  
What are the benefits of hiring a bilingual virtual assistant?
It is no secret that the demand for bilingual virtual assistants has grown exponentially in recent years. This is because companies have an increasing need to reach their target audience and provide them with a service, ideally in their target language.
Plus, working with a virtual assistant is a great way to free up your time.
Your bilingual virtual assistant can assist you with tasks such as answering emails in your target language, managing social media profiles, and even creating marketing campaigns that require your website to be translated into the language you need.
Bilingual virtual assistants can help you reach a wider audience
Being bilingual gives your virtual assistant the ability to work with clients who speak a different language, such as Spanish or Portuguese.
If your assistant speaks the same language as your target audience, you will have an easier time reaching them and engaging them.
In addition, if you are a company that deals with clients who speak different languages, you will be able to provide a better and more consistent service to them.
Bilingual virtual assistants can help you save money on translation services
When you hire bilingual virtual assistants, you reduce the costs associated with translation services.
Although it may be tempting to rely on translation services to communicate with customers, you'll find that these services are often more expensive than simply hiring bilingual virtual assistants.
If you need to translate promotional content or written material into a different language, you can simply assign the task to your bilingual virtual assistant.
Bilingual virtual assistants can help you improve your communication skills
Virtual assistants are often hired to help out with administrative tasks, but they can do so much more than that.
They can help you connect with customers in their own language, especially if you yourself do not speak the same language as the customer. Some businesses are native to one country, but have office locations in foreign countries.
A virtual assistant may be able to help you with this, depending on their skills.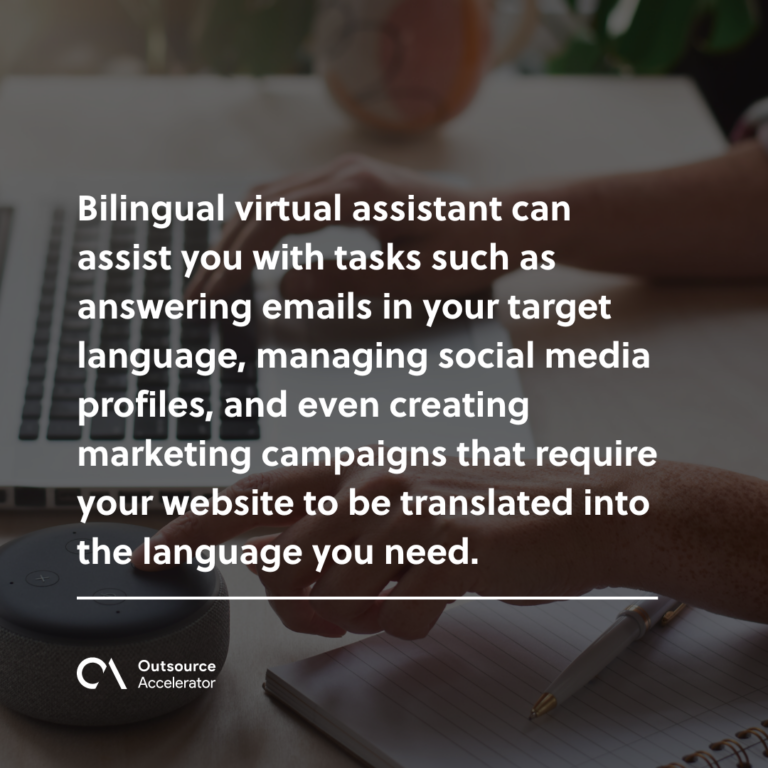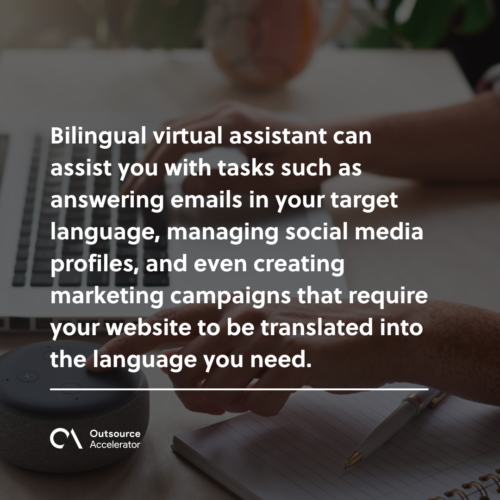 How can I find a bilingual virtual assistant?
So you need a bilingual assistant but don't know where to begin? Finding help can be tough, especially if you are new to the world of virtual assistants.
There are several ways you can find help, but here are a few tips to help you get started.

Look for a bilingual virtual assistant who has experience with the specific type of work you need 

If you want to hire a bilingual virtual assistant to help with a project or ongoing work, you want to make sure that you find one that is experienced with the type of work you need.
Before you start looking for a virtual assistant, make a list of all the tasks you want your future assistant to perform.
For example, if you need help with a particular software, make sure you find someone who has worked with that software before. Consider if you need someone with a specific experience in an industry or profession.
Have in mind the budget you can spend on a virtual assistant
Finding the perfect bilingual virtual assistant can be quite a challenge.
First, try to have in mind the budget you can spend on a virtual assistant; it will help you to better define your search. Think about your needs.
Do you need a bilingual virtual assistant for general tasks or for a specific one? Outsourcing your workload to a bilingual virtual assistant can be a very cost-effective deal.
Virtual Latinos Entry Level assistants are available starting at $8/hr, ideal for businesses that already have processes in place. Our Mid Level assistants start at $11/hr. If you need an expert with large experience, our Virtual Latinos consultants and strategists start at $16/h. Also, our prices are all-inclusive: No recruitment fees, access fees, setup fees or additional fees.
Make sure the virtual assistant is fluent in both languages
If you're looking for a bilingual virtual assistant, it's crucial to make sure they are fluent in both languages. Most importantly, your virtual assistant should be able to work in both languages effectively.
Virtual Latinos assistants are native Spanish/Portuguese speakers and have fluent English reading and writing skills.