Why should you hire a remote team from the Philippines?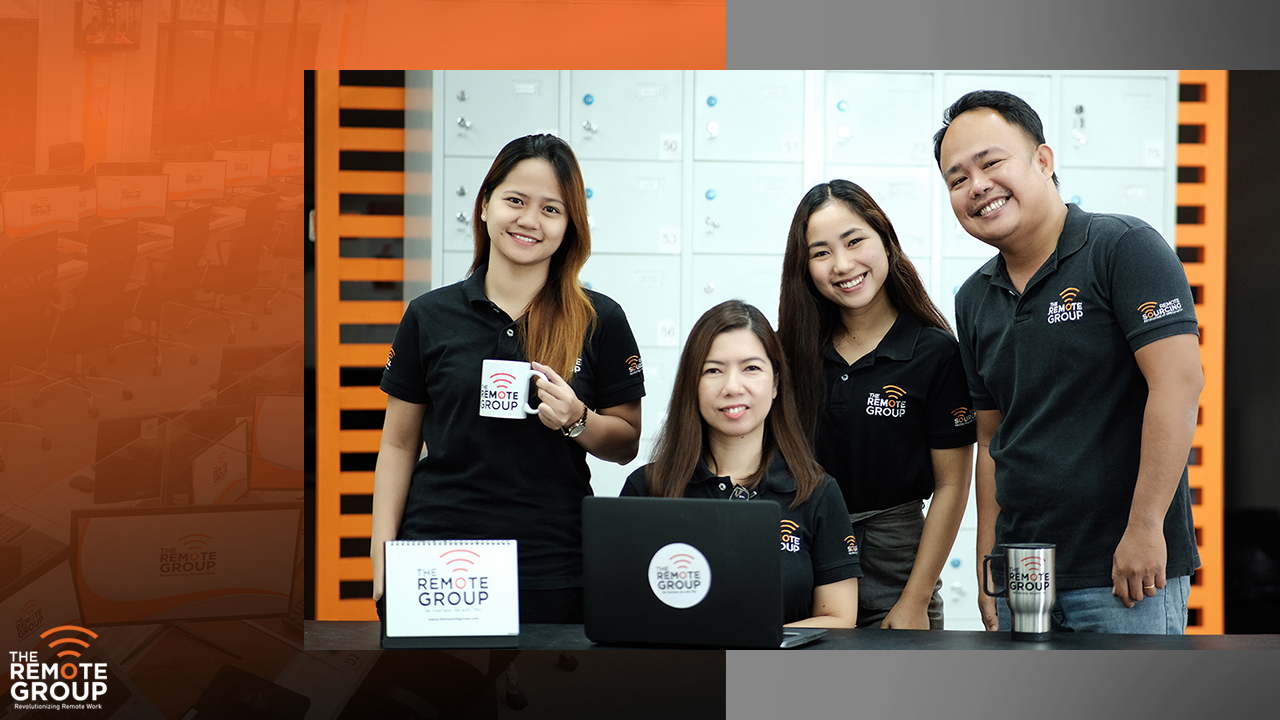 Working smarter in a highly competitive industry gives you an advantage over other businesses. For most start-ups and small companies, hiring a remote team is proven to be a very beneficial business strategy.
Remote teams provide a lot of benefits. Organizations can efficiently recruit and create a global network of experts to help them reach their goals. 
One of the popular countries most firms look to in hiring remote staffers is the Philippines. 
The contribution of a remote team to your operations
A remote team refers to employees who fulfill a shared business objective with a company's local staff but work in different locations.
The concept of remote teams has been around for a long time. However, the pandemic boosted its popularity and made it a standard practice in most industries. 
While hiring and managing remote employees can be challenging, there is a benefit to it. The following are some of them:
Low labor costs, depending on where the remote team is located

Reduced overhead expenses due to not renting office spaces and building infrastructure

Increased productivity as employees are given the freedom to work at their pace

Teams in different time zones can help companies work round-the-clock

A well-run diverse brings new opinions and perspectives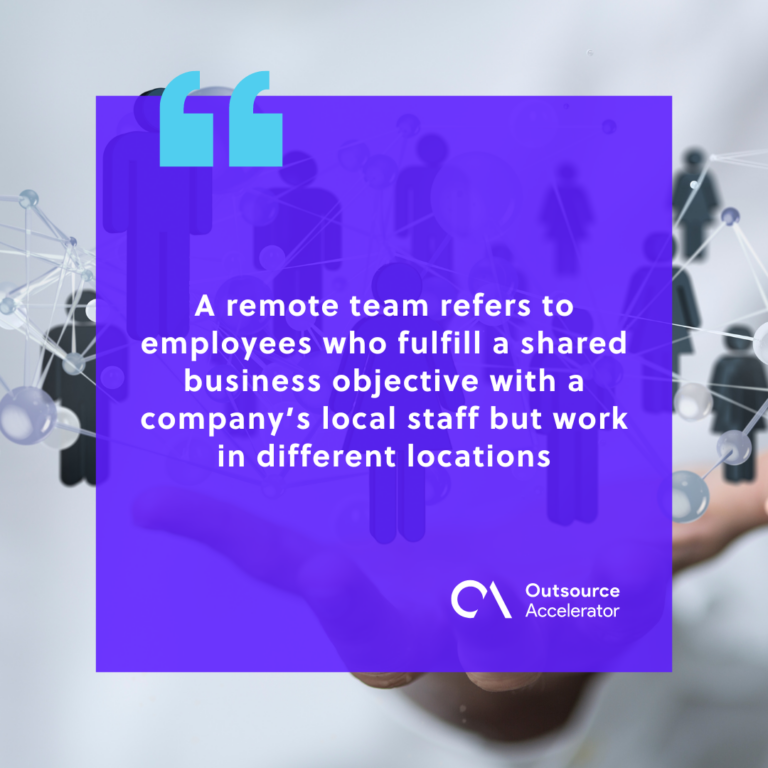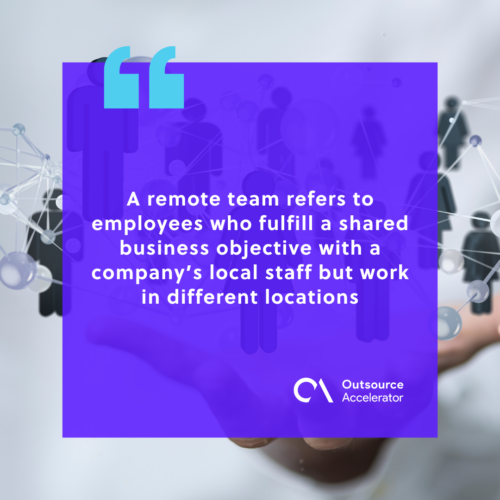 The Philippines and its rising remote workforce
As the health crisis continues, working-from-home is now seen as a long-term situation globally, especially in the Philippines.
According to a 2021 study by SEEK Asia, Boston Consulting Group, and The Network, 49% of Filipinos prefer working remotely. The country's digital shift also advanced exponentially for the "new normal" with 85% of work-from-home professionals.
The ability to complete office tasks at home made many Filipinos realize their potential to be part of a remote team. The country's large population — over 111 million people — enables it to provide a lot of skilled talents for potential employers.
The support of the government is also pushing remote working to new levels. Several agencies, and the local outsourcing industry, are endorsing the Filipino workforce to foreign businesses, highlighting their skills and abilities to the global market.
What is unique about Filipino remote teams?
Filipino remote workers are well-versed in meeting the needs of employers and efficiently finishing their workloads. Aside from this, hiring a remote team from the Philippines offers several advantages to businesses.
Low labor costs
Depending on the employee's location and the nature of their job, the average daily minimum wage in the Philippines could range between $5.70 to $10.61.
This minimum wage could cover all the essential needs of an individual. The outsourcing industry pays double that amount — reaching $20.31 per day for Filipino employees.
Despite the huge savings on labor costs, the quality of service is not sacrificed. The Philippines provides highly skilled talents at a fraction of the salary you would typically pay to an in-house employee.
English literacy
Another factor that employers consider when hiring a remote team is English literacy. During the period of colonization, the Americans had a significant influence over the country and its culture.
Even after its independence, English remains the second official language of the Philippines. Most of its citizens can fluently speak and understand the language. 
The ease of communication and lack of language barrier makes Filipino remote teams the ideal employees for any foreign business.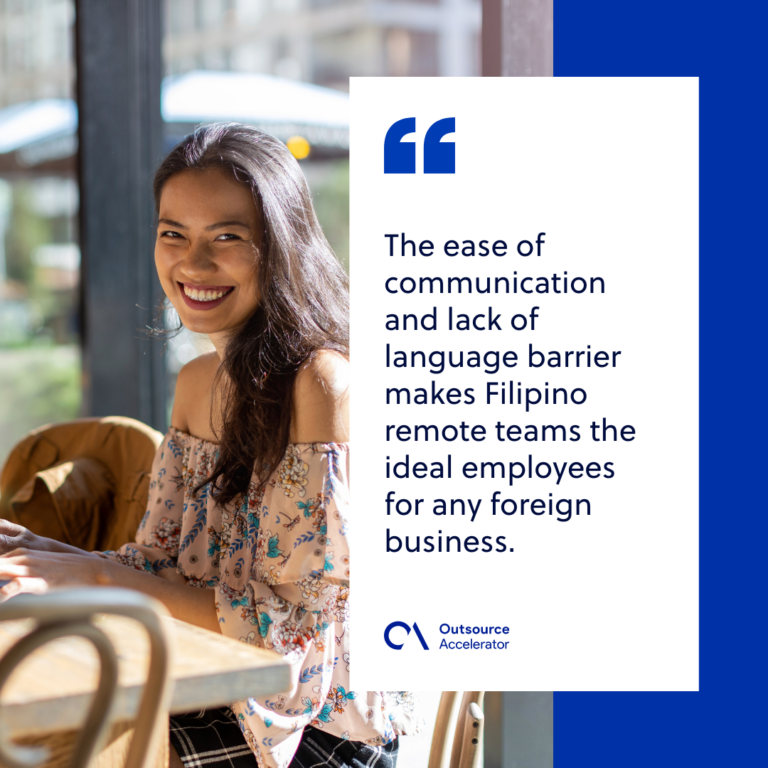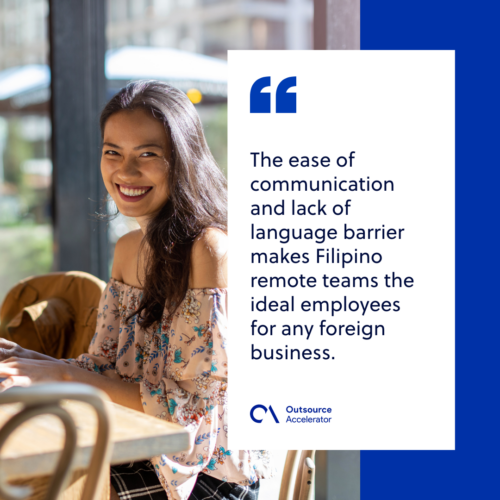 Hard workers
Filipino employees value hard work. They understand that success comes from doing well in their jobs and delivering excellent results. 
They are also known to devote endless time to earn money for their families. So if you want to hire a remote team that is dedicated to your organization's goals, Filipinos are the safest bet.
Working hours
It is not difficult to hire a remote team in the Philippines due to the flexibility of its working hours. Filipinos are not opposed to working overtime — pass the average of eight hours a day, five days a week format.
The local workforce is also open to mid-shifts or night shifts to cater to a company in a different time zone. Some are even willing to work weekends and holidays.
Data security and privacy
In this digital age, it is common for businesses to be concerned about their data security and privacy. 
To safeguard the digital security of firms, the Philippines has its Data Privacy Act. Under its provisions, violators can face up to six years of imprisonment and a massive fine of $20,000 to $100,000.
With the implementation of this law, your data remains secure and far from the reach of the wrong individuals.
Hire a remote team through The Remote Group
The easiest way to hire a remote team would be through an outsourcing agency, like The Remote Group.
Located in Pampanga, Philippines, The Remote Group provides quality talents and cost-effective solutions that extend a firm's in-house operations wherever they are in the world.
They support organizations of every size — from start-ups to established companies — with their world-class offshoring expertise, allowing them to focus on what they do best.
Moreover, their skilled talent pool tailors creative solutions to solve a company's specific problems while helping them save 70% of the overall salary costs.
Get in touch with The Remote Group now to start building the perfect remote team for your business.