Outsourcing help desk services to the Philippines via SixEleven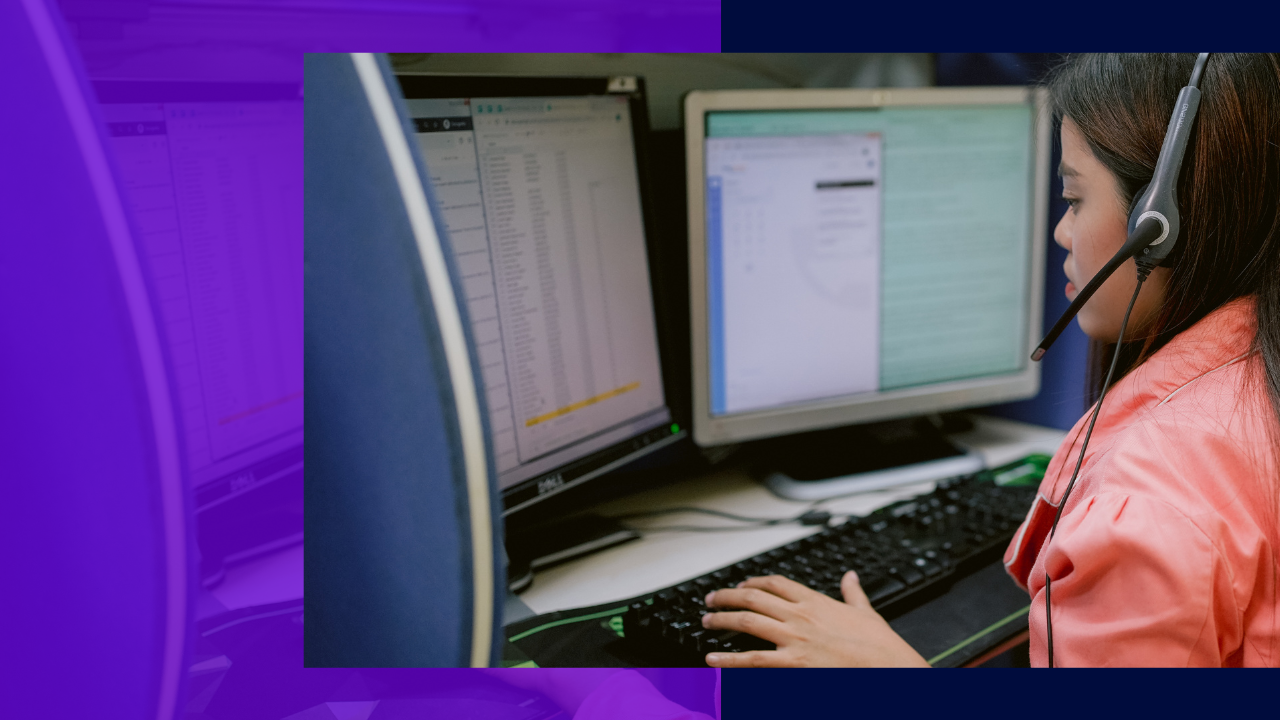 Outsourcing solutions are becoming increasingly popular for businesses seeking cost-effective ways of expanding their operations.
Due in part to the many benefits of outsourcing and the volume of mundane but still critical business functions that can be outsourced, many companies have opted to delegate these tasks to third-party service providers.
Among the business functions that outsourcers commonly entrust to business process outsourcing (BPO) companies like SixEleven are help desk services. 
While this business function often deals with repetitive tasks and processes that could be automated easily, these seemingly mundane tasks are nonetheless crucial to the entire business operations.
This is why many businesses enlist the help of outsourcing companies to take over their business's help desk service functions.
What are help desk services?
Help desk services are a part of a company's customer service operations. Similar to their real-world counterparts, help desk services act as the first line of support for a company's clientele when product or service issues arise.
Companies typically provide help desk services to their clients through various channels, such as email, live chat, live calls, or social media platforms.
Many companies also utilize help desk software solutions for a more efficient and streamlined help desk support process.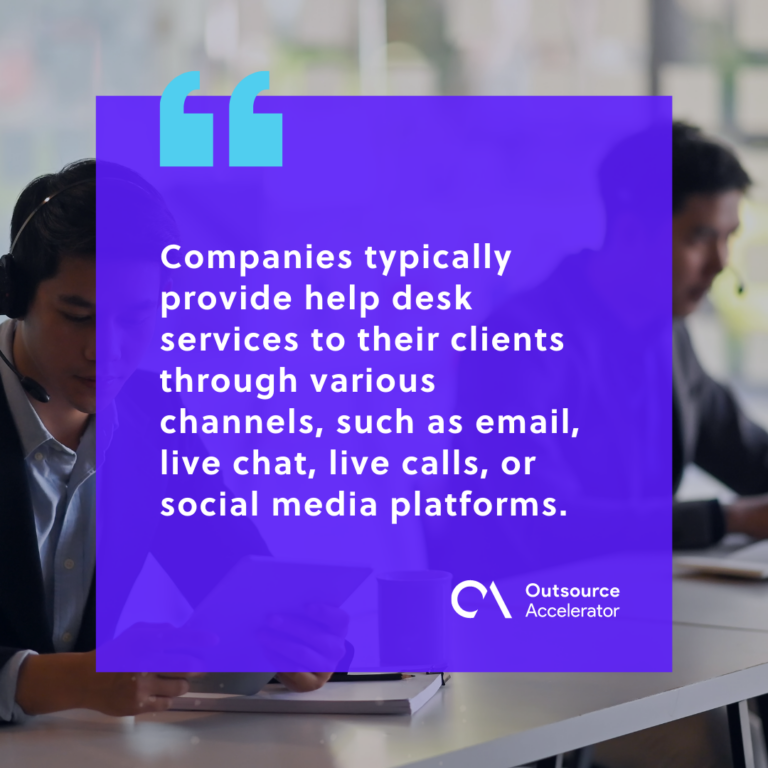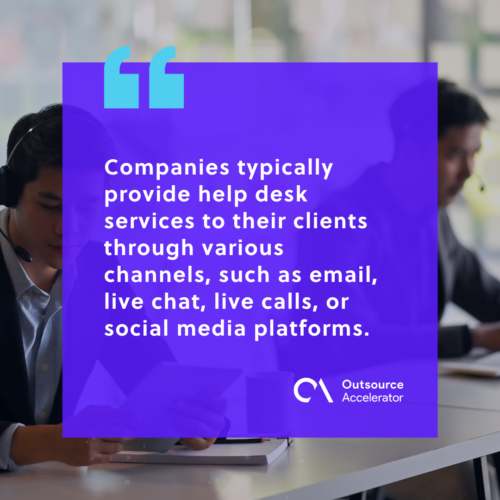 These software solutions provide a company's help desk services with an efficient ticketing system that collects client queries, complaints, etc., from different channels and transforms them into tickets to be assigned to agents.
By utilizing a ticketing system, agents can easily find unresolved queries or complaints and avoid wasting time working on already resolved ones.
Self-service help desk services
Although customers often expect to get in touch with agents when availing of help desk services, there are also self-service help desks that they can use to resolve issues without agent assistance.
These self-service portals contain self-help functions and give users access to information they would need to resolve issues without the help of agents and often at a much faster rate.
Aside from providing clients with an agent-free option for resolving issues, these customer-oriented helpdesk services also reduce the company's operational costs and increase productivity.
Is outsourcing helpdesk services a smart move?
Outsourcing has picked up in popularity over the years.
From being a tactical business solution, it has transformed itself into one of the norms for conducting successful business operations.
When it comes to your business's help desk services, outsourcing can bring you a host of benefits. Below are just some ways your business can benefit from outsourcing help desk services.
Reduced operational and labor costs
Cost-effectiveness is among the most-touted benefits of outsourcing, no matter the business function.
Outsourcing companies often operate in developing countries with a significantly lower cost of living than the outsourcer's country. This allows the outsourcers to save as much as 70% on salary costs for their outsourced employees.
Moreover, when you outsource your help desk services, you're outsourcing not only the agents but also the facility, software, equipment, and other necessary resources.
Access to 24/7 help desk service operations
Outsourcing companies are well aware of the time zone difference between them and their partner companies.
That's why outsourcing companies employ staff on a rotating schedule – to ensure that their client companies have access to operational help desk services no matter the timezone differences.
The rotational basis of outsourced help desk service agents also ensures that your customers will be entertained no matter the time of day.
Access to highly trained and experienced agents
Outsourcing companies make sure to provide their clients with agents who have extensive knowledge and experience in the functions they'll be assigned.
These companies are able to do this by conducting intensive hiring processes and combing through hundreds of applicants to find the ones with the most potential.
These applicants then undergo equally intensive training under industry experts before being deployed into the field.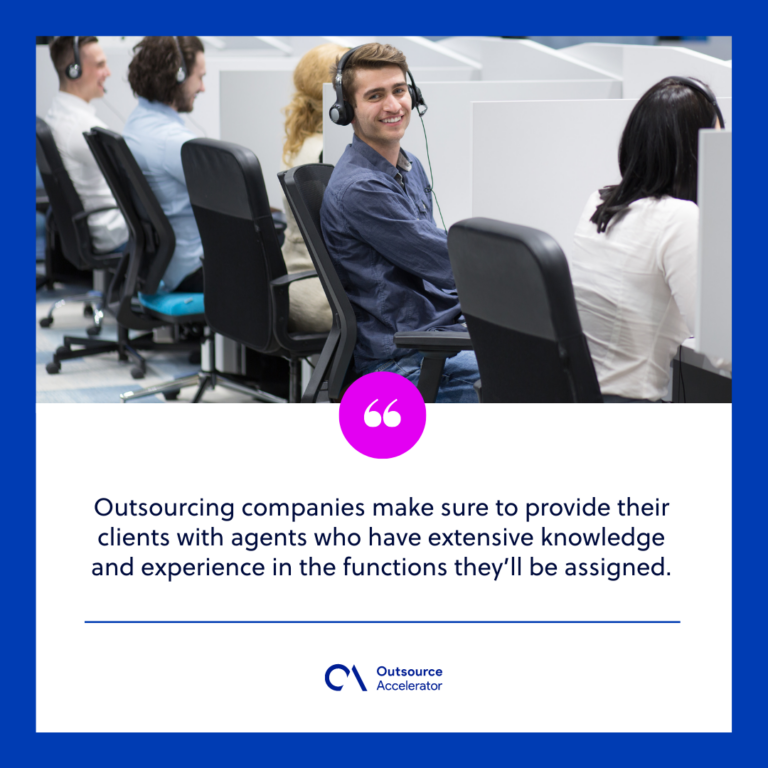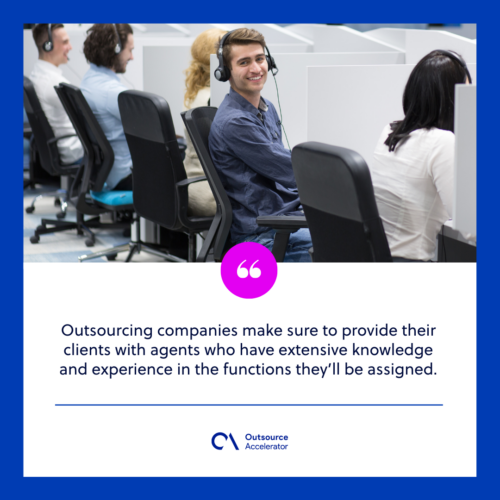 Why you should choose SixEleven as your help desk service outsourcing partner
SixEleven is among the Philippines' top BPO companies and has been in the industry for 15 years.
This Davao-based solution-oriented company specializes in providing its clients with top-notch marketing, sales, and customer support services.
With over 3,000 employees, SixEleven guarantees that your customers will never encounter a busy help desk service channel.
Moreover, SixEleven is well-prepared for any contingencies that may arise and hinder operations. The company has several redundancies in place in case of power outages, natural disasters, etc.
These redundancies include industrial power backups for computers and servers, generators, and three ISP lines from the country's top Telco providers – in all three of SixEleven's different and geographically separate offices.
Lastly, SixEleven knows that the volume of calls can fluctuate, especially during holidays or other similar occasions. Thus, it always ensures the availability of on-standby additional staff to tap in case of major overflows.