The future of outsourcing: Where is the industry heading?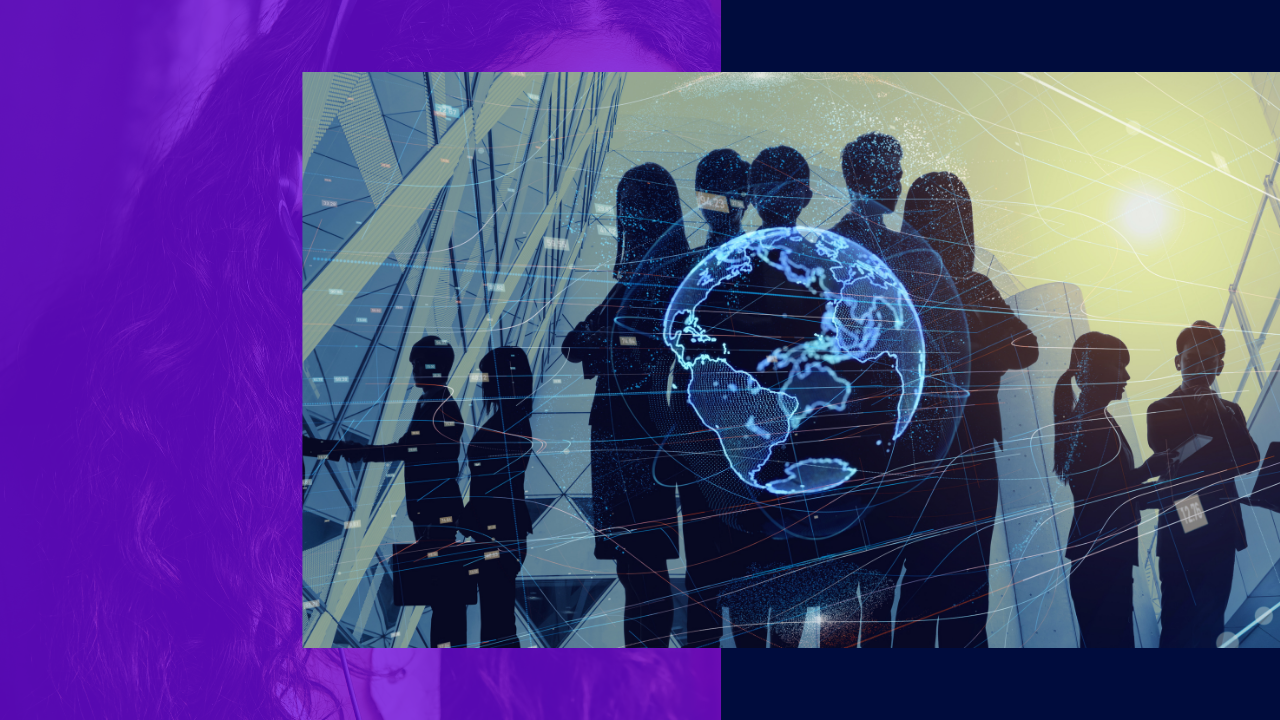 If you think the future of outsourcing is bleak, think again.
The COVID pandemic brought challenges and opportunities for companies around the world. Except with essential industries, brick-and-mortar stores and offices are forced to close down along with travel restrictions and lockdowns.
Outsourcing helped small businesses cope with the challenges brought by the lockdowns and provided stable business continuity for companies. 
Despite the threat of automation, the industry continued to adapt through the times – making its services more valuable to its clients. This made the future of outsourcing brighter and more digital.
This comprehensive guide provides a detailed projection of the future of the outsourcing industry.
The state of global outsourcing
Since traditional outsourcing started in the '80s, the industry has flourished along with the increasingly connected world. Most BPO destinations such as India and the Philippines that started with outsourcing call centers have expanded their services to more complex functions.
No function can't be outsourced nowadays. As a company, you now have to take advantage of running a business remotely. 
The industry overcame the challenges it faced with the changing times. In 2018, the global outsourcing market is said to be around $85.6 billion and reached a record of $92.5 billion the following year.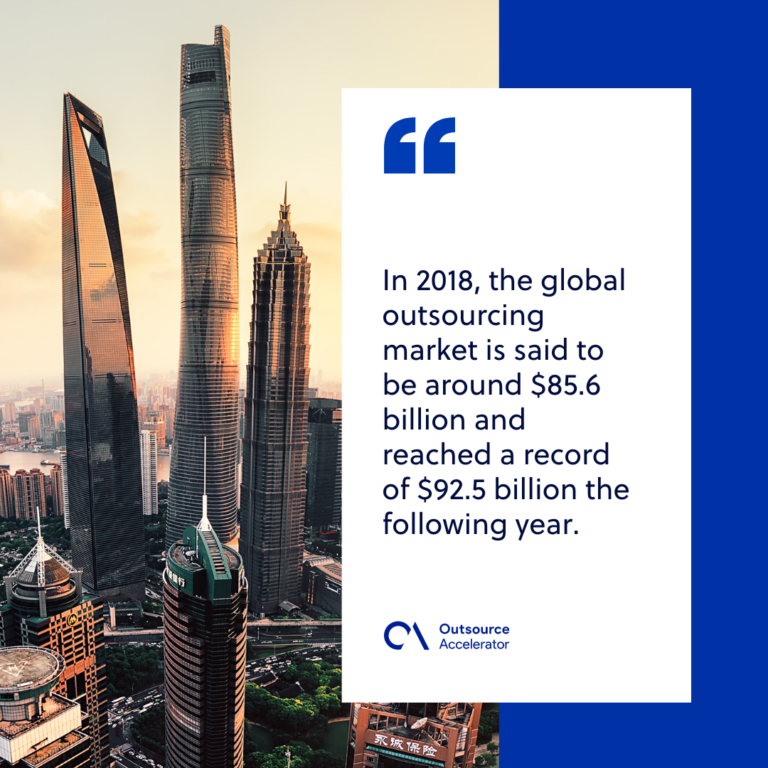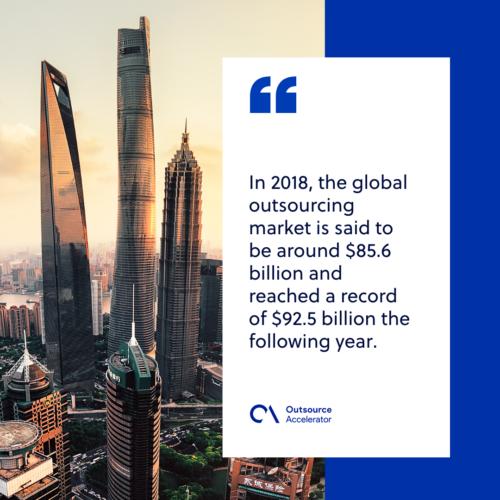 How outsourcing remains relevant
Experts have been projecting the uncertain "demise" of the industry. With the threat of automation at hand, it is expected that non-core and repetitive roles will soon become irrelevant, eradicating outsourcing in the future.
The pandemic proved that outsourcing is a timeless industry with endless possibilities at hand. It filled the gaps in certain aspects that companies once looked over and avoided. 
Particularly, the industry provided solutions for the following elements.
Ensuring business continuity
A Small Business Administration (SBA) report showed that around 25% of small businesses affected by disasters failed to reopen. Yelp even reported a higher rate of permanent close-downs in 2020, during the peak of the pandemic. 
One of the reasons for this is the lack of business continuity management even for startups. 
With outsourcing, surviving companies were able to ensure business continuity just when they needed it most. They could easily manage the risks and threats that come with running an operation. This way, these misses will be managed better with the help of their service provider. 
Cost-saving device
Cost-saving is one of the main reasons businesses decided to outsource during the pandemic. 
With physical stores getting closed down due to the lockdowns, startups and small companies could not keep up with their expenses and labor costs while they're losing profit.
The pandemic made companies realize that outsourcing is the best way to keep their expenses low while efficiently running their business. Not to mention they can easily plug and play with their services and scale them easier whenever they need it. 
Encouraging remote work
Remote working is not a new thing – companies like WordPress have been working remotely to their advantage. An increasing number of businesses have even intended to support remote work and balance it with in-house working in 2019. 
Yet, despite this, many companies are still hesitant about remote work, especially big companies. This is since they get used to managing their employees in a concrete office
A lot of adjustments had to be done when companies were forced to work remotely during the pandemic. Outsourcing made it easier for them to implement remote work and adjust to a digital environment as a way to provide uninterrupted service to their customers. 
Filling the talent gap
It is said that the pandemic even widened the existing talent gap worldwide. As the most in-demand jobs increased, more non-core work eventually became irrelevant, triggering an increasing gap between the demand and supply for workers.
Aside from this, small businesses could not hire suitable talents in-house with budget and travel restraints.
This is where outsourcing helped companies the most. Despite the local restrictions and limitations in hiring employees, companies were able to hire the best talents outside their location at a fraction of the cost of local teams.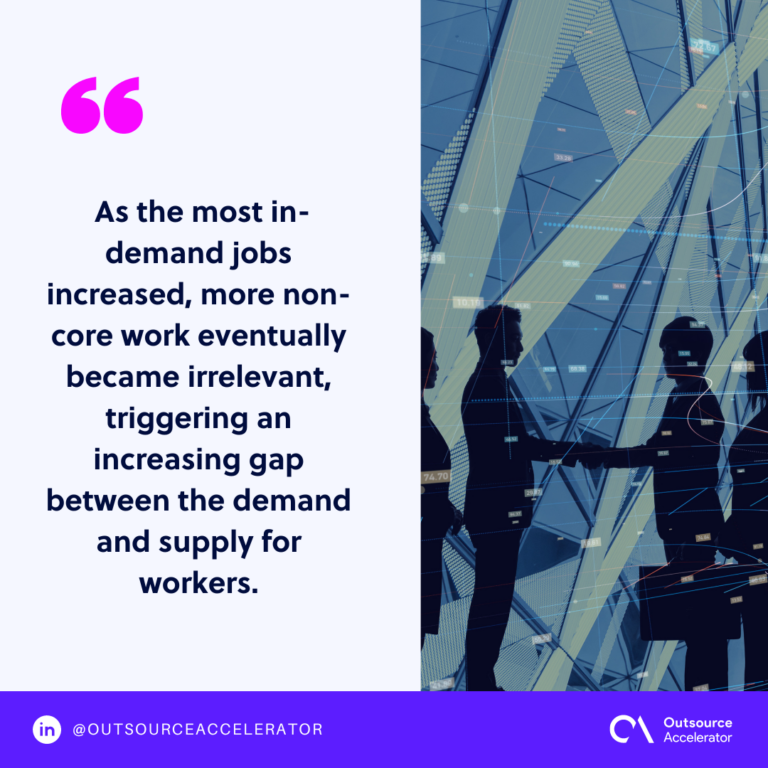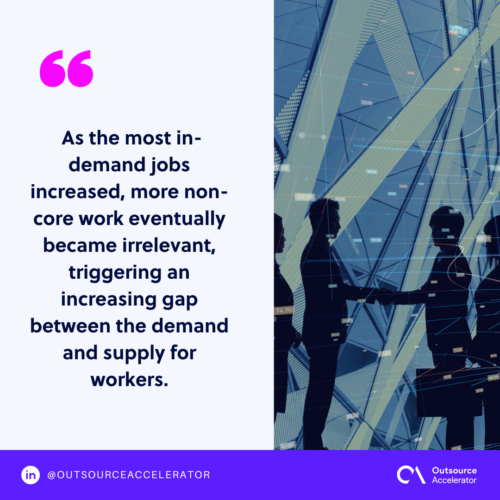 The future of outsourcing in the next years
Indeed, businesses should expect outsourcing to stay with the years forward. This is since the new normal obliges businesses to keep up with digital transformations and the increasing competition within their industries.
Research states that the outsourcing market will increase by US$40.16 billion up to 2025. Some of the leading outsourced services, including accounting, IT, and human resources will continue to be in demand for the following years.
Further, the rise of Business Process as a Service (BPaaS) is expected to add value to their clients. Businesses will see an increasing number of their workload streamlined and automated thanks to their outsourcing providers.
Trends that will change the future of outsourcing
As outsourcing continues to evolve, companies could expect certain trends that will further shape the future of the outsourcing industry.
BPOs embracing automation
Experts projected the fall of traditional outsourcing with the rise of automation and AI. Luckily, BPOs saw this as an opportunity to advance with their game even pre-pandemic.
Reports in 2016 stated that around 50% of BPOs still practice traditional outsourcing. However, more BPOs have started and planned to integrate robotic process automation (RPA) into their operations.
Much of these efforts are seen with the use of chatbots, remote tools, and cloud calling services.
Upskilling of workers
Automation could eradicate low-level work in the following years, making traditional outsourced services more irrelevant. This could create a domino effect for employees doing repetitive work.
Machines made repetitive work obsolete for years, with around 400,000 jobs lost from 1990 to 2007. In 2020 alone, millions of jobs got lost due to the pandemic with 42% of them projected to be gone forever. 
This calls for companies – especially BPOs – to upskill employees as much as possible. Some even started training employees and shifted to online training as a way to adapt to the new normal.
The rising popularity of outsourcing locations
Outsourcing isn't just limited to India and the Philippines now. Destinations such as Puerto Rico, Vietnam, and South Africa have slowly become popular to clients looking for alternative locations to outsource. 
Nowadays, companies have the option to outsource locally (onshoring), within their region (nearshoring), and still, in a country miles apart from them (offshoring).
Top BPO companies have even emerged from these rising locations, which can make it easier for future clients to outsource.
The importance of customer-centricity
Customer centricity is now "in." The increasing customer demands require businesses to add extra efforts in connecting with their audience base. 
For instance, e-commerce services have spiked during the pandemic since most people cannot go out. Clients even expect businesses to be reachable through their social media accounts and websites if they want to get noticed.
All in all, companies have now established their brands by putting their customers first in every step.
Cost and value as the key players when outsourcing
Gone are the days of outsourcing being a "cost center." Companies outsourced for decades mainly to cut costs and free up their time and effort. 
Though unknowingly, the longer they outsource, the more their processes improve, satisfying their customers better.
With the new normal approaching, BPOs started to transition from a cost center to a profit center by adding value to their services. BPOs now practice better workload management by streamlining services with the help of automation.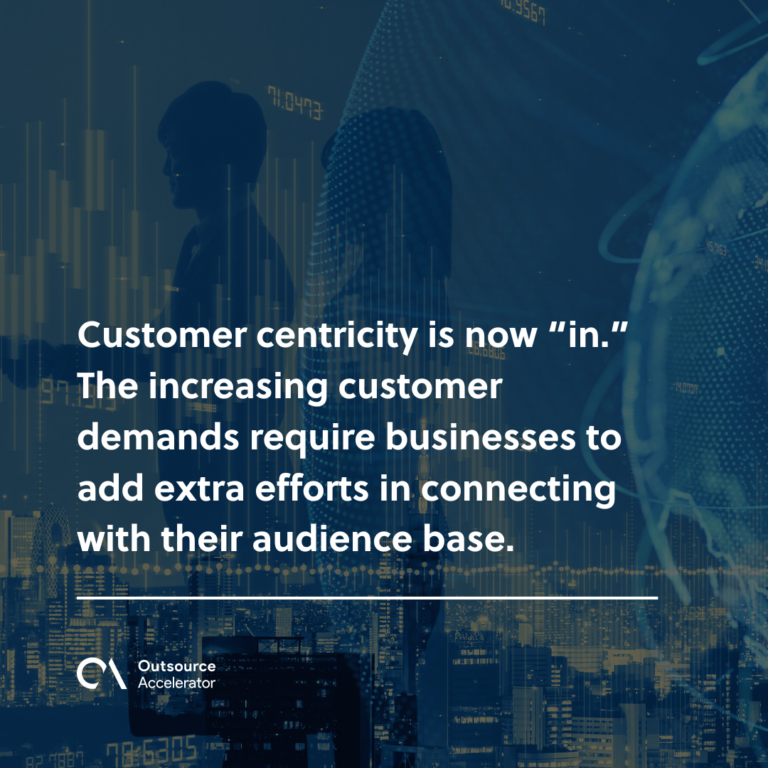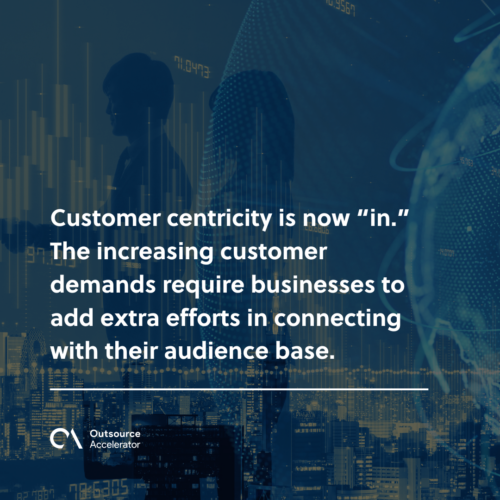 Should you outsource in the future?
Outsourcing in the future will be better thanks to further improvements in the industry. The breakthroughs and trends mentioned above proved that now is a great time to outsource services. 
As the world slowly becomes globalized, competitions between companies have increased while those that remained with their usual ways became irrelevant quickly. 
When a company outsources, they now get to keep up with their competition and adapt to the changes in the times better.
Getting started in outsourcing is easy – just a phone call or email away from service providers worldwide. Consultants such as Outsource Accelerator are there to educate first-time clients interested to dip their toes in the industry.
However, organizations must carefully plan their moves and avoid making mistakes when outsourcing to ensure a better relationship with their teams.