Benefits of hiring healthcare virtual assistants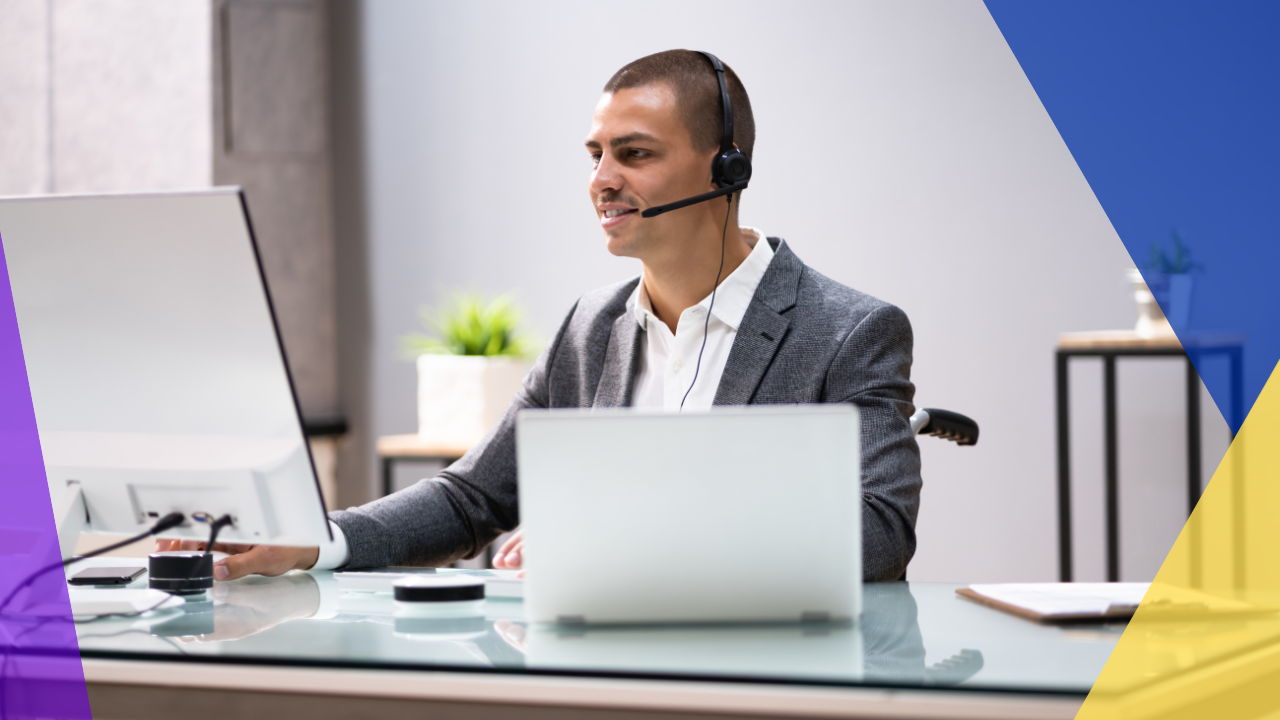 Benefits of hiring healthcare virtual assistants
The healthcare industry is constantly evolving and adapting to new technologies and innovations. One of the most promising developments in recent years is the use of virtual assistants in healthcare.
Virtual assistants, also known as VAs, are remote workers who provide administrative and other support services to businesses and organizations.
Healthcare virtual assistants can help with various tasks, from medical transcription to insurance claims and other administrative duties.
What does a healthcare virtual assistant do?
Depending on the requirements of the organization they are working for, virtual assistants in the healthcare industry can do a variety of jobs.
Their most typical tasks include:
Medical transcription
Medical transcription involves transcribing notes and other information from doctors and other healthcare professionals into a digital format. They can also input data into the patient's chart when a physician does a recorded dictation during a consultation.
This not only saves time for healthcare professionals but also ensures accurate and consistent records.
Insurance tasks
Insurance tasks include submitting claims, following up on claims, and handling patient billing. The virtual assistant can also handle all correspondence with patients' insurance companies. They can also confirm a patient's eligibility before preapproving medical care.
This can save healthcare professionals significant time and ensure that claims are processed correctly.
Triage
Triage is the process of evaluating the urgency of patients' care according to their condition. Healthcare virtual assistants can handle triage tasks, such as answering patient calls, scheduling appointments, and providing basic medical information.
This can help ensure that patients receive the care they need promptly.
Virtual reception
Phone calls can be answered by the medical virtual assistant as if there is an actual receptionist in the office building. They can address concerns, take messages, and forward urgent only calls. The same assistant can also work on other tasks while awaiting calls.
A virtual reception has a number of benefits. First, calls can be returned promptly. Second, the same individual will constantly answer the phone, which is excellent for establishing patient connections. Ultimately, spam calls can be avoided, especially if they take too much time.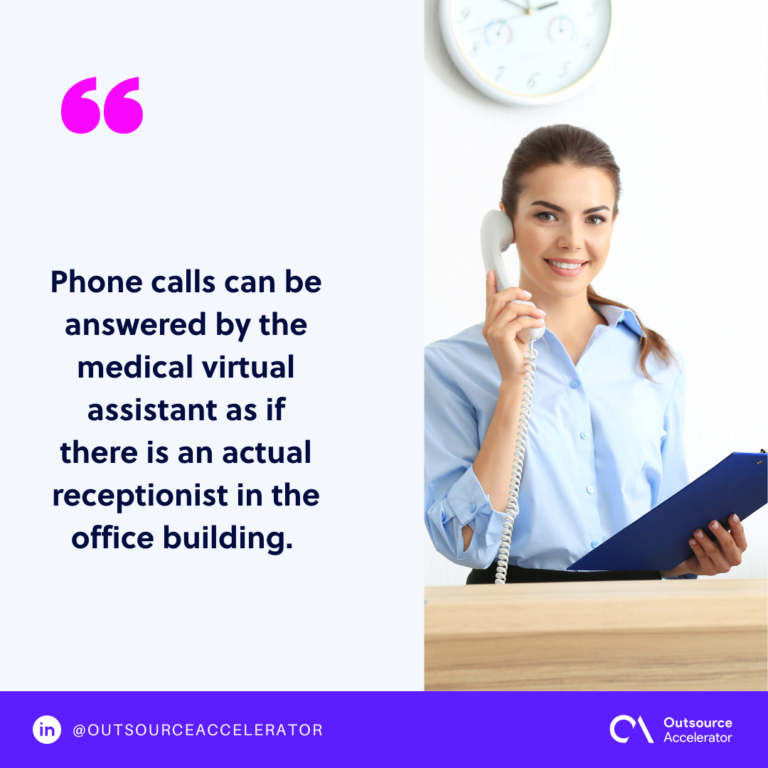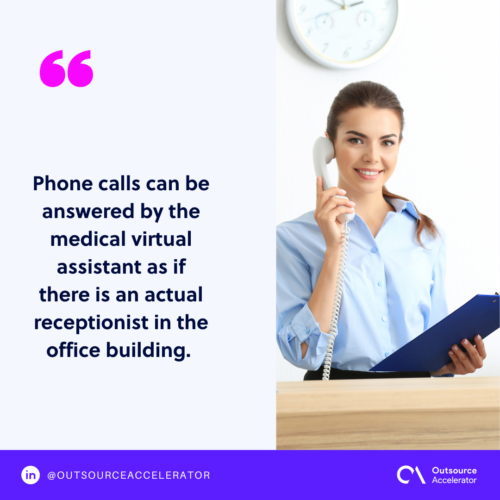 Admin Tasks
Believe it or not, administrative tasks are the ones that take so much time once piled up. These tasks include scheduling appointments, sending emails, and managing databases.
Admin tasks can help ensure that healthcare professionals have more time to focus on patient care and on their practice.
Managing medical records
Healthcare professionals can turn to virtual medical assistant services to help them better manage medical records.
Virtual medical assistants can assist in managing and maintaining electronic medical records (EMRs), such as diagnostic test results and treatment plans. They can help practitioners transition into more effective records management by transferring physical documents into electronic medical records.
Essential skills of healthcare virtual assistants
To be effective in their role, healthcare virtual assistants must possess certain skills. Some of the most important skills include:
Reliability
Professionalism is fundamental in healthcare virtual assistants. They must be careful to stay true to their commitment to being on time, be dependable consistently, and complete jobs with excellence.
Accuracy
High focus and attention levels are needed when taking down patient information, particularly about insurance coverage, medical directions, and health histories. Each word and number matters.
Keep in mind that patient health is at stake. Thus, providing accurate information is crucial for providing the best possible care. Healthcare virtual assistants must be able to transcribe information correctly and ensure that patient records are accurate.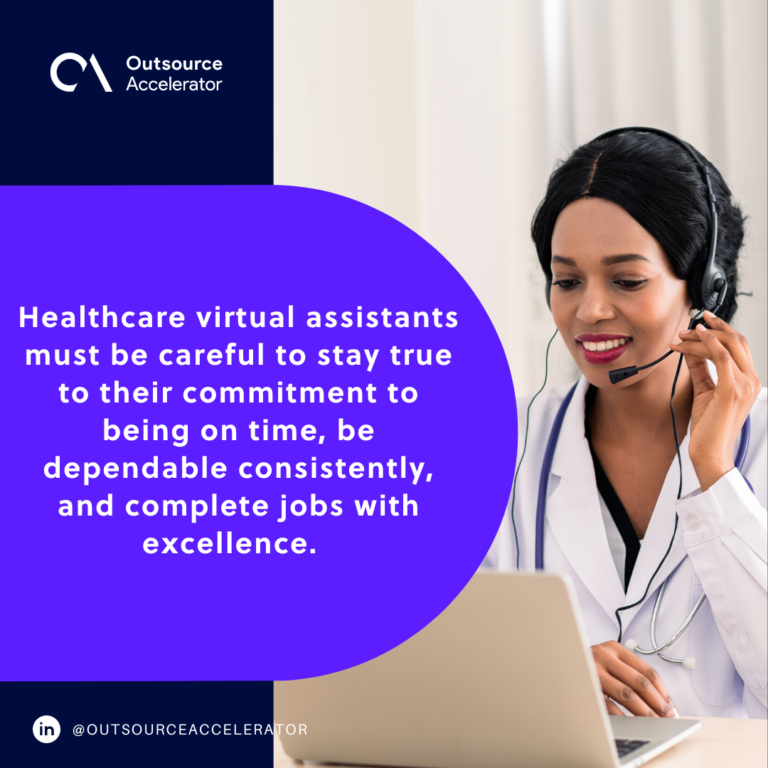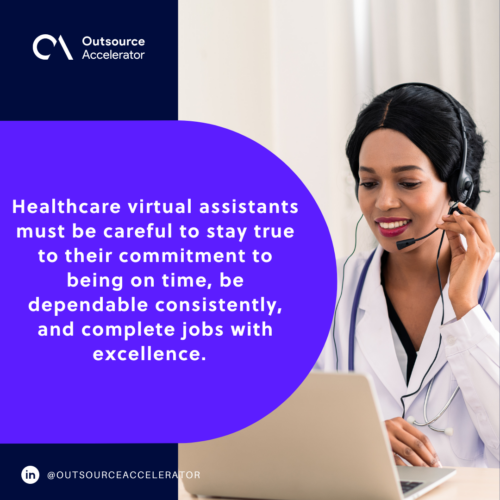 Communication skills
Doctors must constantly be aware of the progress of their activities. As a result, it's crucial to ensure that all instructions are given and accepted with the appropriate context and clarity.
Even when dealing with patients, clear communication that includes context and all relevant details is necessary when giving care instructions or status updates.
That's why communication skills are also important for healthcare virtual assistants. They must communicate effectively not only with the doctors but also with the patients and other stakeholders.
Self-directed
Self-direction is also an important skill for healthcare virtual assistants. They must be able to work independently and handle tasks without close supervision.
Due to the enormous tasks involved in everyday operations, they should be disciplined to complete jobs quickly and effectively. Organizing work and planning will significantly impact how well tasks are completed.
Resourceful
Clinics and doctors don't have time to wait around. They deal with numerous patients and clients daily, making it impossible to give out information one-on-one.
Excellent virtual healthcare assistants are aware of this restriction. Therefore, they must be resourceful in developing ways to deliver and receive vital information.
Benefits of hiring healthcare virtual assistants
Hiring healthcare virtual assistants can bring many benefits to healthcare organizations. Some of the most important benefits include:
Cost-effectiveness
One of the biggest benefits of hiring healthcare virtual assistants is cost-effectiveness. They are typically paid on an hourly or project basis which can save healthcare organizations a significant amount of money in the long run.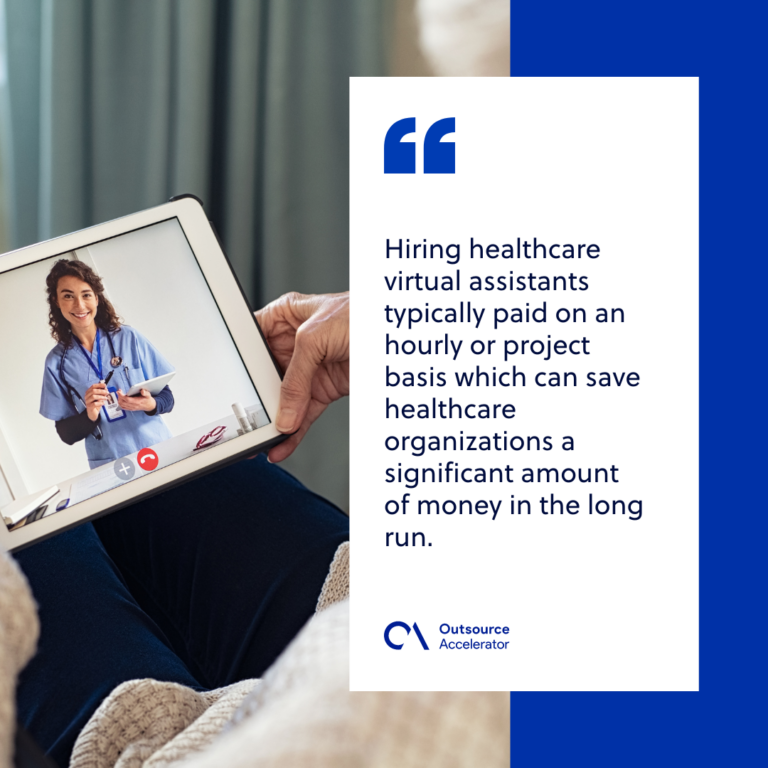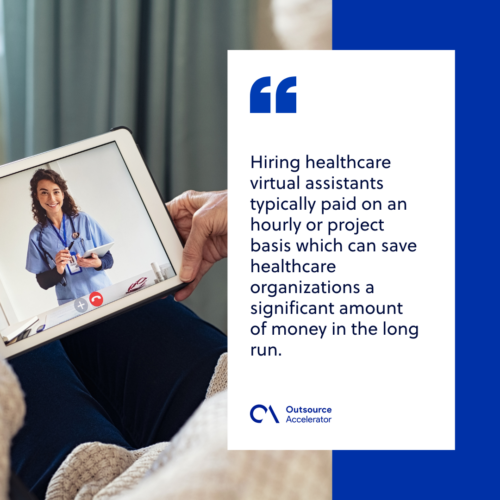 Enhanced patient experience
Virtual assistants can handle tasks such as triage and virtual reception, guaranteeing patients get the help they require on time.
They can also take in admin tasks, such as scheduling appointments, saving patients time, and making the healthcare experience more convenient.
Increased workplace productivity
Hiring healthcare virtual assistants can also lead to increased workplace productivity. They can be assigned to work on medical transcription and insurance claims, saving healthcare professionals a significant amount of time.
This can allow them to focus more on patient care and ultimately improve the overall quality of healthcare.
Exceptional workforce
Healthcare virtual assistants are highly skilled and experienced professionals who can bring a wealth of knowledge and expertise to healthcare organizations. They possess many of the same skills and qualifications as on-site employees but with the added flexibility of working remotely.
This can help healthcare organizations to have an exceptional workforce that can be relied on to deliver high-quality services.
Healthcare virtual assistants aid businesses in the industry
Hiring healthcare virtual assistants can bring a host of benefits to any business or individual. They can perform various tasks, which frees up valuable time for physicians and other medical professionals. This enables them to focus more on their patients and also their practice.
These virtual assistants can also provide cost savings as they do not require benefits or office space and can work flexibly. They are highly capable and can bring diverse skills to the table.
In today's fast-paced and digital world, medical virtual assistants can be crucial in helping healthcare businesses stay organized, efficient, and on top of their game.
Overall, hiring a healthcare virtual assistant can be a wise investment for medical establishments looking to streamline their operations and increase productivity.