Importance of healthcare consulting in the healthcare industry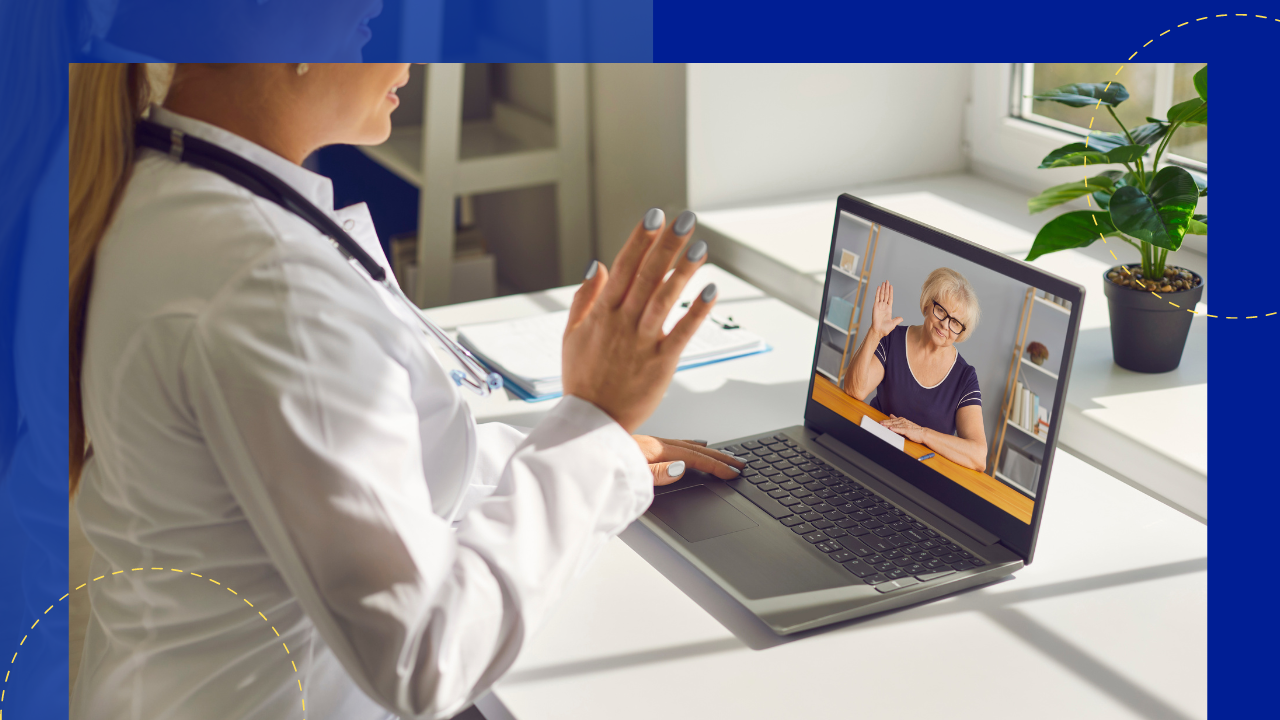 In healthcare, change is continuous, as seen by the emergence of new technology, laws, and patient requirements.
Healthcare organizations must adopt effective strategies and best practices to successfully keep track of the complicated and ever-changing landscape of the healthcare sector. 
But to do this, they need professional guidance. This is where healthcare consulting comes into play.
Definition of healthcare consulting
Healthcare consulting is where medical professionals specializing in this field guide and encourage healthcare businesses to make smart decisions.
A healthcare consulting service offers businesses effective methods and advice to move in a progressive direction. Healthcare consultants provide patients with advice, sympathy, and support to reach their full recovery.
Proactive healthcare consultants also recommend effective resources to improve operations and achieve strategic objectives.
Further, part of the objectives of healthcare consulting is to help medical sectors improve processes and ensure all methods perform well.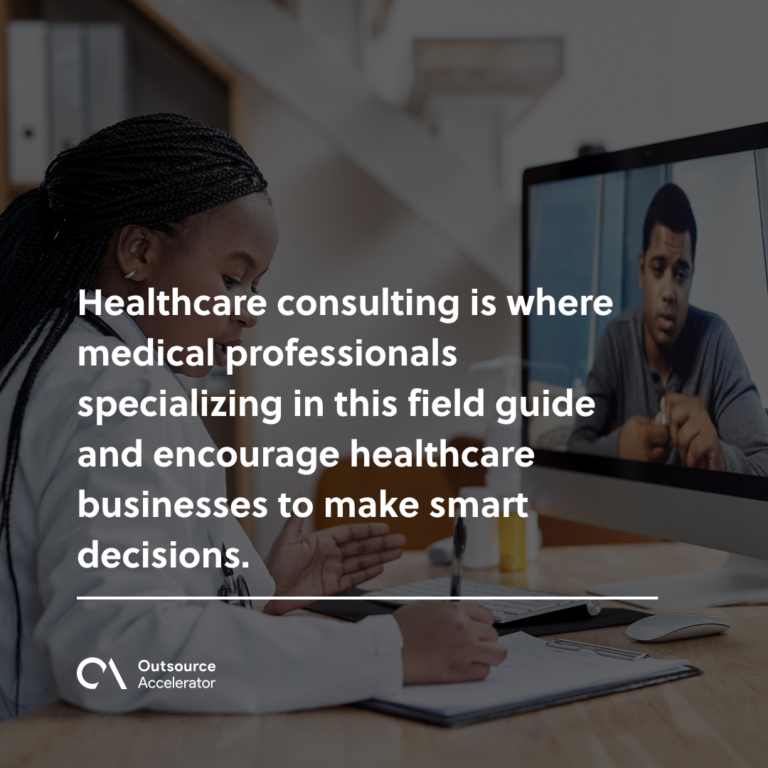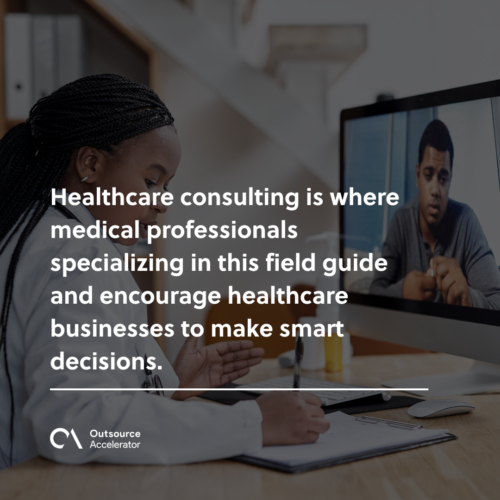 Benefits of healthcare consulting
Here are the following benefits of healthcare consulting:
Improved patient outcomes
Healthcare consulting hospitals or clinics are advised on how to improve patient outcomes and increase patient satisfaction.
For instance, a healthcare consultant recommends improving the appointment scheduling method of a hospital so that patients will be checked more quickly — resulting in fewer cancellations.
Increased efficiency and productivity
Healthcare consulting may help you enhance efficiency and production by assisting you in locating areas of your company that are underperforming.
For instance, if your hospital struggles to meet its goals for patient satisfaction surveys, a healthcare consultant can help determine why this is happening and recommend solutions.
Cost savings
Healthcare costs have been skyrocketing, especially during the pandemic. The good news is that there are ways to reduce these costs and make your practice more efficient — one is through healthcare consulting services.
Healthcare cost reduction typically requires staff analysis. Assessing personnel to cut expenses doesn't necessarily imply staff reductions.
Since hospitals have a nursing shortage, layoffs may not be possible. Healthcare consultants may advise on nurse retention, training, overtime reduction, and associate retention.
Better risk management
Healthcare providers always see to it that they have efficient risk management methods —- considering how patient safety and compliance must be attended to all the time.  
That's why most healthcare consulting professionals are always available, knowing that healthcare industries operate 24/7. This is to provide expertise in helping businesses improve their risk management procedures at any time.
The assistance of a healthcare consulting firm may also aid in identifying and managing potential hazards.
Overall, when there is better risk management in place, it reduces the possibility that an industry is engaging in illegal activity. It also ensures that the business is operating in a safe environment.
Enhanced decision-making
Healthcare consulting is an excellent way for healthcare providers to assist individuals in making more informed choices.
Healthcare consultants, for example, can give analysis and predictions. You can use these insights when deciding whether purchasing a new hospital product is needed or if that product is worth the cost.

Roles of healthcare consulting in the healthcare industry
As mentioned earlier, healthcare is a diverse sector. Healthcare consulting firms may provide their expertise to medical establishments with individual specializations and practices. 
The most common responsibilities of healthcare consulting are as follows:
Business strategy and planning
The primary role of a healthcare consultant is to offer assistance in strategic planning. Through healthcare consulting, they also contribute to developing company goals that align with its mission and vision.
Process improvement and operations management
Process improvement and operational management are vital to healthcare consulting. This involves enhancing department efficiency and system efficiency.
Regular audits or evaluations can highlight issues with organizational processes and financial statements in the healthcare organization.
Once process improvement and operational management have been placed, consultants will work with clients to develop solutions that address these issues to become more efficient.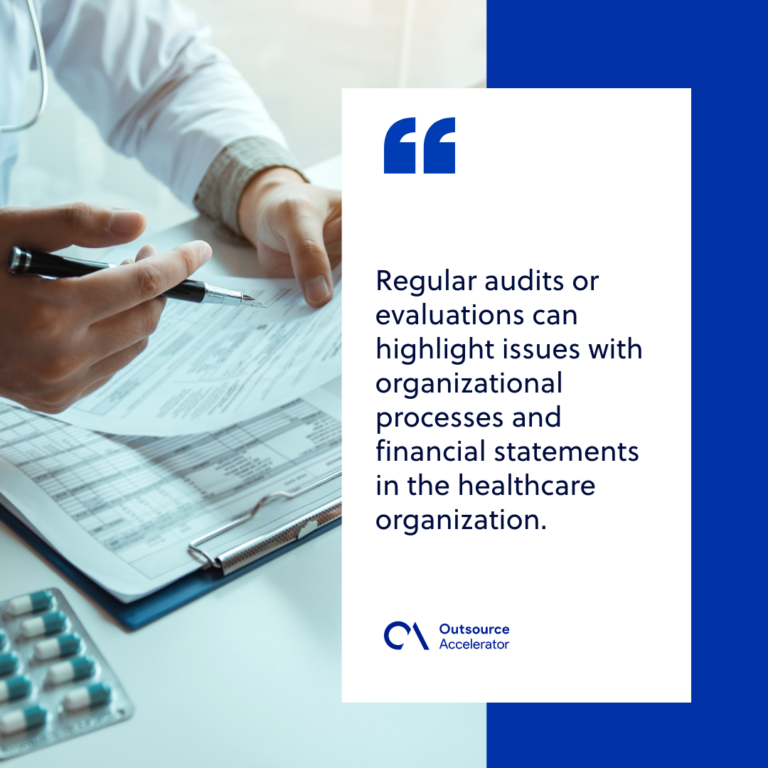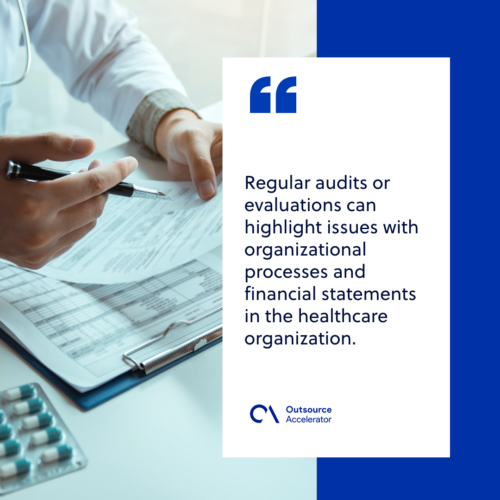 IT and data management
Healthcare consultants are responsible for the management and creation of new database systems, as well as the ongoing maintenance of existing healthcare databases.
Regulatory compliance and risk management
The healthcare industry strictly adheres to strict compliance and regulatory standards. Healthcare consulting firms can help you develop policies and procedures for the following:
Patient complaints

Disaster plans

Risk analysis
Healthcare consulting balances medical-related business operations
Healthcare consulting services are essential to the healthcare industry and other related fields. It offers guidance on creating new methods for raising the quality of care, improving decision-making, and promoting efficiency and productivity.
Further, if you consider reaching out to a healthcare consulting firm, find a reputable one with prior expertise and the ability to offer solutions supported by research and analytical findings.