Hard sell vs. Soft sell: Definition, pros, and cons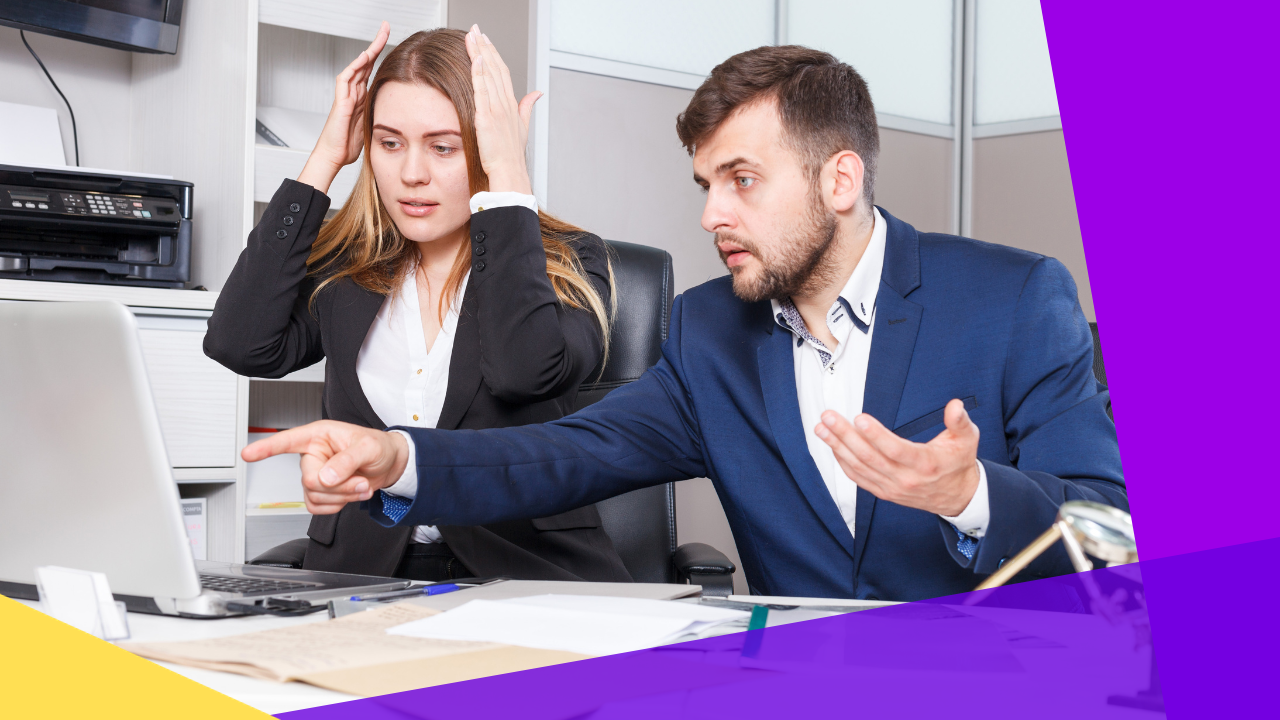 Sales tactics change along with the trends and preferences of customers. However, most principles and methods remain the same.
Companies can apply two selling techniques: hard sell and soft sell. In terms of sales psychology, each technique can be applied based on their approach to acquiring and converting their audience.
This article will explore the differences between Hard sell vs. Soft sell, examine their pros and cons, and their implementation in real-life scenarios.
What is a hard sell?
A hard sell is a direct, aggressive approach to selling where the focus is on closing the sale immediately. It focuses on a short-term approach to converting and involves extensive persuasion, triggering an emotional response from the buyer.
In hard-selling, salespeople make the product or service sound like the only solution to the buyer's needs.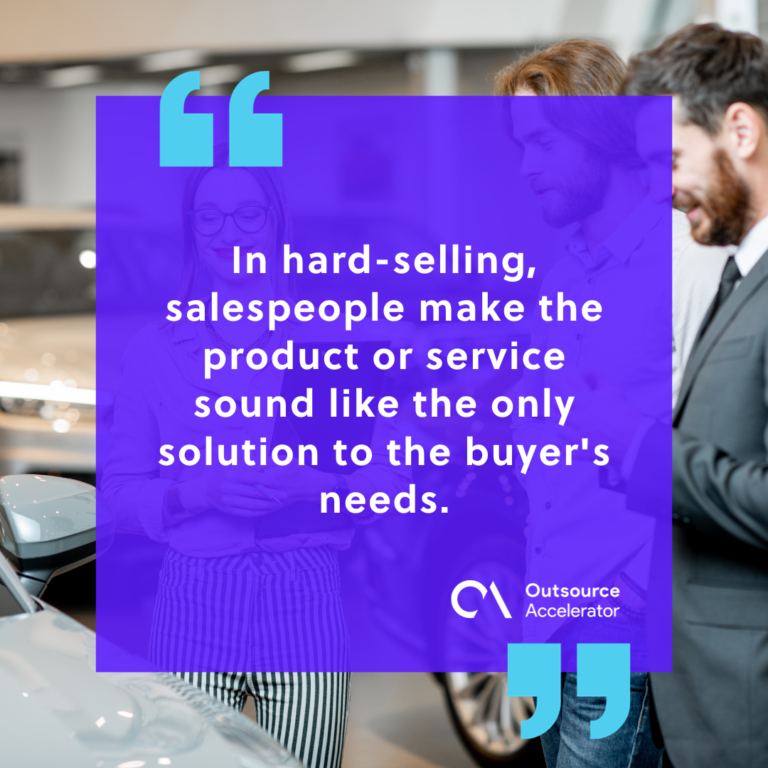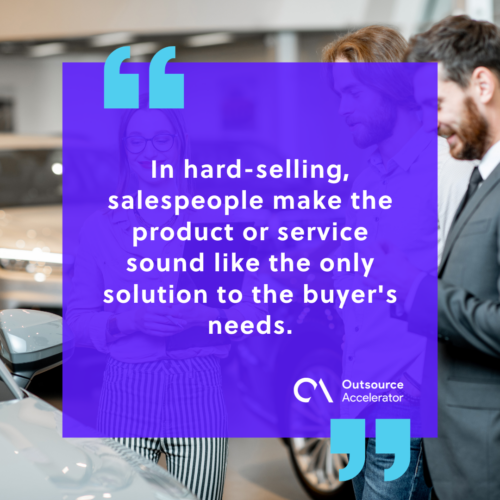 Pros of a hard sell
The primary advantage of a hard sell strategy is that it is extremely effective in closing sales promptly.
The urgency it creates for potential customers, especially in more expensive items, can drive them to purchase immediately.
Another advantage of a hard sell is that it controls the sales pitch flow. The sales representative leads the conversation. This approach gives him or her the power to present a product in the most favorable light and reap the rewards for a successful sale.

Cons of a hard sell
On the downside, the hard sell approach often leaves potential customers uncomfortable.
Hard selling can come off as pushy and aggressive, making customers feel forced to purchase even if they are not fully convinced that they want the product.
In a hard sell, there is also the possibility of alienating potential customers. Hard sell tactics may create a negative impression of the product or the company. This leaves customers feeling distrustful of doing business in the future.
Examples of a hard sell
"Act now," "Don't miss out," and "Only for a limited time" are the slogans commonly associated with hard sell.
One example is infomercials, where exaggerated claims of effectiveness are designed to get the buyer to take action.
Another example is car salesmen who use high-pressure tactics. This includes highlighting how many other people are interested in the car to get the buyer to close the deal.
What is a soft sell?
Compared to a hard sell, a soft sell is a more subtle approach aimed at establishing a long-term customer relationship.
The goal of a soft sell is to persuade customers to buy a product through its benefits without high-pressure tactics or a sales pitch overload.
A soft sell builds trust between the customer and the company by giving them a pleasant experience with the brand, even if they do not buy immediately.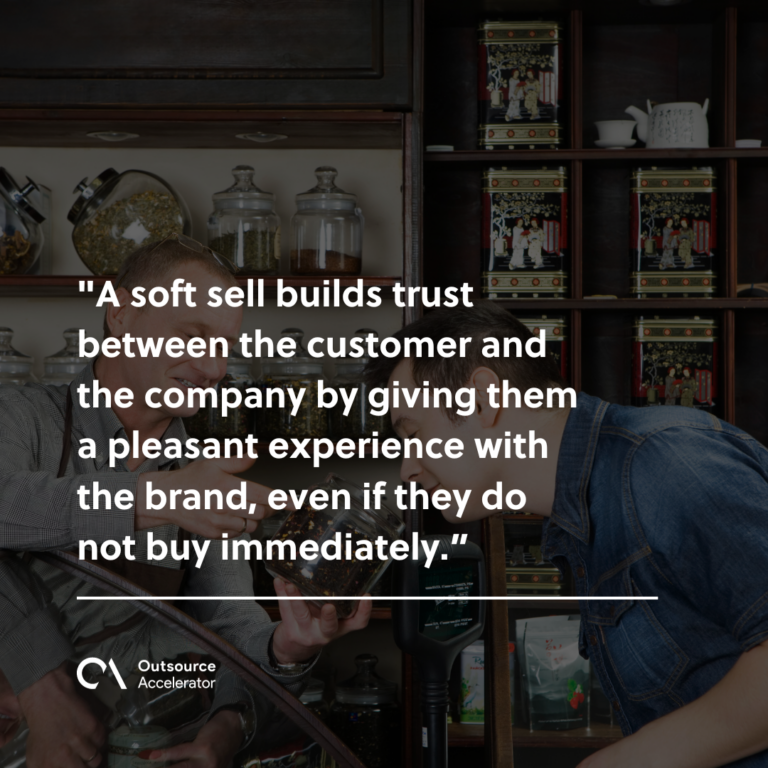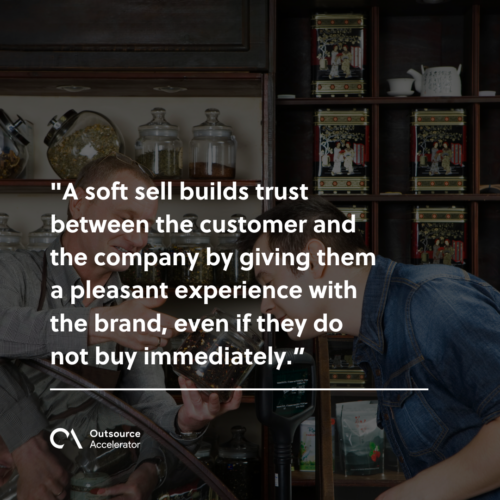 Pros of a soft sell
One of the primary advantages of a soft sell is that it creates a lasting relationship with the customer.
Soft selling focuses on understanding customer needs and providing solutions that customers feel comfortable with. It creates an in-depth relationship that enables the customer to trust the business and generate grounds for loyalty.
This technique usually results in better customer lifetime value (CLV) for each convert.
Soft selling is a more natural approach to building rapport and creating a positive image. It emphasizes customer satisfaction rather than individual transactions.
Cons of a soft sell
Soft sell is can be less effective at closing sales, particularly in more high-pressure scenarios.
Soft selling strategies can create an impression that the company does not care about sales or is not passionate about its offerings.
Another disadvantage of soft selling is that it is often more time-consuming.
Creating relationships with customers is a gradual process. It requires patience and time for communication and the relationship to develop over time rather than pushing for a quick sale.
Examples of a soft sell
Using long-form and educational content, such as blog posts, podcasts, and tutorials, is an example of a soft sell.
The creation of valuable and informative content helps to educate the customer and increase their familiarity and trust with the brand.
Customer surveys are another way of soft selling. This allows businesses to determine what customers enjoy about a certain product. It furnishes customers with a sense of ownership and opens the door for future interactions.
Hard sell vs. Soft sell: Know which selling technique to use
When selecting between Hard sell vs. Soft sell, it is essential to consider the product being sold and the target market.
High-urgency, time-limited, or sales items and high-ticket products may benefit from hard selling. On the other hand, long-term marketing strategies to establish brand affinity and a strong customer relationship might be better served by soft selling.
When selecting a sales approach, carefully consider the company's message and branding and align the selling techniques with it.