A rookie's guide to establishing brand affinity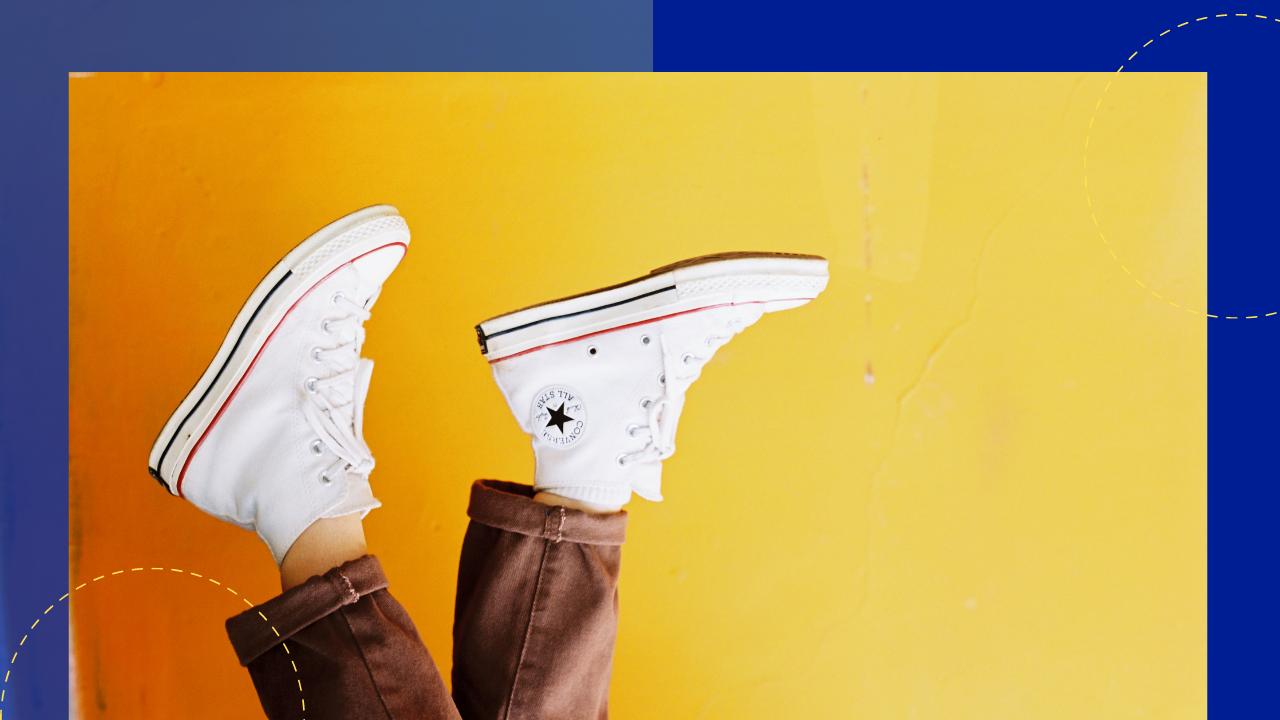 Building and maintaining a good relationship with your customers is one absolute way of keeping a loyal customer base. 
However, nurturing your connection with your customers is not all about setting their wants and needs as your priority. You also need to give them a reason to stay by working on your brand affinity. 
What does brand affinity mean? 
Brand affinity refers to how individual consumers perceive your brand. It is the emotional connection you build between your brand and your customers. 
When your customers feel an affinity for your brand, they will most likely: 
Choose your brand over other companies that offer the same products and services. 

Stick to using your products and services for longer periods. 

Demonstrate high levels of

customer satisfaction

.

Refer your products and services to other people. 
Your customers' purchase decisions are mainly influenced by their emotional and rational behavior. A big part of why customers choose your brand is when they recognize that you share the same values.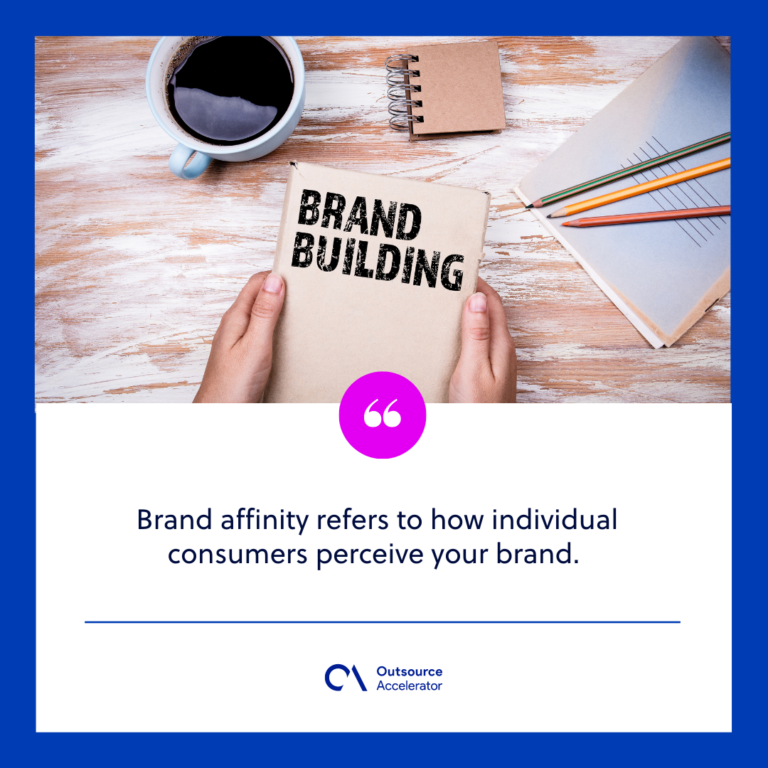 Brand affinity vs brand loyalty vs brand equity 
Quite often, brand affinity and brand loyalty are used interchangeably. Although they may seem to be very much alike, there is a fine line between the two. 
Customers may remain loyal to your brand, not because of the emotional connection. In most cases, they may opt to use your products and services because they're what they need and they offer value. 
Brand affinity is more than just brand loyalty. In general, you establish a connection with your target customers through brand awareness. As it deepens, it develops into brand loyalty, which then leads to brand affinity. 
Brand equity, on the other hand, refers to the value you are aiming to get in your target market. It justifies your overall brand value, difference, and brand-specific concept. 
Compared to brand affinity, it explains each customer's brand preference given a specific product or service category. 
How brand affinity supports your growth and development
Enhancing your brand affinity provides you with the following benefits: 
Boosts brand personality
To effectively establish your brand affinity, you need to work on your brand personality. Imagine if your brand were an individual, what human attributes would you associate with it? 
Your brand personality enables you to structure how your products and services will resonate with your target consumers. Once you've figured out what your brand personality is, use it as a reference in all your marketing efforts. 
Builds customer relationships
Building your brand affinity also comes with building your customer relationships. In today's digital age, customers prefer brands that can offer them a more personalized customer experience. 
Without cultivating a good relationship with your customers, they will not develop an affinity for your brand. 
Promotes trust among your customers
There is a certain level of trust as you build a strong relationship with your customers. Thus, the more trust you gain from your customers, the more they develop an affinity to your brand. 
Enhances customer satisfaction
Lastly, boosting your brand affinity can also help enhance your customers' satisfaction levels. 
When customers believe in your brand, they will most likely talk about it with other customers. As more and more happy and satisfied customers spread talk about your brand, more consumers will be encouraged to try out what you offer.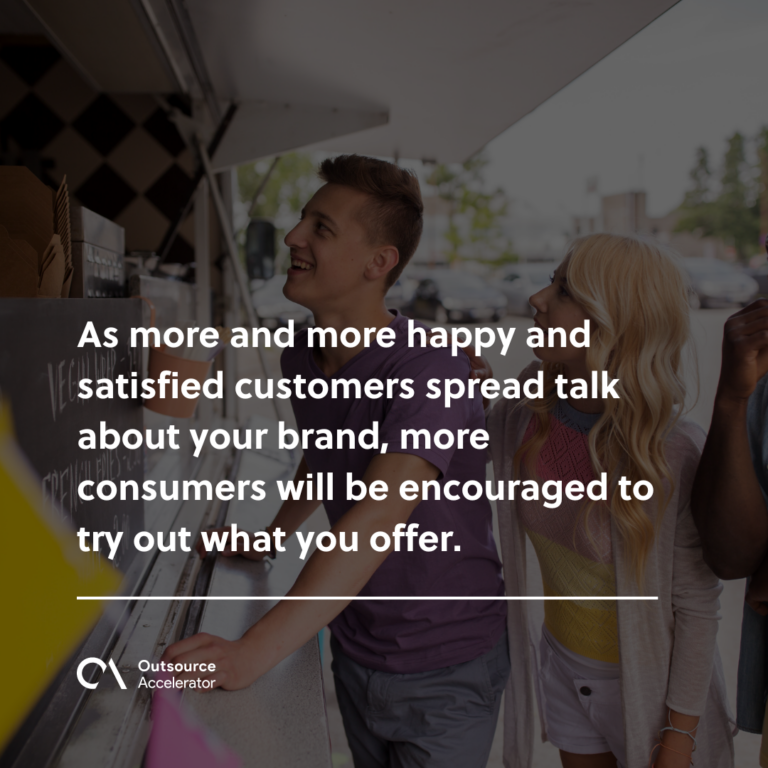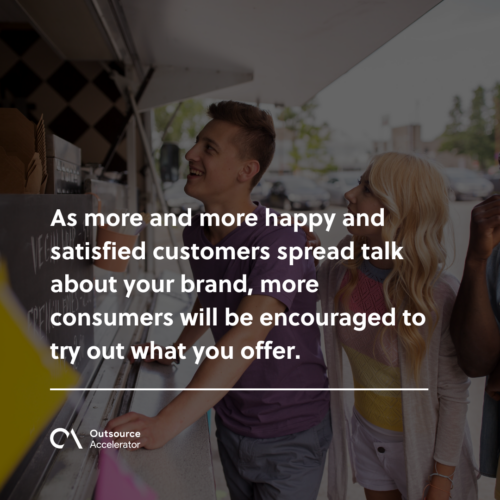 3 simple ways to enhance your brand affinity
Now that you are aware of how your brand affinity can help support your growing business, here are three ways you can improve it: 
Work on better customer service 
You won't be able to establish good customer relationships by providing poor customer service. As a business entity, you should look for ways to constantly improve your services. 
Statistics have shown that 54% of customers expect more from customer service than they did in the past. 
Build a community for your customers
Although brand affinity is all about your customers, you also need to consider how they think and act on a community level. 
Creating a community for your customers lets them feel a sense of belonging and worth. In this way, your customers can also form connections with your other customers. This, in turn, helps strengthen your brand affinity. 
Improve customer engagements
Once you have successfully set up a community, you should encourage your customers to actively interact with one another. 
Provide a forum where they can share their thoughts, ideas, or concerns. For instance, you can start a conversation through the comment sections on your social media posts.