Understanding the impact of green procurement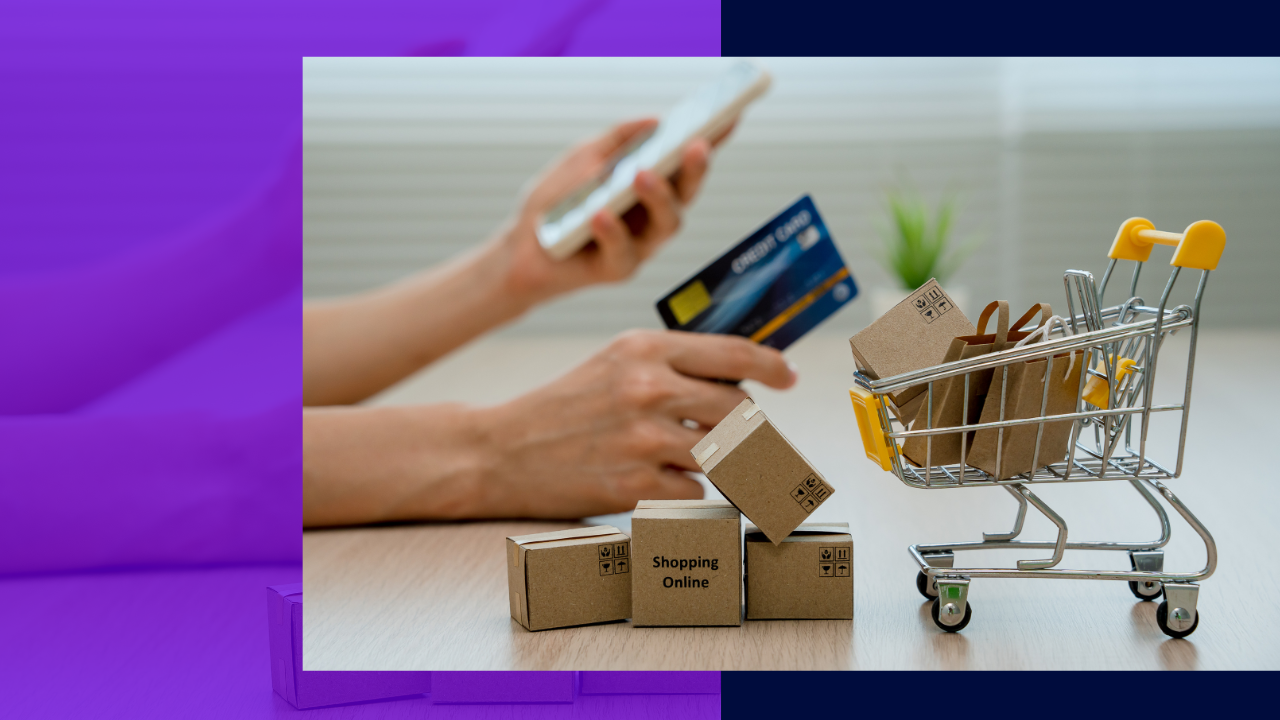 Procurement in both public and private sectors is no small feat. It covers a vast amount of products, services, and resources sourced locally and, in some instances, worldwide.
However, traditional procurements also pose risks to the environment. Research by the World Economic Forum suggests that public procurement activities alone account for 15% of greenhouse gas emissions worldwide.
Green procurement is a key to optimizing their procurement practices and reducing their environmental impact. More global institutions push this as a part of their social responsibility and sustainability efforts.
Find out more about the impact of a green procurement policy in this article.
What is green procurement?
Green procurement is a strategic approach to purchasing that takes into account the impact of products and services on the environment and human health.
This activity applies to the internal needs of a business, including tools and equipment, and the materials used to create their products.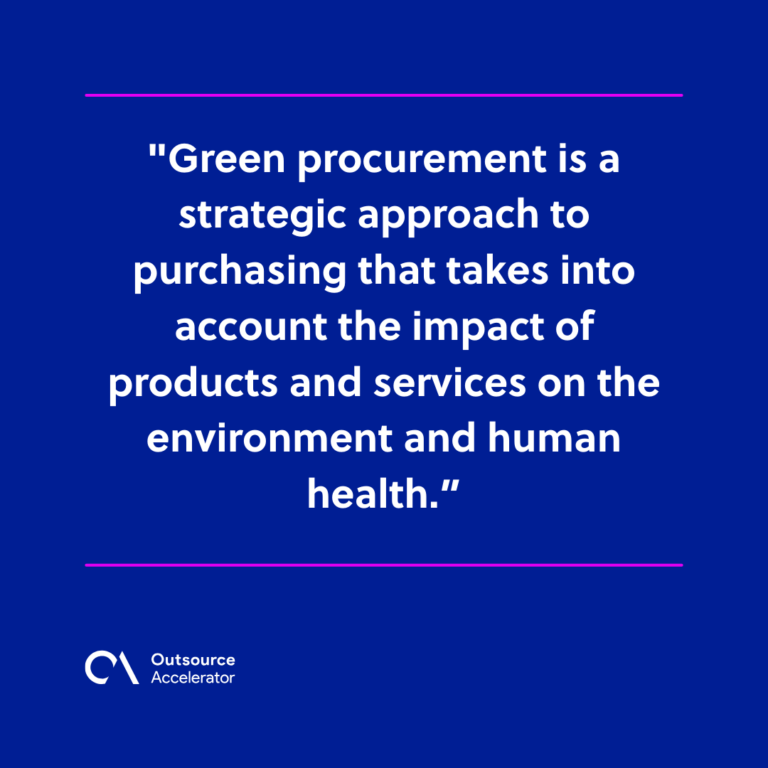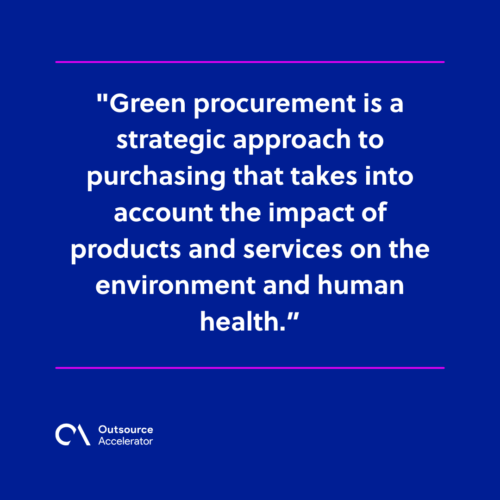 Green procurement involves a holistic approach to the three business areas: 
Apart from this, the activity looks at the long-term impact of their purchase throughout its lifecycle.

What to include in a green procurement policy
A well-crafted green procurement policy is a roadmap for organizations' commitment to corporate sustainability. It ensures that social and environmental considerations are integrated throughout the procurement process.
To create an effective green procurement policy, organizations need to include the following components:
Overview
Begin with a concise introduction that explains the purpose and scope of the green procurement policy. This sets the context for the document and engages readers from the start.
Table of contents
Provide a clear and organized outline of the different sections and topics covered in the policy document. This helps readers navigate through the policy and locate specific information easily.
Executive summary
Summarize the key points indicated in the green procurement policy. Concisely present the highlights to offer a quick reference for stakeholders and decision-makers.
Mission statement
Clearly articulate the organization's commitment to sustainability and its objectives related to green procurement. 
A strong mission statement is a guiding principle and instills a shared sense of purpose among employees and stakeholders.
Procurement guidelines
Detail specific criteria and requirements for green procurement. Include guidelines on energy efficiency, recycled content, waste reduction, and other sustainability considerations.
These guidelines help ensure that all purchasing decisions align with the organization's sustainability goals.
Benefits of green procurement
Implementing green procurement practices offers numerous benefits for businesses and the environment. Here are some of them.

Decreased environmental impact
Green procurement reduces resource consumption, waste generation, and greenhouse gas emissions throughout the supply chain. By selecting environmentally friendly products, organizations can contribute to preserving natural resources and ecosystems.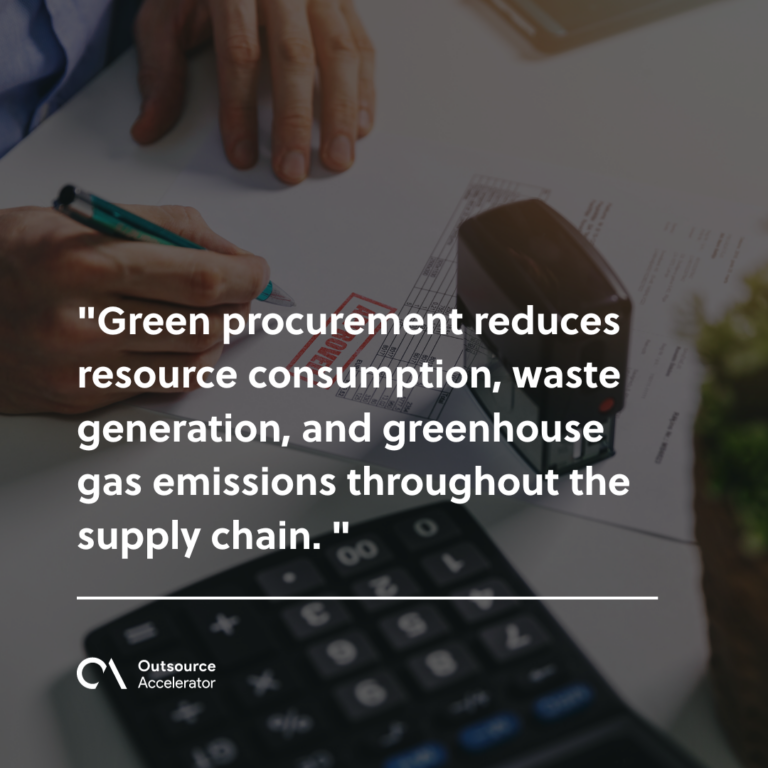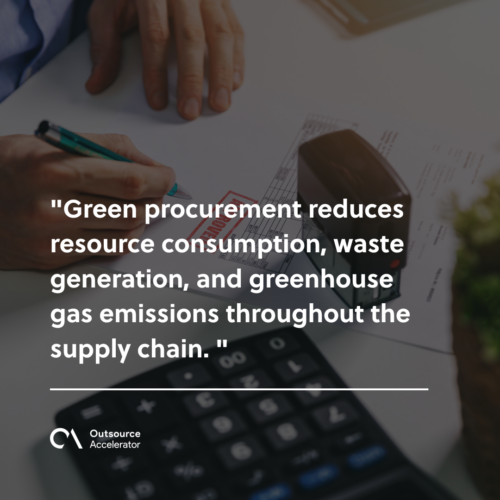 Support for the green market
Choosing to purchase sustainable products enables businesses to create a demand for environmentally friendly goods and services. This, in turn, drives the growth of the green market and supports the development of more sustainable products.
Enhanced brand reputation
Green procurement is a good addition to a company's brand strategy to enhance its reputation. It reflects a commitment to environmental responsibility. 
In addition, it demonstrates that an organization is actively working towards minimizing its environmental impact. Such commitment can enhance brand reputation among consumers who value sustainability.
Innovation and sustainability
Green procurement encourages suppliers to develop innovative and sustainable solutions. Organizations foster a culture of innovation that promotes sustainable growth by sourcing products, services, and materials useful to operations in the long run.
This commitment to green innovation can drive positive change in the industry and inspire others to follow suit.
Cost savings
Contrary to the perception that sustainable practices are more expensive, green procurement can lead to cost savings in the long run. For example, organizations can reduce operational costs by investing in energy-efficient equipment through lower energy bills.
Sustainable practices can also minimize waste disposal and management expenses, leading to significant cost savings over time.
Best practices for implementing green procurement
Implementing green procurement requires a proactive approach and careful consideration of sustainability principles. 
Here are some best practices to guide the implementation process:

Practice local sourcing
Prioritize local suppliers to reduce transportation-related emissions and support the local economy. Sourcing products closer to your organization can build stronger supplier relationships and ensure better quality control.
Choose ethical and efficient products
Look for products that have been produced ethically and sustainably. Consider a supplier's way of material sourcing, production practices, and life cycle assessments when choosing products and services.
Partner with eco-friendly brands
Collaborate with suppliers that share your commitment to sustainability. Look for certifications and partnerships with reputable environmental organizations to ensure your suppliers adhere to environmentally friendly practices.
Some certifications to look into – and you can apply for – include the following: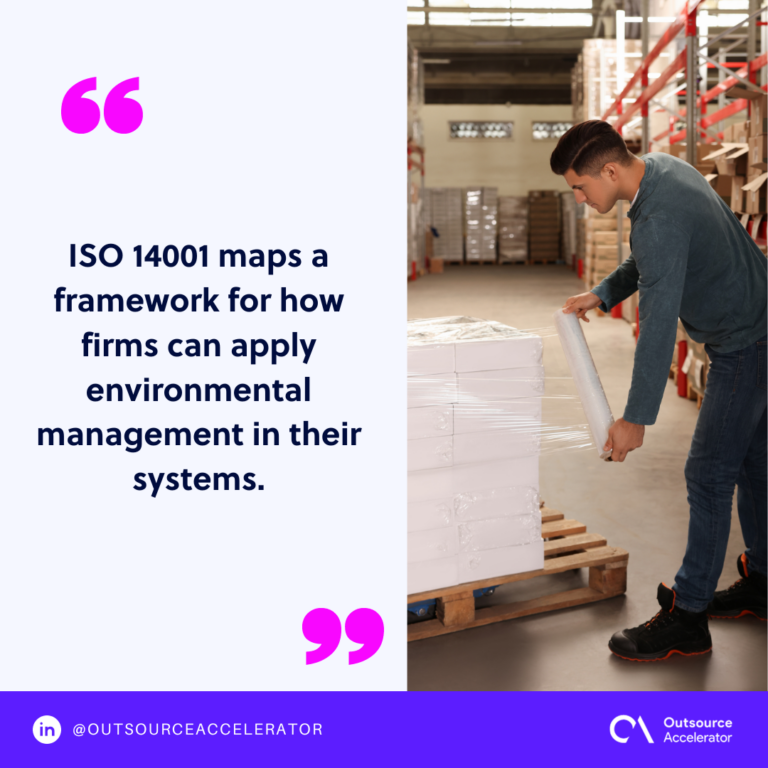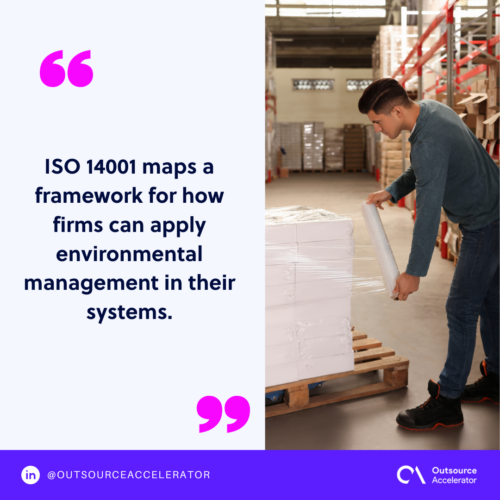 Formulate a long-term waste management plan
Develop a comprehensive waste management plan that prioritizes recycling and waste reduction. Implement processes to segregate and dispose of waste responsibly.
Consider exploring opportunities for waste-to-energy conversion or the implementation of circular economy practices.
The future of green procurement
Green procurement is a powerful tool for reducing environmental impact, supporting the green market, and achieving cost savings. Through the best practices outlined above, organizations can embrace sustainability and pave the way for a greener future. 
The future of green procurement looks promising as businesses increasingly recognize the importance of sustainability.
Advancements in renewable energy, biodegradable materials, and waste management technologies will further drive the adoption of green procurement practices.
All in all, organizations must integrate environmentally-friendly practices into their procurement strategies to meet consumer demands and positively impact the planet.