6 Key indicators of an effective supply chain outsourcing provider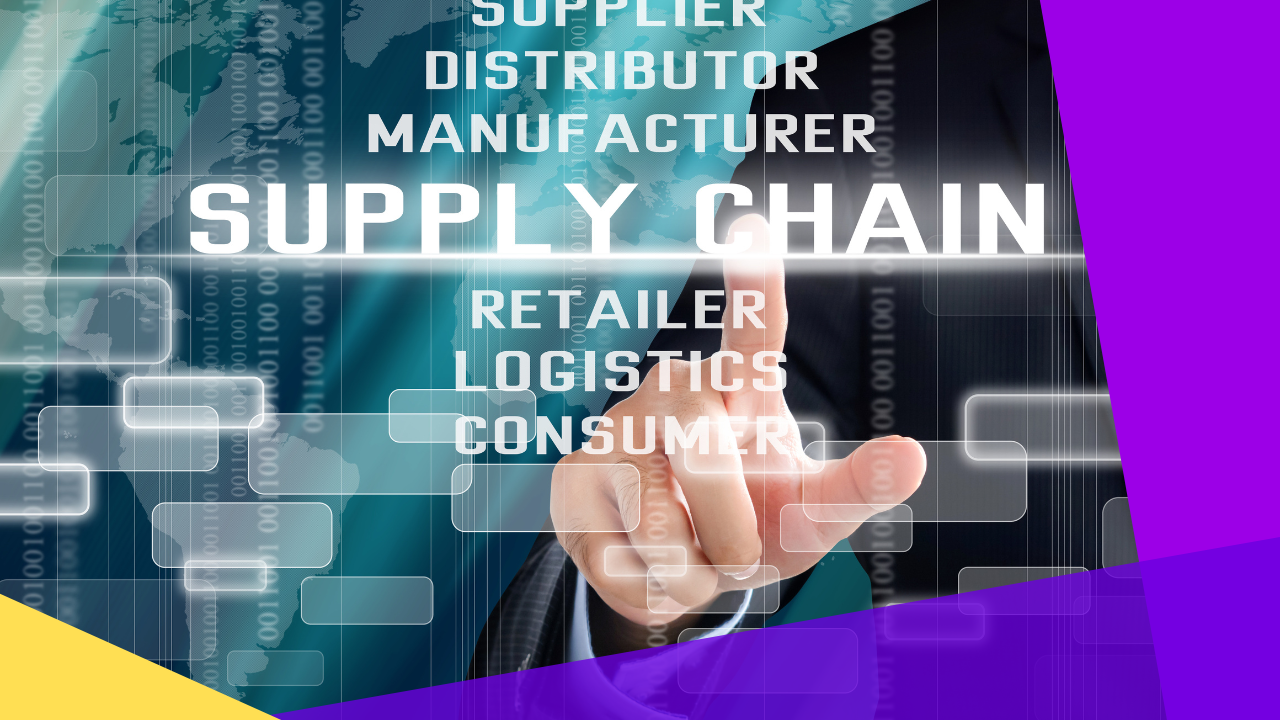 6 Key indicators of an effective supply chain outsourcing provider
Since supply chains are crucial to the performance and sustainability of all organizations, optimizing them will result in more efficient production cycles and lower costs. Managing and maximizing various aspects and functions necessitates experience, knowledge, and access to best-in-class resources.
The key to an efficient supply chain is effective supply chain management (SCM), and outsourcing SCM to the appropriate professionals is a great method to accomplish such optimization.
Role of outsourcing in supply chain management
Businesses that do not manage their supply chains well are frequently overwhelmed by supply chain inefficiencies that affect the business. 
These concerns arise from various sources, including record inventory expansion, changing consumer needs, and inefficient replenishment.
This makes it difficult for organizations to focus on core operations, build their client base and market share. Every level of the supply chain is a strategic component which may be utilized to achieve corporate goals.
When performed appropriately, supply chain management leads to seamless business operations and satisfied consumers. This is due to the importance of SCM in maintaining healthy inventory levels, assuring prompt and dependable delivery of client orders, and preserving healthy profit margins for enterprises.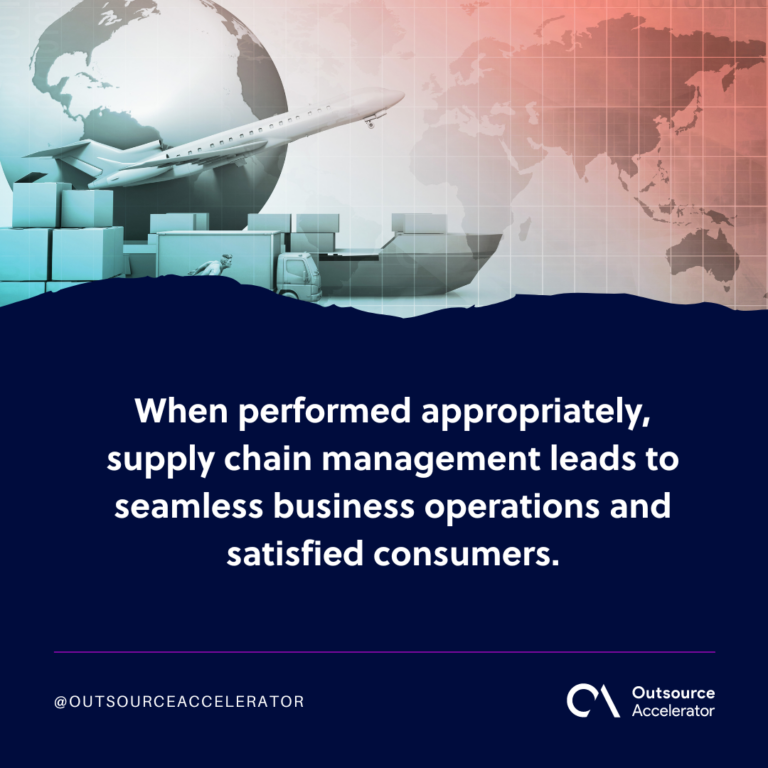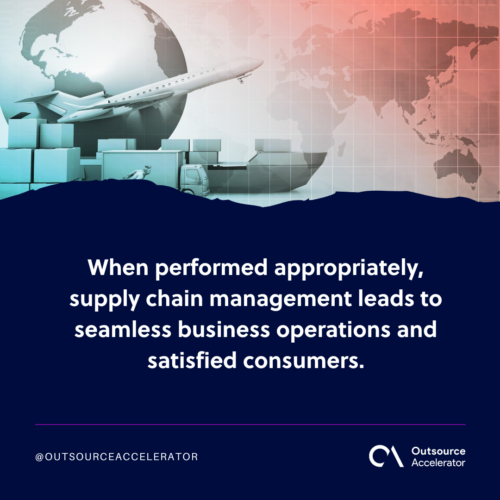 So you have decided to use supply chain outsourcing in your company's daily operations. What's the next step? Hiring a reliable outsourcing provider that fits well to your business.
To help you do that, here are six key signs to look for in finding the right service provider for you.
1. Efficient outsourcing logistics management
The number one indicator of a reliable supply chain outsourcing provider is its efficiency when it comes to logistics management. Logistics is a crucial aspect of supply chain management, and your service provider's logistical competence should be the first consideration.
The best providers not only employ well-trained individuals, but they also have an extensive network of connection from different industries and even the government. This is something that takes time and is not easily developed mainly when you are a startup business.
If you want to save on costs, reduce risks, and achieve better customer service, then outsourcing logistics management is indeed the right choice.
2. High-volume sales with minimal losses
Speaking of risk reduction, another key indicator of a high-performing supply chain outsourcing firm is its losses rate. Low losses should be one of the benefits of outsourcing supply chain management that you should enjoy.
Of course, zero percent loss is almost unattainable as there will always be risks within the business process. But find a provider that has a good track record of minimizing their losses while at the same time completing bulk orders.
The best outsourcing companies have comprehensive risk management and contingency plan in place. More on that later.
3. Fast turnaround times
The best third-party supply chain providers operate fast and have vast knowledge in terms of what is logistics outsourcing. If your in-house team can finish the job in five to six days, they are most likely to complete it in three days or less.
Needless to say, completing the supply chain faster gives your business the opportunity to make more money. However, fast does not mean compromising on quality, so finding the right balance between speed and efficiency is crucial when looking for a third party supply chain provider.
4. Maximized capital expenditure
Another sign of a good outsourcing provider is its ability to make the most out of its capital expenses. If the outsourcing transport and logistics firm are able to re-invest on upgrading their infrastructure and operational equipment, then you are sure to have a thriving relationship with them for a long time.
Equipment and infra upgrades indicate that a company is growing and that they will continue to be in business. It benefits you, the client, most of all.
Security of your partner's tenure is another vital aspect to consider when outsourcing supply chain operations. It does not matter if they can get the job done faster than anyone else if they are not going to be around for the long haul. Remember that trust is crucial for a successful business partnership, and it is not built overnight.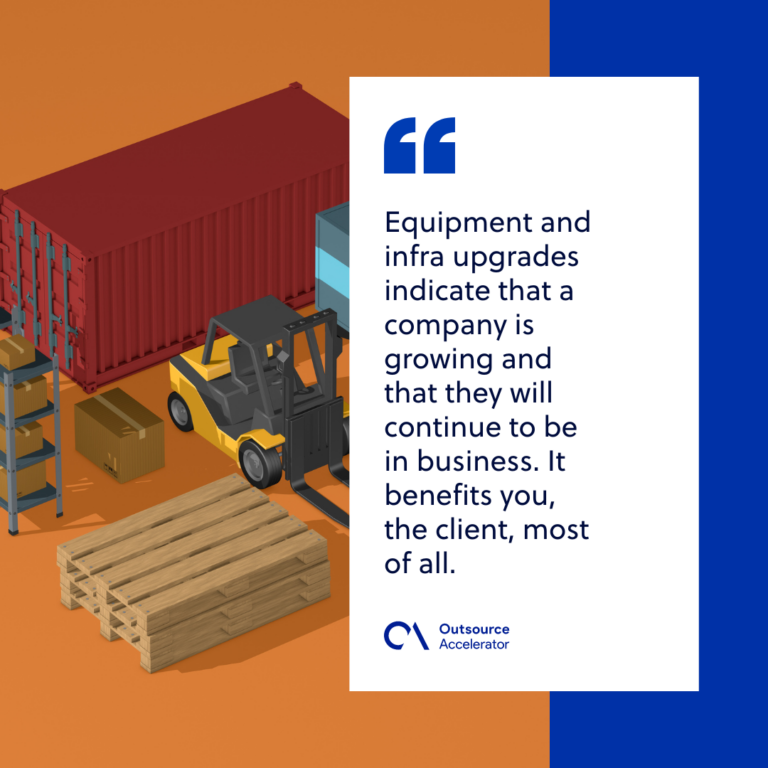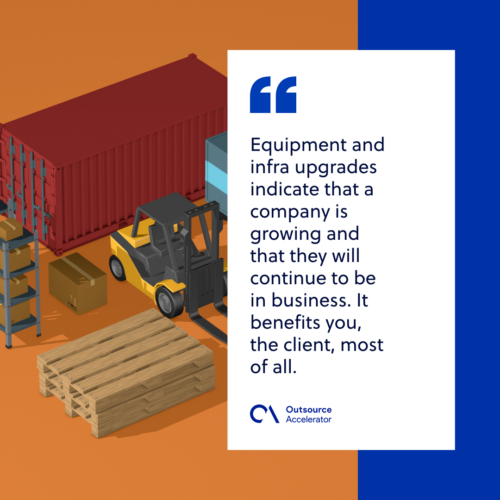 5. High customer satisfaction rating
Customer satisfaction rating is actually a key indicator when hiring any type of service. This is especially true when it comes to the service industry. If a provider has a high customer satisfaction rating, then you can be sure that it is going to be successful or it is already successful.
There are many ways to find this out. First is by searching for unbiased online reviews about your prospective outsourcing provider. The more reviews you can find, the better your judgment will be.
Another is to check the company's website and find out who are some of their existing and past clients. You can then reach out to these clients and ask for their honest assessment of the said outsourcing company.
6. Detailed risk management and contingency planning
As mentioned above, hiring a provider with a solid risk analysis management and a contingency plan is crucial in supply chain outsourcing. The supply chain process is somewhat delicate in the sense that there are so many risks involved in it, such as fires, natural disasters, equipment malfunctions, faulty manufacturing designs, human errors, etc.
If you don't have a plan to mitigate these risks and prepare for contingencies, then you are setting up your business for a disaster. You are in good hands if you hire a third-party provider that has this same sense of urgency to plan for possible threats and risks.