Why you should outsource game moderators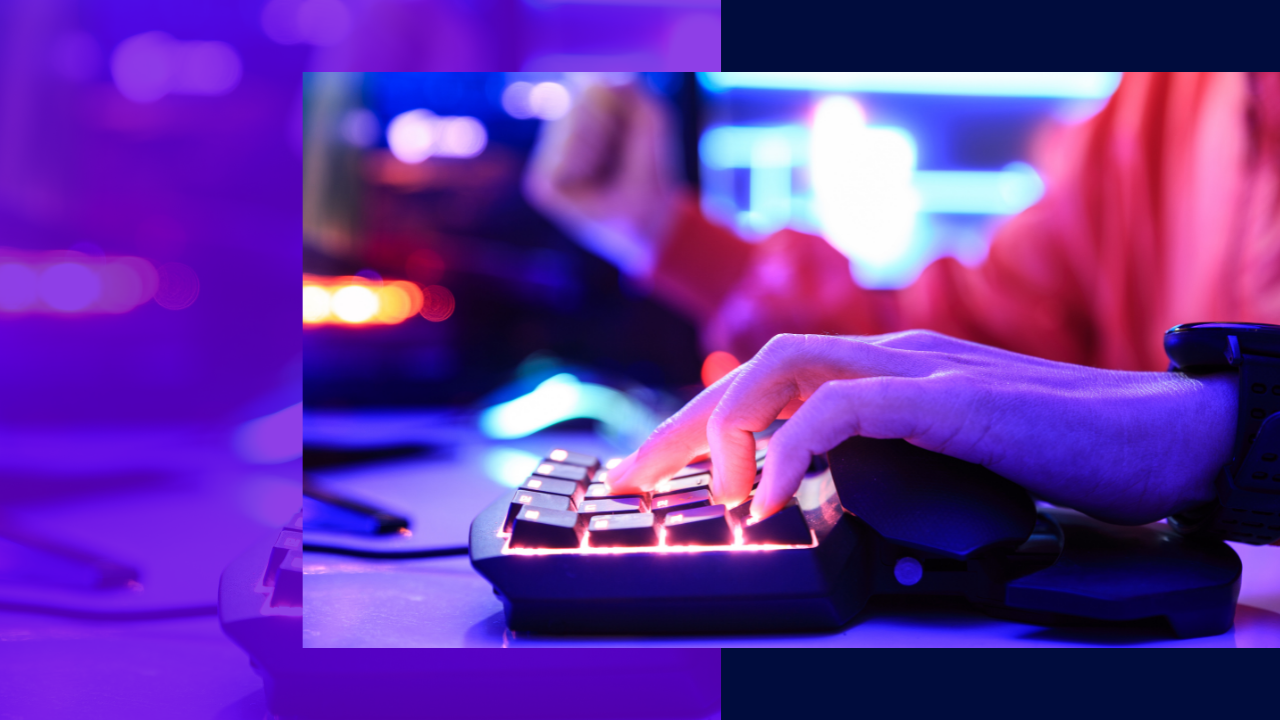 If you've ever been in an online gaming community, there's always a gaming moderator ready to help newcomers and regulars. 
Game moderators have been a part of these communities since their early days. Along with the community's assistance and cooperation, they make these inclusive communities a safe place for everyone. 
Meanwhile, outsourcing game moderators is a great way to cut costs while ensuring the safety of your online community.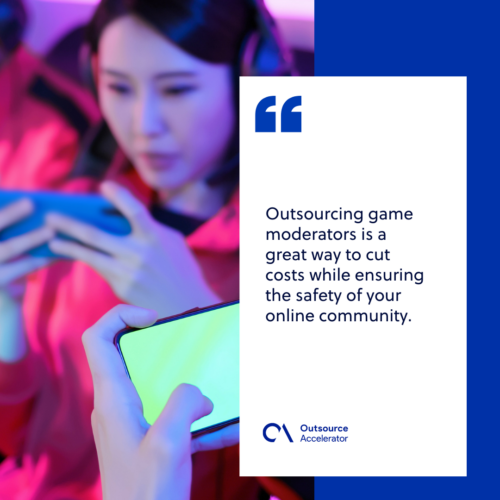 Defining a gaming moderator
A game community won't be complete without gaming moderators or game mods — these people are responsible for keeping the online space safe from any maliciousness. 
As for their role, moderators ensure that the players are following the rules and regulations of the game. They monitor the players' stats in a way where they can see if someone is cheating or harassing another player.
But these won't be remotely possible without the players' coordination as well.
Why outsource a game moderator
While hiring a moderator is a surefire way to ensure online safety, it can be expensive. To combat the extra costs of hiring, companies outsource staff instead. Outsourcing, as many businesses have already realized, is one of the most effective ways to cut costs.
Moreover, hiring a game moderator in-house means you start from scratch, which not only is costly but can also take up a lot of your precious time and resources. 
That said, outsourcing companies specializing in game moderation, like MVP Asia Pacific, already have a pool of talents that are knowledgeable, well-trained, and passionate about the ins and outs of gaming. \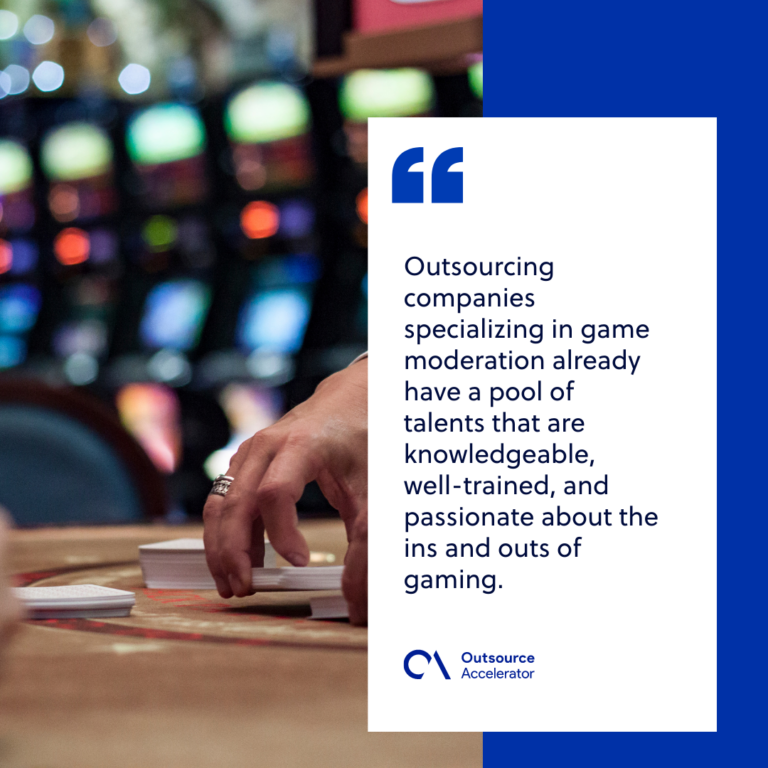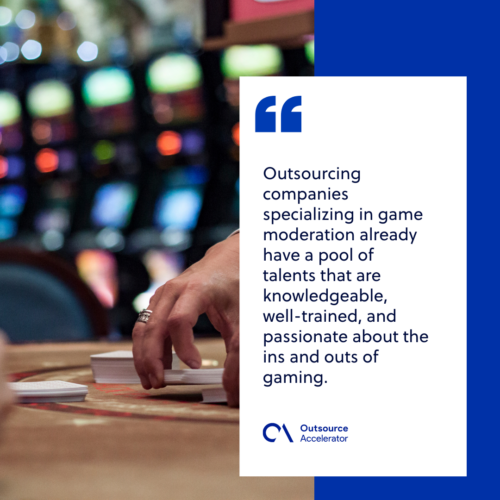 Top 5 skills to look for in a gaming moderator
Whether you're hiring or outsourcing, these are the skills you should look for when building your team of game moderators.
Technical knowledge
Most days, their work revolves around games and specific game platforms. That said, being a game mod requires at least basic knowledge of modern technology. 
In most cases, game moderators in outsourcing firms receive training to be up-to-date with the latest systems and gaming culture. 
Attention to detail
In terms of reporting, gaming moderators receive tickets that need to be resolved in a timely manner. Along with these requests, there are other administrative tasks that need their close attention.
Communication skills
When interacting with the game's user base, gaming moderators need not only excellent communication skills but also a good grasp of gaming lingo and culture. This helps them build better rapport with members of the community.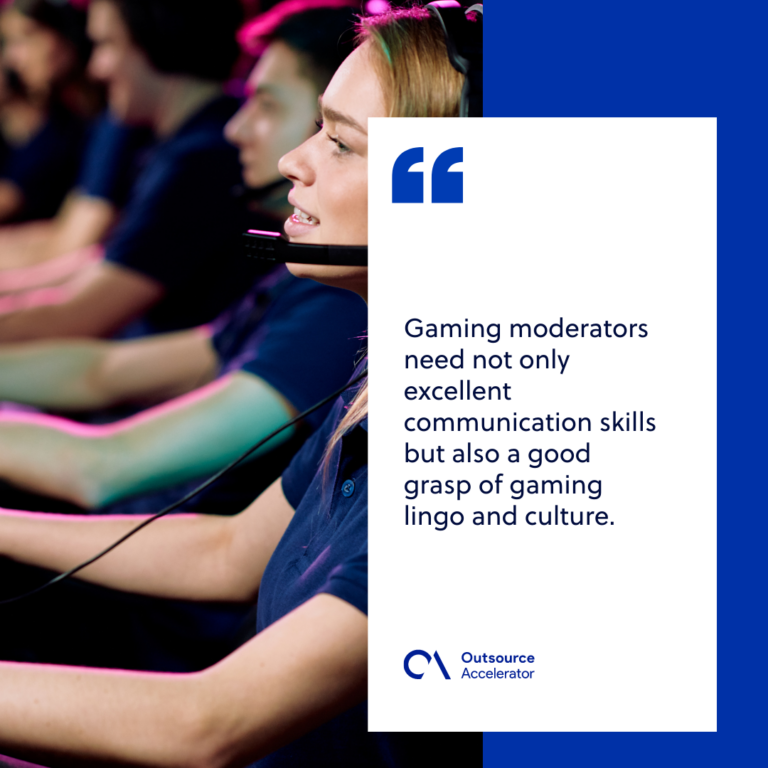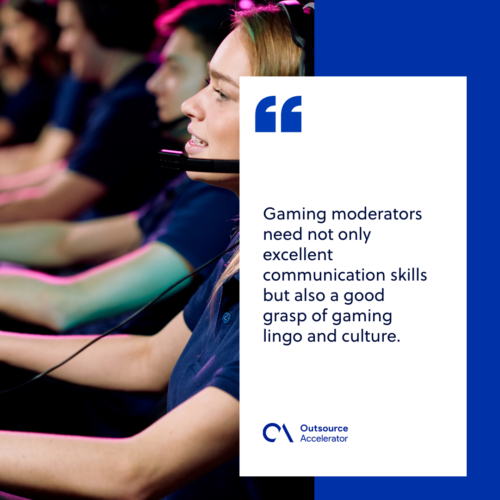 Empathy
When dealing with more sensitive issues such as cyberbullying, harassment, and discrimination, gaming moderators need to show empathy to do their job right. Keeping the community free of these kinds of people is one of a mod's responsibilities.
Organizational skills
From prioritizing tickets to organizing their schedules, they need to possess basic organizational skills to help them be more effective at their job.
Gaming moderation in 2023
With the gaming industry expanding its global reach, the need for moderators is at an all-time high. BPO companies around the world have also adapted to the trend by offering game moderation services. 
Gaming mods are important in the same way customer service representatives are important in a company. They interact with the members of the community and even cooperate with them in maintaining the game's integrity.
For instance, the players can responsibly report another user's malicious content or general misuse of the game. In turn, the moderator can isolate or ban the concerned players as prescribed in the community rules and guidelines.
Without gaming moderators, a game's user base wouldn't be safe for anyone to be apart of. Games wouldn't be as enjoyable, with threats and unruly behavior looming over each player.