Have you heard of game moderation? Here's what it's all about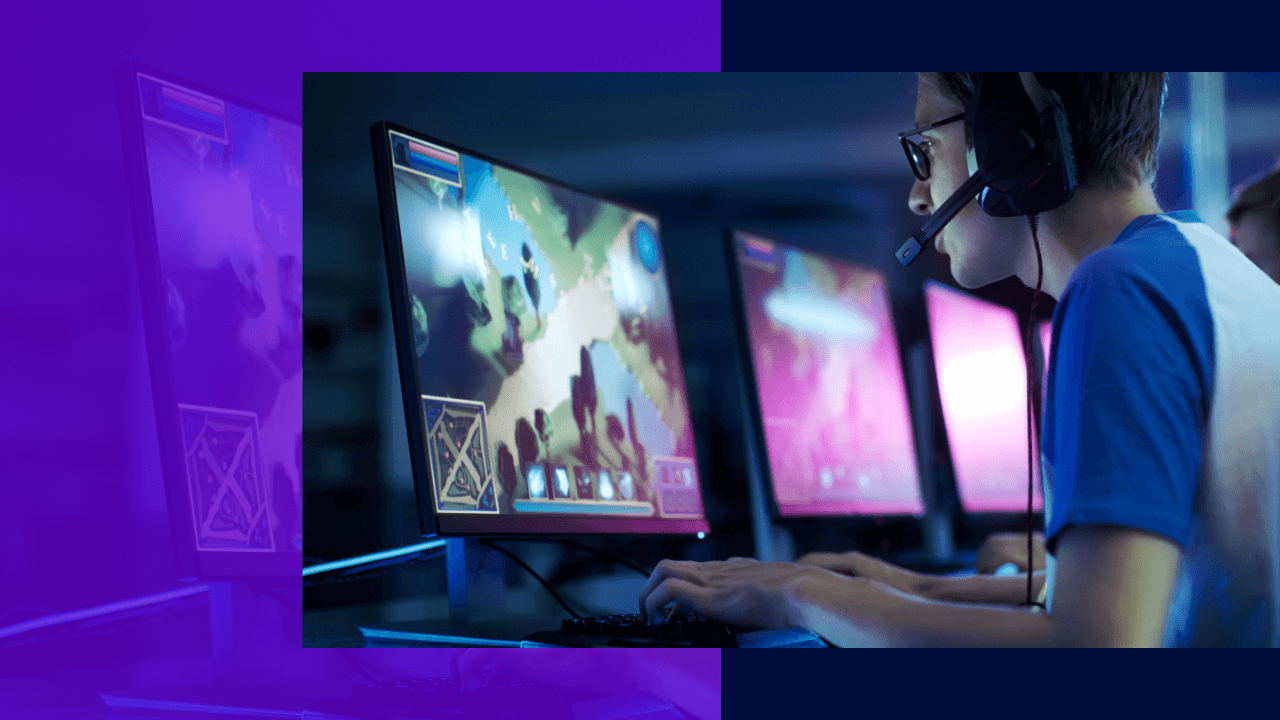 If you're into social and digital games, you're most probably aware that a player's behavior can make or break the entire game. It may be easier said than done—but game moderation is necessary for fostering positive behaviors within the gaming community.
The associated policies in game development include constructing designs and decisions that provide safe and welcoming gameplay for all players. Since people have been stuck at home since the pandemic, we heavily rely on technology and digital solutions.
Not being able to go out, people turn to video gaming for enjoyment and connectivity. That is why the goal of nurturing positive gamer behaviors online is more important today than ever.
Importance of game moderation
Social gaming and virtual advancements are bridging the gap between entertainment and interaction. A critical feat – especially considering that people across the world are currently craving pandemic isolation.
From kids to adults, gamers all over the world continue to be fascinated with online games found on several social media sites such as Candy Crush, Pokemon, Minecraft, and Among Us.
Others also ventured into massively multiplayer online role-playing games or MMORPG. The most popular ones are Clash of Clans, Defense of the Ancients (DOTA), World of Warcraft, and League of the Legends (LoL).
These games provide not only enjoyment but can also weave newfound friendships between online gamers from different locations. No wonder people are getting more fascinated with investing in game development.
With this growing community, how can game developers encourage positive behaviors in an arena where wins and losses are determined? With increasing traffic, how can businesses continue to improve their moderation capabilities?
This is where the role of game moderators comes in. Read on and discover what game moderators are and how you can outsource them.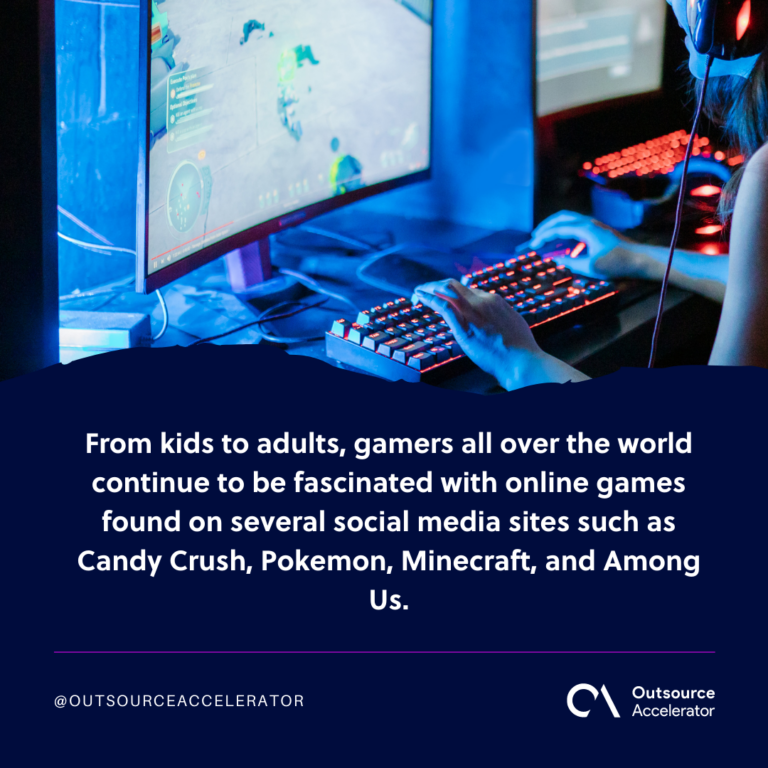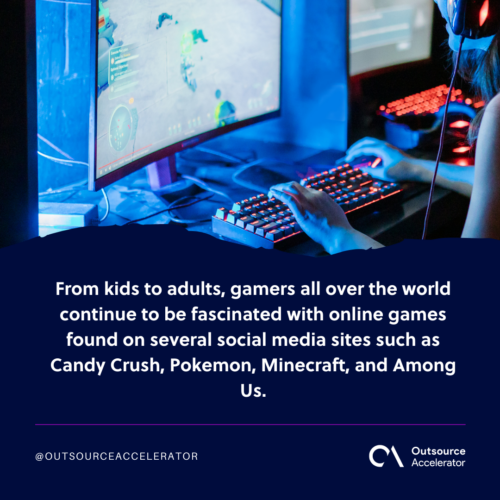 Roles and responsibilities of gaming moderators
Game moderators are trusted professionals hired as game masters. Their tasks include the maintenance of online gaming platforms free from inappropriate, illegal content. Generally, moderators ensure that players adhere to the game's rules and guidelines.
Game moderators are especially more important for MMORPGs. They require dedicated game moderation in order to monitor gameplay and enforce fair game rules.
They are majorly responsible for the following roles and responsibilities:
Muting
Game moderators can mute players that are sending inappropriate and offensive messages or comments while playing. Aggressive players that flood and spam message boards or send threatening messages to other users will also be muted.
If players report such incidents to their moderators, they can exercise their authority to put a stop to those occurrences.
Banning
Temporarily or permanently banning aggressive players under low-priority status. They ban misbehaving or resistant players so they're not able to play for a specific period of time.
Kicking a player out is not a one-sided decision. It is always based on the careful assessment among all game moderators to maintain order within the game.
Isolation
In severe cases, game moderators can initially isolate aggressive players while they assess the situation. It may be about the removal of malicious/offensive content, filtering out smurfs or fake user-level accounts, or cheating cases.
Overall, every game moderator is entrusted to uphold the integrity of the game. They perform this duty by blocking hackers and players trying to cheat their way into winning the system.
It's also part of their responsibility to answer FAQs from players so that everyone can enjoy and have an improved experience of the game.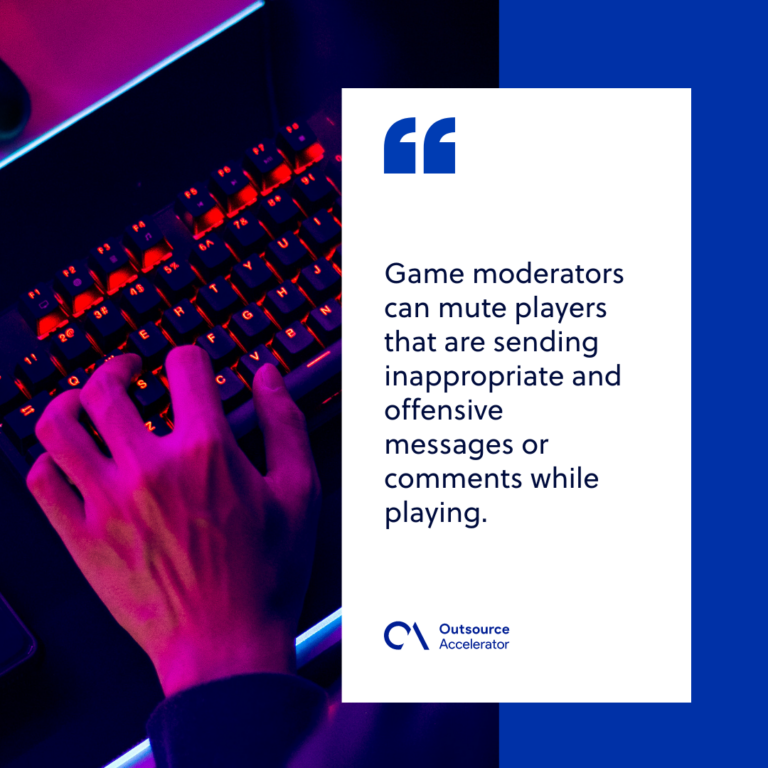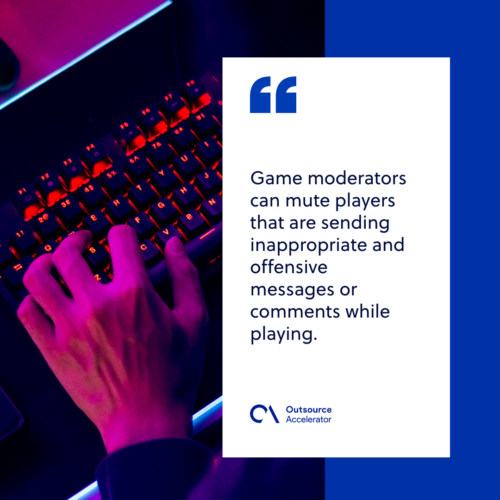 Hiring a game moderator
The online gaming community continues to expand as the years go by. As of the year 2021, the total number of gamers around the globe has already reached 2.6 billion. This number is still expected to grow up to 2.7 billion by the end of the year.
This increasing number is another reason why game moderation is needed. More game moderator jobs are opening as they work closely to bring significant stability to your business.
Upon hiring your brand's moderator, you have to ensure that they have excellent communication and judgment skills. If possible, hire someone who already has past moderation experience.
It's also necessary that they are technically inclined and have a great appreciation and could easily engage in any online games. Having these traits — and other related game moderation qualities — makes it easy for them to moderate in-game chat rooms and keep the gaming community fun for players.
But if you are finding it hard to find the right responses in your job alert for game moderators, then you can always outsource game moderation services to reputable third-party providers like OP360.
Outsourcing game moderation is a business strategy where companies turn to third-party providers for their online management needs.
One of the best advantages of outsourcing is that businesses can save a lot of money. Game moderation and the entire digital solutions are an expensive and ever-changing industry.
You'll have to invest a good amount of money for it to maintain and keep up with the virtual changes. If executed nicely, you'll get the scalability that you'll need and can even offer new venues for enjoyment among players.