Why video game companies should outsource gaming customer services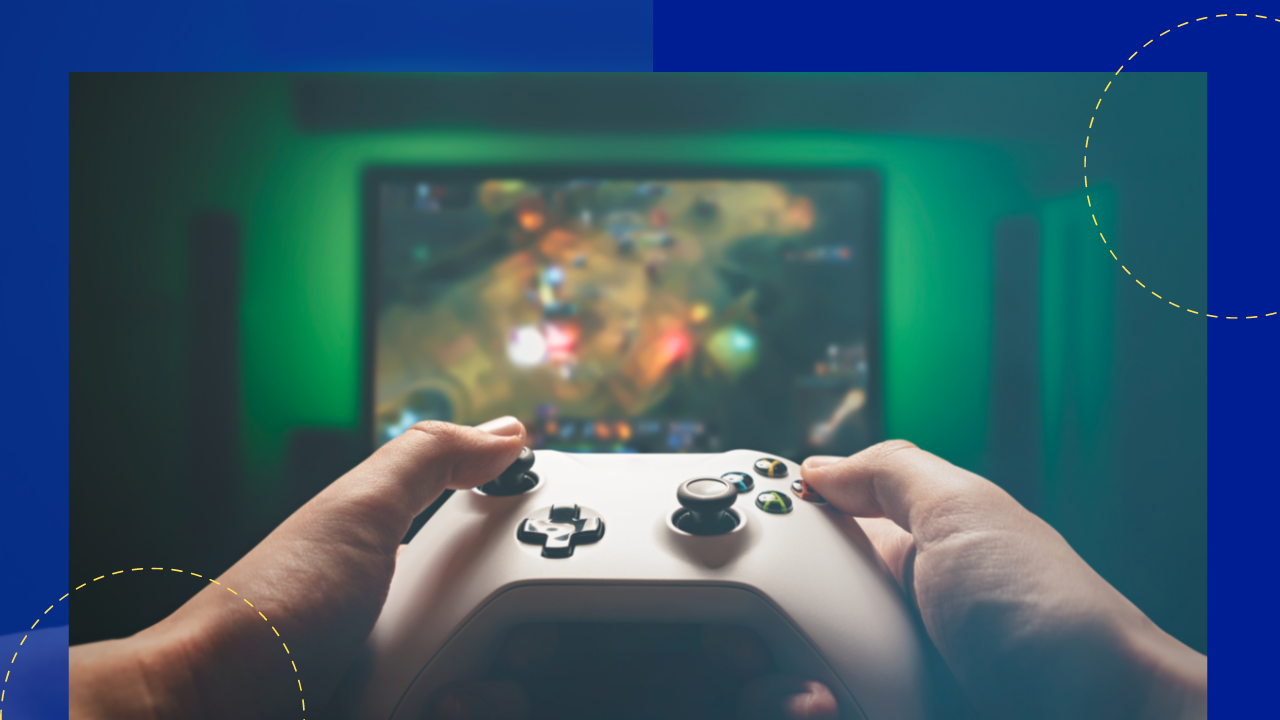 The video game industry has been continually growing in recent years.
Even during the height of the coronavirus pandemic – when many companies in various industries suffered heavy losses – video game companies have experienced increased growth.
As nations worldwide enacted lockdown measures and other restrictions on mobility to halt the virus's spread, people turned to video games for entertainment and social interaction.
With the influx in their player bases, video game companies have also experienced an increase in complaints, queries, and other customer feedback.
Gaming customer service providers typically handle such client feedback.
However, the massive increase in customer ticket submissions made the task difficult for companies without dedicated in-house gaming customer service staff.
To keep up with the ticket increase and satisfy their player base, many video game companies have partnered with outsourcing firms like Peak Support to augment their in-house team.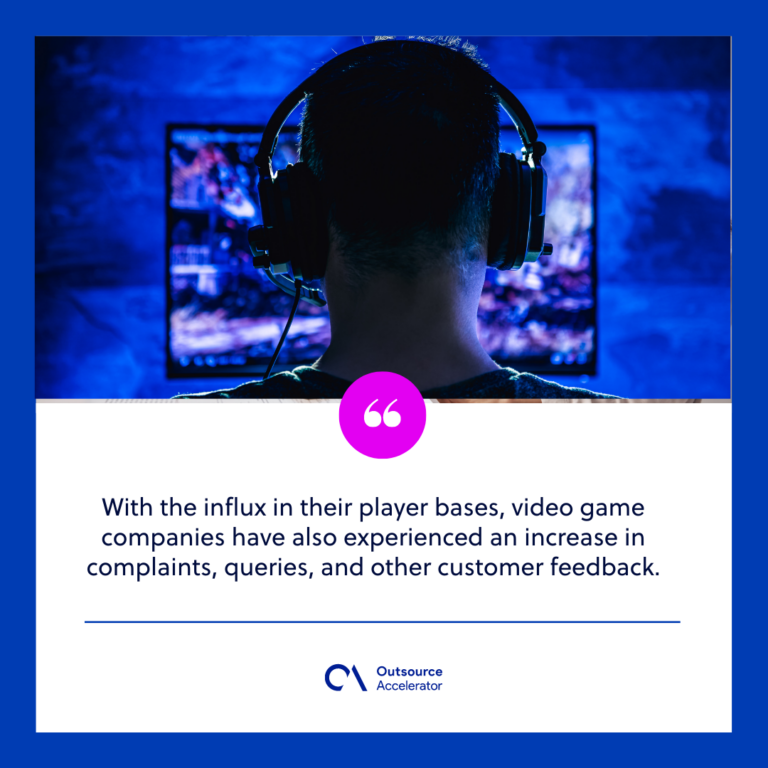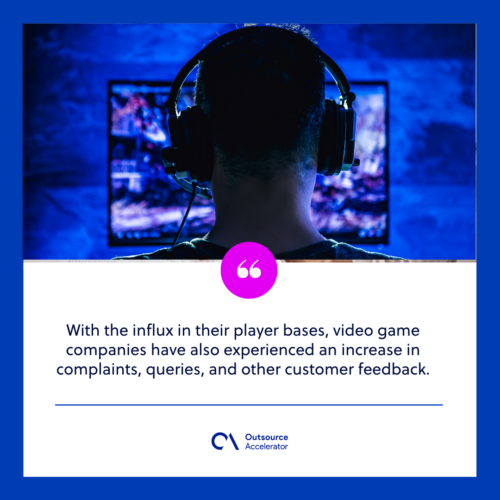 What are gaming customer services?
Gaming customer services are customer support functions that cater explicitly to players of a video game from a particular gaming studio, such as Bethesda, Blizzard, and Nintendo.
These services include handling various complaints, answering queries, and rerouting player suggestions to game developers.
While it may sound like the same tasks done by regular customer support providers, gaming customer service agents serve a far more specific niche.
Gaming customer services vs. regular customer services
While gaming customer services is just a word away from regular customer services, the two aren't one and the same.
The customer service representatives providing support to gamers have more specialized skills and knowledge than their regular counterparts.
These specializations may include working knowledge of the game titles of the studio they're handling, content moderation across multiple social platforms, and an understanding of the gaming platforms and hardware used by players.
Like most customer support, gaming customer service agents may speak more than one language. While not a prerequisite, being multilingual is an advantage as gamers come from all parts of the world, and not everyone speaks and understands English.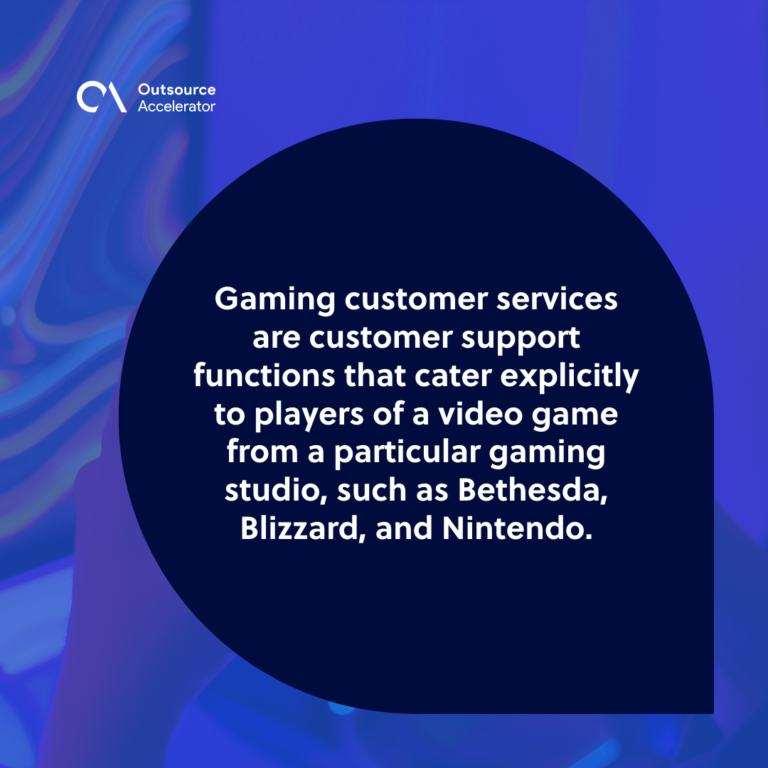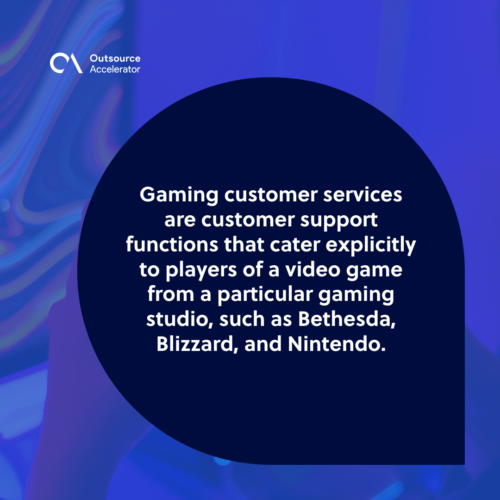 Benefits of outsourcing gaming customer services
Entrusting gaming customer services to a third-party partner brings plenty of benefits to video game companies, no matter their size.
Below are just a few of the advantages that outsourcing this business function can bring.
24/7 real-time and multi-channel support availability
Most outsourcing firms have staff operating on a rotating schedule to ensure a continuous and uninterrupted service across multiple channels for their partner companies.
This setup is highly advantageous for video game companies with player bases worldwide and living in different time zones. It allows players to connect in real time with customer service no matter what time they need.
Reduced operational costs
Cost reduction is another enticing benefit of outsourcing gaming customer services. With an outsourced staff, salary costs are reduced by up to 70%.
Moreover, the costs for the hiring and training of agents, their equipment, and the facilities they're working in are often shouldered by the outsourcing company.
Improved connection with players
Many video game players are already adept at troubleshooting game issues and seldom require escalation to customer support above tier 2.
However, when these players do need help, they need it from another human being, not an automated chatbot response that would ultimately direct them to a ticket submission page.
Connecting with a support agent with a working knowledge of the game they're playing reduces players' frustration with the bug or issue and imparts a sense of reassurance.
Priority to core company processes
Video game companies are, first and foremost, game development studios.
Diverting funds and energy to recruiting, hiring, and training an in-house team of customer support specialists for their player base takes focus away from game development.
With outsourcing, the need for an in-house support team is removed, and the company can redirect all its efforts to the core part of its business.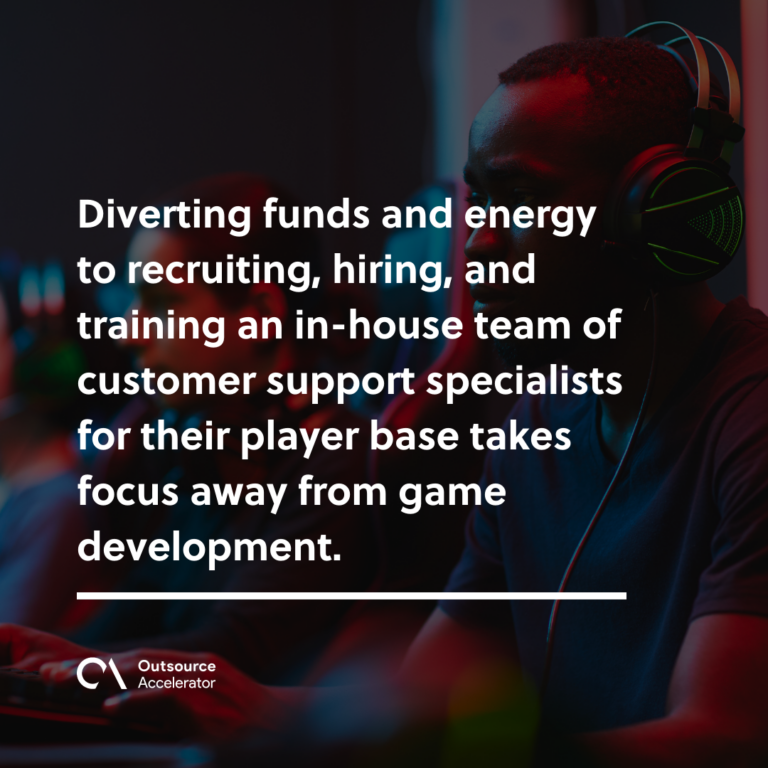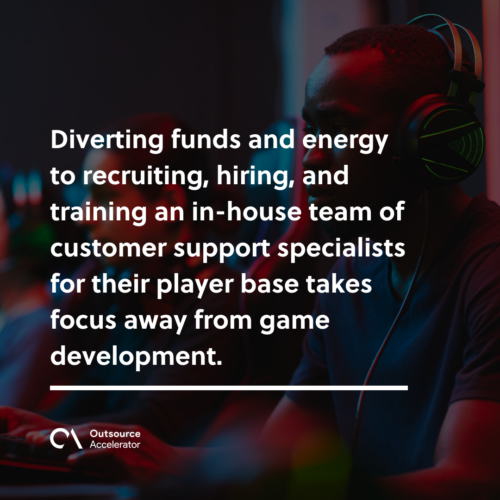 Why Peak Support is the best provider of gaming customer services
Peak Support's gaming customer service agents speak the language of gamers – a critical factor in ensuring smoother issue resolution.
In addition to being on the same wavelength as their gamer clients, the agents that Peak Support provides have extensive field experience – an average of eight years in the industry!
Regarding the services covered, this leading outsourcing company provides Tier 1 and 2 support, technical assistance, prize redemption and delivery, and flagging fraud and other suspicious activities, among many others.
Moreover, Peak Support utilizes QA tools like MaestroQA to ensure solid customer satisfaction and provide valuable insights to their partner client's team of developers.
Level up your company's game with Peak Support's gaming customer services!