Level up your game: Outsource game development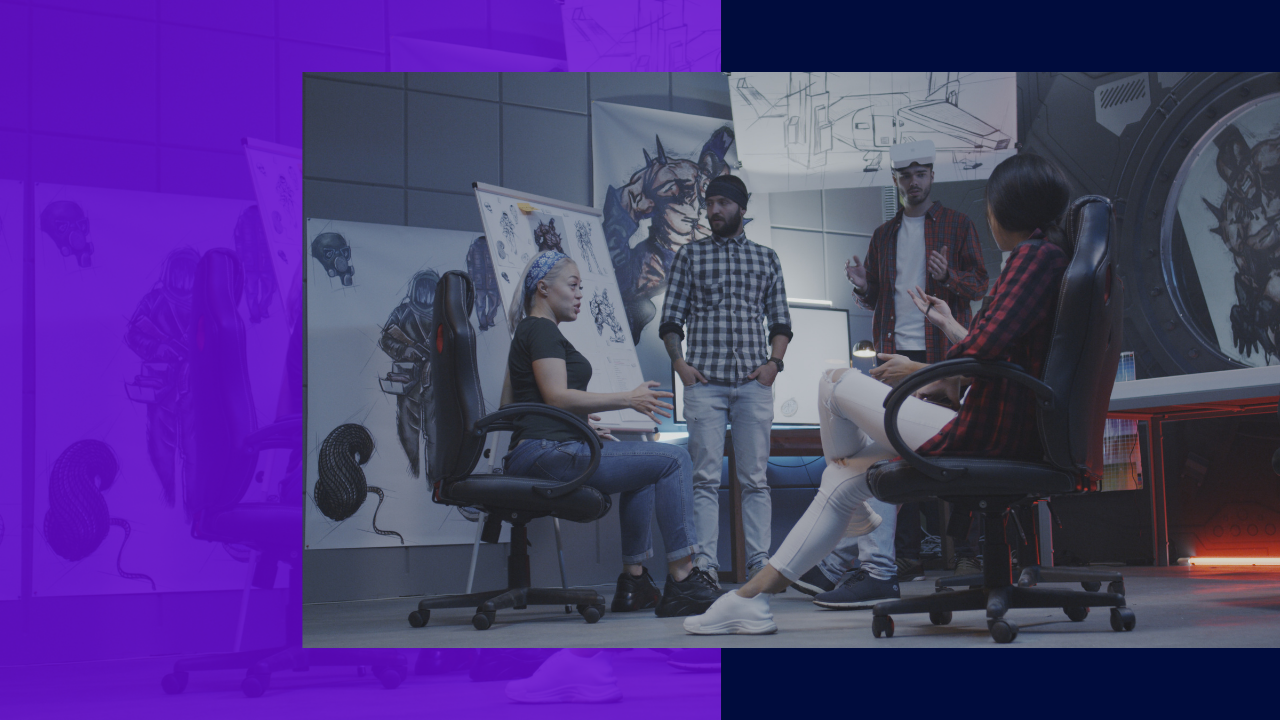 Game development is a highly attractive and lucrative industry. However, finding contributors with the right programming can be a challenge.
That is why most businesses turn to game development outsourcing. Through third-service providers, you can find seasoned game developers that could help your in-house team build modern games that could attract new players.
To fully understand this market, we will tackle in this article the rising gaming sector and the things that you need to consider in choosing the best outsourced GameDev company.
The rising gaming market
Today's gaming industry is rapidly expanding. According to research from games and esports analytics firm Newzoo, the global games market is expected to generate $175.8 billion among 2.9 billion players in 2021.
Because of this, game development offers the highest return on investment opportunities this year. However, companies without solid technological and developer backgrounds are hesitant to enter this market.
This happens due to many factors — such as high competition, rapidly evolving tech, and quickly changing trends. As a result, organizations are turning to external game development providers to build their games.
Partnering with a third-party service provider helps organizations access skilled and flexible game development experts that can build top-notch digital games in a short amount of time and at a reasonable price.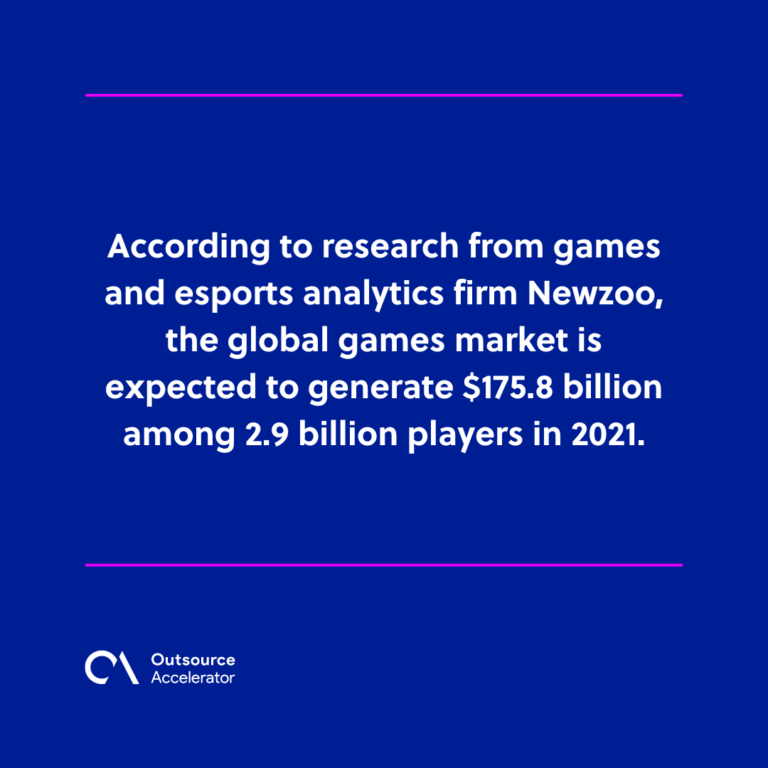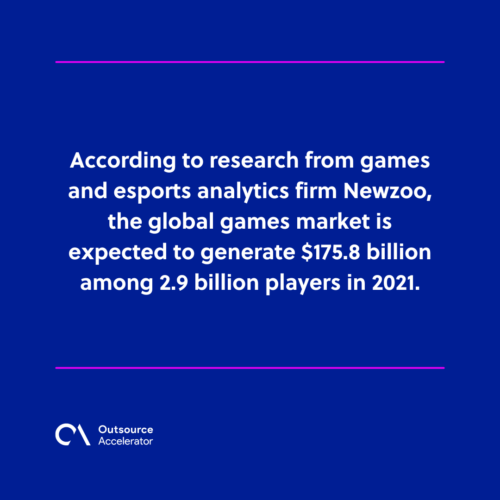 Defining game development outsourcing
Game development outsourcing refers to hiring an external studio to assist with the process of creating a game.
As competition in the industry rises and the economy declines, more and more companies hire an outsourcing team to help with their process.
Hiring outsourced game developers offers a lot of advantages. The most important of them are:
Access to professional game developers with expertise in mobile, desktop, and console games

Implementation of the latest technologies — like VR and AR — to build unique games 

Keeping up with the latest trends

Save up on searching, hiring, and onboarding new employees 

Easy scalability with the project necessities 

Recruitment of dedicated specialists who can develop, animate, illustrate, and add special effects to the games
Outsourcing helps an organization grow and develop. Without an outsourced team, games would be much shorter with less variety or lower graphics quality. 
Things to consider in choosing a game development partner
A well-chosen outsourcing partner ensures the success of your game. They could also deliver outputs on time and within the budget.
If you're considering the option of partnering with a GameDev company, you need to consider the following things:
Services offered
The first thing to look into when hiring a game development outsourcing company is if they are offering the game development services that you would need. 
This step determines whether a service provider is capable of rendering the type of work that you want them to achieve.
If you are looking for a team of skilled 2D and 3D developers, then you have to hire a company that provides that service. Otherwise, if you want to create an AI-focused game to attract new users, search for a company with expertise in that field.
Length of service in the industry
Established game development outsourcing firms have extensive experience and knowledge on how to serve their customers well. 
They can quickly understand the processes required in each project and suggest the best strategies needed to achieve success.
Additionally, experienced companies can quickly find specialists in a specific project. They also have more than one team of developers on hand so they can cater to their client's needs.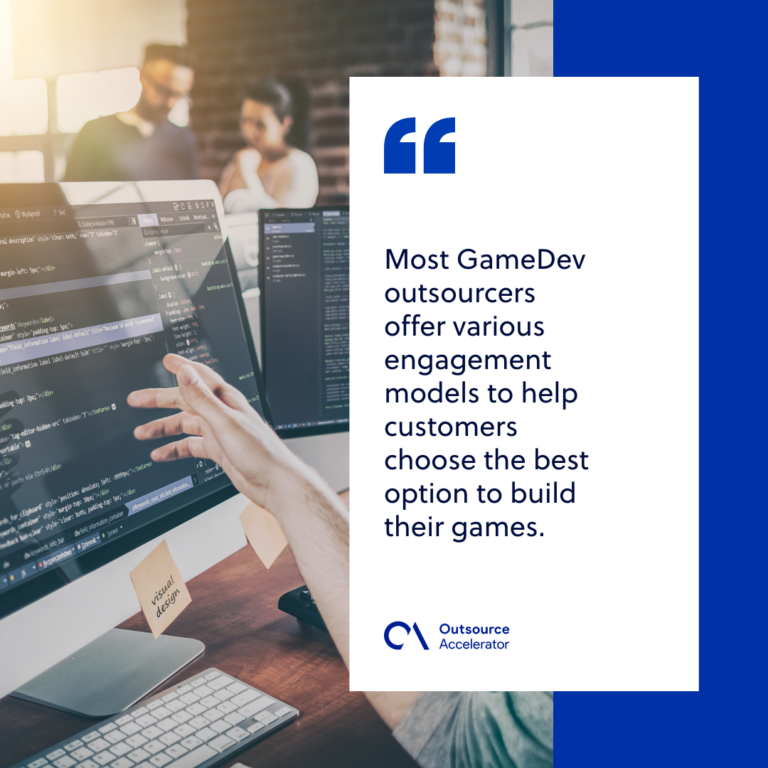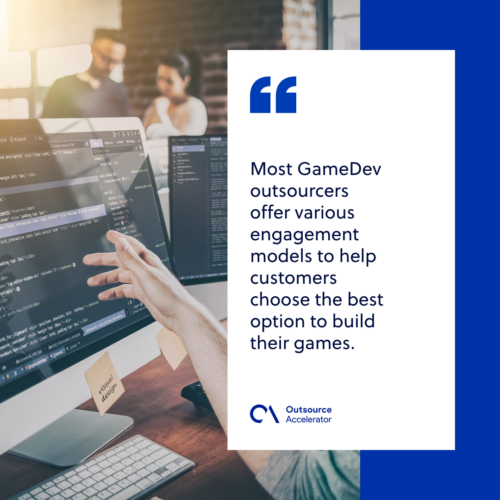 Engagement models
Most GameDev outsourcers offer various engagement models to help customers choose the best option to build their games. 
Hiring an external team with a model that fits your company could be beneficial in creating a well-produced game.
The most common engaging models in game development are:
Fixed price model

where a team works within the project requirements, goals, deadlines, and approved budget.

Time and material model

that allows games to be improved even after its release.

A

dedicated team

where clients can monitor the project development and propose changes while it is being processed.
Process 
An excellent game development outsourcing partner has a well-tuned inner workflow. It means that each manager, developer, and designer are aware of their exact responsibilities, tasks, and deadlines.
A service provider with an organized process could collaborate with your in-house team better and deliver outputs with minimal errors and problems. 
Location
It is also important to check where an outsourcing company is located before choosing a final partner. Their locations could help you determine their rates per hour and their work shifts.  
Offshore game developers are often more affordable than nearshore firms. However, the huge difference in time zones could affect collaboration.
Talking to an outsourcing agency could also help you find out whether they have a stable internet connection —for the development process and easy communication — and if they could do overtime when deadlines are tight.
MVP Asia Pacific's offshore game development team
MVP Asia Pacific's offshore game development experts could help you expand your capabilities beyond what your local team can do.
Their highly-skilled developers offer a variety of services including concept art, game design, asset development in both 2D and 3D rendering, and programming. With their approach, they can seamlessly integrate their team and make them an extension of your operations.
Beyond giving you access to top talents in the field, partnering with MVP Asia Pacific could help increase your company's efficiency while significantly reducing overhead costs in your overall operations.
Start your GameDev journey and collaborate with MVP Asia Pacific now.