How game development outsourcing improves its industry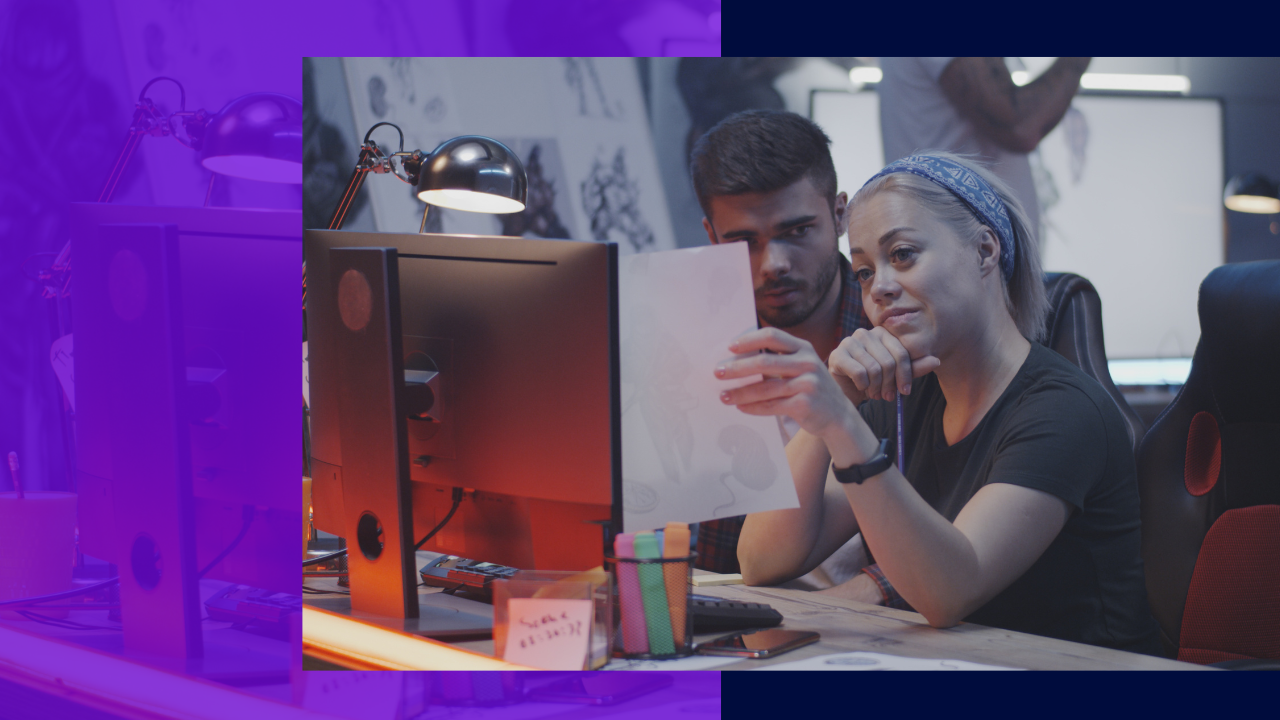 How game development outsourcing improves its industry
EMAPTA, a leading Philippines outsourcing supplier, shares their insights on this topic.
Game development outsourcing is fast becoming a popular option of today's gaming companies. Indeed, this type of outsourced services is the trend because it has helped not only individual businesses but the whole industry as well.
Consider the following ways on how outsourcing developers contributed significant improvements in many areas of the gaming industry:
Outsourcing developers are getting more competent
Because of emerging opportunities to be hired as an outsourced staff, game developers were driven to make themselves more competent. Increase in competency from the grassroots level meant advancement in the gaming industry as a whole.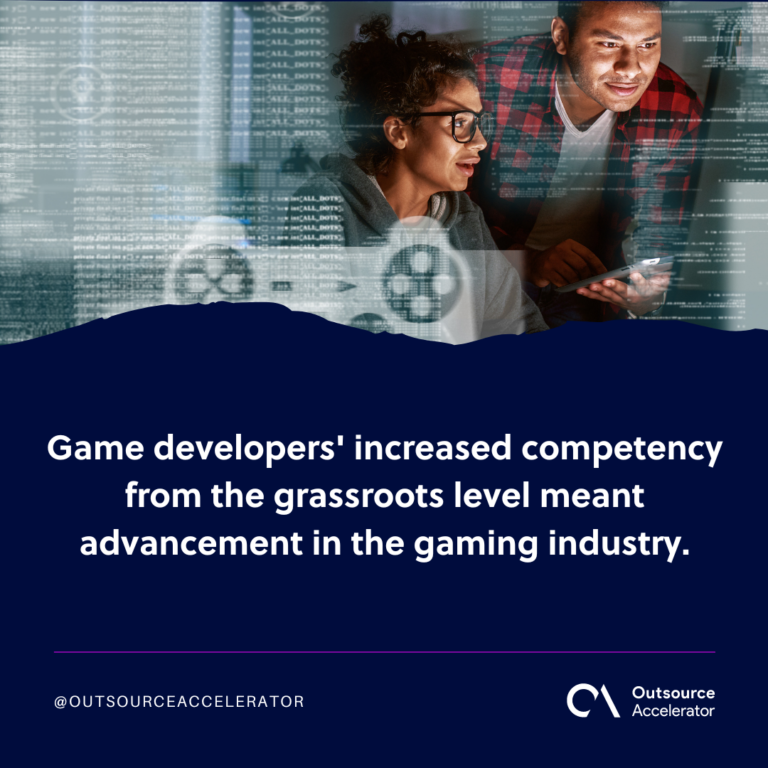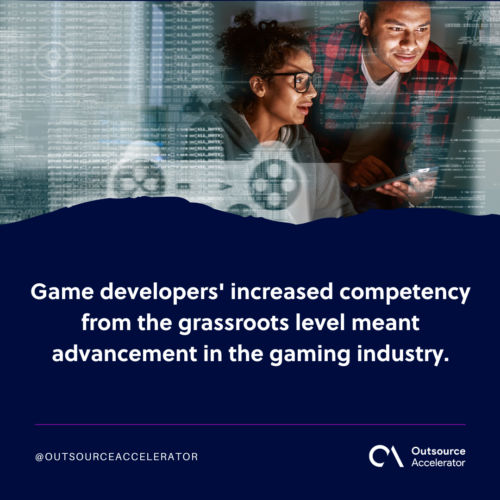 Access to a myriad of software
Access to state-of-the-art software is especially crucial for game development. Buying all these basic gaming tools and applications can be too costly, particularly for small businesses and startups.
Game outsourcing helps cut down these costs and allows even small gaming companies to take their portion of the pie, so to speak.
Better exposure to different media technologies
In relation to the previous item, third-party service providers do not only utilize the latest software. They also have access to diverse media technologies that ordinary businesses might not have right away.
Outsourcing helps you forego hiring and training new employees. Service providers already have skilled workers that are already experts in their specific fields of technology.
Increase in competition results in more driven developers
As always mentioned, at the end of the day, the competition for opportunities to get hired can only help the entire gaming industry.
Game development companies benefit the most from this. Why? Because they get the best and most affordable prices and still have ready access to so many exceptional talents around the world.
Online learning communities
This increase incompetence also gave rise to online learning communities and forums about game development. With so much knowledge passed around, the future of the industry is becoming brighter as each day passes.
Better work opportunities offline and online
Gaming companies are not the only beneficiaries of this development; also the game developers themselves. Because of the rapid progress, work opportunities have increased for all types of programmers and software developers as well.
Even developers from remote parts of the world now have the chance to get hired if they could stay updated with the current trends.
Outsourcing apps expand revenue potential
Outsourcing apps development provides more avenues of growth and profit for gaming businesses. This is because more and more people are becoming mobile users. If you run a gaming company, then tapping into the mobile app business should be a priority.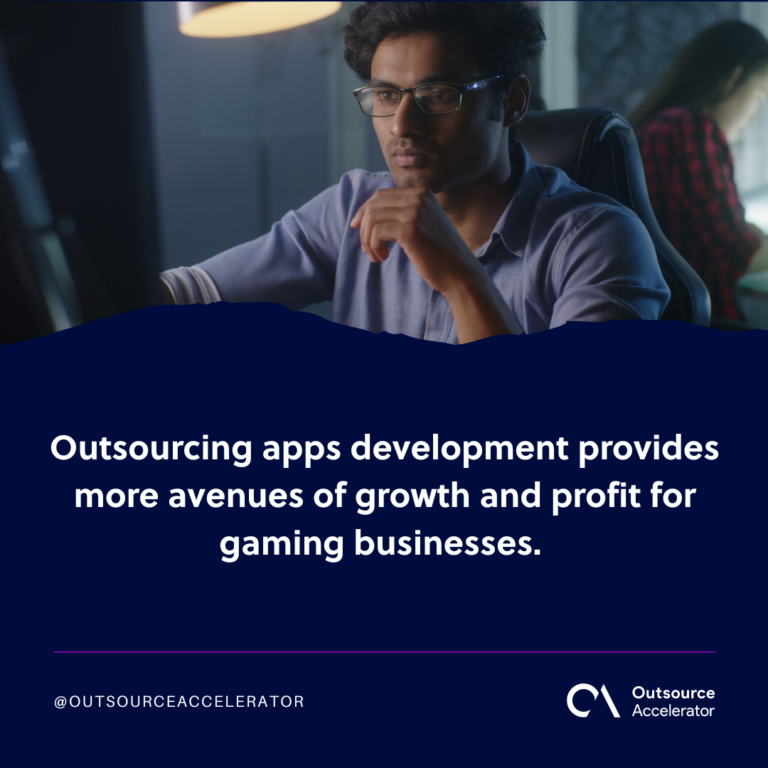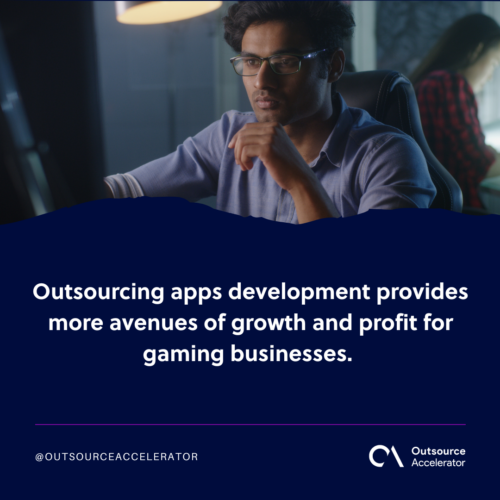 Successful games produce continuous gameplay
Outsourcing enables you to build higher-quality apps that can be delivered faster to the market. With this capacity, you can keep gamers hooked for months and months, even years. Of course, more customers just mean getting a higher financial bottom line.
An expert third-party service provider has a talent pool of experts equipped to finish the most challenging tasks in the shortest time possible. You can even set your preferred deadlines if you can find an outsourcing partner to consent.
Drives down the cost to produce due to competition
Outsourcing game development is a two-pronged benefit. What does that mean? It means that it not only improves earning potential, it also lowers down hidden expenses to produce the same high-quality product because of competition.
Outsourcing development allows greater manpower flexibility
Outsourcing development lets you have better control of your workforce size. With outsourcing, you can hire temporary workers only when needed and let go of unproductive ones without any hard feelings as compared to hiring them in-house.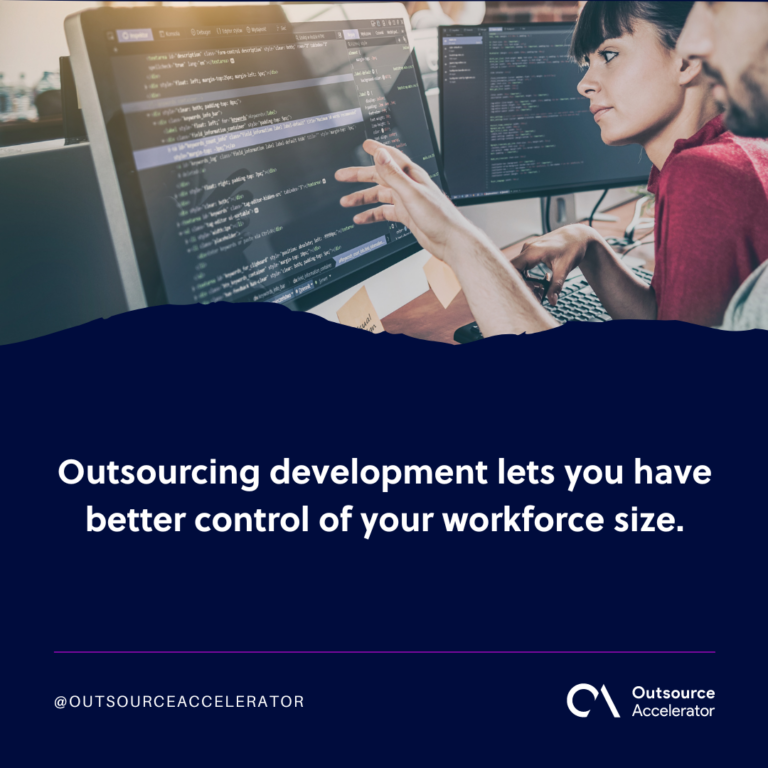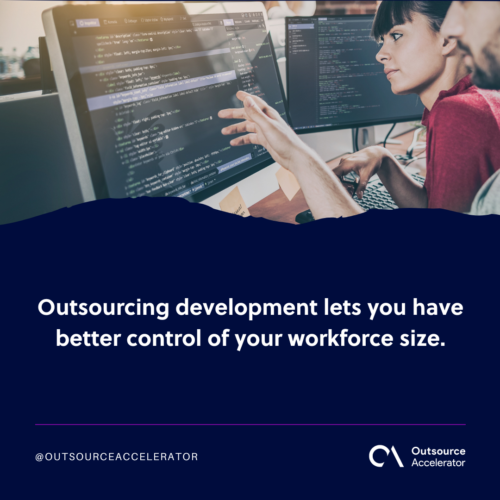 Choose only the specific areas you want to outsource
Hiring a third-party provider allows you to have complete control of your outsourcing scheme. You can assign your outsourced staff to particular areas of your business where you think you are lacking.
Choose your best team
You also have the option to select your team of game development all-stars if you want to. Your outsourcing partner should be able to provide you with developer profiles at your request so you can pick the ones you like.
Scale your team based on your resources
Most of the time, the issue of hiring is all about funds. Outsourcing lets you scale up or scale down your team depending on your current budget.
Game outsourcing advantages for small businesses
Outsourcing game development favors small businesses as well. For instance, game art outsourcing allows startups and small businesses to save on staffing and time-to-market costs. This gives these smaller companies the opportunity to grow and move within their larger and well-funded counterparts.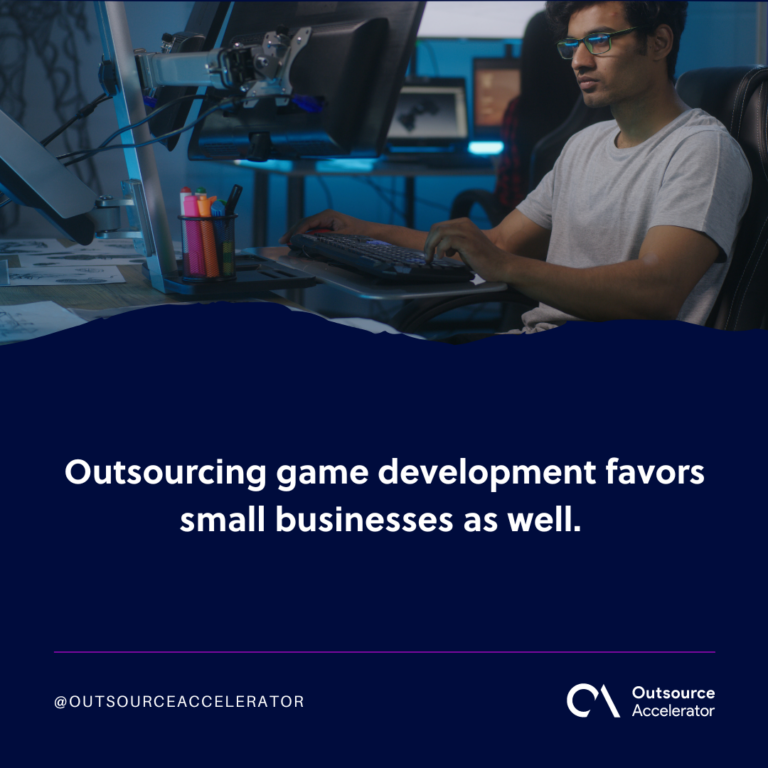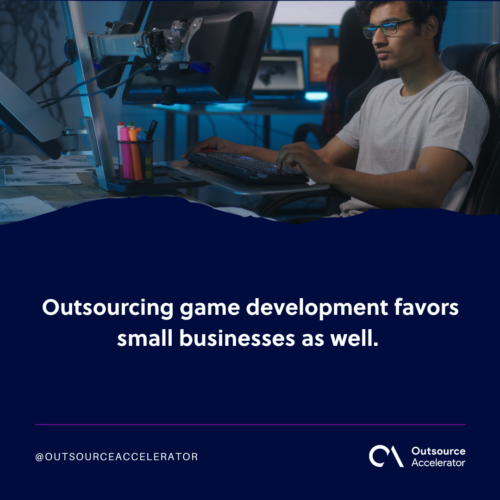 Flexible package options
Outsourcing firms usually offer service packages that are quite flexible based on what a small business can afford and needed at the moment.
Faster delivery of output
As already mentioned, having an already skilled crew cuts the development and production time by a lot that you will be able to launch your new projects soonest. The sooner they launch, the faster you get your ROI.
The gaming industry is undergoing significant technological advancements, from utilizing upgraded software to employing the best talents. If you feel like your company is getting left behind, then Game development companies are the solution.
EMAPTA is a leading outsourcing supplier, specialising in medical transcription services as well as other verticals.