Externship vs. Internship: Differences explained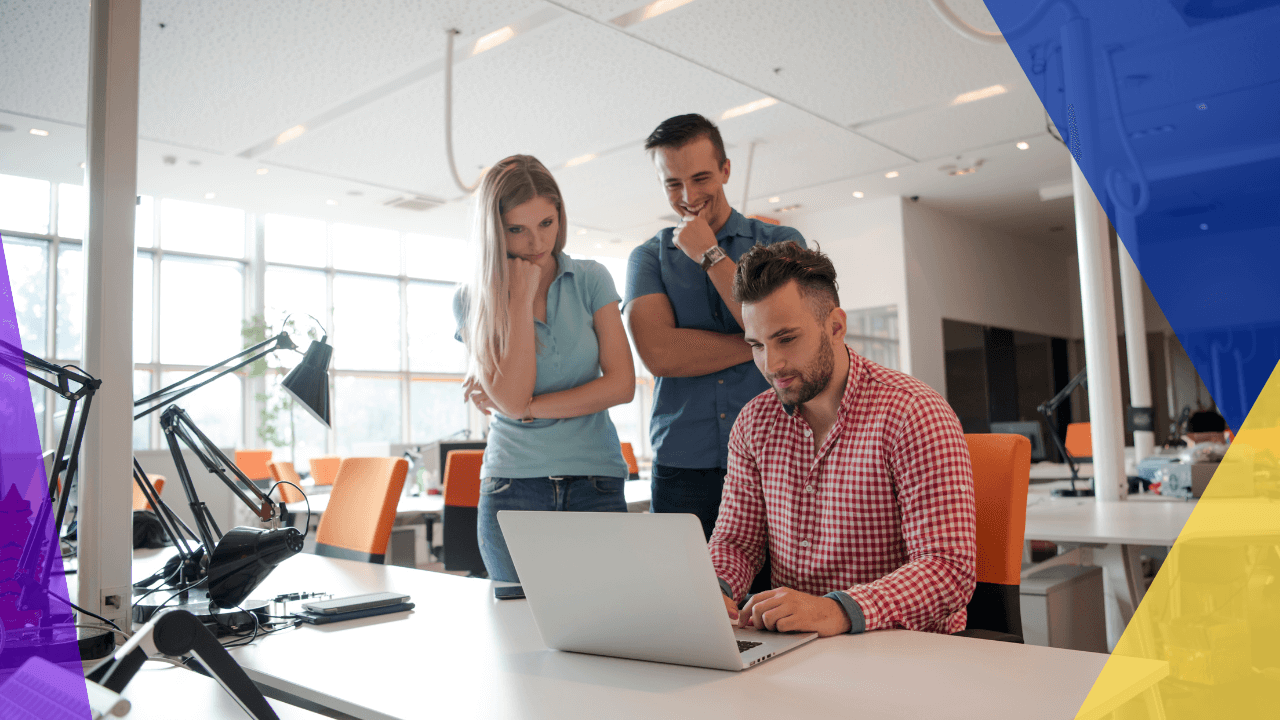 Many businesses are looking to develop externship or internship programs as a way of attracting talent and building relationships with educational institutions. 
These programs create structured opportunities for aspiring professionals, feeding into a steady industry workforce.
Understanding externship vs. internship is essential for companies that want to create meaningful experiences for students and young professionals. Crafting an exceptional program can attract, retain, and nurture top talent. 
This article explores their definitions and distinctions. By the end, you'll have the knowledge you need to decide which type of program is right for your organization.  
What is an externship?
An externship is a structured and short-term professional experience that typically ranges from days to weeks. Students and young professionals shadow and observe older mentors in their field of interest. 
Externships provide individuals with the opportunity to gain practical knowledge, exposure, and real-world insights into a specific industry or profession.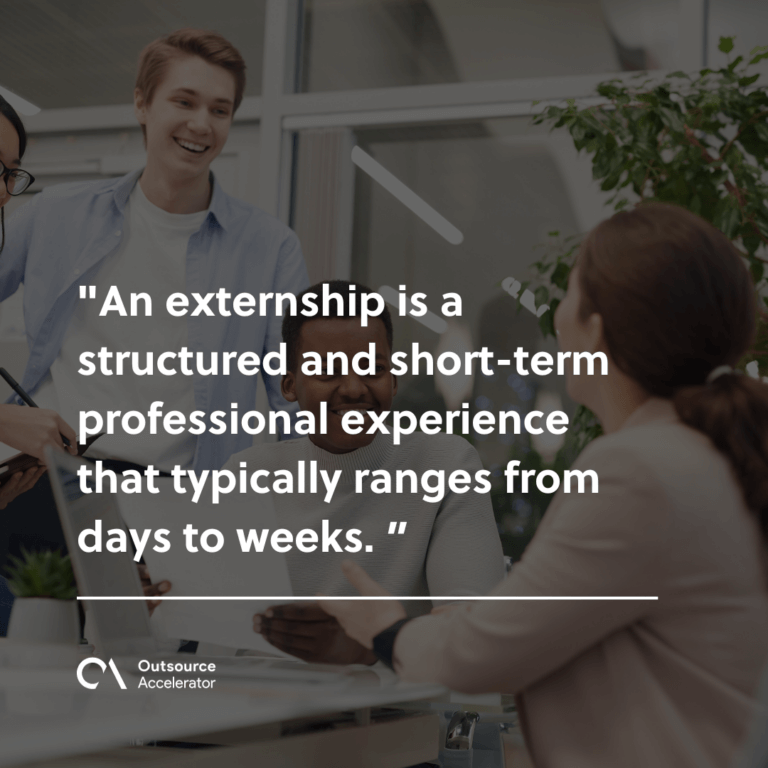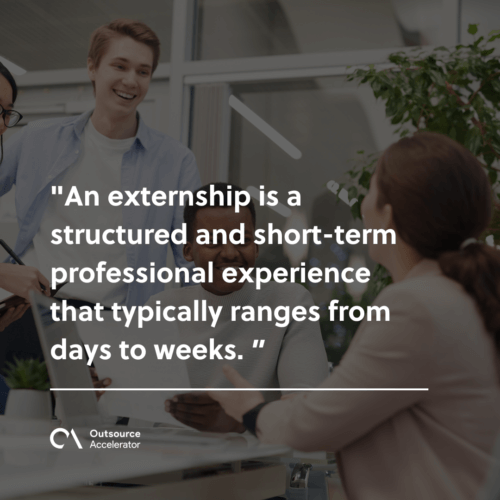 The primary goal is to observe and understand the day-to-day operations, workflows, and overall work environment within that particular field. 
Externships are invaluable for those looking to:
Explore potential career paths

Engage in networking

Make informed decisions for their future endeavors
It's an excellent opportunity to determine if a chosen career path aligns with a person's goals and interests. 
What is an internship?
An internship is a more in-depth and longer-term professional experience lasting several weeks to several months. It provides practical, on-the-job training and experience. 
Those involved are called "interns" and actively contribute to projects, tasks, and responsibilities related to their chosen field. 
Internships' primary goals are to:
Apply classroom knowledge to real-world situations

Develop relevant skills

Gain a deeper understanding of every profession
An internship can come in various forms. It can be paid or unpaid positions, academic internships for college credit, or co-op programs, which combine work experience with classroom learning. 
Externship vs. Internship: Key differences
Here are the key variations between an externship and an internship: 
Duration
Externships are typically of a shorter duration. They're designed for participants to observe and learn about a specific industry or profession without engaging in hands-on work.
In contrast, internships are more extended. Interns spend several weeks or months actively participating in tasks and projects. 
Focus
Externships primarily focus on observation, shadowing, and learning. Participants are meant to gain exposure and insights into the industry. 
Internships emphasize practical, hands-on experience. Participants are given practical training and experience. 
Depth of involvement 
Externs typically don't take on specific job roles or responsibilities within the host organization. The role is more for learning and networking.
Interns have defined roles and responsibilities within the organization. They are expected to actively work on tasks and projects, contributing to the organization's objectives. Learning is more hands-on and skill-oriented.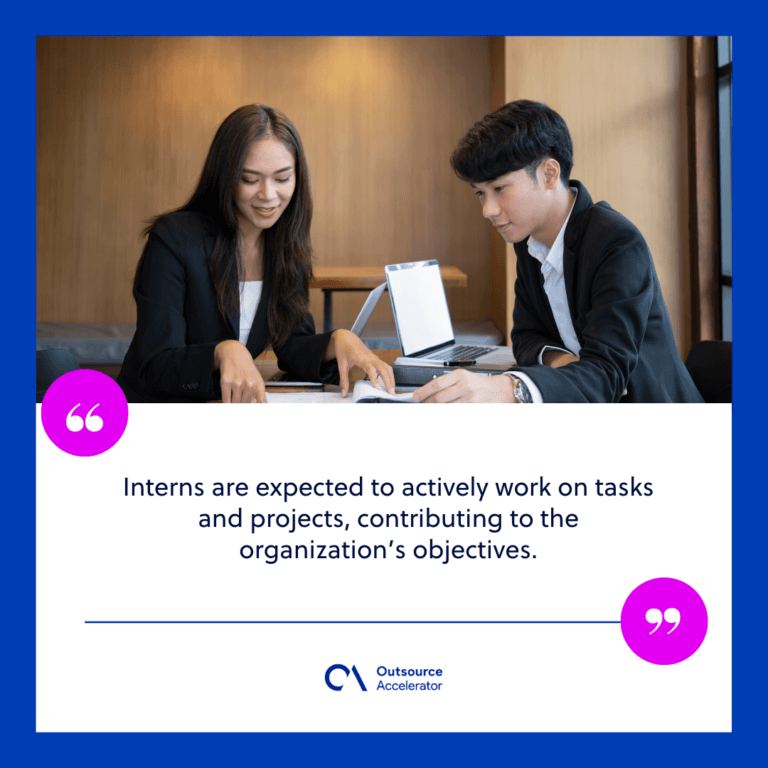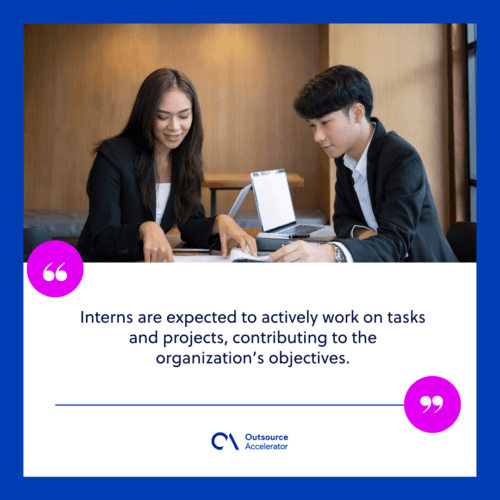 Compensation
Externships are often unpaid, as they focus on observation and learning rather than tasks that directly benefit the organization. 
Internships can be either paid or unpaid. Many internships, particularly in the United States, may offer compensation, such as a stipend or hourly wage. This is because interns actively contribute to the host organization. However, certain industries offer unpaid internships.  
Academic credit
Externships are less likely to offer academic credit. 
Internships are primarily structured to provide academic credit to students. This is especially true with educational institutions that have established partnerships with employers. 
Goals
The primary goal of an externship is learning and exploration. It should enable participants to make informed decisions about their career paths and whether it aligns with their interests and goals. 
Internships serve as a pathway for career preparation, skill development, and building a professional network. They often lead to job opportunities in the field. 
Understanding these differences is crucial for companies seeking to create an externship or internship program. It will help them design the program to align with their specific objectives and provide an enriching experience for participants. 
Starting an externship or internship program
Creating an externship or internship program can be a valuable investment for companies. 
Both offer numerous benefits to the organization and aspiring professionals, such as fresh talent infusion or enhancing reputation as an employer of choice. 
To establish a program that aligns with your goals and effectively serves your company and its participants, follow these essential steps:
1. Define objectives. Consider why you want to offer an externship or internship program and what you hope to achieve, as this will guide the entire program design process. 
2. Determine program structure. Decide on the program's duration, schedule, and specific activities. Consider whether you want to offer part-time or full-time opportunities and whether the program will be paid or unpaid. 
3. Consider legal and compliance requirements. Familiarize yourself with the legal and compliance requirements, which can differ by location. Understand any specific labor laws, wage and hour regulations, and contracts that may apply. 
4. Establish partnerships. Build relationships with educational institutions to attract qualified candidates and streamline the recruitment process. 
5. Design a curriculum. Develop a curriculum that includes a blend of training, observation, and practical opportunities. Consider incorporating mentorship programs to guide and support participants throughout their journey.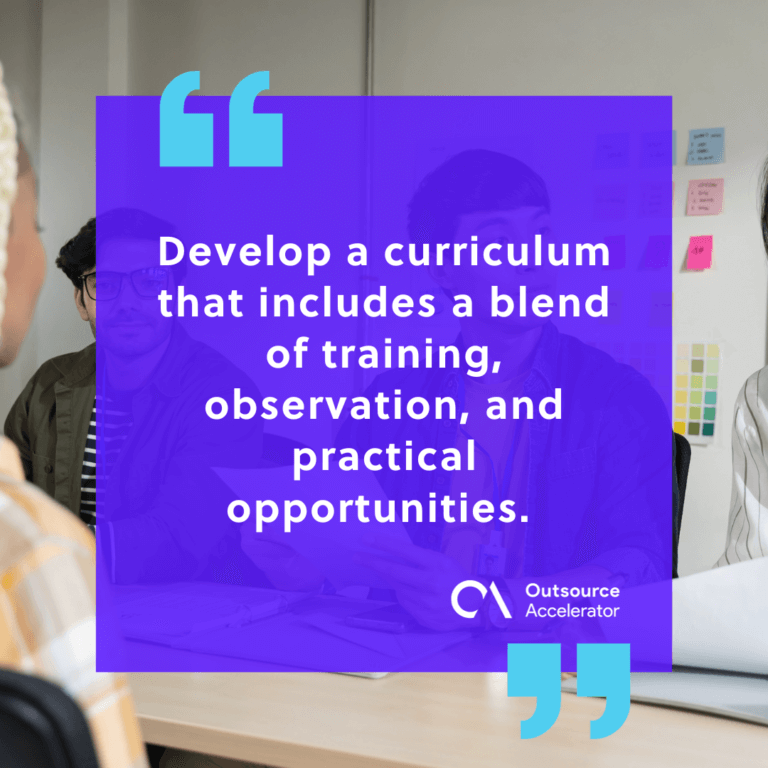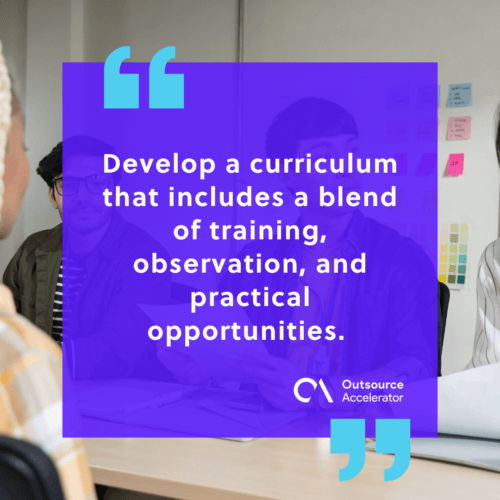 6. Recruit and select. Whether you're targeting students, recent graduates, or individuals transitioning into a new field, consider the channels through which you'll advertise your opportunities. Assess candidates' skills, qualifications, and suitability. 
7. Provide necessary training and support. Prepare a comprehensive onboarding process and ensure participants have the resources and support they need. 
8. Offer networking opportunities. Arrange opportunities for participants to network within the company, as these connections will be instrumental for their professional development. 
9. Evaluate and improve. Regularly assess the effectiveness of your externship or internship program and refine it as needed. 
Launching an externship or internship program requires careful planning and consideration. These steps can assist you in creating a program that not only benefits your company but also provides valuable learning experiences for the individuals involved. 
Whether you craft an externship or internship program, remember that such programs present a unique opportunity to shape the future workforce.